Posts tagged
awards
To pick a "best-dressed" from the Grammys has always seemed like an overly ambitious decision to make.  So many stars, so many designers, so many styles who could possibly pick one (or ten) favorites? But from all the looks, there was one that stood out to inspire a unique addition to our wardrobes.  The look we can't wait to embrace was inspired by none other than the sensational Katy Perry.  Katy's unique Valentino dress on the red carpet (the dress that opened Valentino's spring 2014 show in Paris) and her stunning ice blue gown for the after party had one thing in common - tulle.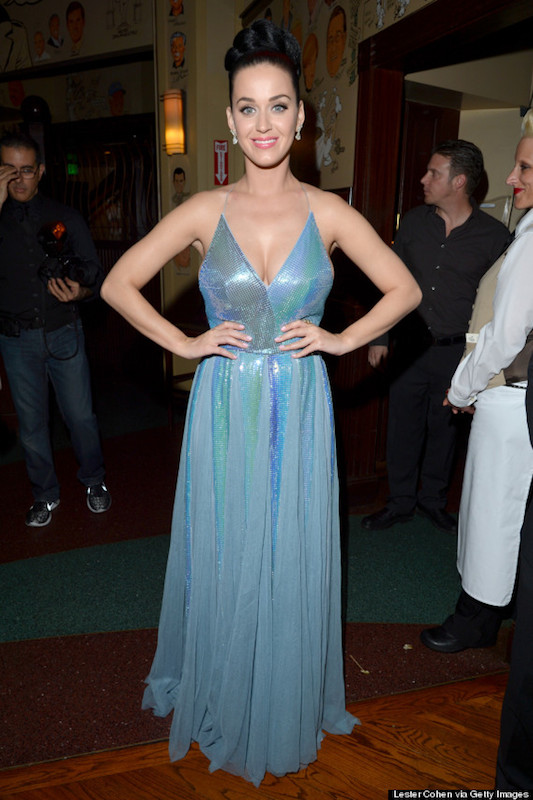 A tulle skirt is definitely the easiest way to incorporate this fairytale fabric.  While the texture itself is whimsical and bold, we like the look of pairing it with a toned down piece like denim or a sweater.  For a more versatile approach, a tulle top is great for layering!  Make it the top layer over a camisole, or the bottom layer under a sweater or jacket.  But wait, it gets better.  Tulle is a great option for this time of year, where it's no longer the cozy holidays, but not yet springtime sunshine.  Tulle's elegant flair hints at the remnants of winter, while its femininity calls for the beauty of springtime.
We can't wait to try incorporate a touch of tulle to our looks!  Thanks Katy Perry for the inspiration, I hope we can rock it as well as you do!
Photos from pintrest.com and huffingtonpost.com
Yes, we all saw the overwhelmingly unanimous decision that Lupita Nyong'o was the best dressed at the 2014 Golden Globes.  But dear fashion magazines, how is that supposed to help us?  I'm sorry but we are not about to try to pull off a fire engine red cape.  We're looking to these celebrities not just to adore their glamorous wardrobes, but for style inspiration!  Luckily many other stars among the best dressed flaunted styles that we can't wait to try.  Here are our favorite looks from the 2014 Golden Globes to inspire our every day style.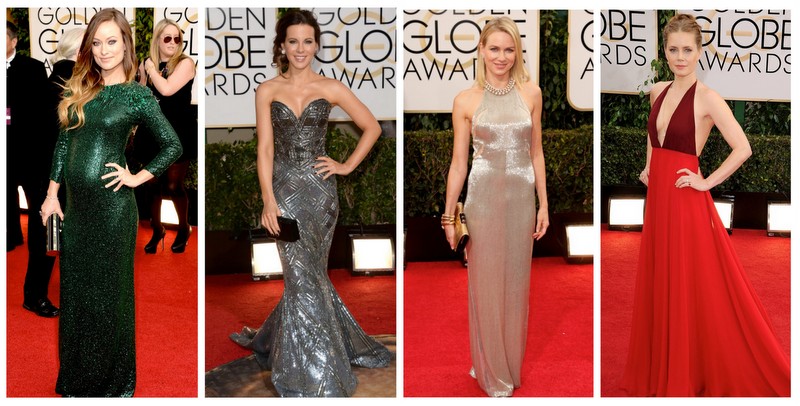 1. Olivia Wilde
Designer: Gucci Premiere
Inspiration: Emerald Green
With a color like this, we just can't take our eyes off her.  So why not try to incorporate such an eye-catching color into your wardrobe?  We love the idea of adding a pop of emerald green to your go-to looks. To add a little zest to your casual every day wear, how about shimmering emerald heels?  Or glittering emerald nails anyone?
2. Kate Beckinsale
Designer: Zuhair Murad
Inspiration: Beaded Texture
There is just something so glamorous about beaded texturing.   Kate's beaded gunmetal gown turned a simple metallic dress into a spectacular work of art.  We love this look so much that we are determined to add more beaded accents to our wardrobe.  Whether it be a touch of beads in a headband or a beaded skirt, the texture give the piece a one-of-a-kind, hand made feeling.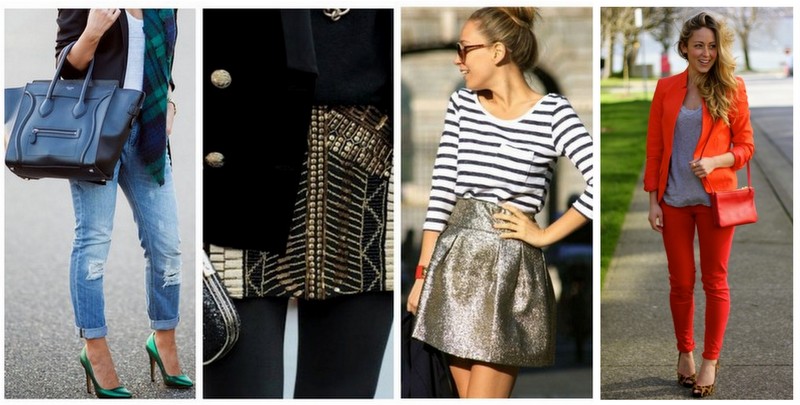 3. Naomi Watts
Designer: Tom Ford
Inspiration: White Gold
While many fear light hues will wash them out, Naomi shone brilliantly in her embroidered, white gold gown.  We can't get enough of this color for its ability to add some shine to winter outfits without going all out holiday sparkle.  The elegance of white gold is perfect for a blouse, for a sophisticated look without being stuffy.  On a more casual note, we love this white gold shimmer skirt with a laid back T-shirt.  It's just enough to sparkle without wearing sequins.  White gold's versatility makes it a great piece to wear when dressing up or down.
4. Amy Adams
Designer: Valentino Couture
Inspiration: Minimalism
Talk about a statement!  We are drooling over Amy's plunging neckline and the ruby red color.  In fact, the outfit is so stunning that she felt no need to over accessorize.  We'll take a page from Amy's book and say, let your outfit do the talking!  While it's fun to dress up a simple outfit with bold accessories, the opposite can be just as appealing.  When it comes to a bold style, own it!  Don't let accessories distract from your sleek outfit.  Like Amy, rather than sport bold jewelry, rock a bold color (and we love the idea of red and maroon)!  We love this eye opening idea.  Sometimes less is more.
Photo Credits: Pintrest.com, Vogue.com, eonline.com, Huffingtonpost.com
With another award season officially kicking off last night, we are here to weigh in on the best and worst dressed starlets hitting the red carpet. First up: The Golden Globes! From the sparkly style stars to the oh-no-it-hurts flops, Kristen, Ashley and Meghan tell us their picks of the night. Stay tuned for our takes on each awards show this season, and tell us your highs and lows on Facebook and Twitter!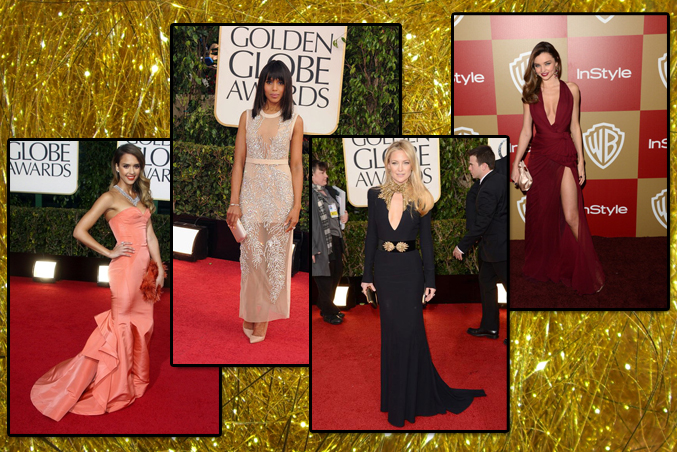 The Best of the Best
Kristen's Pick: Miranda Kerr in Zuhair Murad
I think Miranda was the epitome of old school Hollywood siren (even if she isn't an actress…) in this is burgundy Zuhair Murad gown. If anyone could pull off a high slit and plunging neckline without making it look like they're trying too hard, it's her.
Honorable Mention: Kate Hudson knocked it out of the park in this McQueen number.
Ashley's Pick: Kate Hudson in Alexander McQueen
This entire look is completely flawless. From the intricate embellishment to the effortless blowout, Kate's team was able to make her 100% relevant in this look. She was able to look completely put-together and fashion-forward without looking fussy or bizarre. I can't even put into words how much I love this whole ensemble, it's utterly breathless.
Honorable Mention: Kerry Washington rocked the sheer, nude and embellished trends all in one perfect Miu Miu package.
Meghan's Pick: Jessica Alba in Oscar de la Renta
The always beautiful Jessica Alba looked maj in this Oscar de la Renta gown. The peachy color looks great on her olive skin and the breathtaking necklace breaks up the matching lipstick. Her soft curls pull the whole look together! She could have left the fluffy bag at home but I won't hold it against this best dress nominee.
Honorable Mention: Nicole Richie's blue patterned Naeem Khan dress looked stunning with the matching eye shadow.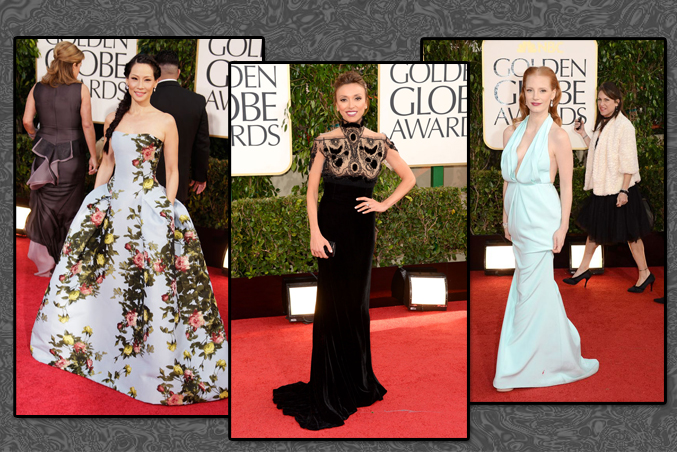 Wayward Worst
Kristen's Pick: I'm sorry but someone has to call the fashion police on Giuliana Rancic. I am usually all for classic, Downton Abby style dresses but Giulianna looks like she's channeling Helena Bonham Carter in this goth-gone-wrong Celia Kritharioti dress. I can't imagine G got Joan's approval on this one.
Honorable Mention: Halle Berry is a babe, but this Versace dress was a fail.
Ashley's Pick: It physically hurts to put Jessica Chastain in this category. I would like to officially go on record and say that I am obsessed with everything about her, all except this Calvin Klein dress. She's a gorgeous canvas, but the fit and the hair choice served her a serious injustice.
Honorable Mention: Sienna Miller's ode to wallpaper Erdem skirt and top.
Meghan's Pick: Lucy Liu can pretty much pull anything off. This dress, not so much. While the silhouette isn't horrible, the floral pattern and colors are. I do like the fullness of the dress and the fact that it has pockets (I always love leaving my bag at home).
Honorable Mention: Julianne Hough's horrific Monique Lhuillier dress and poor makeup ensemble.
We'll see you all in a couple weeks for our SAG Awards picks!