Posts tagged
Golden Globes
No one loves awards season like the FashioniSTAs, and so we were obviously glued to our televisions last week to witness the Golden Globes. From the drop-dead to the dead-wrong, we break down the looks we thought rocked the red carpet, and the ones we thought demanded a new stylist. For more FashioniSTA follow-up on this awards show and everyday style, check out our sign-off at the bottom of this post!
Genius or Delusional?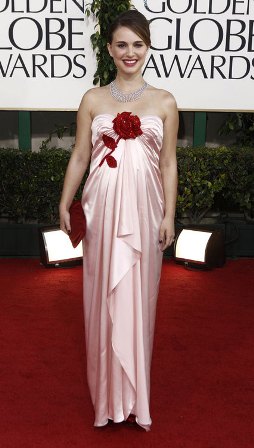 There are some people who can pull off a quirky style, and you just have to overlook the fact that they look like they've been living in their cars. Helena Bonham Carter is one of them, where she has that lunatic look no matter what the occasion, but I kind of feel like I wouldn't know what to do if she showed up wearing a Michael Kors sheath dress and had actually brushed her hair. But when the discrepancy between fashion forward and fashion failure gets blurred, that's when the guessing game begins.
Natalie Portman seemed to be the center of attention on Globes night, but I'm not sure if it was for her Black Swan buzz or because people kept getting poked by the enormous appliqué rose sticking out of her chest. Jennifer Lopez also pushed the envelope by showing up in a sheer capelet by Zuhair Murad, which bordered on the brink of looking fierce or looking like an ice dancer. Julianne Hough's Marchesa bejweled neckline also lingered on that ledge, proving just how complicated jeweled accents can be.
Julianne Moore's one-shoulder, bright fuchsia Lanvin is also a bit of a fashion mystery. The one large, poofed sleeve was a little trendy for the classic star. While the Bulgari necklace was a great accent to the dress, the sleeve ended up swallowing the rest of the look whole. This might have totally worked on a younger starlet, but then again, that sleeve might have still looked like it might attack a city on her too.
Beachy Hair
This whole "beachy waves" vibe that some of the stars have picked up needs to be put to rest. I don't know if it's the California weather that's inspiring these hairstyles or what, but they are traveling down a dangerous spiral.Lea Michele and Heather Morris (both below) were two of the several stars that have started to think this is a good look. Note to them: having random curled sections of hair sprouting out from your up-do isn't a good look. These hairstyles would look great, if they would just whisk the wavy bang/long layer hybrid that they have shielding half their face. Unless they just came out of a Tahitian waterfall, this look really shouldn't be used for glamorous events (or any event, for that matter). Especially when it's over 80 degrees, a good fashionista knows that curls frizz easily.
Should you be looking for a way to sneak curls into your beauty look, the retro waves that graced the carpet in stars like Diana Agron and January Jones made their ensembles look polished rather than messy. Even Jenna Ushkowitz's allover curly look was nice because it's more modern but doesn't venture into the "trying to be alternative and edgy" style.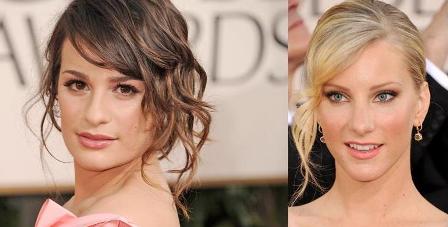 Large Dress Accents
There's definitely something to be said for making a dress more interesting with large fabric details. Some of the best dresses on the red carpet have been structured and architectural, but pulling off the look is always high risk. Piper Perabo's black Oscar de la Renta gown with the large shoulder bow was appropriate for the red carpet and for the weather. She kept her look streamlined by keeping the focus on the bow and the overall timelessness of the gown, going with minimal jewelry and a retro-inspired ponytail paired with a classic red lip.
Lea Michele – also in Oscar de la Renta – decided to go with statement ruffles along the top and side of her dress. The problem with this look was that it not only made the dress look uncomfortable, but this dress demanded a simple approach to the rest of the look, which means that big messy hair and large jewelry doesn't totally work.
Julie Bowen (in Tadashi) went the flower appliqué route with a mushroom-colored number, which ended up bordering on the overdone side. The top of her dress was stunning with her upswept hair, but the bottom treaded lightly on the line between feminine and Gypsy Rose-esque.
The FashioniSTAs Sound Off:
Marisa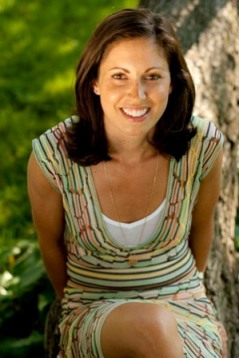 Best Dressed: Anne Hathaway, hands down. Styled by my girl, Rachel Zoe, she looked - in a word: flawless. The color was perfect, the structured shoulders were dramatic and on-trend and the bare back balanced out the high neckline in the front perfectly. I also thought that her hair and accessories were the perfect complement to the dress.
Worst Dressed: Helena Bonham Carter. Yikes. I know that this is her schtick - the crazy actress who is married to the crazy Director Tim Burton - but she looked like a character out of one of his movies, not a real person. The dress - by Vivienne Westwood - could have been great if she had stopped there. But, instead she felt the need to add hair extensions, over-the-top teased curls, hair adornments and - allegedly - two different shoes. Double yikes.
Rookie of the Year: January Jones. One could contest whether or not she is a true Rookie, but I think that it is safe to say that she is finally a house-hold name now instead of just being known by die-hard Mad Men fans. That Versace dress was INCREDIBLE. Not only was the color to-die-for - it was a sort of an unexpected tomato red with orange tones in it instead of a cherry or fire-engine red - but it was also sexy as hell. In fact, it went to the very edge of sexy, but never fell into the realm of vulgar, which is quite a feat. (Though if anyone could accomplish that it is certainly Donatella Versace…) Then, to top it all off, she found a shade of lipstick that matched it perfectly and kept her hair in a soft, old-Hollywood style in order to ensure that the scale tipped on the side of glamour instead of over-sexed.
Biggest Comeback: I am going to go with Tina Fey. She had a rough year on the red carpet last year, landing on some of the Worst Dressed Lists for the awards season. But, last night her L'Wren Scott dress was subtle and very flattering. The midnight navy color was gorgeous, the velvet was on-trend and extremely rich-looking, it fit beautifully and she was very well accessorized.
Ashley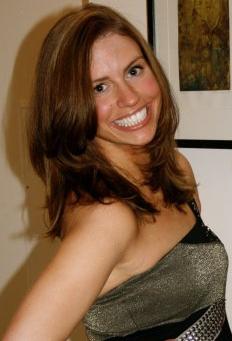 Best Dressed: If I could take Sarah Hyland's hair from that night and put it on Olivia Wilde, Olivia would definitely be my choice. If I could live in a world filled with glitter and sparkles, I probably would, and her Marchesa dress made me feel like that was an actual possibility. Mila Kunis – in Vera Wang – was also not only a vision on camera in one of the most perfect dresses I've ever seen, but her dress has photographed the best out of any of the ones I've seen.
Worst Dressed: Oh so many, hold me back. I guess overall it would sadly be Leighton Meester in Burberry, which when I saw her my magical fashion visions of Blair Waldorf came crashing down. But I don't want to overlook January Jones – in Versace, although I'm pretty sure everyone was focused on her lady lumps and not her dress – who looked a little Comic Con/pornographic all at the same time, and it just plain made me uncomfortable. The only thing saving Michelle Williams from being my pick is the fact that I actually want to take her dress, shorten it into a minidress with a circle skirt and wear it this summer.
Rookie of the Year: Sarah Hyland from Modern Family in Max Azria, hands-down. The dress, her hair, the styling, the way she presents herself, she was like an awards show dream. However, Hailee Steinfeld also looked picture-perfect in a white Prabal Gurung dress, which was the best choice a 14-year-old could have made. It makes me sad that I was wearing overall shorts when I was her age.
Biggest Comeback: While still not the best I've seen, Megan Fox looked better than she has in a while. I still want to feed her several hundred cheeseburgers and remove every tattoo that she has on her body, but I thought that the soft pink color was a nice change from the dark and severe look that she usually has going on.
Best dressed: Angelina Jolie in Versace. I loved the long beaded gown with a half open scoop back. I thought the forest green color look astonishing on her complexion and made her eyes pop. I loved the old school glamour cut and I thought it was a very good approach for the Globes.
Worst dressed: Without even having to mention the winning prize goes to Helena Bonham Carter but besides her I say; Jennifer Lopez in Zuhair Murad, it looked like a tacky Quinceañera. Something my mother would have worn to my sweet 15. Awful color, tacky crystals, bad makeup, all around bad JOB J-LO.
Rookie of the Year: Emma Stone in Calvin Klein Collection. I love LOVE the new blonde hair and the soft peachy color added a lot beauty to her fair complexion. She looked soft and feminine and the dress' simplicity is amazing, nothing overdone; safe move by Emma Stone.
Biggest come back: Tina Fey in L'Wren Scott. She's had a bit of slump but I think it was a great attempt to get her in a better category. The color, a beautiful dark blue and its velvet! I loved the Swarovski bird clutch to match, all around a good job.
Kim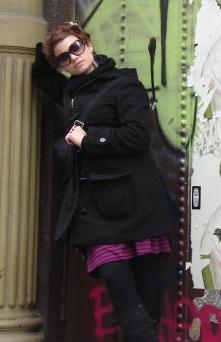 Best Dressed: Eva Longoria or Anne Hathaway. Longoria, who usually dresses as if she's either heading to a prom or to a "Leggiest Outfit" contest, kept it classy and dramatic in a simple Zac Posen black dress. Hathaway typically goes the classic route in her evening wear, so her bold sequined Armani Prive choice was a bold step out of the comfort zone and she ROCKED it. A pat on the back goes to Heidi Klum, as well, for her breezy Marc Jacobs piece. Sure, sure, it may not have been the most appropriate nor glamorous choice, but I loved it nonetheless. I typically don't look at the gents (I mean, how many ways can one wear a tuxedo??) but major applause for Ryan Gosling's Ferragamo velvet tux. That's one way to stand out in a sea of penguins, and it WORKED.
Worst Dressed: Two words — Tilda. Swinton. I'm just… I'm… I'm so confused. Was she on her way to the office before realizing — moments before leaving home — that it's actually a RED CARPET event she was heading to? Does the explain the buttondown top and the seemingly "oh, crap, how do I make this fancy" skirt? Or wait, is that a DRESS? Jil Sander, for shame that this frock bears your name. Helena Bonham Carter usually takes this award, and this year's Vivienne Westwood ensemble is certainly no exception, but she at least looks as if she TRIED. Runners-up would be Hayden Panettiere, who wore an Amanda Wakeley sheer dress better suited for a 60-year-old (not to mention the CLEARLY VISIBLE PASTIES!!); Michelle Williams, who channeled Suri Cruise in a Valentino frock; Sandra Bullock who looked just plain frightening in Jenny Packham; and Halle Berry in a Nina Ricci gown that looks as if it were borrowed from the wardrobe of Madonna's 1990 "Blonde Ambition" tour.
Rookie of the Year: Julianne Hough! Look at that neck! Her Marchesa dress was a touch too old for her 22 years, but that slip-up can be overlooked by her rookie status. Her dress overall certainly made a statement, and that statement was "I have arrived."
Biggest Comback: I'm gonna go out on a limb here and hand over this award to Jane Fonda, who took a break from schilling her fitness regime to wow us with a George Hobeika gown, proving that trends can ascend all age barriers — winged shoulders and glitter at 73! It's been awhile since you've dazzled us, Fonda… go get 'em. Also on the roster is Elisabeth Moss — if you recall her tragic 2010 Golden Globes outfit, well, it was a safe bet that ANYTHING at this year's ceremony would set her back on the right track.
Follow the FashioniSTAs on Twitter! Go to www.twitter.com/STA_FashioniSTA to find out how you can share your best and worst dressed of the night to win a $25 Second Time Around gift card!