Posts tagged
Donna Karan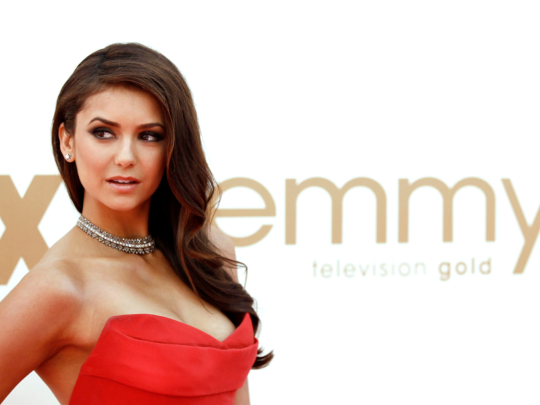 It seemed like this year at the Emmys the stars all shopped and got ready together. Should you be headed to a clone event of this year's Emmys? Follow the memos below and you'll fit in like a pro!
1. Wear red. Red satin, red silk, red bed sheets cut as an asymmetrical evening gown. If you happen to be color blind, you might have missed the fact that a good half of the stars showed up wearing red. Although if we can make a suggestion, red satin dresses are coming across a little like a PromGirl photoshoot, so maybe next time opt for something matte.
2. No red? Wear black, or metallic, or some sort of geometric, sequin structured dress. (Did you try to find someone not wearing these color/pattern schemes? A nearly impossible feat.) With the right selection of celebs, you could put together a really nice classic Hollywood photo montage, however, some of the stars were in need desperate of tweaking
3. Straight hair is for no-shows. Waves, curls and up-do's were on the docket this awards show, giving pin straight locks a night off. Possibly a mass attempt to conserve straight-iron electricity, or possibly a mass realization that the smell of burning hair puts a slight damper on the glamorous atmosphere.
Got the trends, now get our takes on the stars who wore them! The FashioniSTAs round up the style stars and suspects to bring you the picks of the night.
Best Dressed: Nina Dobrev in Donna Karan (pictured above) was absolutely stunning, this was hands-down my favorite look of the night. The Vampire Diaries starlet not only blew away her young Hollywood competition, she also beat out every red carpet veteran. There were about a billion celebs in red on Sunday, but she blew them all away. Every detail of her outfit was perfectly tailored to her body, from her form-fitted dress to even the shade of red that complemented her skin tone. The whole look was a modern version of old Hollywood done right, I'm so sick of stars wearing frizzy waves and calling it retro glamour.
Worst Dressed: Taraji P. Henson in Blumarine (right), which is disappointing because she usually looks great. She's got everything going for her, but this dress was so incredibly unflattering, the only thing that could've made it look worse was putting a weird hairpiece on the side of her head. Oh look…a style apocalypse.
Honorable Mention (Best Dressed): Maria Bello in Kaufmanfranco. She's got a new primetime show and she's not afraid to show a little life enthusiasm with sparkles (which I can totally appreciate). The sunburst, mosaic print was a risk, but it paid off since the silver was a subtle accent to the white, one-shoulder backdrop. The loose waves were a nice effect, but I think a sleek chignon would have made this look a home run.
Honorable Mention (Worst Dressed): I love Eva La Rue, but her peach, bedazzled dress did her such a disservice. Now I'm all about sparkle, and if I could bedazzle my lunch I probably would, but even I think the sparkle on Eva's dress looks a little cheap. I get that she's on CSI: Miami, but South Beach style shouldn't be allowed on the red carpet.
Best Dressed: Nina Dobrev. The Bulgarian beauty queen wore a Donna Karan red body hugging dress. Leave it to DK (yes, we're on that level) to keep it sultry sexy and simple.  She looked marvelous, sophisticated but you couldn't ignore those curves! Her wavy hair, diamond necklace and clutch (with a hint of red) complimented every aspect of the dress.  It was a sure fire way to make a show stopping red carpet impression. BRAVO.
Worst Dressed: Paz de la Huerta wearing…I don't even care to know who! Last time I checked this wasn't a horror scene from the Pretty in Pink prom scene and even then, her dress was better! She looked cheap enough with the dress and rhinestone heels but she took it to another level with that Airhead Blue lipstick, WOOF.
Honorable Mention (Best Dressed): Claire Danes in a beautiful Oscar de la Renta. I've always thought Claire played it safe and normally sticks to the color pallets of the celebratory night but she really out did herself. The strapless blue/black sequin embroidered gown with a defined black eye liner enhanced her beautiful blue eyes. I think it was a great choice and I can't wait to see more!
Honorable Mention (Worst Dressed): Heidi Klum in Christian Siriano (right). Trust me when I say I'm a huge fan of this woman but I can't seem to love this dress. It looks like a huge coral reef.  I do like the idea of showing off her legs because next to her stomach it's her best attribute but this color choice washes her out as well. You can't get any more Supermodel than Heidi; I've just seen her in the best of the best and this is not it.
Best Dressed:  Kaley Cuoco in Romona Keveza (shown, right).  Perhaps I'm just a sucker for anything vintage-inspired, but I thought that this tea-length one-shoulder gathered tulle ensemble looked just elegant enough for an awards show but had enough whimsical fun to bring it to an Emmy-worthy level.  In a sea of colorful simple classics, this piece was a standout. Loved the pops of red in her accessories, as well.
Worst Dressed: Phoebe Price in her own creation.  As the British crooner Mika lovingly sings, "big girl, you are beautiful"… just NOT in that dress.  Waaaaaaaaaaaay too much fabric in bizarre band-aid like patterns just works to enhance the fact that you are not a size 2.  Size doesn't have to be an issue on the red carpet… unless you make it one.
Honorable Mention (Best Dressed):  TIE!  1) Sofia Vergara in Vera Wang — the dress itself was nothing all that spectacular, but the way that it fit her curves was jaw-dropping perfection. Va-Va-Voom! 2)  Evan Rachel Wood in Elie Saab — while Maria Menounos wore an almost identical dress, Wood wins in this glamathon race.  Why go for cheap sequins when you can get an even better effect with gorgeous beadwork and an up-do?  Welcome back from the dead, Wood.
Honorable Mention (Worst Dressed):  So many. I always feel like it's easier to find the flubs than the fantastic, and this ceremony was no exception.  1) Christina Hendricks in Johanna Johnson?  I know you have boobs, honey, but can you even breathe with them so tightly bandaged up against your body??  Plus, the color just washes her out and the beading pattern just made her look wider than normal. 2) Jayma Mays in Zuhair Murad looked like a cupcake, and I'm pretty sure I've seen better versions of that dress on Toddlers & Tiaras.
Best Dressed: Jennifer Carpenter in Tony Ward Couture – LOVED! She looked like a knockout (hello, that slit!) and it was so nice to see her outside of the pant suits she wears on Dexter.
Worst Dressed: Gwyneth Paltrow in Pucci. I wanted to love it, but could not get past that upper mid-section cut out (ugh!). Without that I think it would have been a great dress, but with the midriff-bearing piece it became an instant disaster. I'm all for her trying to push the envelope, but crop tops on the red carpet are not the way to go.
Honorable Mention (Best Dressed): Julie Bowen in Oscar de la Renta – the plunging v-neck and the sparkle accents worked so perfectly together. It was a great silhouette with her body, and the whole ensemble was clean and modern, with just the right amount of shine. This dress definitely made her an Emmy style winner in addition to the gold statues she went home with.
Honorable Mention (Worst Dressed): Katie Holmes in Calvin Klein – this was so boring! And between the belt, the fit and the bird nest on top of her head, the whole look was really not flattering. I can understand her wanting to be slightly understated since she wasn't a nominee, but this is still a red carpet event. It might be her bazillionth trip down the carpet, but that this look was more suited for the beach.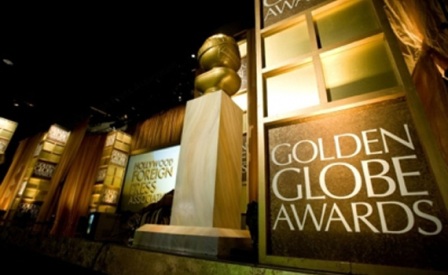 The Golden Globes marks the first big award show of the new year, making it part of the season of fashion holiness. This year a plethora of celebs graced the red carpet, some in outfits that made me want to be a better fashionista, others in ones that looked like a child put it together…in the dark. Check out the hot trends that were on hand that evening, and then stay tuned for our FashioniSTA Police Files as we break it out down who we think wore it best and who needs a fashion detox in a confined style boot camp.
Sunrise, Sunset
A big theme of the Golden Globes fashion parade was an array of orange, pink and red shades. From Emma Stone looking very California girl in a sherbet-colored Calvin Klein t-shirt dress to Sofia Vergara in a red/fuchsia Vera Wang corset gown, the spectrum was bright with stars who at least tried to push the envelope. January Jones was also a lady in red, wearing a fringed and very revealing Versace number, who ended up bearing a striking resemblence to Wonder Woman in some of her photos. On the pink side of things, Lea Michele donned a cotton candy pink, ruffled Oscar de la Renta – which bore a striking resemblance to the other ruffle dresses she wears, Julianne Moore attempted a one-shoulder look in  and Natalie Portman styled her baby bump with a Viktor & Rolf pink silk draped gown, with a large, red rose protruding from her chest as a bonus – did anyone else think of Beauty and Beast? I mean, who doesn't love a good Disney allusion?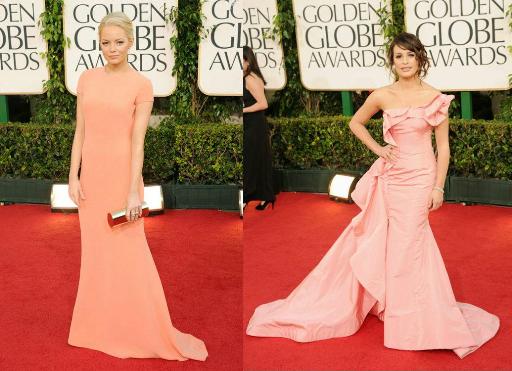 Emerald City
Having four big-name actresses wear a usually absent color makes people go gaga for green, which would explain why pretty much every media outlet is making us believe that every dress down the red carpet was this shade. Catherine Zeta-Jones (in Monique Lhuillier), Angelina Jolie (in Versace), Mila Kunis (in Vera Wang), and Elizabeth Moss (in Donna Karan) all showed up wearing this emerald jewel-tone, which is a nice change from the usually-muted tones that make it down the carpet. This was a great way to bring a little holiday spirit into the new year, and while I had been missing my Christmas tree, I think I can safely say I've gotten my evergreen fix. Big stars in gorgeous gowns? Sounds like a pretty fabulous Christmas gift to me.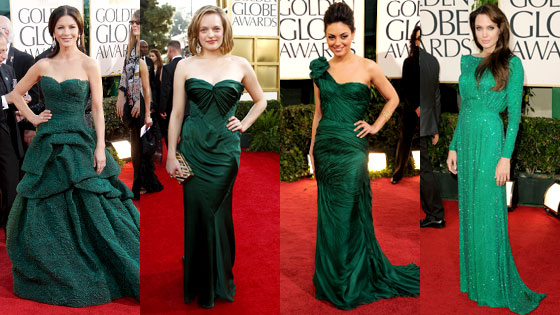 Vintage Frocks
Going vintage is always a great way to stay classic on the red carpet, but go too far, and it can look like an old-school nightmare. From Scarlett Johansson in Elie Saab to Sandra Bullock in Jenny Packham to Leighton Meester in Burberry, there was no shortage of flowy, embellished dresses, with the occasional retro-print thrown in there - see Michelle Williams in Valentino or Heidi Klum in Marc Jacobs. Maybe it's just fashionista delirium, but some of these looked like they belonged in the back of a closet at a retirement home. There's nothing FashioniSTAs love more than a good vintage (or vintage-looking) find, but we could be on the fence about some of these looks, whether or not it's just the styling that went awry.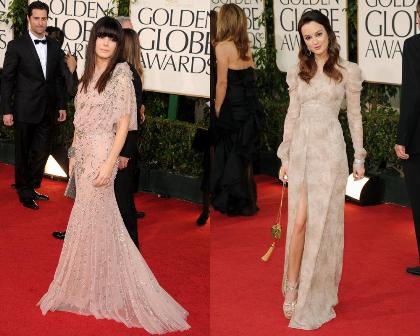 Glitteratti
No awards show would be complete without celebs in sequins. Olivia Wilde wore a Marchesa black tulle number that looked like it could single-handedly restore the American economy with all that gold sprinkled on it, combined with the serious sparkle she had on her shoes. Amber Riley (in Oliver Tolentino), Anne Hathaway (in Armani), and Carrie Underwood (in Badgley Mischka) also went with sequined gowns, providing a little extra sparkle on the red carpet. Jennifer Lopez pushed the glitter envelope with a Zuhair Murad encrusted capelet over his white, demure, yet body-skimming gown, and while different from her sexy style that we know and love, this can be considered the style of "Mommy J.Lo."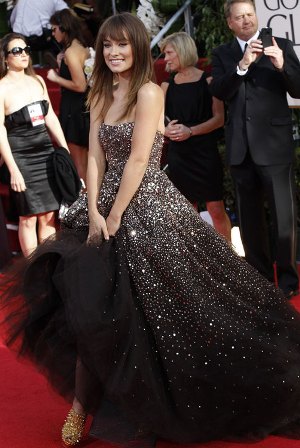 Hungry for more Golden Globes fashion? Who isn't?! Stay tuned as the FashioniSTAs give you their insider opinions on who walked the walk in the right dress, and who needs fashion rehab.