Posts tagged
bold
Okay, so we know Valentine's day isn't a real holiday.  And while we may not be all about the romance and hearts and chocolate, we'll take any excuse for a festive outfit.  Who doesn't love a good red and pink color scheme?
If you're a fashionista like us, we know you own your fair share of "a pop of red" pieces.  Now's the time to whip em out.
How cute are these red on pink outfits?  We love the bold and oh so appropriate clash of color.
As girls it's in our nature to love a holiday all about romance.  Trust us, we get it.  But we understand sometimes you want to fly a little under the radar on this day of love.  You can still embrace your love for the holiday while staying subtle.  We suggest rocking your festive hues, but pairing them with other non-valentines day colors like black or navy.  Keeping your wardrobe traditional for the work place?  Add your pop of Vday colors in accessories.  Stack on some red bangles, pumps, beaded necklace, or nail polish.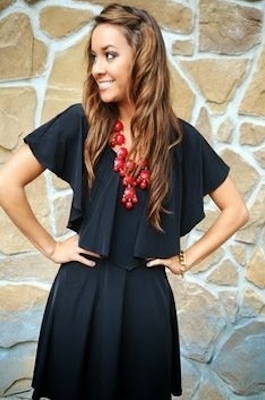 If Valentine's day isn't your thing, grab your best, hot and feminine pieces and embrace your indifferent attitude.  Nothing says, I love myself like a LBD or pencil skirt.
What better way to celebrate love than to show off your love for fashion?! Happy Valentines Day Fashionistas!
Photos from Pintrest.com
To pick a "best-dressed" from the Grammys has always seemed like an overly ambitious decision to make.  So many stars, so many designers, so many styles who could possibly pick one (or ten) favorites? But from all the looks, there was one that stood out to inspire a unique addition to our wardrobes.  The look we can't wait to embrace was inspired by none other than the sensational Katy Perry.  Katy's unique Valentino dress on the red carpet (the dress that opened Valentino's spring 2014 show in Paris) and her stunning ice blue gown for the after party had one thing in common - tulle.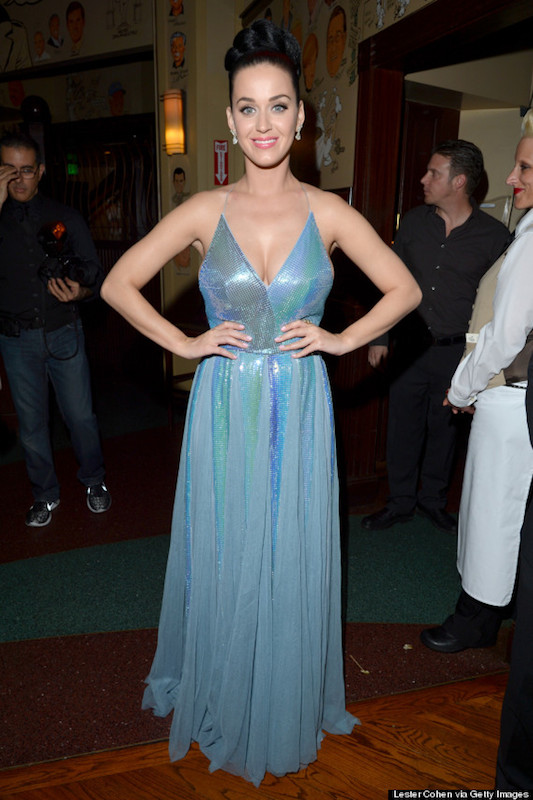 A tulle skirt is definitely the easiest way to incorporate this fairytale fabric.  While the texture itself is whimsical and bold, we like the look of pairing it with a toned down piece like denim or a sweater.  For a more versatile approach, a tulle top is great for layering!  Make it the top layer over a camisole, or the bottom layer under a sweater or jacket.  But wait, it gets better.  Tulle is a great option for this time of year, where it's no longer the cozy holidays, but not yet springtime sunshine.  Tulle's elegant flair hints at the remnants of winter, while its femininity calls for the beauty of springtime.
We can't wait to try incorporate a touch of tulle to our looks!  Thanks Katy Perry for the inspiration, I hope we can rock it as well as you do!
Photos from pintrest.com and huffingtonpost.com
I'm sure all fashionistas would agree, we hate having to cover up our outfit every time we go outside when it's cold out. In the winter, your coat is the outfit the world sees, and at  STA we love sporting jackets that are as fashionable as we are. But with so many to choose from, how do you know which coat best suits you?! Like your outfit, have your winter coat reflect your personality! Here are a few celebrity style inspirations to help you pinpoint your coat personality:
Trench Coats and Wool Blends
Personality Traits: Elegant, classic, classy, pretty, composed, girl-next-door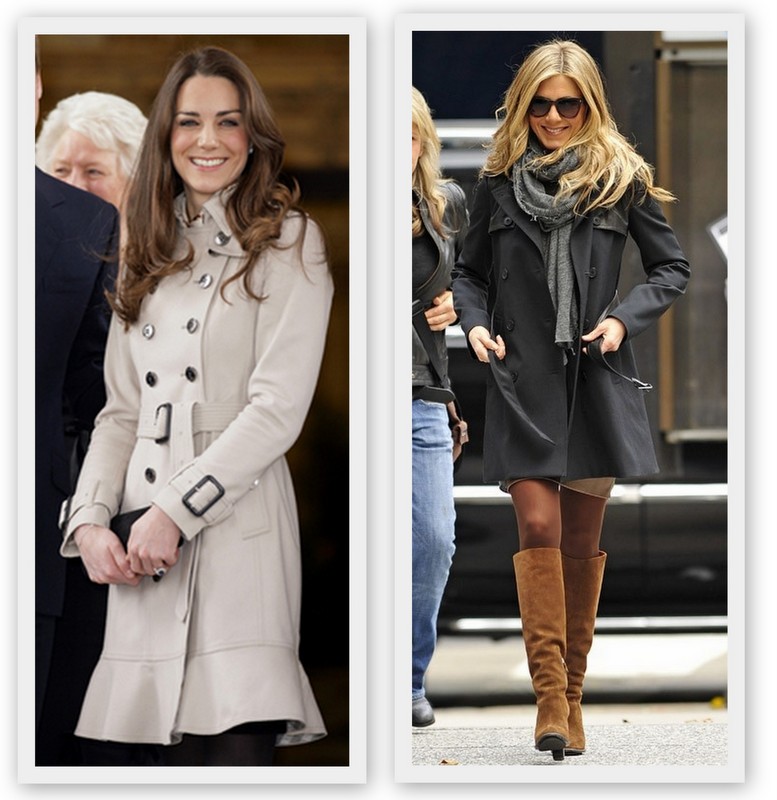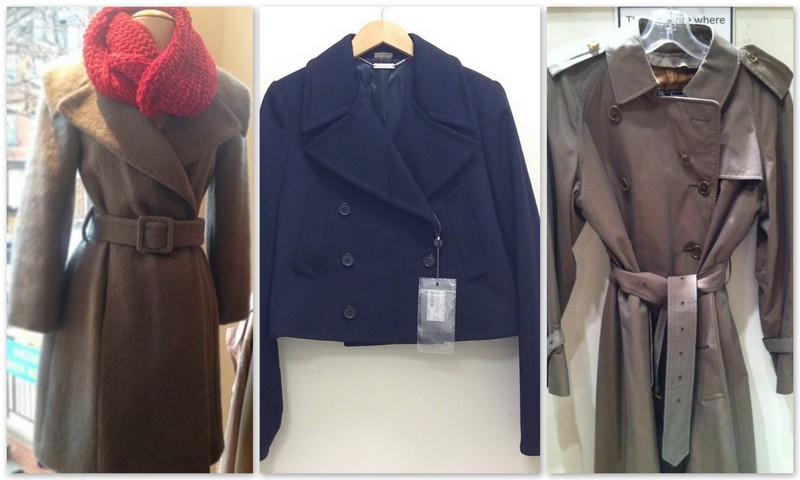 Inspiration: Kate Middleton and Jennifer AnistonAt STA:
A wool peacoat or a classic trench are the perfect cover for a nice occasion, or when you feel like looking sleek and put together.  The simple addition to your outfit not only keeps you warm, but exudes your beautiful and confident personality.  It's impossible to go wrong with this sophisticated outerwear.
At STA:
Susana Monaco mohair/wool - STA 219 Newbury St.
Alexander McQueen short peacoat wool/cashmere - STA Portsmouth
Burberry Olive Trench - STA Wellesley
Fur
Personality Traits: Bold, Fearless, Confident, Diva, Glam
Inspiration: Victoria Beckham and BeyonceAt STA:
The look speaks for itself.  Nothing says "I'm a star" like fur.
At STA:
Lapin cat vest - STA Gramercy Park
Mink - STA Gramercy Park
Ombre dyed fox fur - STA Brookline
The Puffer
Personality Traits: Easy-going, fun, casual, big personality, lovable
Inspiration: Reese Witherspoon and Sofia VergaraAt STA:
The puffer is the "ready for anything" coat.  Whether your running errands, off to work, or out for the night, the puffer can handle anything.  Its versatility and undeniable warmth gives that "girl next door" feel, who's easy going and up for anything.  And who doesn't love a little fur trim when trying to add a little bit of edge?
At STA:
Northface Puffer Jacket - STA Portsmouth
Moncler Puffer - STA Charles St.
Cole Haan quilted jacket - STA Portsmouth
Unconventional and Daring
Personality Traits: Bold, Daring, Confident, Striking, Show-stoppers, risk-taker, trend-setter
Inspiration: Jessica AlbaAt STA:
Vests, bright colors, and different textures are all ways to bring unique flair to your outerwear.  Who needs to follow trends when you can set your own?  Whatever your heart desires, there's a coat out there to match.  And when you flaunt it on the streets, everyone can tell that's a girl with a fun, unique, and glamorous style.
At STA:
T by Alexander Wang jacket with leather sleeves - STA Nolita
Barbour vest - STA Charles St.
Bod n Christensen bomber jacket - STA Brookline
Barneys leather vest - STA Gramercy Park
Whatever your personality, flaunt it to the world through your winter coat!
Photos: pintrest.com