Posts tagged
pumps
Okay, so we know Valentine's day isn't a real holiday.  And while we may not be all about the romance and hearts and chocolate, we'll take any excuse for a festive outfit.  Who doesn't love a good red and pink color scheme?
If you're a fashionista like us, we know you own your fair share of "a pop of red" pieces.  Now's the time to whip em out.
How cute are these red on pink outfits?  We love the bold and oh so appropriate clash of color.
As girls it's in our nature to love a holiday all about romance.  Trust us, we get it.  But we understand sometimes you want to fly a little under the radar on this day of love.  You can still embrace your love for the holiday while staying subtle.  We suggest rocking your festive hues, but pairing them with other non-valentines day colors like black or navy.  Keeping your wardrobe traditional for the work place?  Add your pop of Vday colors in accessories.  Stack on some red bangles, pumps, beaded necklace, or nail polish.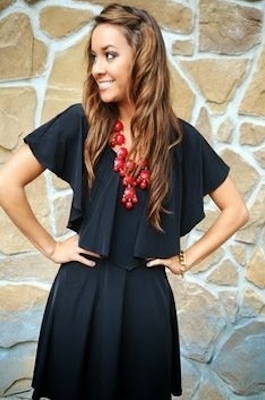 If Valentine's day isn't your thing, grab your best, hot and feminine pieces and embrace your indifferent attitude.  Nothing says, I love myself like a LBD or pencil skirt.
What better way to celebrate love than to show off your love for fashion?! Happy Valentines Day Fashionistas!
Photos from Pintrest.com
I'm sure you've been anticipating a rather extensive list, as usual.  But as a fashioniSTA, what else do you expect?  For your convenience I've narrowed it down to my top ten items.  You can find every item on my list at STA.  And while you're there, maybe you'll even get some more ideas!  So here it is.
A Fashionista's Christmas List:

Chanel Earrings  (STA 324 Newbury St.)
Fur Vest
Tory Burch Boots (STA Philadelphia)
David Yurman Crossover Ring
Juicy Couture Watch (STA Haddonfield)
Louboutin Pumps
Alice and Olivia Sequin Dress (STA Englewood)
Hermes Cuff
Valentino Kaleido Gem Tote (STA South Miami)
Louis Vuitton Scarf
Now I know fashion isn't really your forte, so I understand if this list is a little intimidating to tackle.  So if you can't get them, it's okay.  I can always go to the…
SALE at STA the day after Christmas!  From 9am-12pm everything at STA is 50% off!
Then after 12pm, there's 20-30% off the entire store!
As a present for myself, I'll be hitting the after Christmas sale at STA.  I promise I've been good all year.  Merry Christmas Santa.
Sincerely,
A FashioniSTA
Photos from STA Facebook pages and pintrest.com
I'm a shoe-a-holic. There, I said it. I'm obsessed. I'm constantly on the lookout for a new pair—platforms, flats, stilettos, you name it. Why? Because no outfit is complete without the right pair of shoes. But as the seasons change, so must your shoes. While there are tons of different styles to try, I've selected my top five favorite new shoe trends for summer, so your outfit can sizzle all the way down to your toes.
1. Studs
Studs aren't necessarily a new trend when it comes to clothing—grungy studded leather coats and pants have been in style for a few seasons now. However, take the trend to your feet with some fun studded flats this season. Try a pair of ballet flats with a studded toe or a pair of blinged-out loafers. You'll be fashionable, fierce and comfortable.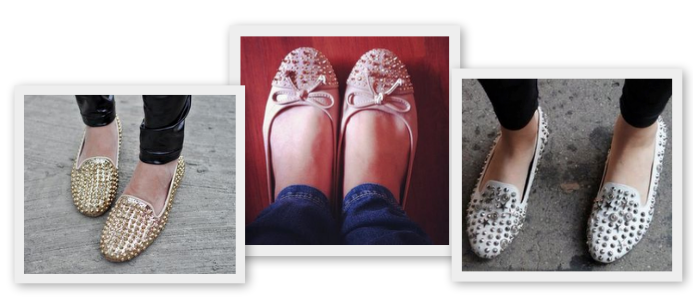 2. Pointed Toe
The pointy toe is making a comeback! After years of round toed shoes, I'm ready for a change. This classic style is perfect for day and night. Try a simple black pointed stiletto to start; you can wear them to the office and out for drinks. Bonus: the pointed toe gives the illusion of longer legs—yes, please!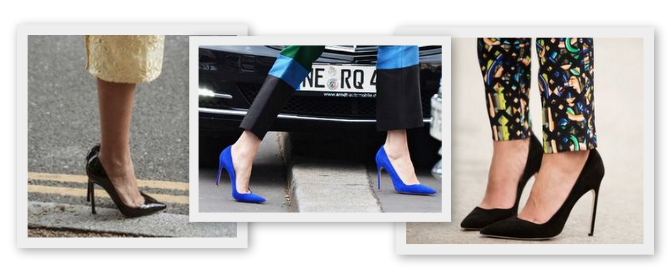 3. Transparence
Take a fashion risk with a trendy transparent element to your shoes. I'm obsessed with chunky open-toed platforms with a transparent heel.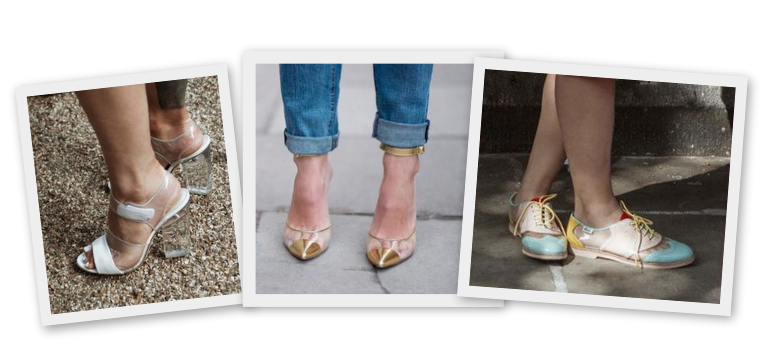 4. Menswear Inspired
The menswear trend has always been pretty intimidating for me; I always have a little difficulty rocking an androgynous outfit. For those like me who think the trend is daunting, rocking a menswear inspired shoe is a great way to get the look without feeling too masculine. You can never go wrong in the summer with a pair of light brown brogues! I like to pair mine with a sundress or my high-waisted skinny jeans.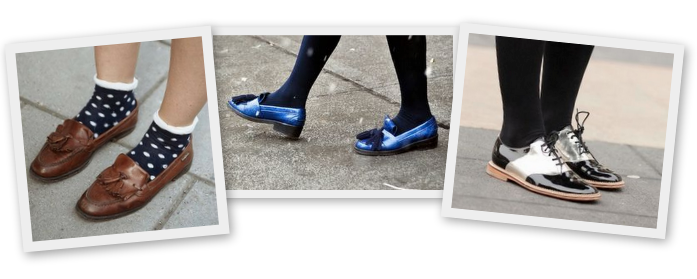 5. Spiky and Wild
Fashion is all about risks and standing out, and this summer that means rocking brightly patterned shoes. Think color blocking, cutouts, laces, and sky-high stilettos. Let these awesome shoes stand out on their own and pair them with a simple dress or crisp black skinnies.

~Alyssa, fashioniSTA
(Image credits: net-a-porter.com, instagram.com, cyndispivey.com, pinterest.com, obaz.com, jakandjill.com, nymag.com, fashionising.com, refinery29.com)