Posts tagged
Juicy Couture
Just when we started to embrace fall's temperatures and wardrobes (Layers! Cashmere!) – New York Fashion Week had to come along and tantalize us with some of the sleekest and chicest spring/summer 2013 offerings we can think of. The next six months can't fly by quick enough so we can get our hands our favorite NYFW pieces.
Who says sequins are for evening only? Us fashioniSTAs love everything that shimmers, like this Rachel Zoe. With its silver sheen and a hint of gold, we can't wait to incorporate this top into our everyday wardrobes. Adding a bit of bling at the supermarket, on the subway, or at a dinner date never felt so easy. (We love it paired with Zoe's crisp seafoam green shorts and oversized cat-eye sunnies too!)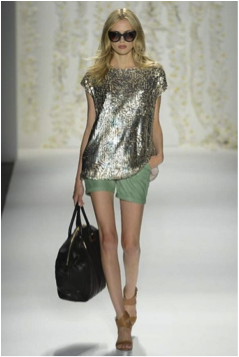 Amping up our arsenal of summertime day dresses is one of the best things about spring (along with fresh flowers and paper-thin cardigans). Victoria Beckham's new line, Victoria Victoria Beckham, makes our selection that much better for 2013. With a blended watercolor-inspired print, and a bold pop of cobalt blue, this dress will be one suitable the first al fresco brunch of the year. Perfect for brunch with your girlfriends, throw on some sandals and an aforementioned paper-thin cardigan and you're good to go.
A common fashioniSTA dilemma? How to dress for warm weather to the office. Thanks to Z Spoke by Zac Posen (left) and Juicy Couture (right), short suits are on-trend in a big way. With their bold prints and vibrant colors, we're able to bring tailored professionalism to the 9-5 work day. Pair them with flats and neutral accessories to make them instantly office-appropriate, whether your daytime style is quirky or sleek.
Want to see what else we loved from NYFW – and what we're currently lusting after from London Fashion Week? We have you covered over at our Pinterest boards.
~Meredith, fashioniSTA
While we all make the shift from fall ensembles into winter outfits, this is a great time to try out some of the riskier trends that are popping up in stores. If you happen to be someone who genuinely enjoys dressing up for Halloween, then take that enthusiasm and apply it to your everyday wardrobe with a couple key fall risks. Drab to fab is just one key piece away.
Multi-Colored/Patterned Tights
This is one trend that can be universally applied, no matter what your style might be. I'm not suggesting wearing anything striped or patterned, but a pair of raspberry-colored tights against an all-black ensemble makes a great and easy statement. If you happen to be slightly more adventurous than that, go with a pair of argyle tights for a preppy statement, or you can try out the textured tights that are making their way into every high-end store. I wouldn't suggest going with anything that you feel borders on a wicked witch motif, but trying a diamond-stamped pair would modernize a traditional shift dress.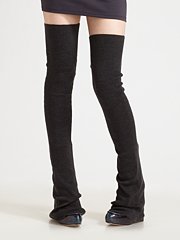 Leg Warmers
Are you a Dancing with the Stars fan? Of course you are. They wear leg warmers on the show like their legs would fall off without them. Since I don't know anyone who wouldn't want a body like a DWTS dancer, I feel like wearing leg warmers might make me look a little more like them, and then I'm one step closer. Go with a pair from Alexander Wang or Rag and Bone, and whether you choose to scrunch them down or wear them straight, the possibilities are endless. Wear them scrunched and pair them with leggings and a jersey top for a fitness fantastic ensemble, or pull them straight and pair with a knit dress for a modern - and warm - look.
Not into the whole 80s vibe? Try a pair of heavy knit knee socks under Hunter rain boots – or brown leather knee boots or those rare sunny days – and pair them with leggings or a knit dress for a cozy, autumn look.
Pea Coat Vest
Tommy Hilfiger has put out what I think is the latest and greatest in fall outerwear. Basically taking an army-green pea coat and cutting off the sleeves, he managed to create a great vest that looks like it's straight off of the Onassis yacht (only truly fabulous people yacht in the fall). This soon-to-be staple is the perfect combination of preppy and innovation, and I'm personally dying to own one. Pair it with a turtleneck, jeans and riding boots for an equestrian-friendly ensemble. Or try it with a long-sleeved dress and knee-high, heeled suede boots for a more urban-chic look.
Military
I know that there are a lot of simple and subtle ways to introduce the military look into your wardrobe, so this should not be shocking. But instead of sticking with just an army-green piece or a jacket with "military-inspired" gold buttons, go for a real military risk. Check out a runway-worthy military jacket from Juicy Couture or Of Two Minds, or go all out and find one with military detailing on the shoulders.
If all of this is a little extreme for your risk factor, try one statement piece in a subtle camo print, like LaRok's sequin camo skirt or Manolo Blahnik's camo flats, sure to make you army-chic in no time.
Fur
There's nothing that Rachel Zoe loves more than a fur vest, so if you happen to live to watch her die over everything vintage she finds, this might be a good place to start. Try a vest from her own QVC line for something moderately-priced. This season there are also some great fur boot options that are sure to be your new best friends once the temperature dips below freezing.
While it seems like a fashion risk, the right faux-fur (or real fur) jacket in a winter white color can be a classic piece for fancy events. The off-white option from Juicy Couture this season is a great example, and is sure to keep you warm when wearing a cocktail dress as well as make sure you're cold-weather chic.
Pattern Knits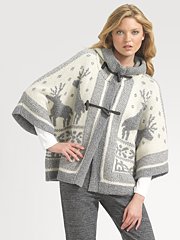 Whenever I think of wintertime, I always think of those Jan Brett picture books from when I was younger, and pretty much all of them involve a little girl wearing a Swedish-inspired knit sweater, usually with large snowflakes knitted into it. Although I'm sure no one else would think that's a basis for a current trend, these sweaters are popping up all over the place (and not just in the children's section). Go for a Fair Isle sweater for a low-key risk, or pump up the risk factor with an all-over print like the ones this season from Rag and Bone and Marc Jacobs. Should you want to exude Christmas spirit early, go with See by Chloé's reindeer pattern sweater (right), it's like it was ripped straight from the pages of my favorite childhood books. Or if you happen to be feeling a little saucy lately, try Ralph Lauren Blue Label's off-the-shoulder snowflake sweater.
For the over-achiever, Juicy Couture's Faux Fur-Trimmed Cardigan covers two fashion risks at once, but if you're only feeling up for one, the fur collar is detachable. With all of these options, you'll be all set for anything, from the apple orchard to the ski slope.
Remember fashioniSTAs, you'll never know your true style potential until you take a risk!
~Ashley, fashioniSTA, Second Time Around
Stylish Things to be Thankful For
In addition to the fact that I can stuff myself and not look like a fatty, there are a lot of things that I love about Thanksgiving. The fact that I can usually come up with a good list of things I'm thankful for is also a plus. In addition to the fact that I haven't been hit by a bus and I've once again avoided contracting swine flu, I have a list of fashion favorites to which I'm grateful.   
Here are the things that fashioniSTAs everywhere can be thankful for:   
Black Friday Sales   
To fashioniSTAs, Black Friday is like Christmas came early. This is the day where shopping becomes an Olympic sport, and some of us train all year for this portion of the holiday games. Yes, I'm aware that you're supposed to be buying gifts for your friends and family, but nothing says that you can't browse for yourself while you're at it and take advantage of the great deals out there. And where's the best place to do that? At Second Time Around, of course! (Shop 7-9am for 50% off all merchandise! See details here.)  
Holiday Sparkles   
Unless you live under a fashion rock during the holiday season, you know that this is the time to break out your sparkly outfits and bring on the holiday cheer. It's the time of the year when dressing in head-to-toe sequins is considered "festive" rather than psychotic. Personally, I'm all for dressing like this year round. From Alice + Olivia to Ann Taylor, you have a million options from sequin tanks to sparkly miniskirts to glitter pumps. And as a holiday staple, there's always the full-sequin dress, perfect for New Years as well. All the sparkly clothing during this time of the year just makes everything a little more cheerful, no one ever got into an argument over glitter.
Leggings
Don't pretend that you're not part of the We Love Leggings Fan Club. I haven't met a single girl, when pushed, who won't admit to having this obsession. Dress them up or down, daytime or night; there are few occasions where you cannot wear them. They're perfect if you're petite or plus-size, and you can now wear them with a variety of tunics and dresses so you can look put together without putting in almost any effort. And they are a Thanksgiving staple for those of you that actually partake in the food festivities and eat until wearing denim feels like a straightjacket for your legs. 
I choose not to remember when cell phones and laptops got stuffed into bags, exposed to the elements. The technology industry finally wised up and fused fashion with function when they introduced accessories to hold all of our electronics. Think about shoving your iPhone – or iPad, for those of you ahead of the techno-curve – into your purse without a case. Horrifying. Now designers are chomping at the bit to protect our electronic valuables, with cases fromYSL (right), Louis Vuitton, Marc Jacobs and Juicy Couture. Now your personal style can be expressed through your technological necessities, what's better than that?   
That Jersey Style Never Caught On 
I'm as big of a fan of Jersey shows as the next person. Ask anyone, if I could make a living watching Real Housewives of NJ, I would do it. But even I can admit that I'm glad Jersey style didn't sweep the nation the way the television shows did. While I'm a fan of some of the fashion I see on the shows – depending on who's wearing it – the bright pink lipstick, over-the-top animal prints and excessive bronzer are a little much. And when I say the bronzer is too much, that's saying something, since I've been known to paint on the stuff like my skin was an easel.  
Here's hoping you all have a stylish and happy Thanksgiving!   
~Ashley, fashioniSTA, Second Time Around
I don't know if you've heard, but the playground is apparently the latest style scene. All of the up-and-coming stylistas make it their mission to look like lean, mean fashion machines once they hit the monkey bars. If you are sending your child out – or allowing anyone you know to do so – without making sure they are runway-ready from head to toe, you are doing them a serious disservice, or at least that's what it seems when you get a look at any celebrity child. My only complaint when I was little was that my clothes weren't sparkly enough, not that my Burberry prints clashed with each other. Ready to give your kid celebrity status?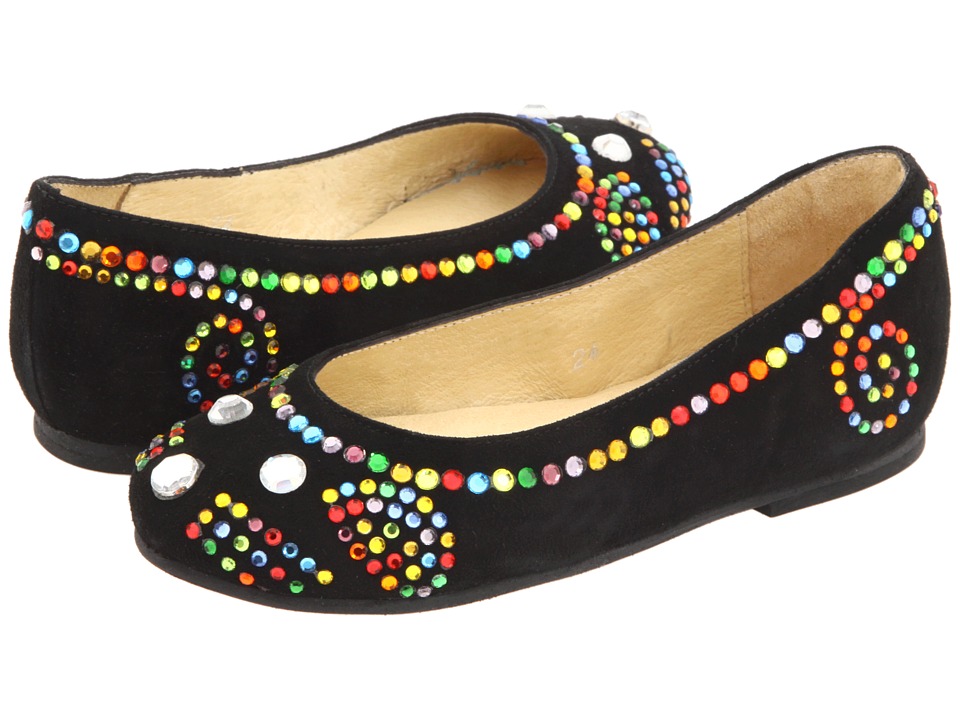 To start off, you need to think practical. With the cold months ahead, your child will obviously need mini Ugg boots. Spring for the Pink Baily Button boots in a dark raspberry color so that she really stands out at recess – and really, almost $150 on tiny footwear is very reasonable. To ensure that she will also be comfortable inside her second-grade classroom, I suggest the Marc Jacobs Rainbow Mouse Ballet Pumps (right). [On a side note, I actually think these are the most adorable shoes, and if they weren't over $250 and were going to be put on a small child's foot and most likely stomped in the dirt until the rhinestones fell off, I would probably seriously advocate these.] And while you wouldn't want this poor fashionista to freeze, I definitely recommend the Burberry Nova Check Poncho, because if you weren't already sold, the hood would definitely push you right over the edge.
Why dress your baby in normal, frumpy clothes? Instead, dress her statement pieces with intricate details. Try a D&G Junior Denim Bow Dress for $415, this dress's large appliqué bows will give your 8-year-old just enough Lady Gaga for her second grade class, of course without going overboard. For a more flashy entrance, try Roberto Cavalli's leopard-printed jeans, bringing the flair of Jersey Shore to an elementary school near you. Too extreme? Scale it back a bit with a pale yellow linen Ralph Lauren dress, perfect for all of the summer weddings that your social butterfly young daughter is sure to attend. And this dress is actually washable – at 30 degrees – a big selling point amidst the other dry clean only selections. For a fall perfect look, your child's wardrobe should really consist of a balanced mix of signature statement pieces and easy basics. And by easy basics, I obviously mean Junior Gaultier faux leather skinny trousers and Monnalisa navy leggings with pearl details. Apparently basic black leggings haven't trickled down into the youth sector, these children are just too fashionable to be seen in anything so pedestrian. And of course the finishing touch to any mini-fashionista's look would be a pair of rounded, blush-colored Chloé sunglasses.
If your child is looking to attend a nightlife social event (and really, when is your child not looking to do this?), try a Sonia Rykiel full-sequin skirt with attached suspenders. Of course, they are referred to as "braces," because apparently nothing in kid fashion is described normally, that would be too kid-friendly. Or go with a Junior Gaultier sequin three tiered dress in black, perfect for the third-grade class New Years' bash at Tenjune. And word on the street is, you can also use this dress as part of a witch Halloween costume.
And for the budding elementary school fashionista, sending her to school with a brown paper bag lunch would just be plain mean. Especially when Juicy Couture has their own pink and academic-themed lunchbox, which contains what they refer to as a "flask." Exactly what comes to your mind when you hear that? Yeah, my thoughts too. When I was attending a school that provided recess, we called them "Thermoses," but I guess when you're a style star on the rise, even your lunchbox gets an inappropriate adult name.
And for those mothers out there who have little princes at home, treat him right and dress him to kill. The ladies out there will not be impressed with his graphic tees and ripped jeans, so go for Paul Smith's black suit with lilac pinstripes. It's just enough pizzazz for a future fashionisto, or if your child happens to be a mini Chuck Bass. For a more casual look, try Paul Smith's mini leather bomber jacket paired with child Ray-Ban Wayfarers. I'm sure the children will get the Top Gun motif that you're going for.
With all of these tips at your command, there is no excuse why your child should look like a normal kid. Of course, she won't be able to actually play or interact with other children, but that's a small price to pay. Why make your kid comfortable when they can wear premium denim and suck on a D&G pacifier?
~Ashley, fashioniSTA, Second Time Around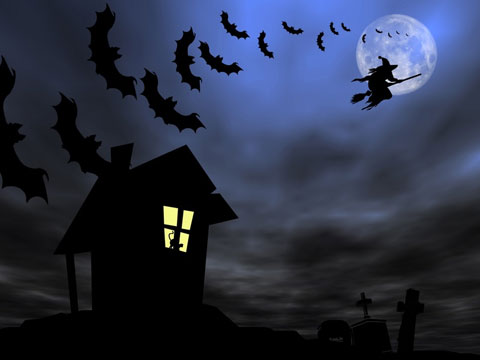 Coming up with a Halloween costume is a great way to experiment with your sense of style in the most extreme way. No one dresses up like a fairy and rolls around in glitter if she doesn't like to wear sparkles on a semi-regular basis. And while this night can help you channel your fashion creativity, why limit it to just one night? Extend the life of your Halloween fashion sense by (semi-subtly) incorporating it into your everyday wardrobe. While I'm not suggesting that every one of your workday ensembles should have a theme, pumping up the creativity once in a while is sure to make getting dressed in the morning a fun experience. Here are a few themes that you can work into your wardrobe to create your own everyday Halloween costumes.
Prep Schooler
Channel your inner Gossip Girl and pump up the preppy. While this style is all over the place thanks to The CW, you can take it a step further than just wearing an argyle sweater or a big headband. For a traditional look, go with a plaid kilt (pleating optional), like one from Burberry in either traditional Nova print or their latest army green color. Pair it with dark tights and a white cable knit sweater or cardigan. Finish off the look with loafers from Tod's or Mary Janes with white ankle socks, and a thin headband. For a more Blair Waldorf look, go with a large pleated skirt in a solid color, paired with argyle tights and a Peter Pan blouse paired with a v-neck cardigan. Check out Land's End for the traditional basics - such as the blouse and a khaki skirt - and then go all out with a Jennifer Oulette headband. Trade in the sweater for a Juicy Couture blazer and try Commes de Garcons' latest lace-up loafers or Joie's Louis Louis. If this still isn't enough, layer on strands of pearls and carry a structured handbag, like Tory Burch's flat Dayton leather clutch. 
Egyptian/Spartan
This is a great theme to try out at a nighttime event. This theme is all about draping and gold accents, so to go the Cleopatra route, try Temperley London's appropriately-named Queen of the Nile dress, and accent the look with two identical cuffs on each wrist. Top off the outfit with bold, geometric earrings, like ones from Gerard Yosca. Or try Rachel Roy's gold sequin dress or Yigal Azrouel's gold lamé dress, both excellent mini dress options. Finish it off with Low Luv x Erin Wasson's welded cuff or an upper arm bracelet, extra points if you can find one in the shape of a snake. If you're feeling full-length inspired, you can go with Yigal Azrouel's white open-back gown, just pair it with a large, gold bib necklace and gold cuffs or multiple gold bangles. 
To channel a Spartan queen, go with Alice + Olivia's Goddess dress and drape a couple of delicate gold necklaces. You can also try this look with brown leather accessories, such as a headband and thick, brown leather cuffs, for a truly Spartan warrior-ready ensemble. With any of these looks, you can wear gold sandals, either gladiator style or strappy - like Jimmy Choo's Lance Mirrored Sandals. For a more daytime-appropriate look, go with Tory Burch's Aziza blouse with white pants and gold sandals or bejeweled flats. Try an updo with a couple thin, gold headbands for a truly Spartan-inspired look, and of course top it off with large golden cuffs. 
Viking  
Should you be one of those people who hop on the fur bandwagon every year when it starts getting cold out, then this theme is right up your alley. Start with a fur vest, either in brown or white from Juicy Couture or Rachel Zoe's QVC line, and layer it over LaRok LUXE's Weekend Warrior tank. Pair these with leather or liquid leggings and add fur boots - like from Tory Burch or Dolce Vita - for an authentic look. Top it off with a brown leather headband. To go all out with this theme, you can go with a fur skirt from GAR-DE and pair it with booties and a banded top. You'll be itching for a horned headpiece in no time.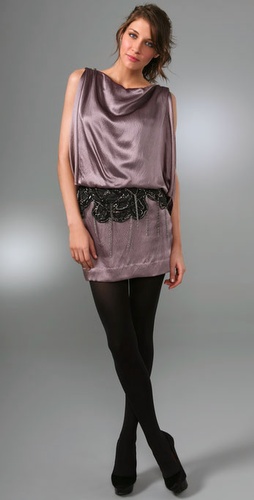 Flapper
To try something from the past other than another 1950's ensemble, try something from the roaring '20s. Antik Batik's Laria mini dress (right) is perfect for a night out, and you can pair this dress with seamed fishnet tights from Club Monaco and a rhinestone headband from Juicy Couture. Or go with a simple mini dress and accessorize it with Haute Hippie's Faille Jacket and peep-toe stilettos. To go slightly more modern, pair Temperley London's Giovanna tunic with a pair of leggings and vintage-inspired crystal earrings from Kenneth Jay Lane or a banded, chain headband worn across the forehead. For especially chilly nights, go with a faux fur jacket from Juicy Couture. 
For those of you who just want to infuse the spirit of Halloween into your wardrobe, try a couple of key pieces to create haute Halloween spirit in your ensemble. Go with DSQUARED2's Chain Skeleton Gilet as an option for a truly daring nighttime look. Or try one of the many black lace tops offered by designers such as Alexander Wang and Nanette Lepore and pair with a black leather skirt and black tights (fishnets optional). The combination of different black textures mixed with a touch of sparkle will create a truly bewitching look. 
Happy Halloween! 
~Ashley, fashioniSTA, Second Time Around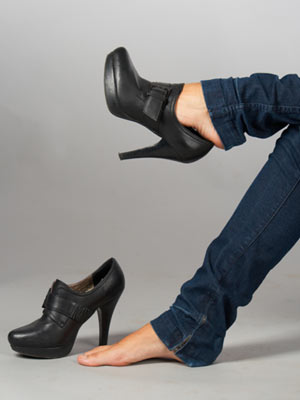 I don't have any logical explanation for why so many of us buy things that don't fit. I have been buying and trying to fit into size 6.5 shoes my whole adult life. I'm a true 7.
For years, I've suffered for fashion – squeezing toes into the too-tight tips of everything from Choos to Maddens. My rationale runs the gamut. Sometimes you find a pair of size 6s that are on sale and just "so fab" that you have to buy them. Sometimes the 6.5s just look a little cuter on your tootsies, and you convince yourself the 7s look like two canoes supporting your legs. But nothing, nothing, makes you feel better when you're hobbling down the street with a foot cramp and one-too-many blisters. Nothing, that is, except for a band-aid.
My fall closet resolution is buying shoes that fit. When you try them on at the store, take a hike. Literally. Walk around the store, add in a pair of socks, sit down, stand up, and be honest with yourself. Do they really fit? Often times you'll be between sizes. If reasonable, go up a half size. Add in a gel pad to remove any excess space. Another trick: trust the feel, not the size. If you're buying new, leather shoes, remember that them feeling "snug" is different from them feeling "tight." Shoes that snugly fit your feet will stretch as you break them in, but if you cannot move your toes, consider them too small. Keep this in mind when buying consignment shoes, if they have been worn multiple times before, they probably won't stretch anymore.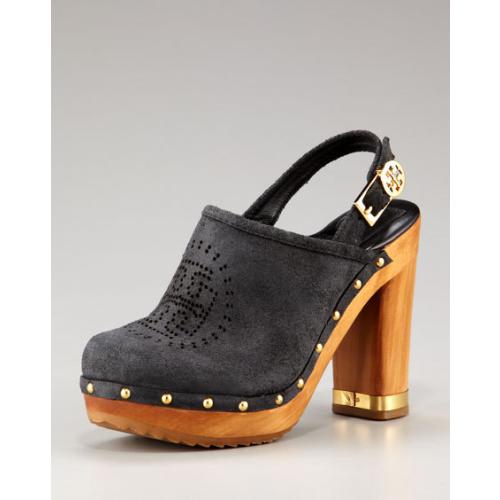 Too many of us get hung up on fitting into a certain size but each brand fits uniquely. Some run small and others run large, so make sure to trust the way your feet feel, not the number on the label. I promise, your feet will thank you for it in the end.
I'm on the hunt this fall for a pair of clogs – something like the dreamy Tory Burch Brayden sling-back (right) and a pair of stylin' sneakers for the weekend. I'm going to change my ways and buy a size 7. Heck, maybe if they run small, I'll even buy a 7.5. Lucky for you, I'll be turning in my 36.5 Juicy Couture red suede ballet flats that I only wore once and Spanish-label, size 37, grey plastic flats that never even made it out the front door. Here's hoping they fit!
~Mariel A. MacNaughton, Consigner/Buyer Extraordinaire, Second Time Around
First Job Fashion Survival Kit: Your Work Wardrobe Lifesavers
Springtime brings college graduations and often the beginning of summer internships. Stepping out into the real, working world can be scary, especially if the only work-appropriate attire that you own is an interview suit. There are a few life-saving pieces that many people overlook, but are definitely worth making part of your style survival lineup:
Flats
In your first working experience, you will probably have a job where you will need to bring upper or mid-level management their coffee. And you will need to do it quickly, usually by running. Give yourself a break and wear flats – at least for the first few weeks – so you don't have to worry about maintaining your balance in heels. Cole Haan flats are like an extra lifeline with their Nike Air technology, but any pair of soft, leather flats work great. Either invest in a neutral color – such as Chanel black or nude leather – or use your flats to liven up your office outfit by adding subtle embellishments as seen with Vera Wang Lavender Label or Delman. Also, flat boots are completely acceptable as well, and you can usually commute in them.
Great designers to consider: Chanel, Tod's, Cole Haan, Pour La Victoire, Delman, Lavender Label Vera Wang, Joie
Raincoat
It never occurred to me when I got my first job that I would need to commute there as well. What also never occurred to me was that it might rain. One of the best decisions you can make is investing in a rain jacket with a hood. Go for the double-team on this one and find a jacket that you can also wear when the weather is nicer, whether it's a classic Burberry trench or a toggle front option from Jane Post.
Great designers to consider: Burberry, Theory, Jane Post, Preta LoBue
Basic Tanks and Blouses
One of the great life lessons I received when I started working was that you can never have enough basic tanks. Stockpile them in a variety of colors that you can use to layer, and never underestimate how many you will go through in the course of a week. In addition to these essentials, I also learned that investing in colorful and patterned blouses is key. While basic tanks work great under cardigans, structured blouses create instant professionalism when standing alone. Go for traditional neutrals to establish the basics, but also try bold colors and subtle embellishments – these become the new neutrals. These details on top will transform your skirts and pants from separates into a cohesive ensemble. While fitted blouses work with any look, you can pair looser tops with skinny jeans or tuck them into your pencil skirts for a professional, yet chic outfit. Even if you don't work in a creative field, you can still wear an embellished or colorful tank – mastered by Tory Burch – under a blazer and with a conservative skirt or pants.
Great designers to consider: Basic Tanks-James Perse, Vince, Theory; Blouses- J.Crew, Tory Burch, Nanette Lepore, Diane von Furstenberg
Cardigans
Office weather can be unpredictable at best. Instead of wrapping yourself in a blanket when it gets too cold or wearing your coat indoors, make a cardigan a critical staple of your style survival kit. One sage piece of advice I learned: a black cardigan is like a best friend, it will help you out in any fashion situation. Make sure that you have at least one that's fitted as well as a longer, looser cardigan and you'll have any outfit covered. Feeling bolder? Experiment with different sleeve lengths, materials, colors and buttons to spice up your wardrobe.
Great designers to consider: J.Crew, Tory Burch, Juicy Couture
Commuting Tote
While you won't need to show up at the office with a full set of luggage, you will need at least one tote bag, usually in addition to your purse. This bag will help you cart around extra work materials in addition to your lunch or cardigans, so make sure it has sturdy handles and a roomy interior, but opt for one that is still slim enough to fit in your desk drawer. From clear and plastic to slim and leather, this bag will become an indispensable part of your working routine.
Inside your tote should also be a golden nugget of fashion wealth: a shoe bag. Since commuting in your nice shoes is generally impossible, carrying a small cloth bag for your commuting footwear will give you the peace of mind that you aren't bringing the street grime into your tote.
Great designers to consider: Louis Vuitton, Marc by Marc Jacobs, Tory Burch, Lulu Guinness, Carlos Falchi, Bottega Venetta
Ok recent grads, good luck with your jobs!  We know you will be (and look!) great.
~Ashley, FashioniSTA, Second Time Around
Sure, a lot of stores have clothes, but only a few have developed a unique eye for creating stylish collections time and time again.  We here at Second Time Around spend our days poring over individual pieces, looking to pair them with cute complementary coordinates!  Along the way, we often find ourselves helping guests to see their new items in an even newer light.  Take, for example, this staple piece from Juicy Couture found at our Harvard Square location: a vibrant green short-sleeved button-down with a wide ruffle trim and Peter Pan collar (retail value: $158 / yours for $52!)
At first glance, it appears to be a very girly yet very basic top, easily paired with your favorite everyday denim and flats.  But all it takes is a little resourcefulness to maximize your new garment's potential!  May we present to you, dear reader, a creative exercise in using the same piece for four entirely different outfits, all found in Harvard Square!
ENSEMBLE #1 – POLISHED & PROFESSIONAL
For a more classic and conservative look, we took a timeless yet trendy Alexander Wang dress (yours for only $148) and placed the top underneath.  It's hard to dress girly around the office, but this outfit rises to the challenge of finding the right professional accoutrement!  Shoe: Steven by Steve Madden — $36 / Bag: La Bagagerie — $78 / Necklace: $14.
ENSEMBLE #2 – FLIRTY & FEMININE
Spring is the time to bring a little smile to your wardrobe, and this array is no exception.  If you prefer a more flirty and feminine approach, try adding a splash of vintage chic!  Skirt: Trio — $24 / Scarf: Vintage — $12 / Belt: Vintage Dior — $32 / Bag: Vintage — $14 / Shoe: Steve Madden — $32.
ENSEMBLE #3 – BOHO CASUAL
Ruffles have a subtle dress-up quality about them, so we paired our top with some casual everyday staples.  The final look has an edge about it that says you're not afraid to add a little cute to your kit.  Skirt: Lucky Brand Denim — $26 / Undershirt: Kenzie — $16 / Bag: Christopher Kon — $62 / Shoe: Taryn Rose — $74 / Scarves: $12 each.
ENSEMBLE #4 – GLAMAZON
Every so often, a lady wants to glam it up a little after a long hard day making ends meet.  A wardrobe basic can easily transition into nightwear by the simple addition of alluring accessories!  Skirt: Silk Box — $28 / Belt: $12 / Bag: Stuart Weitzman = $132 / Shoe: Steve Madden = $32 / Necklaces: $14 each.
~ Kim, Harvard Square Store Manager, Second Time Around