Posts tagged
Dior
We're handing out our own superlatives for this year's Academy Awards to our best and worst looks of the night. From stand-out accessories to cutest baby bumps to red carpet disasters, we give out our own awards to those who deserve it most.
Best Accessories: Jennifer Lawrence in Dior Couture
While she didn't trip on the endless diamond necklace she was sporting, this backwards necklace was my favorite accessories look of the night (followed closely by Sandra Bullock's hair pin). With the up-do, the simple drop earrings and the light, ethereal makeup, the whole look was perfection.
Best Red Lip: Jessica Chastain in Armani Privé
Looking amazing in a custom-made gown, Jessica definitely made up for her ill-fitting SAG Awards dress. But the icing on this sequined cake was definitely her striking red lip, which took the ensemble from monochromatic to magnificent.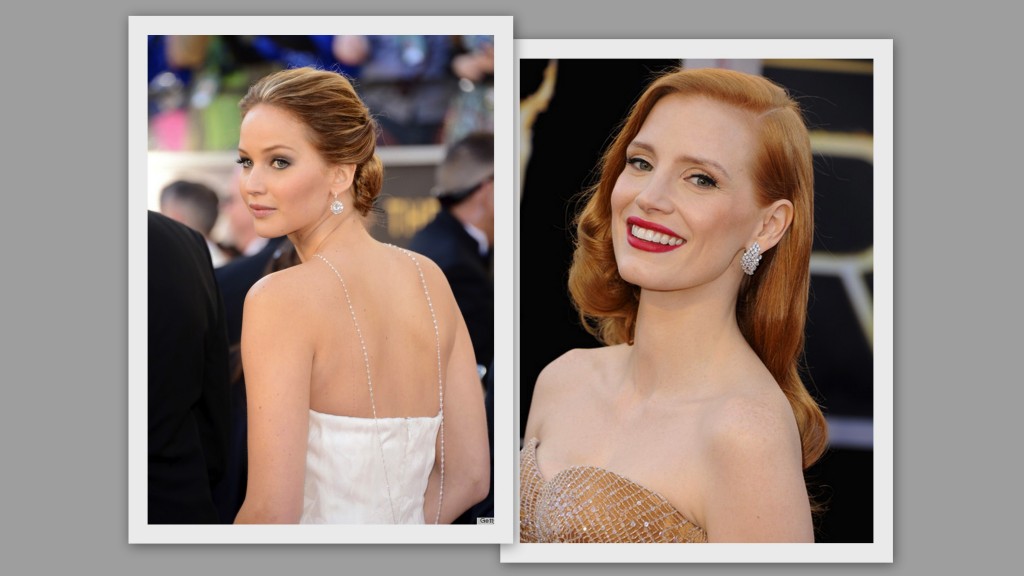 Best Couple: Channing Tatum and Jenna Dewan
This almost went to George Clooney and Stacy Keibler, but Jenna's pregnant with Magic Mike's baby, so she wins. Wearing a black lace Rachel Roy dress, Jenna showed us how to go fitted in the right way when sporting a bump.
Best Embellishment: Kerry Washington in Miu Miu
Playing off the Fall 2012 embellishment trend, this red/coral dress was perfect on her petite frame. The tiny bow and embellishment gave this simple shape a youthful feel, and the slightly darker hued bag made for an air of interesting.
Best Spring 2013 Trends: Zoe Saldana in Alexis Mabille Couture
While this dress had a lot of detail going on, the fact that it was almost monochromatic helped the embellishments blend into the dress beautifully. With ruffles and black/white being hot trends for spring, Zoe's fresh take on ombré is strikingly modern.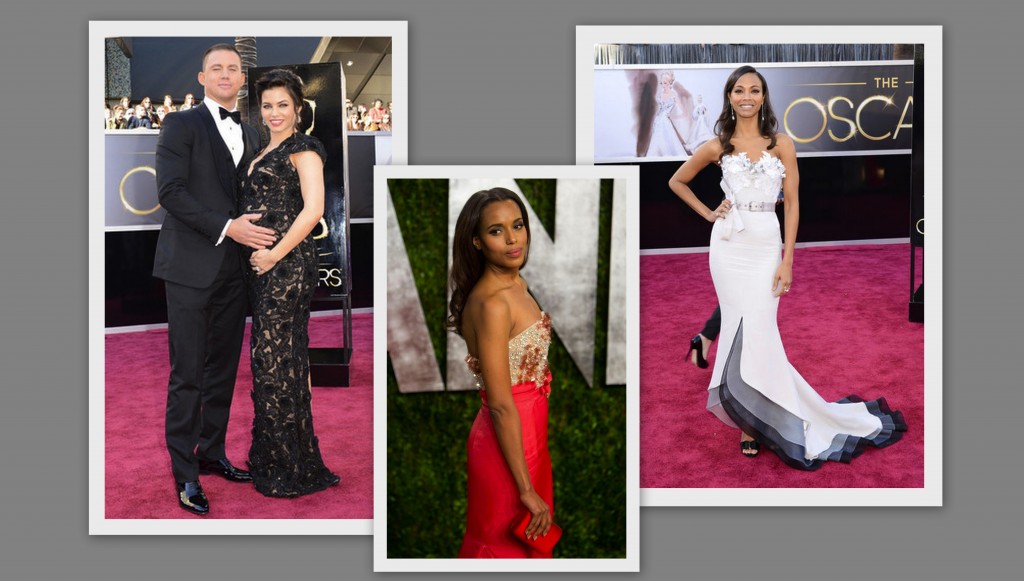 Most Offensive: Anne Hathaway in Prada
This is what happens when you change it up at the last minute. It was assumed – even by the designer – that she would be wearing Valentino, so it was a slap in the face when she showed up in what she did. Not only do we expect more from a nominee (even though the back almost saved the dress), but do we even have to mention the awkward darts? The fact that her nipples now have their own Twitter account sums up this look's legacy.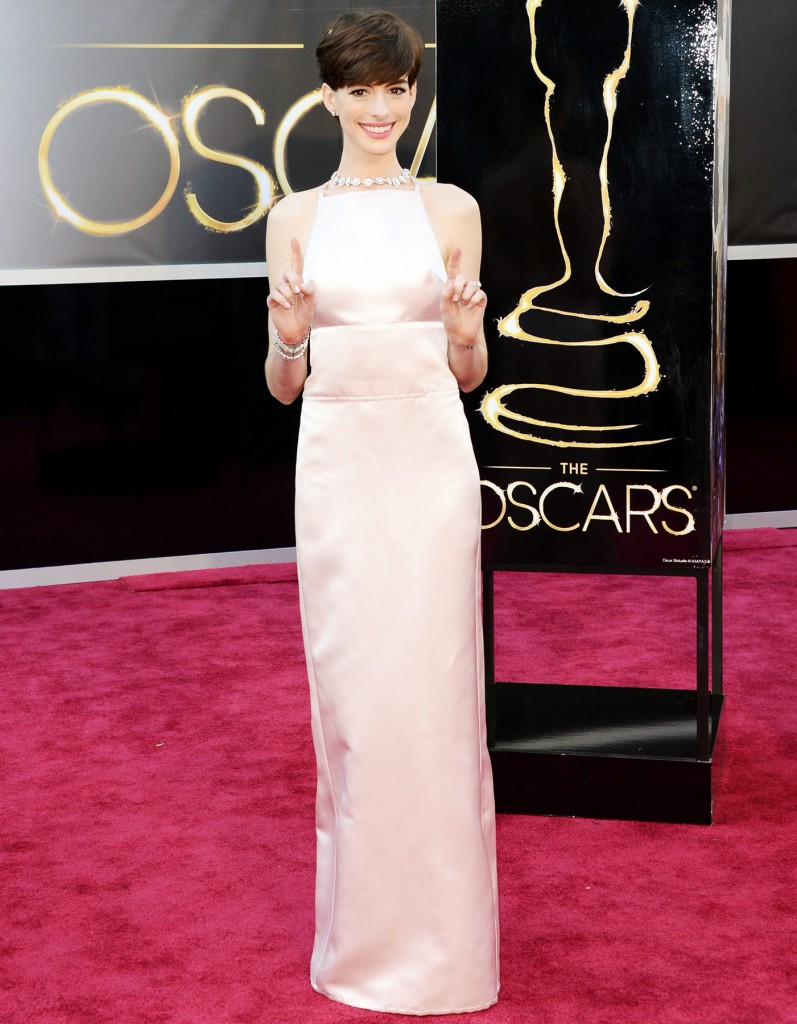 ~Ashley, FashioniSTA
Images by: Huffington Post/Getty, Allure.com, Eonline.com, UsMagazine.com, Popsugar.com
~ Boston Museum of Fine Arts, "Avedon Fashion: 1944-2000″ ~
For almost sixty years, Richard Avedon (1923-2004) brought fashion to life via his artful camera. His photos mayhave started out as advertisement for Dior, Chanel, or Versace, but they ended up as events. The Boston Museum of Fine Arts is currently hosting the traveling exhibit "Avedon Fashion: 1944-2000″, which is the first comprehensive survey of Avedon's fashion photography since 1978. Avedon has been heralded in the fashion industry as a pioneer, one who revolutionized the work of fashion photographers.  Using a photojournalist's approach, Avedon replaced formal, mannequin-like studio poses with dynamic images of models who are full of expression, often on location, and always in motion.
Images are grouped by decades and presented to show his
progression as a photographer and artist. Avedon's volume of work was huge — the exhibition highlig
hts about 140 objects. Original prints, negatives, and notebooks are displayed alongside Bazaar issues from the 1940's. Separated into three galleries chronicling the periods 1944-1949, 1950-1959, and 1960-2000, we follow along as Avedon's technique (not to mention the direction of fashion itself) evolves.
Richard Avedon was only 21 when he sold his first photo for $7.50 and was soon working for Harper's Bazaar. They sent him to Paris, where he made his reputation, reconstructing the pre-war glamour of the city. By the late '50s Avedon was arguably the most famous photographer in the world. The 1960s brought a youthquake of mod culture and Avedon certainly captured the tenor of the times. He was the first prominent photographer to use multi-racial models, turning Donyale Luna into the first major African-American high-fashion model in U.S. fashion magazines.
The 1970s saw Avedon continuing to reflect the energy and liberated styles of the times, photographing models in mini dresses and menswear-inspired clothing.  By the 1980s, until his departure from the magazine in 1988, Avedon shot nearly every cover for Vogue; after 1990, Avedon worked exclusively on ad campaigns and catalogues for Gianni Versace. In 1992, he became the first staff photographer for The New Yorker, where he contributed several fashion essays.  Avedon continued to dominate the photographic world until his death in 2004.
"Avedon Fashion: 1944-2000″ will continue to be on display through January 17th, 2011 — trust us fashioniSTAs when we say it is a highly recommended addition to your itinerary. Check out this display while you can!
~ Kim, Manager Harvard Square, Second Time Around
Sure, a lot of stores have clothes, but only a few have developed a unique eye for creating stylish collections time and time again.  We here at Second Time Around spend our days poring over individual pieces, looking to pair them with cute complementary coordinates!  Along the way, we often find ourselves helping guests to see their new items in an even newer light.  Take, for example, this staple piece from Juicy Couture found at our Harvard Square location: a vibrant green short-sleeved button-down with a wide ruffle trim and Peter Pan collar (retail value: $158 / yours for $52!)
At first glance, it appears to be a very girly yet very basic top, easily paired with your favorite everyday denim and flats.  But all it takes is a little resourcefulness to maximize your new garment's potential!  May we present to you, dear reader, a creative exercise in using the same piece for four entirely different outfits, all found in Harvard Square!
ENSEMBLE #1 – POLISHED & PROFESSIONAL
For a more classic and conservative look, we took a timeless yet trendy Alexander Wang dress (yours for only $148) and placed the top underneath.  It's hard to dress girly around the office, but this outfit rises to the challenge of finding the right professional accoutrement!  Shoe: Steven by Steve Madden — $36 / Bag: La Bagagerie — $78 / Necklace: $14.
ENSEMBLE #2 – FLIRTY & FEMININE
Spring is the time to bring a little smile to your wardrobe, and this array is no exception.  If you prefer a more flirty and feminine approach, try adding a splash of vintage chic!  Skirt: Trio — $24 / Scarf: Vintage — $12 / Belt: Vintage Dior — $32 / Bag: Vintage — $14 / Shoe: Steve Madden — $32.
ENSEMBLE #3 – BOHO CASUAL
Ruffles have a subtle dress-up quality about them, so we paired our top with some casual everyday staples.  The final look has an edge about it that says you're not afraid to add a little cute to your kit.  Skirt: Lucky Brand Denim — $26 / Undershirt: Kenzie — $16 / Bag: Christopher Kon — $62 / Shoe: Taryn Rose — $74 / Scarves: $12 each.
ENSEMBLE #4 – GLAMAZON
Every so often, a lady wants to glam it up a little after a long hard day making ends meet.  A wardrobe basic can easily transition into nightwear by the simple addition of alluring accessories!  Skirt: Silk Box — $28 / Belt: $12 / Bag: Stuart Weitzman = $132 / Shoe: Steve Madden = $32 / Necklaces: $14 each.
~ Kim, Harvard Square Store Manager, Second Time Around