Posts tagged
Blair Waldorf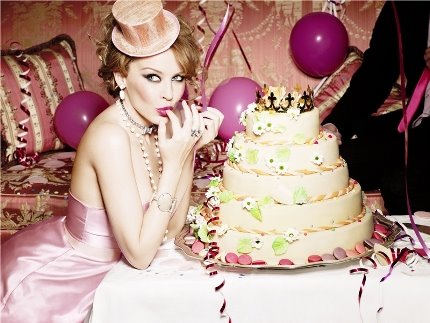 In honor of our very own FashioniSTA's birthday (Marisa) and that of our FashioniSTA boss (Jeanne), we want to make sure that everyone on their birthday looks fierce! This is the one day of the year that you can wear whatever you want without worrying about being too over-the-top or too much of the center of attention. In other words: Bring It! It's easy to wear something that is just "nice," but on your birthday, don't pass up the opportunity to shine, however you choose to celebrate! Even if you just see your birthday as making it another year, if you put the emphasis on yourself and wear something that you're excited about, I guarantee it will make your day feel truly special. There's also no rule against planning your birthday celebration around your outfit…
Dinner Out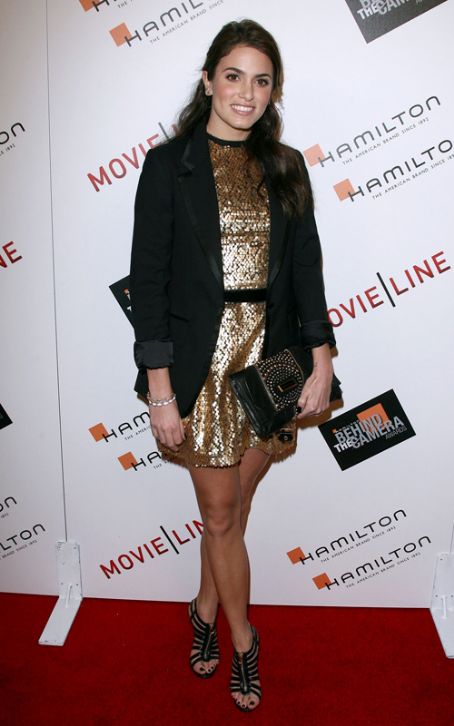 There's nothing like a low-key (or elaborate) dinner with family and/or friends to make you feel loved on your bday. If you're planning on going somewhere on the fancier side, don't be afraid to really dress up. I'm not saying to walk into the restaurant in a ball gown, but I'm just saying that no one will ever fault you for wearing sparkles or a tiered dress on your big day. A great way to tone down a sequin/metallic minidress for dinner out? Pair it with a black cashmere cardigan or a structured blazer. Or take this look inside-out and go with a sequin blazer and a black dress. To tone it down further, go with a great pair of flats in an interesting material, such as patent leather or velvet. You'll still shine, but you won't feel as self-conscious if you're not used to wearing head-to-toe sparkles everyday. You can also go with a simple dress and add sparkly shoes for an even more subdued look.
If you aren't a sparkle person, go with a sleek silhouette, whether it's a minidress or liquid leggings, accented with a statement piece. This is the time to try out that bauble necklace or studded leather jacket, Anything that is risky or you might be self-conscious to wear in the everyday is perfect. This is your special moment, you can get away with anything!
Super Sweet Party
This type of celebration takes the center-of-attention concept to another level. If you'll be dancing the night away, obviously comfortable shoes are in order, but you should also go for a non-fussy outfit to make way for your fabulous dance moves. Try a sleek bandage dress or one with cut-out or sheer detail and go dramatic with the accessories. For dancing the night away, an embellished cuff is your best option because it'll stay in place, unlike loose jewelry. With a sleek dress, outrageous shoes are always an option. They don't have to match perfectly, this is your time to wear those vibrant, metallic platforms that have been sitting in the box. Word to the wise: if you're planning on serving alcohol, leave the suede in your closet. Feel free to also use your hair as the ultimate party accessory, no one is going to tell you that glitter highlights (thank you, Beyonce) or sparkle hairspray is too much. Nothing also says you're the birthday girl like vibrant eye shadow or glitter eyeliner, just don't overdo either one, you're not a fairy and this isn't Halloween.
Should your party be more of an intimate soiree, a la Blair Waldorf's sweet seventeen, go with some drama. Try an over-the-top feminine Betsey Johnson dress, or anything with a dramatic A-line skirt (go for it in black for a less extreme look). You'll exude femininity and style, making you a true birthday fashionista.
Shopping Party
Go for the gold with a party like this, since this type of soiree is strictly FFO (For Fashionistas Only). This event is almost like a private spa party, which is becoming increasingly popular, only instead of racking up facials, you hit the sale racks. While it's definitely a good idea to keep your outfit simple for something like this – no one wants to peel off 17 layers to try on a tank top – showing up in head-to-toe black spandex should really only be reserved for Black Friday. Go with flats to make trying on shoes a cinch, and combine those with a bold sundress (weather-permitting of course) or Just keep your garments loose, you can always go with a belted tunic and then lose the belt while you're shopping.
You may be wondering what kinds of places offer these fabulous shopping extravaganzas. A lot of smaller boutiques are always willing to work with their loyal customers to set up private shopping experiences, I know that at Second Time Around, we definitely love it when customers request this.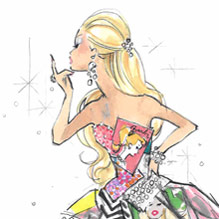 Night In
Whether you're celebrating with a spa night with your girlfriends, or a home-cooked dinner and a movie with your significant other, you can still radiate with that birthday sparkle. Since you'll be in the comfort of your own home, Nothing says "Birthday Queen" quite like a tiara paired with yoga pants, or you can sofa-glam up your outfit with a pair of leggings and an elaborate tunic in a bright color or with festive embellishments. Should you want to be the belle of your own private ball, feel free to go all out with that fabulous dress you've been dying to wear. Anything goes when you create the party rules!
Remember, anything is possible on your birthday, especially style-wise. On this day, you get a magical power to create your own dress code, so choose something that you'll love wearing and will make you feel like a true birthday girl!
~Ashley, FashioniSTA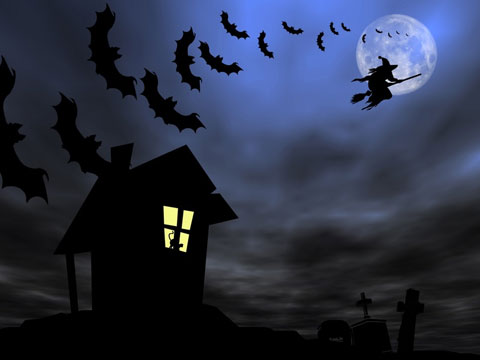 Coming up with a Halloween costume is a great way to experiment with your sense of style in the most extreme way. No one dresses up like a fairy and rolls around in glitter if she doesn't like to wear sparkles on a semi-regular basis. And while this night can help you channel your fashion creativity, why limit it to just one night? Extend the life of your Halloween fashion sense by (semi-subtly) incorporating it into your everyday wardrobe. While I'm not suggesting that every one of your workday ensembles should have a theme, pumping up the creativity once in a while is sure to make getting dressed in the morning a fun experience. Here are a few themes that you can work into your wardrobe to create your own everyday Halloween costumes.
Prep Schooler
Channel your inner Gossip Girl and pump up the preppy. While this style is all over the place thanks to The CW, you can take it a step further than just wearing an argyle sweater or a big headband. For a traditional look, go with a plaid kilt (pleating optional), like one from Burberry in either traditional Nova print or their latest army green color. Pair it with dark tights and a white cable knit sweater or cardigan. Finish off the look with loafers from Tod's or Mary Janes with white ankle socks, and a thin headband. For a more Blair Waldorf look, go with a large pleated skirt in a solid color, paired with argyle tights and a Peter Pan blouse paired with a v-neck cardigan. Check out Land's End for the traditional basics - such as the blouse and a khaki skirt - and then go all out with a Jennifer Oulette headband. Trade in the sweater for a Juicy Couture blazer and try Commes de Garcons' latest lace-up loafers or Joie's Louis Louis. If this still isn't enough, layer on strands of pearls and carry a structured handbag, like Tory Burch's flat Dayton leather clutch. 
Egyptian/Spartan
This is a great theme to try out at a nighttime event. This theme is all about draping and gold accents, so to go the Cleopatra route, try Temperley London's appropriately-named Queen of the Nile dress, and accent the look with two identical cuffs on each wrist. Top off the outfit with bold, geometric earrings, like ones from Gerard Yosca. Or try Rachel Roy's gold sequin dress or Yigal Azrouel's gold lamé dress, both excellent mini dress options. Finish it off with Low Luv x Erin Wasson's welded cuff or an upper arm bracelet, extra points if you can find one in the shape of a snake. If you're feeling full-length inspired, you can go with Yigal Azrouel's white open-back gown, just pair it with a large, gold bib necklace and gold cuffs or multiple gold bangles. 
To channel a Spartan queen, go with Alice + Olivia's Goddess dress and drape a couple of delicate gold necklaces. You can also try this look with brown leather accessories, such as a headband and thick, brown leather cuffs, for a truly Spartan warrior-ready ensemble. With any of these looks, you can wear gold sandals, either gladiator style or strappy - like Jimmy Choo's Lance Mirrored Sandals. For a more daytime-appropriate look, go with Tory Burch's Aziza blouse with white pants and gold sandals or bejeweled flats. Try an updo with a couple thin, gold headbands for a truly Spartan-inspired look, and of course top it off with large golden cuffs. 
Viking  
Should you be one of those people who hop on the fur bandwagon every year when it starts getting cold out, then this theme is right up your alley. Start with a fur vest, either in brown or white from Juicy Couture or Rachel Zoe's QVC line, and layer it over LaRok LUXE's Weekend Warrior tank. Pair these with leather or liquid leggings and add fur boots - like from Tory Burch or Dolce Vita - for an authentic look. Top it off with a brown leather headband. To go all out with this theme, you can go with a fur skirt from GAR-DE and pair it with booties and a banded top. You'll be itching for a horned headpiece in no time.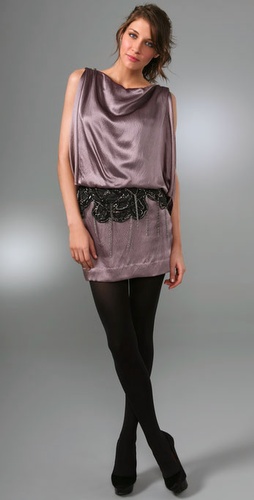 Flapper
To try something from the past other than another 1950's ensemble, try something from the roaring '20s. Antik Batik's Laria mini dress (right) is perfect for a night out, and you can pair this dress with seamed fishnet tights from Club Monaco and a rhinestone headband from Juicy Couture. Or go with a simple mini dress and accessorize it with Haute Hippie's Faille Jacket and peep-toe stilettos. To go slightly more modern, pair Temperley London's Giovanna tunic with a pair of leggings and vintage-inspired crystal earrings from Kenneth Jay Lane or a banded, chain headband worn across the forehead. For especially chilly nights, go with a faux fur jacket from Juicy Couture. 
For those of you who just want to infuse the spirit of Halloween into your wardrobe, try a couple of key pieces to create haute Halloween spirit in your ensemble. Go with DSQUARED2's Chain Skeleton Gilet as an option for a truly daring nighttime look. Or try one of the many black lace tops offered by designers such as Alexander Wang and Nanette Lepore and pair with a black leather skirt and black tights (fishnets optional). The combination of different black textures mixed with a touch of sparkle will create a truly bewitching look. 
Happy Halloween! 
~Ashley, fashioniSTA, Second Time Around