Posts tagged
leather

Want to incorporate 2013's latest trends into your wardrobe but don't know where to start?
STA is here to help you get the look! Whether you're hoping to break out of your fashion comfort zone by adding some sheer to your closet, or simply looking to up your stripe game - we've got you covered!
Join us at any (or all!) of our locations on

Thursday, February 21st from 4pm-8pm for champagne, cupcakes and 20% off

this season's must have pieces. Shop our customized racks or just browse your favorite designers while sipping in style!




Like us on Facebook!
Follow us on Twitter!
To embrace the fall is to embrace everything warm and sumptuous, from thick, lavish fabrics to simmering Crock-Pots. This year it's all about the balance between sleek and luscious, with top trends ranging from sheer details to menswear for women. So break out the rich colors and get ready to sink into fall.
The signature prints of fall get away from summertime florals and dive right into thick houndstooth and collegiate plaid. This fall is all about taking these more traditional patterns and channeling them in menswear-inspired garments (like the below right photo from L.A.M.B.). From full structured suits to box-pleated miniskirts, the masculine elements are gaining momentum and giving feminine garments a more stylish edge. Try this trend by accenting masculine pieces with feminine details, such as a sparkly statement necklace or a tie-bow blouse (like below photo on the left from Rachel Zoe).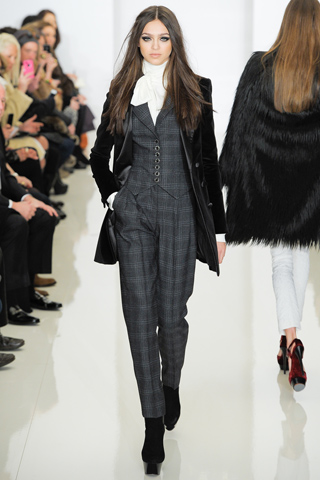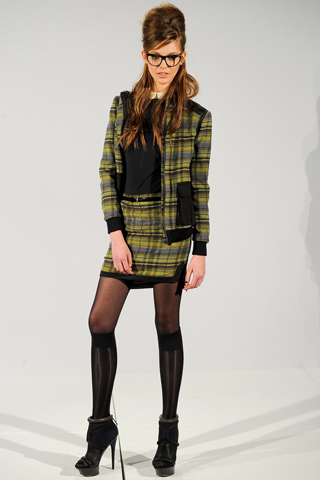 If you're more of the sleek and silky school of thought, then now is your chance to shine. Leather and sheer details flooded the runways, with sheer sleeves and leather skirts becoming staples for fall. If you choose the more exposed sheer option, you can take this trend from bold to bolder depending on your trend comfort (like the below right photo from Milly). Go dramatic by choosing a dress with a full sheer overlay (shown below left by Jill Stuart), or try out the trend with sheer cut-out details to take your LBD to the next level.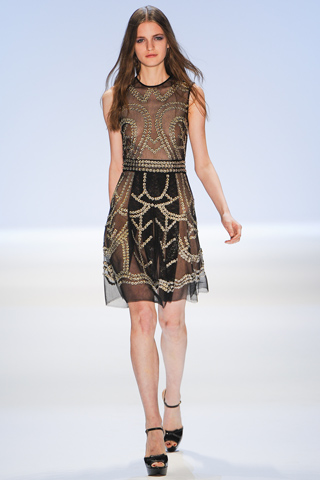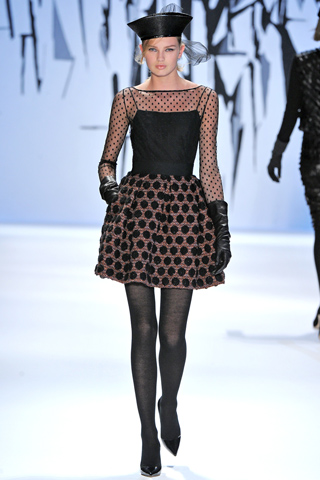 If you choose to go the leather route, you can also try it out with details - such as leather trim on a jacket - or go with individual leather pieces - such as a peplum top or a skirt (shown below left from 10 Crosby by Derek Lam). For a more dramatic take on the trend, go with a leather minidress or full suit (shown below right from Rachel Zoe), accented with a statement necklace, earrings or double cuffs.

So curl up for a quiet night in a cozy sweater or turn up the volume with a leather minidress, fall is here!
~Ashley, FashioniSTA
The biker chic look was one of Second Time Around's favorite fall trends. We love it not only for its new and distinctive silhouette, but also for its ability to make the wearer feel different. Toss on a pair of skinnies, a motorcycle boot and a black leather jacket and you instantly feel tough, bad-ass and ready to conquer the world. It was for these reasons that we were relieved to see that the look is back for Spring 2010.
Of course, the look has been translated in new and different ways. Instead of just the basic black; leather jackets in pale grays, nudes and even shades of white were seen on the Spring 2010 runways. Furthermore, leather was used to make everything from t-shirts to skirts and even to shorts, allowing these elements to be used both within and outside of the trend.
The two designers that explored this trend to the fullest were Christophe Decarnin of Balmain and Nicholas Ghesquiere of Balenciaga.
Balmain was all about the attitude of the trend. Their collection was full of slinky, second-skin leather pants, ripped denim, barely-there dresses in shiny leather or gold lame, olive fatigues and shredded boyfriend tees. Decarnin definitely knows how to dress a woman like a bad-ass – and a sexy one at that.
Balenciaga's collection was more about the sport element of the trend. Perhaps the best way to describe it is to say that while Decarnin's woman would ride a Harley, Ghesquiere's woman would ride a Ducati. Models stomped the runway in
textured leather skinny pants, hooded, strong-shouldered leather vests, tanks and dresses with vivid racing stripes and decorative zippers and sandals cum boots with lace-up ankle covers. It was a colorful and Spring-time biker chic if ever we saw one.
So, rest assured that your leather jacket and motorcycle boots will still be in demand come the spring. Simply consider adding a neon-striped tank or shredded tee under it. Or if you haven't invested in a jacket yet, try a pale grey one (this color will take you into next winter if the trend continues past the spring) or a leather vest.
Need help building the full outfit or don't want to spend a fortune trying the look out? Head into your local Second Time Around for some fabulous fashion advice and apparel and accessories at prices that won't break the bank!  
~Marisa, Director of Styling, Second TIme Around