Posts tagged
Kate Beckinsale
Yes, we all saw the overwhelmingly unanimous decision that Lupita Nyong'o was the best dressed at the 2014 Golden Globes.  But dear fashion magazines, how is that supposed to help us?  I'm sorry but we are not about to try to pull off a fire engine red cape.  We're looking to these celebrities not just to adore their glamorous wardrobes, but for style inspiration!  Luckily many other stars among the best dressed flaunted styles that we can't wait to try.  Here are our favorite looks from the 2014 Golden Globes to inspire our every day style.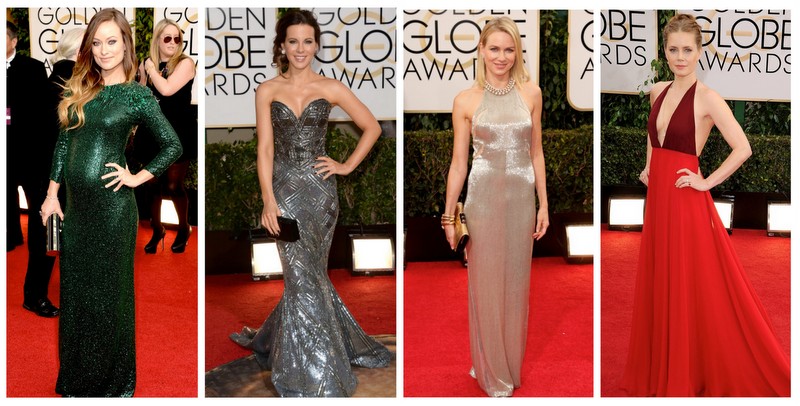 1. Olivia Wilde
Designer: Gucci Premiere
Inspiration: Emerald Green
With a color like this, we just can't take our eyes off her.  So why not try to incorporate such an eye-catching color into your wardrobe?  We love the idea of adding a pop of emerald green to your go-to looks. To add a little zest to your casual every day wear, how about shimmering emerald heels?  Or glittering emerald nails anyone?
2. Kate Beckinsale
Designer: Zuhair Murad
Inspiration: Beaded Texture
There is just something so glamorous about beaded texturing.   Kate's beaded gunmetal gown turned a simple metallic dress into a spectacular work of art.  We love this look so much that we are determined to add more beaded accents to our wardrobe.  Whether it be a touch of beads in a headband or a beaded skirt, the texture give the piece a one-of-a-kind, hand made feeling.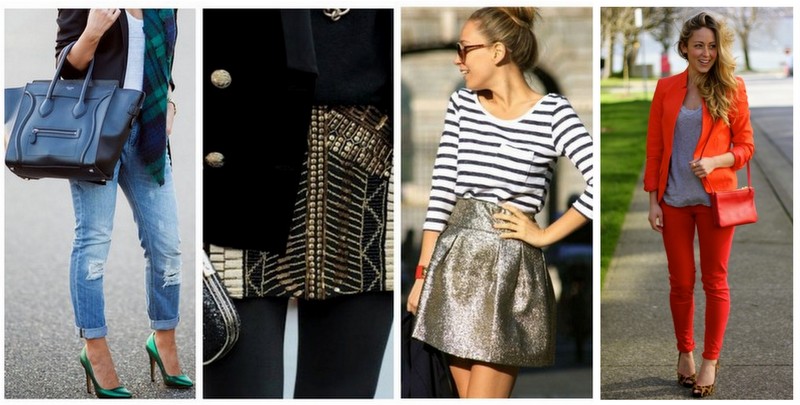 3. Naomi Watts
Designer: Tom Ford
Inspiration: White Gold
While many fear light hues will wash them out, Naomi shone brilliantly in her embroidered, white gold gown.  We can't get enough of this color for its ability to add some shine to winter outfits without going all out holiday sparkle.  The elegance of white gold is perfect for a blouse, for a sophisticated look without being stuffy.  On a more casual note, we love this white gold shimmer skirt with a laid back T-shirt.  It's just enough to sparkle without wearing sequins.  White gold's versatility makes it a great piece to wear when dressing up or down.
4. Amy Adams
Designer: Valentino Couture
Inspiration: Minimalism
Talk about a statement!  We are drooling over Amy's plunging neckline and the ruby red color.  In fact, the outfit is so stunning that she felt no need to over accessorize.  We'll take a page from Amy's book and say, let your outfit do the talking!  While it's fun to dress up a simple outfit with bold accessories, the opposite can be just as appealing.  When it comes to a bold style, own it!  Don't let accessories distract from your sleek outfit.  Like Amy, rather than sport bold jewelry, rock a bold color (and we love the idea of red and maroon)!  We love this eye opening idea.  Sometimes less is more.
Photo Credits: Pintrest.com, Vogue.com, eonline.com, Huffingtonpost.com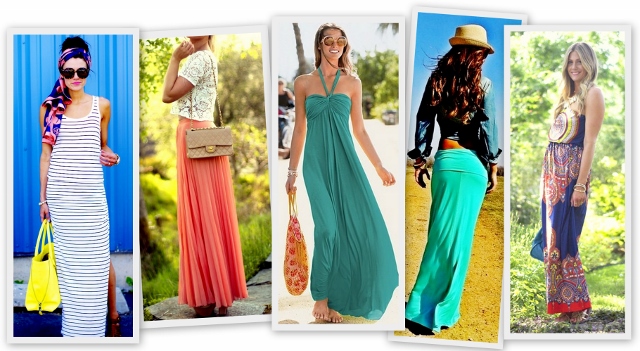 If you're looking to beat the heat in the latest trends this summer, be sure to fill your closet with plenty of maxi dresses. You are guaranteed to feel and look fabulous as your long skirt flows in the breeze on a beautiful day this summer. Coming in a variety of hems, shapes, and styles, there is the perfect maxi match out there for every woman.
How to accessorize your maxi
Some of my favorite looks are when women pair their dress with another trendy item, such as a denim jacket, cropped blazer, or fedora hat. Lightweight scarves can be summer appropriate, and can be worn as a headband to give the look a little something extra. When wearing a plain colored maxi don't be afraid to wear big statement jewelry that complements the dress or skirt. If you tend to shy away from this style dress because you feel its shape can be sometimes unflattering, a wide belt around the waist could make all the difference. If you're not sure what shoes to pair with your new maxi, you cannot go wrong with a simple pair of gladiator sandals or straw wedges (skinny heels tend to look out of place unless your dress is a little more formal).
These are some of our favorite fashionable celebs, each creating a completely different look with their maxi.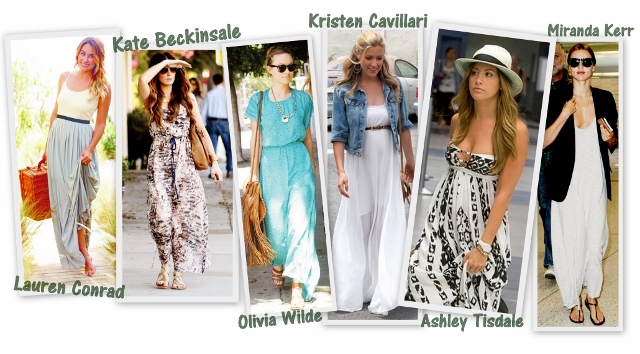 Where to wear your maxi
Floor-length dresses were once only synonymous with formal events, but this summer you're sure to see this style all over the place. The beauty about purchasing a maxi dress or skirt is the amount of opportunities you will have to wear it. Depending on the material and how you accessorize, a maxi can be appropriate for a variety of occasions. Pairing a simple cotton maxi with a pair of sandals makes in the perfect cover up for a day at the beach. A patterned or more embellished maxi dress can be just what you need for a fancy dinner or cocktail party. Throwing some sort of blazer over a maxi can even make it office appropriate.
At our STA stores, we have collected quite a selection of maxi dresses this season, so be sure to ask about what we may have available in this style next time you stop in!
-Catherine, fashioniSTA

(Image credits: fdavenue.com, tumblr.com, pinterest.com, celebritystyleguide.com)