Posts tagged
Sarah Burton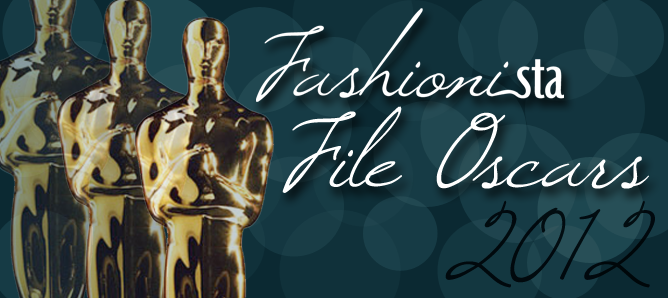 One of the biggest fashion nights of the year has finally happened, and we are so thrilled that there was actually some glamour walking down the red carpet.  From the style winners to the weirdest walking down the carpet (ashes, anyone?), there were plenty of gorgeous and gaudy gowns from which to choose. Yes, white dresses did seem to reign supreme, on the likes of Shailene Woodley and Rooney Mara, but we saw a sneak peek into the Fall 2012 world with touches of gold lamé on Stacy Keibler and Meryl Streep. Obviously the best dressed of the night was Miss Piggy, with Kermit her always-in-style arm candy, but we've racked our fashion brains to come up with those that we think are a close second, or third, or fourth…
Ashley's Picks
Best Dressed: Sarah Burton for Alexander McQueen hit a home run this year with Jessica Chastain. The ornate gold detail is very en trend without being temporary, and it fit her like a glove. I loved that her stylist kept her hair loose and picked neutral jewelry, it was the perfect complement to an intricate dress. Glenn Close also looked phenomenal in Zac Posen, and had she removed the jacket for a red carpet pic or two, she might have rivaled Jessica.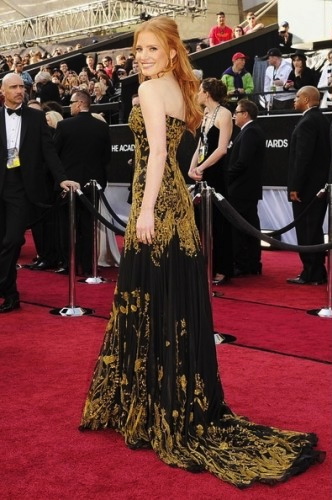 Worst Dressed: While there were definitely gaudier dresses on the red carpet, Anna Faris in Diane von Furstenberg missed her fashion potential entirely. For a young girl with great features, she ended up looking old in the dress silhouette and dated with the short blonde bob.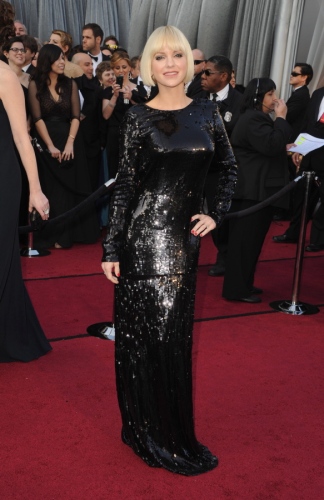 Best Red Carpet Rookie: In probably the most flattering gown I've ever seen, Octavia Spencer looked unbelievable in Tadashi Shoji. The silhouette made wearing white possible on any body type, and the contrasting metallic sparkle against her skin was breathtaking. It's not easy to look good in close-up shots, but Octavia proved that she has what it takes to be a style and Oscar winner.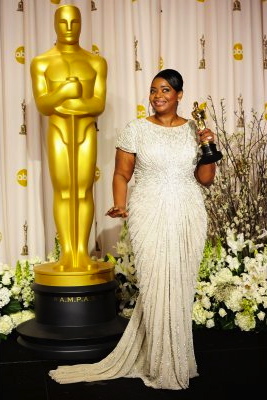 Biggest Comeback: Kristen Wiig has almost fully recovered from her choker incident at the SAG Awards. While her J. Mendel tiered dress wasn't a style grand slam, it was a welcome improvement and definitely a step in the right direction. With the right accessories and an up-do, this look could have been sensational.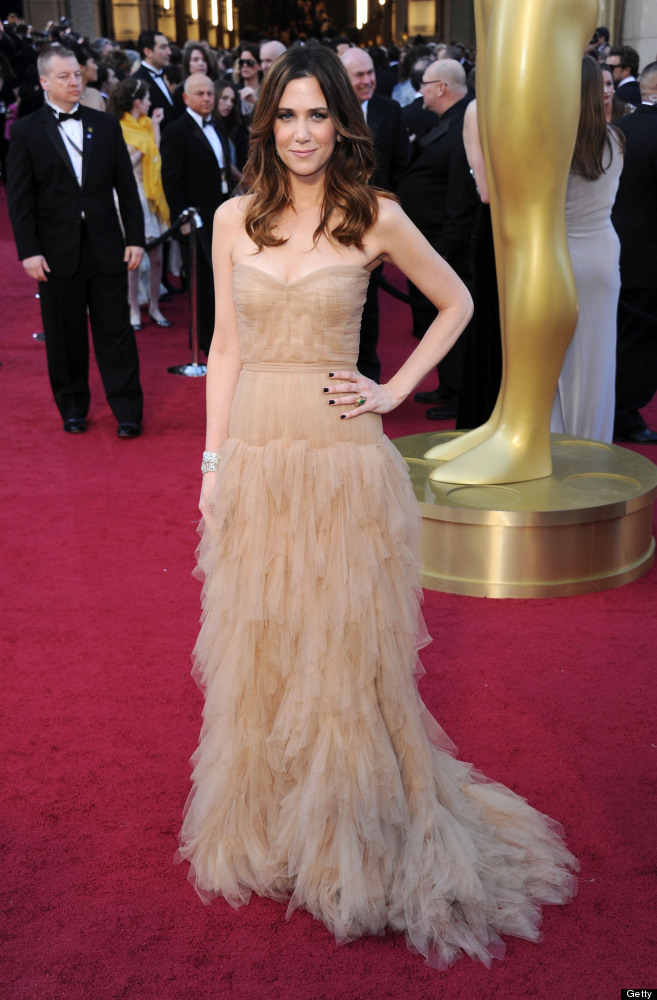 Best Couple: Jean Dujardin and Alexandra Lamy looked effortlessly glamorous without being boring or over-the-top. I guess it pays to be from France.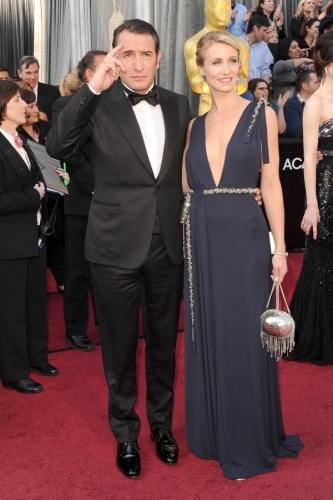 Leslie's Picks
Best Dressed: Octavia Spencer in Tadashi Shoji. She looked spectacular top match her well deserved Oscar award. It showed that even woman with real curves can still have an Oscar winning red carpet moment. I felt that her look was flawless with the pull of the dress coming towards the front extenuating a smaller form waist and giving the puppies some love! Her hair pulled back with a small beehive bump was adorable and makeup was light and natural. I loved everything about her choice down to her Neil Lane clutch, xxxxx.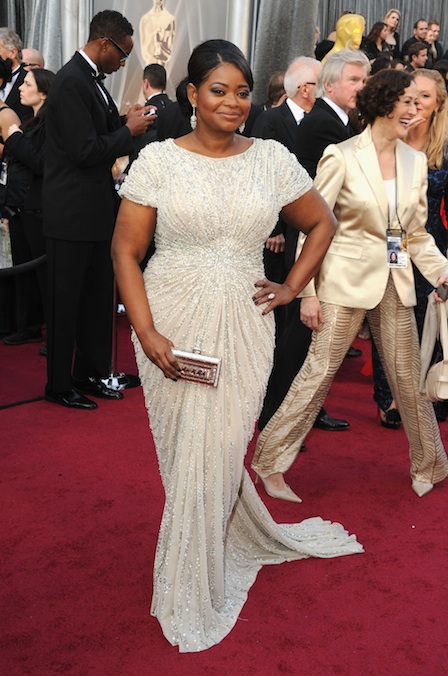 Worst Dressed: Melissa McCarthy in Marina Rinaldi. The Grecian inspired gown didn't strike me as flattering nor glamorous. Plus- size fashion is hard but with, a knock out of the park like Octavia Spencer, I can't say its impossible! I've never been a fan of ¾ sleeve nor am I a fan of a bell sleeve period. I find it cuts, if not worn correctly, people off and make their arm shorter and stubbier. The rhinestone encrust on collar and empire waist put too much attention to her front. I would have loved to see her in something a little more subtle. LESS IS ALWAYS BETTER.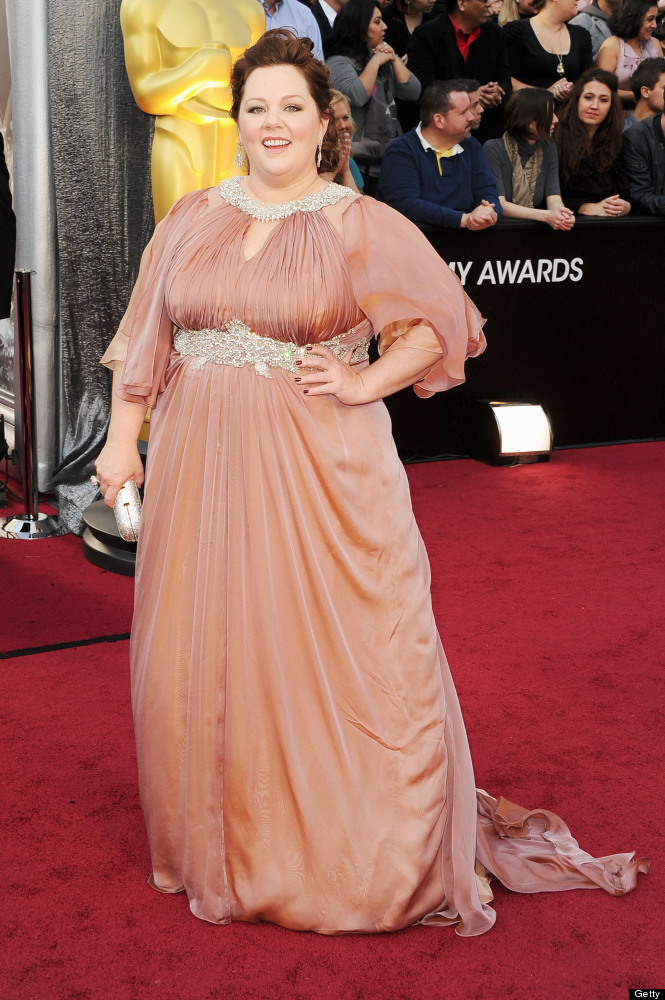 Biggest Comeback: Meryl Streep in Lanvin. She's always been an Oscar nominee favorite but her fashion…not so much. I really think she hit a home run ( all these baseball analogies?!). The gold lame wrap was elegant and a new color to add to her older subtle color choices. Bravo, more than well deserved.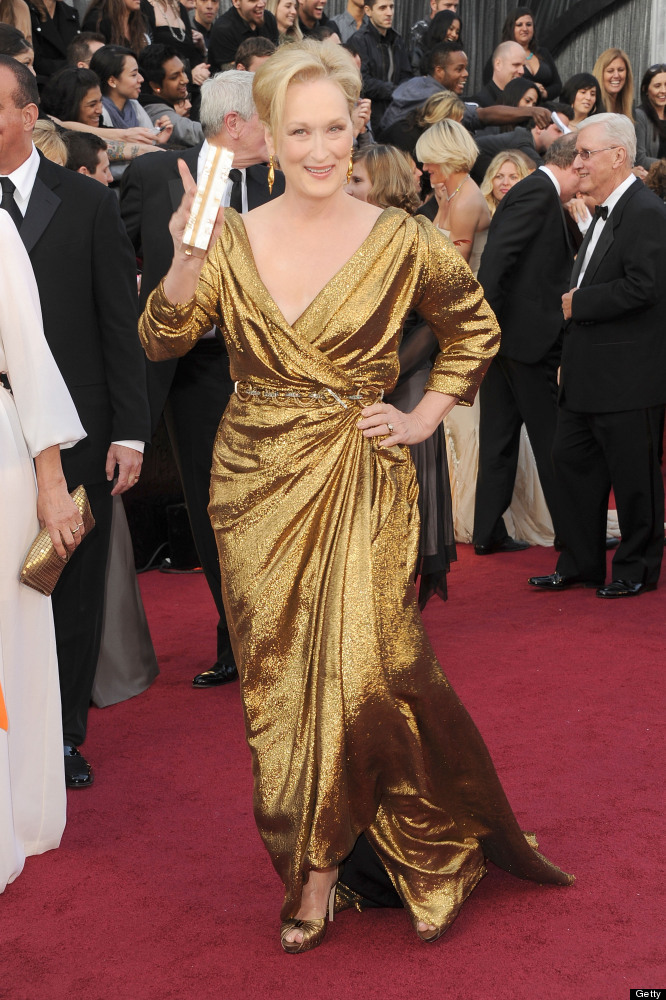 Best Red Carpet Rookie: I'd like to give a shot out to Rose Byrne in Vivienne Westwood. The hilarious Bridesmaid star was astonishing in her black one shoulder sequin get up. Making a statement is key; she nailed it. I believe her hair did it for me, superb!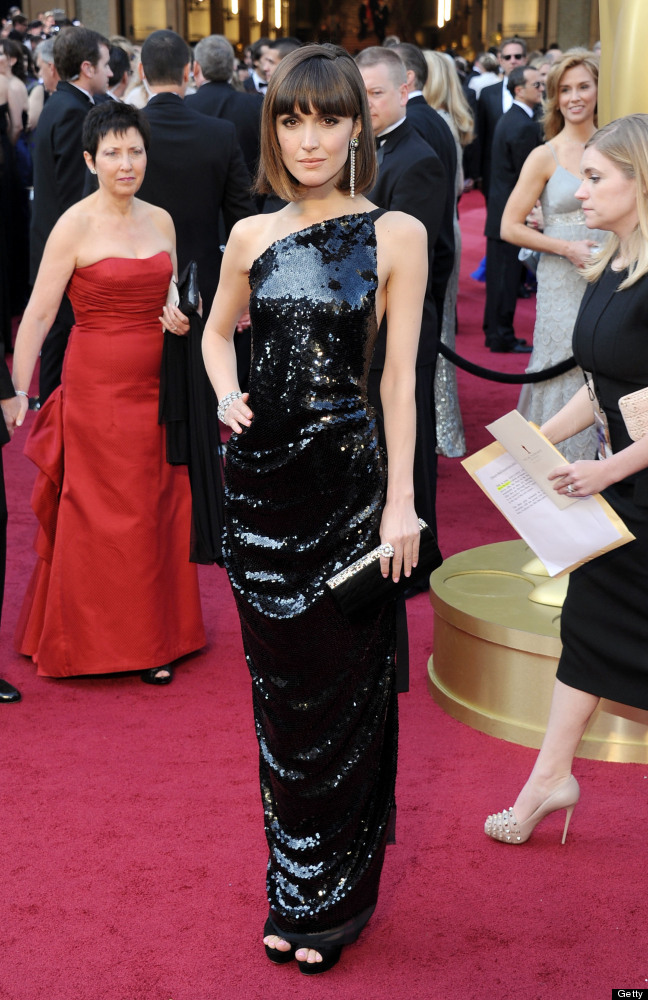 Best Couple: I hate couples.
Kim's Picks
Best Dressed: Gwyneth Paltrow in Tom Ford. She looked like she was emerging from a milk waterfall and I loved it. So sleek and effortless.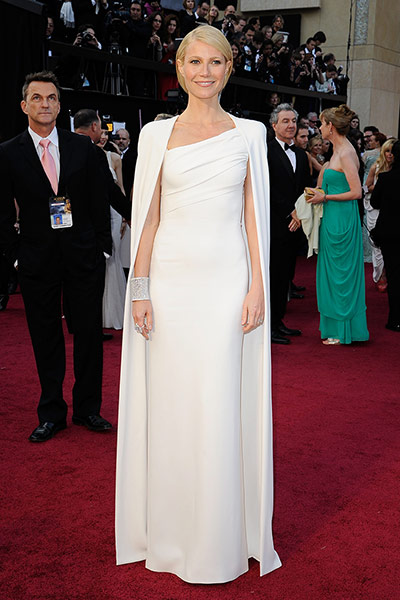 Worst Dressed: Sacha Baron Cohen in character from his new movie "The Dictator." The Oscars are no time for publicity stunts, good sir. Emma Stone, who chose an overstated Giambattista Valli dress, was a huge disappointment. She looked flawless on the carpet all season, and now this.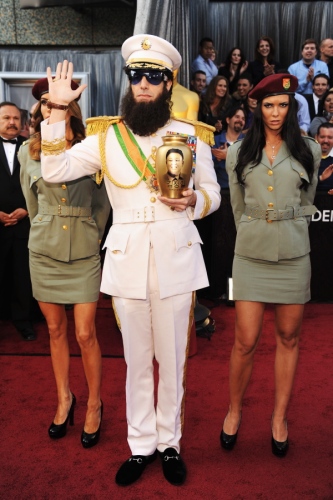 Biggest Comeback: Melissa McCarthy in Marina Rinaldi… while the choice is still questionable, and I can certainly understand the perils that plus-size women face with formal wear, this ensemble is absolutely a step in the right direction.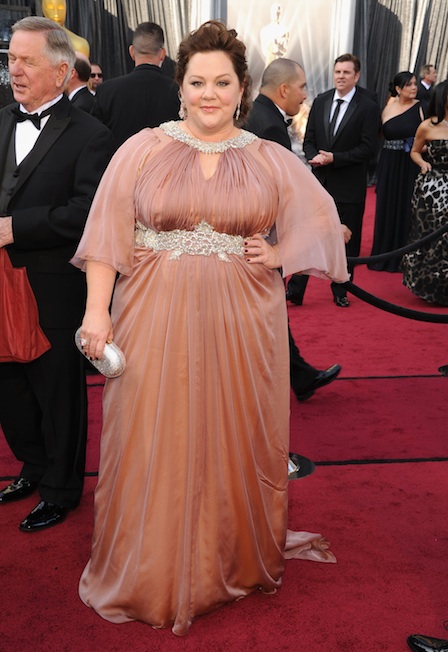 Best Red Carpet Rookie: Jessica Chastain in Alexander McQueen. Completely glamorous… in fact, she might have been the MOST glamorous of the night!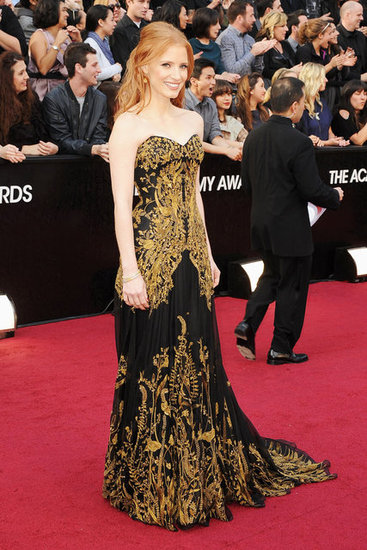 Best Couple: George Clooney & Stacy Keibler (who wore Marchesa). She looked so appropriate for the event and they both simply sparkled. The Pitt-Jolie team just looked soooo severe. Booo, hiss.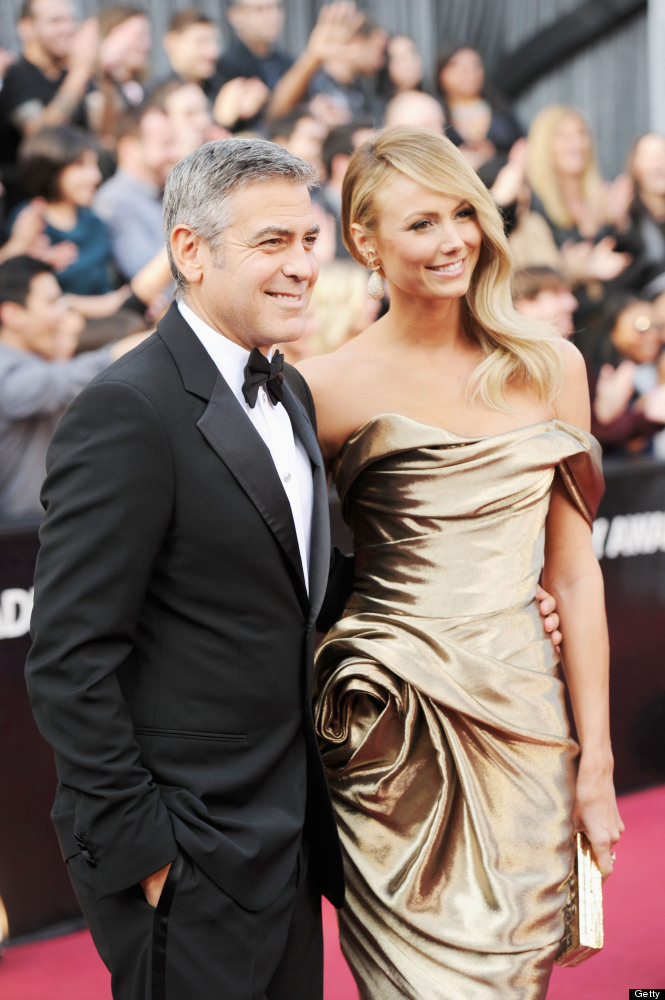 Kristen's Picks
Best Dressed: Milla Jovovich in Elie Saab was the epitome of old-Hollywood-turned-modern glamour. She has the perfect complexion to pull off a dress like this with a deep red lip and a classic wavy up-do.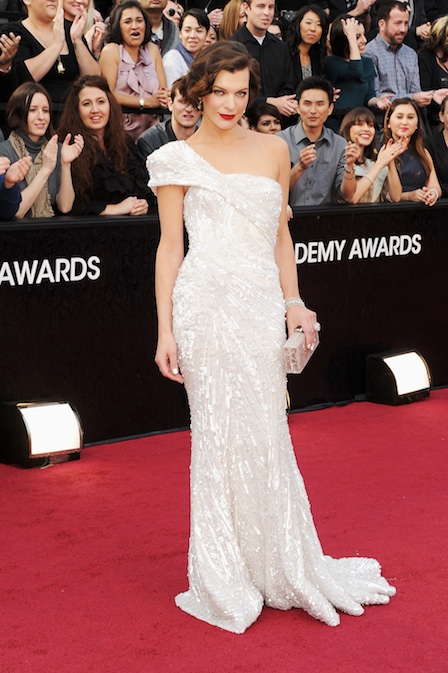 Worst Dressed: Sherri Shepherd's bright blue Grecian number was not flattering on her. It was too much boob that it ended up looking kind of messy up top.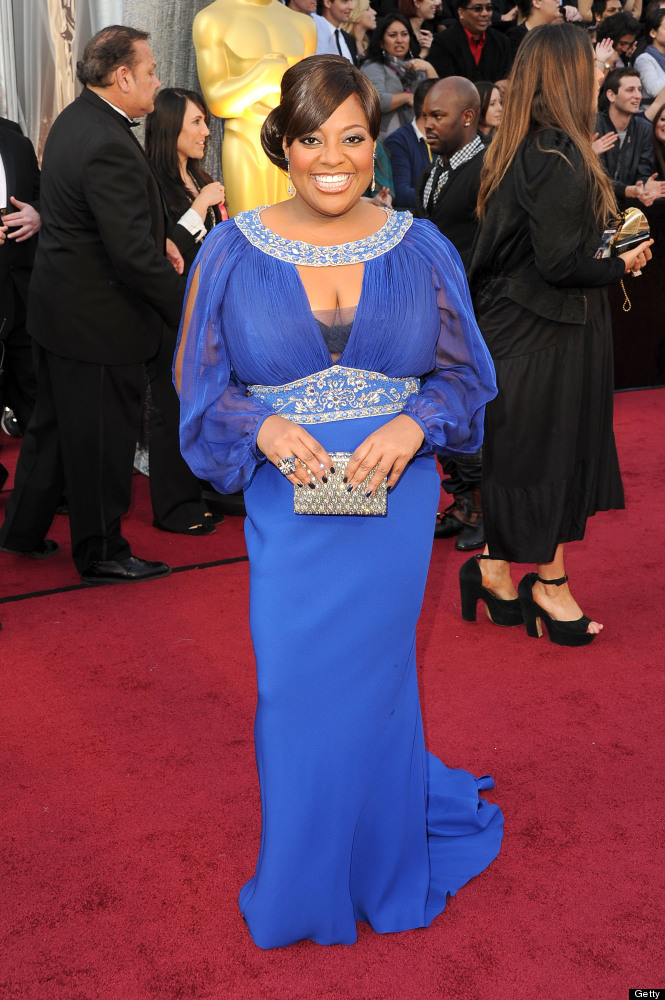 Best Red Carpet Rookie: Although Kate Mara wasn't nominated, she donned the designer of the night - Elie Saab - and looked great!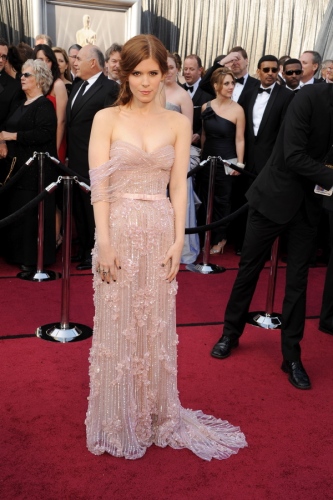 Best Couple: Jean Dujardin and Alexandra Lamy. Classy and sophisticated…plus he's extremely handsome, that doesn't hurt.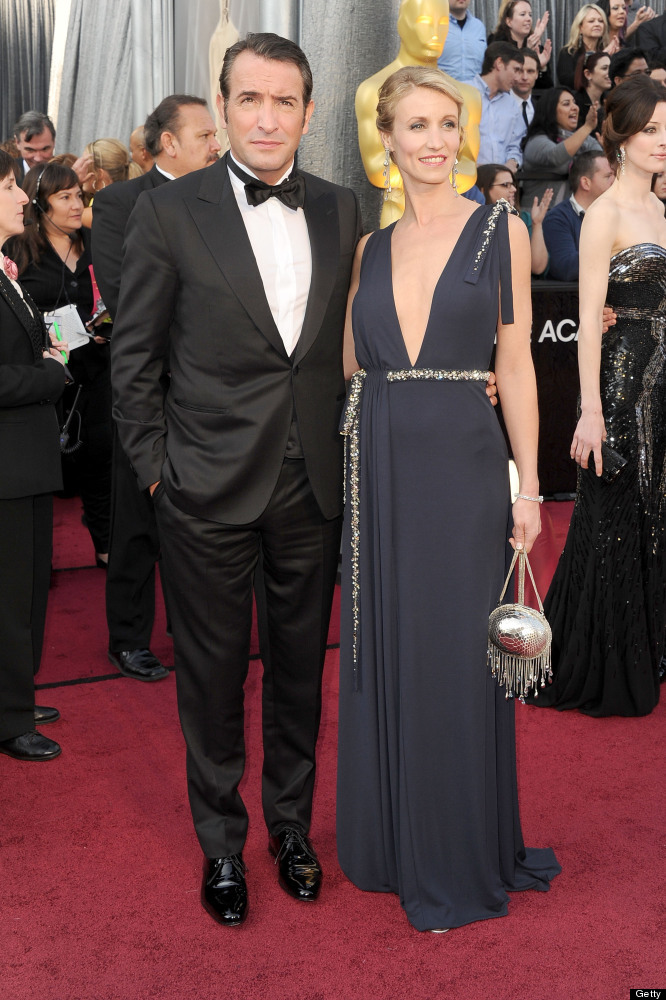 That concludes awards season! Tell us which celebs made your best and worst dressed lists on Facebook (www.facebook.com/staconsignment) or on Twitter (www.twitter.com/staconsignment)!
It's Royal Wedding Day!! If you're like us, you stumbled out of bed this morning (4am coverage? Really?) in sheer anticipation of Prince William and Kate's nuptials. And while we couldn't help but be a obscenely jealous, to say that preparing all week for this was worth it is an understatement. From the dress to the wedding party, we're addicted to it all, and we're breaking it down for you, one royal piece at a time.
The Holy Grail: The Dress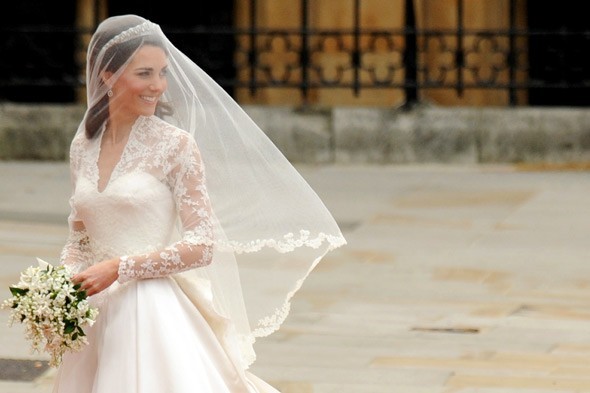 After seeing Kate, we can't decide if we hate her out of sheer jealousy or want to make her our new best friend. She looked completely flawless in her gown, looking regal without looking overdone. It was no shock that Sarah Burton turned out to be the "secret" designer, but the fact that they were able to keep what it looked like under wraps was fairly impressive. While almost every bride in America beelines to the strapless numbers during her Kleinfeld appointment, Kate's dress was quintessentially royal, with long lace sleeves and a modern, narrow v-neckline. The fullness of the bottom perfectly flattered her tiny frame (could we be more jealous?), and the train was appropriate for the venue without overpowering the entire look. But what we loved most was the hair and makeup, not only did they translate flawlessly on camera, but Kate truly looked like the best version of herself. This should be the goal of every bride, after all, you want people to actually recognize who you are on your big day. Staying true to her signature style, Kate's jewelry was minimal, with small drop diamond earring that were perfectly complemented by her dark hair. And really, with a tiara, how much jewelry do you really need?
The Wedding Party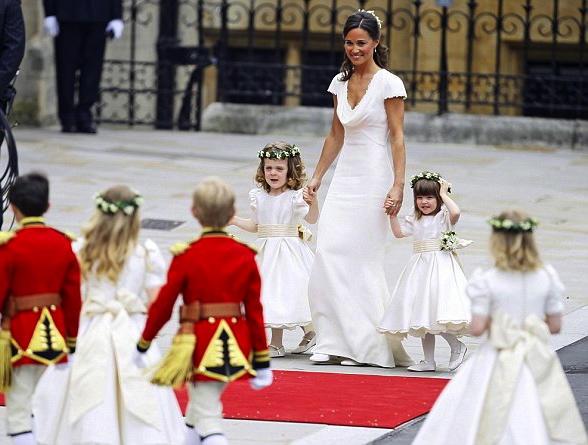 Pippa  Middleton — Kate's sister and maid of honor — shocked a lot of people wearing a stunning white gown, also designed by Sarah Burton. While white is usually a big wedding don't, the cowl neckline and fitted shape helped her to complement Kate's own dress, while the matching buttons down the back remind me of the times when I make my own sister match with me. And while wearing a replica of Kate's dress is probably out of the question, Pippa's cap sleeve and cowl neck design would be perfect in white for a bride, or in a bright color for any occasion.
The tiny bridesmaids, also in white, helped give this day even more of a fairy tale feel. Nothing makes an event even more endearing than an extra dose of adorable.
A Family Affair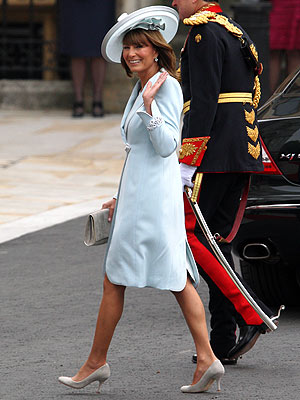 As if this wedding couldn't get any more stylish, even the matriarchs of the families inspired us to clean out our closets and replace everything with matching dress and coat pairings. Oh right, and invest in an extensive hat collection. Kate's parents looked like they stepped right out of a storybook, giving a true example of how the parents of the bride should be dressed. In a light blue day dress with matching wool crepe coat by Catherine Walker — a favorite of designer of Princess Diana — Carole Middleton achieved the perfect mother-of-the-bride look. Kate's father looked great as well with his red-printed tie and black top hat, giving us hope that with the right style power maybe we can make the men in our own lives look almost as good.
The Queen also showed quite the sunny disposition arriving in a yellow day dress with matching wool crepe coat and hat — all designed by Angela Kelly. Her classic cream accessories also didn't outshine her color palette or Queen Mary's "True Lover's Knot," the pin that adorned Queen Elizabeth's left shoulder.
~Ashley, FashioniSTA, Second Time Around
We Hope the Rumors Are True!
Lee McQueen's death a little over a year ago was a tragic event in the world of fashion. Friends, colleagues and fans alike mourned the loss of him and his incredible talent.
Thankfully, the world did not lose Alexander McQueen as well. Instead, Sarah Burton – McQueen's former women's ready-to-wear designer – stepped into his shoes and hasn't missed a beat. Her clothing and accessories have stayed true to the Lee McQueen legacy by drawing on similar themes and aesthetics, but they have been infused with an additional feminine sensibility that has endeared fans and critics alike and her Fall 2011 RTW collection is no different.
Unveiled amidst the buzz that Burton may have been selected to design Kate Middleton's wedding dress for the royal wedding, the Fall 2011 collection did nothing to dispel these rumors. Instead, 5 of the final 8 designs in the show were very bridal-gown-esque creations.
If the rumors are true and Burton is dressing Kate for her big day, then hats off to the princess-to-be. Not only is McQueen a distinctly British design house, drawing strongly upon the heritage of the country, but it is a bold fashion choice for the generally conservative dresser. Alexander McQueen has been dressing the urban warrior and the fearless fashionista for almost two decades and I can't think of a better message to send. In McQueen, Middleton will be exuding fierce confidence and feminine strength on not only the first day of her marriage, but also her first day as part of the royal family.
My choice for Kate? I like look #27 of 34 in the McQueen Fall 2011 RTW collection (above) – the floor-sweeping dress with a voluminous white frayed organza tiered skirt and bodice collaged in shattered blue and green porcelain that is shown above. Why, you ask?? Well, it's bold, edgy and unexpected and it will match that big blue sparkler that she's got.
Congratulations, William and Kate! STA wishes you the best!
~Marisa, FashioniSTA, Second Time Around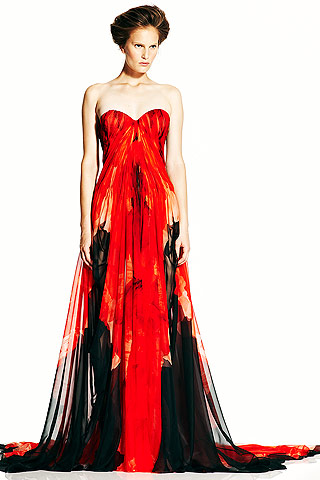 Sarah Burton showed her first autonomous collection as creative director for Alexander McQueen on Monday, June 21st and - in the words of Tim Blanks, contributing writer for Style.com – "proved she's the only choice to expand on Lee McQueen's legacy."
Burton drew from the rich history of the McQueen archives, but introduced a feminine touch to the collection that informed it with a more delicate sensibility. Lee McQueen's calling cards were still there – brocades, heavily detailed embroidery, a fascination with the morbid, the juxtaposition of hard and soft and the allure of high-wattage glamour – but she also incorporated a calling card of her own; the fusing of two fabrics into one which the fashion world first saw in the Fall 2010 collection that she completed following McQueen's untimely death.
All in all, the collection was a success – a true "best-case scenario." Not only did it show reverence to the history of the label and to its creator, but it also displayed the personality of its new designer. A nod to the past and a glimpse of the future and – I dare say – reason enough for a deep sigh of relief from the fashion world.
Congratulations Sarah Burton!
~ Marisa, Director of Styling, Second Time Around
Sarah Burton named Creative Director of Alexander McQueen
Back in February, I reluctantly and sadly blogged about the untimely death of Lee [Alexander] McQueen, the founder and designer of the Alexander McQueen brand. At the time, the future of the design house was uncertain. Lee was in his prime when he took his own life and the thought of a successor had never crossed anyone's mind. However, the Gucci Group promised that the label would live on and live on it did.
Sarah Burton – McQueen's right-hand woman for over 14 years and head of womenswear design – completed the Fall2010 collection that he had begun and showed it in a private parlor setting to critical reviews.
So, it came as no surprise that Burton was named creative director on May 27, 2010.
Burton will present her first set of autonomous work as a pre-collection in June and her first full spring collection in Paris in October.
I can truly say that I do not envy her. Not only is she working in the absence of her close friend and mentor, but she is also working in his shadow – a shadow that is very heavy and far-reaching. My thoughts are with her. One can only hope that her connection with McQueen is more than corporeal and that the fashion world is kind to her.
~Marisa, Director of Styling, Second Time Around