Alexander McQueen Resort 2011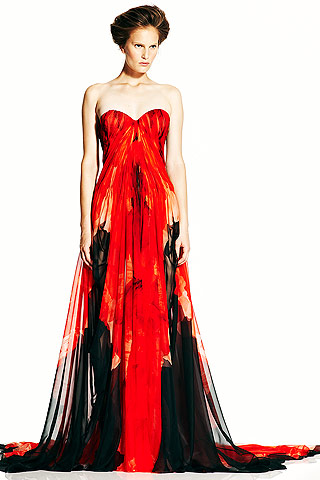 Sarah Burton showed her first autonomous collection as creative director for Alexander McQueen on Monday, June 21st and - in the words of Tim Blanks, contributing writer for Style.com – "proved she's the only choice to expand on Lee McQueen's legacy."
Burton drew from the rich history of the McQueen archives, but introduced a feminine touch to the collection that informed it with a more delicate sensibility. Lee McQueen's calling cards were still there – brocades, heavily detailed embroidery, a fascination with the morbid, the juxtaposition of hard and soft and the allure of high-wattage glamour – but she also incorporated a calling card of her own; the fusing of two fabrics into one which the fashion world first saw in the Fall 2010 collection that she completed following McQueen's untimely death.
All in all, the collection was a success – a true "best-case scenario." Not only did it show reverence to the history of the label and to its creator, but it also displayed the personality of its new designer. A nod to the past and a glimpse of the future and – I dare say – reason enough for a deep sigh of relief from the fashion world.
Congratulations Sarah Burton!
~ Marisa, Director of Styling, Second Time Around
Comments are closed.