Dear FashioniSTAs, You're Invited…
It's Royal Wedding Day!! If you're like us, you stumbled out of bed this morning (4am coverage? Really?) in sheer anticipation of Prince William and Kate's nuptials. And while we couldn't help but be a obscenely jealous, to say that preparing all week for this was worth it is an understatement. From the dress to the wedding party, we're addicted to it all, and we're breaking it down for you, one royal piece at a time.
The Holy Grail: The Dress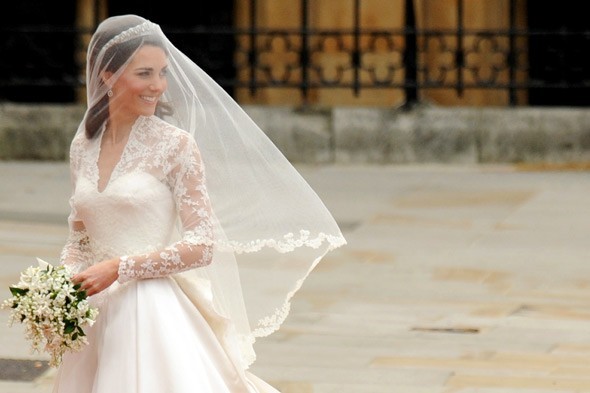 After seeing Kate, we can't decide if we hate her out of sheer jealousy or want to make her our new best friend. She looked completely flawless in her gown, looking regal without looking overdone. It was no shock that Sarah Burton turned out to be the "secret" designer, but the fact that they were able to keep what it looked like under wraps was fairly impressive. While almost every bride in America beelines to the strapless numbers during her Kleinfeld appointment, Kate's dress was quintessentially royal, with long lace sleeves and a modern, narrow v-neckline. The fullness of the bottom perfectly flattered her tiny frame (could we be more jealous?), and the train was appropriate for the venue without overpowering the entire look. But what we loved most was the hair and makeup, not only did they translate flawlessly on camera, but Kate truly looked like the best version of herself. This should be the goal of every bride, after all, you want people to actually recognize who you are on your big day. Staying true to her signature style, Kate's jewelry was minimal, with small drop diamond earring that were perfectly complemented by her dark hair. And really, with a tiara, how much jewelry do you really need?
The Wedding Party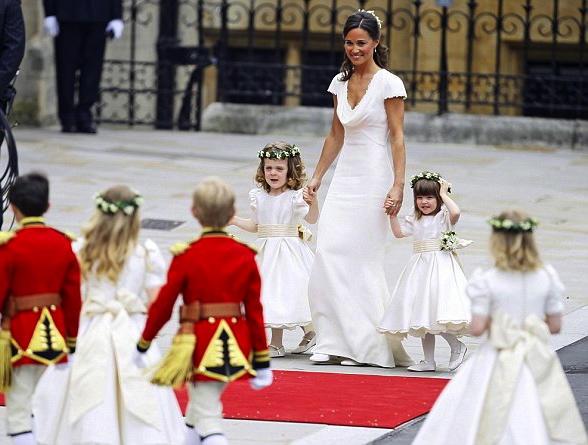 Pippa  Middleton — Kate's sister and maid of honor — shocked a lot of people wearing a stunning white gown, also designed by Sarah Burton. While white is usually a big wedding don't, the cowl neckline and fitted shape helped her to complement Kate's own dress, while the matching buttons down the back remind me of the times when I make my own sister match with me. And while wearing a replica of Kate's dress is probably out of the question, Pippa's cap sleeve and cowl neck design would be perfect in white for a bride, or in a bright color for any occasion.
The tiny bridesmaids, also in white, helped give this day even more of a fairy tale feel. Nothing makes an event even more endearing than an extra dose of adorable.
A Family Affair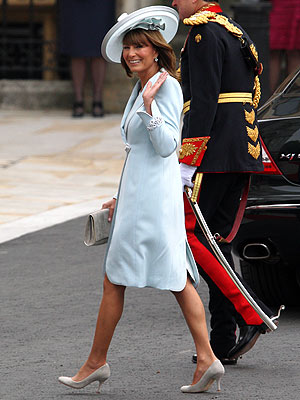 As if this wedding couldn't get any more stylish, even the matriarchs of the families inspired us to clean out our closets and replace everything with matching dress and coat pairings. Oh right, and invest in an extensive hat collection. Kate's parents looked like they stepped right out of a storybook, giving a true example of how the parents of the bride should be dressed. In a light blue day dress with matching wool crepe coat by Catherine Walker — a favorite of designer of Princess Diana — Carole Middleton achieved the perfect mother-of-the-bride look. Kate's father looked great as well with his red-printed tie and black top hat, giving us hope that with the right style power maybe we can make the men in our own lives look almost as good.
The Queen also showed quite the sunny disposition arriving in a yellow day dress with matching wool crepe coat and hat — all designed by Angela Kelly. Her classic cream accessories also didn't outshine her color palette or Queen Mary's "True Lover's Knot," the pin that adorned Queen Elizabeth's left shoulder.
~Ashley, FashioniSTA, Second Time Around
Comments are closed.