Posts tagged
Gwyneth Paltrow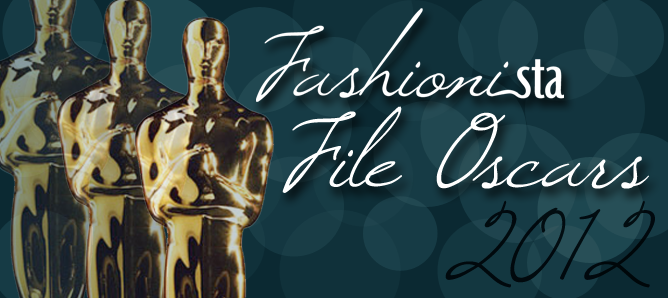 One of the biggest fashion nights of the year has finally happened, and we are so thrilled that there was actually some glamour walking down the red carpet.  From the style winners to the weirdest walking down the carpet (ashes, anyone?), there were plenty of gorgeous and gaudy gowns from which to choose. Yes, white dresses did seem to reign supreme, on the likes of Shailene Woodley and Rooney Mara, but we saw a sneak peek into the Fall 2012 world with touches of gold lamé on Stacy Keibler and Meryl Streep. Obviously the best dressed of the night was Miss Piggy, with Kermit her always-in-style arm candy, but we've racked our fashion brains to come up with those that we think are a close second, or third, or fourth…
Ashley's Picks
Best Dressed: Sarah Burton for Alexander McQueen hit a home run this year with Jessica Chastain. The ornate gold detail is very en trend without being temporary, and it fit her like a glove. I loved that her stylist kept her hair loose and picked neutral jewelry, it was the perfect complement to an intricate dress. Glenn Close also looked phenomenal in Zac Posen, and had she removed the jacket for a red carpet pic or two, she might have rivaled Jessica.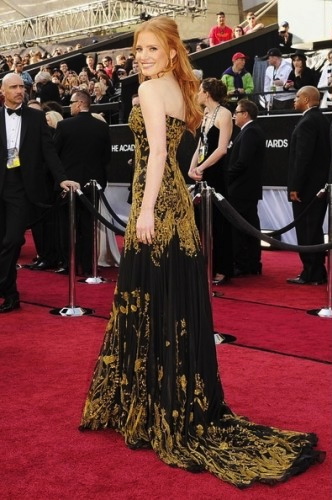 Worst Dressed: While there were definitely gaudier dresses on the red carpet, Anna Faris in Diane von Furstenberg missed her fashion potential entirely. For a young girl with great features, she ended up looking old in the dress silhouette and dated with the short blonde bob.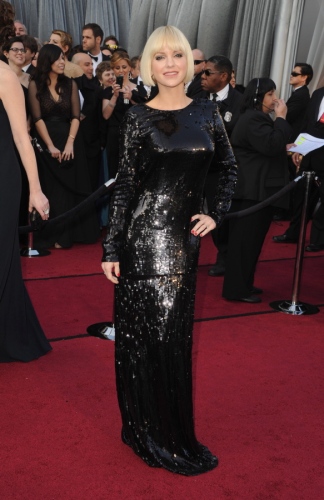 Best Red Carpet Rookie: In probably the most flattering gown I've ever seen, Octavia Spencer looked unbelievable in Tadashi Shoji. The silhouette made wearing white possible on any body type, and the contrasting metallic sparkle against her skin was breathtaking. It's not easy to look good in close-up shots, but Octavia proved that she has what it takes to be a style and Oscar winner.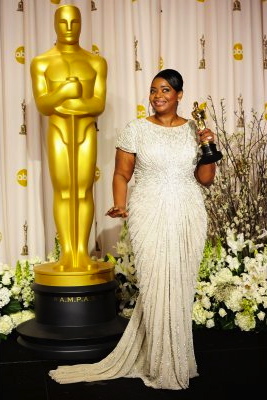 Biggest Comeback: Kristen Wiig has almost fully recovered from her choker incident at the SAG Awards. While her J. Mendel tiered dress wasn't a style grand slam, it was a welcome improvement and definitely a step in the right direction. With the right accessories and an up-do, this look could have been sensational.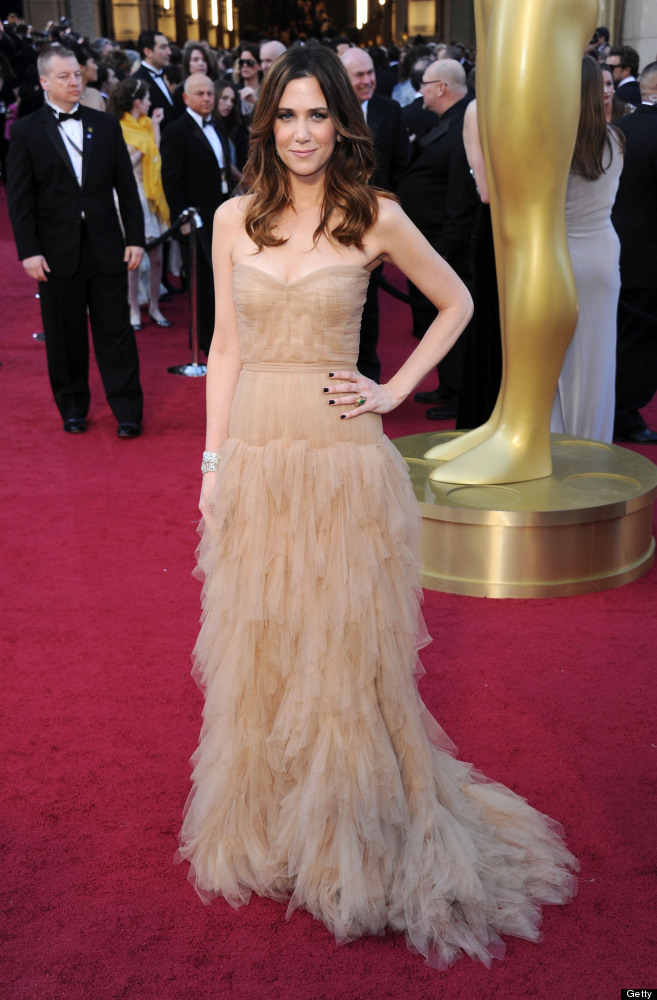 Best Couple: Jean Dujardin and Alexandra Lamy looked effortlessly glamorous without being boring or over-the-top. I guess it pays to be from France.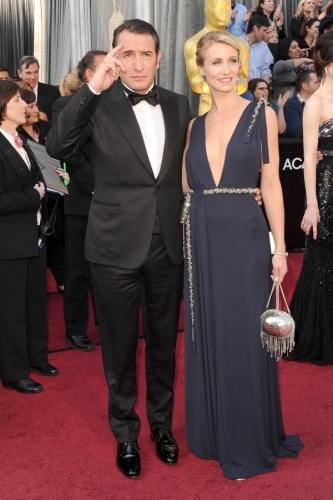 Leslie's Picks
Best Dressed: Octavia Spencer in Tadashi Shoji. She looked spectacular top match her well deserved Oscar award. It showed that even woman with real curves can still have an Oscar winning red carpet moment. I felt that her look was flawless with the pull of the dress coming towards the front extenuating a smaller form waist and giving the puppies some love! Her hair pulled back with a small beehive bump was adorable and makeup was light and natural. I loved everything about her choice down to her Neil Lane clutch, xxxxx.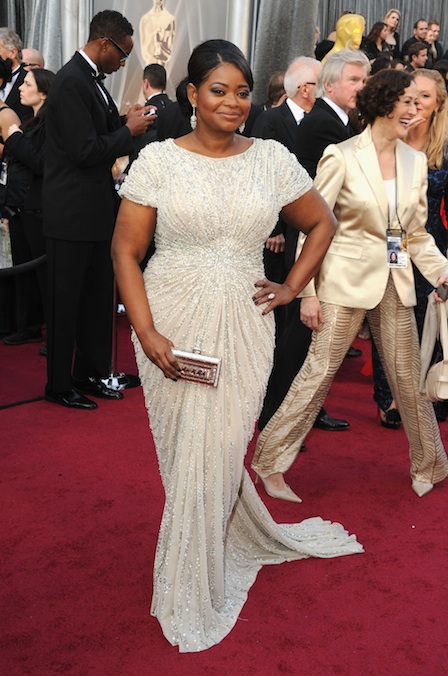 Worst Dressed: Melissa McCarthy in Marina Rinaldi. The Grecian inspired gown didn't strike me as flattering nor glamorous. Plus- size fashion is hard but with, a knock out of the park like Octavia Spencer, I can't say its impossible! I've never been a fan of ¾ sleeve nor am I a fan of a bell sleeve period. I find it cuts, if not worn correctly, people off and make their arm shorter and stubbier. The rhinestone encrust on collar and empire waist put too much attention to her front. I would have loved to see her in something a little more subtle. LESS IS ALWAYS BETTER.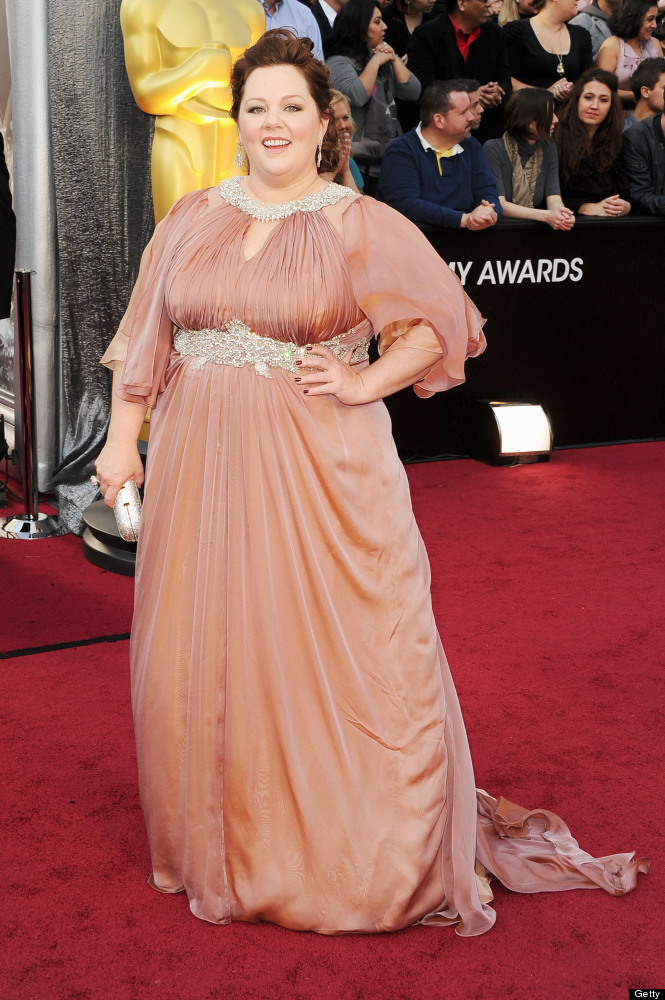 Biggest Comeback: Meryl Streep in Lanvin. She's always been an Oscar nominee favorite but her fashion…not so much. I really think she hit a home run ( all these baseball analogies?!). The gold lame wrap was elegant and a new color to add to her older subtle color choices. Bravo, more than well deserved.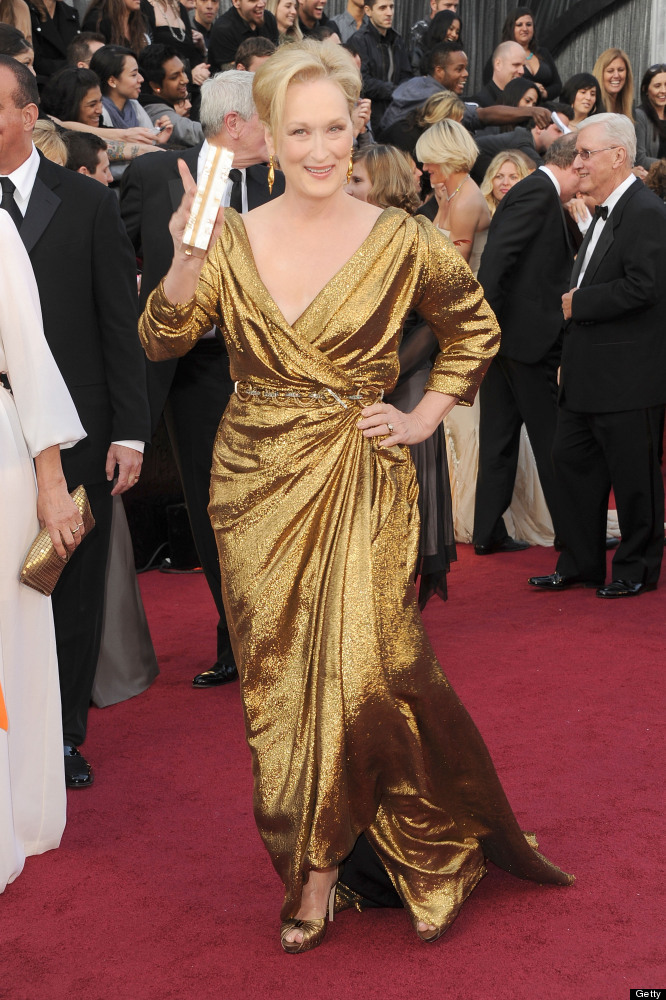 Best Red Carpet Rookie: I'd like to give a shot out to Rose Byrne in Vivienne Westwood. The hilarious Bridesmaid star was astonishing in her black one shoulder sequin get up. Making a statement is key; she nailed it. I believe her hair did it for me, superb!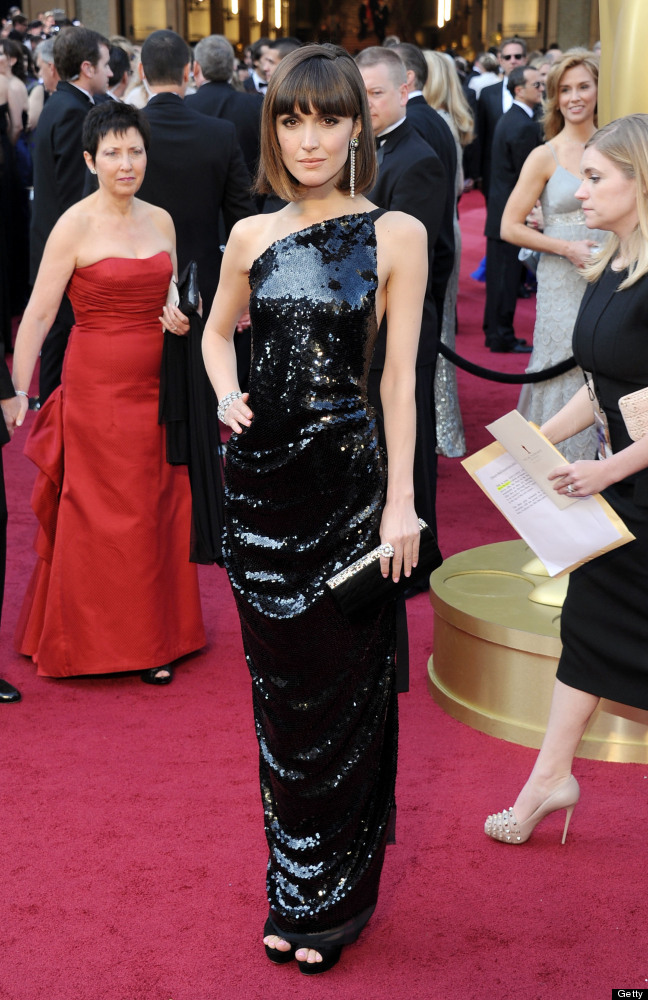 Best Couple: I hate couples.
Kim's Picks
Best Dressed: Gwyneth Paltrow in Tom Ford. She looked like she was emerging from a milk waterfall and I loved it. So sleek and effortless.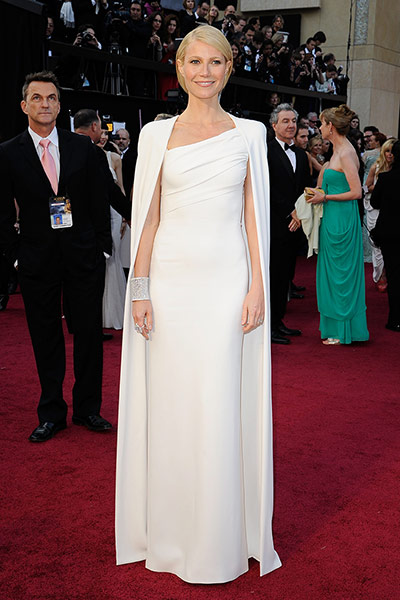 Worst Dressed: Sacha Baron Cohen in character from his new movie "The Dictator." The Oscars are no time for publicity stunts, good sir. Emma Stone, who chose an overstated Giambattista Valli dress, was a huge disappointment. She looked flawless on the carpet all season, and now this.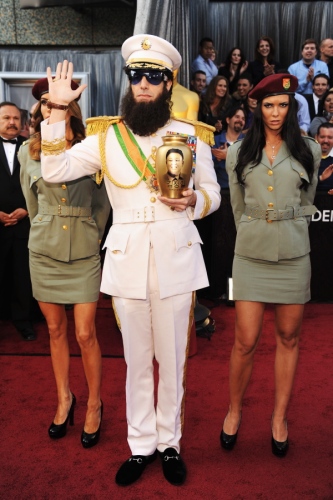 Biggest Comeback: Melissa McCarthy in Marina Rinaldi… while the choice is still questionable, and I can certainly understand the perils that plus-size women face with formal wear, this ensemble is absolutely a step in the right direction.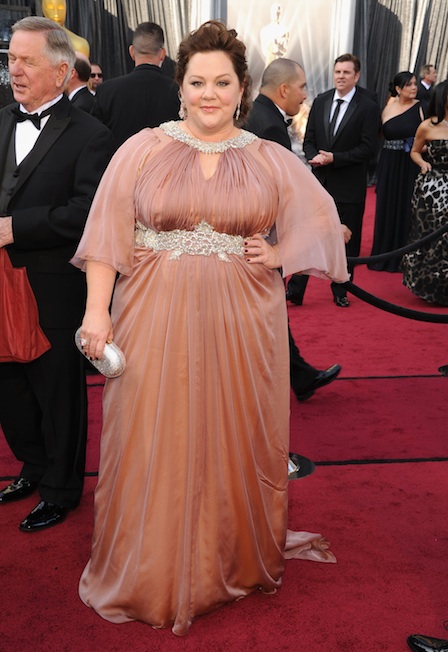 Best Red Carpet Rookie: Jessica Chastain in Alexander McQueen. Completely glamorous… in fact, she might have been the MOST glamorous of the night!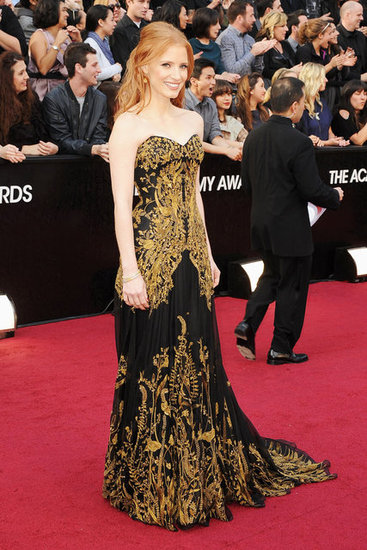 Best Couple: George Clooney & Stacy Keibler (who wore Marchesa). She looked so appropriate for the event and they both simply sparkled. The Pitt-Jolie team just looked soooo severe. Booo, hiss.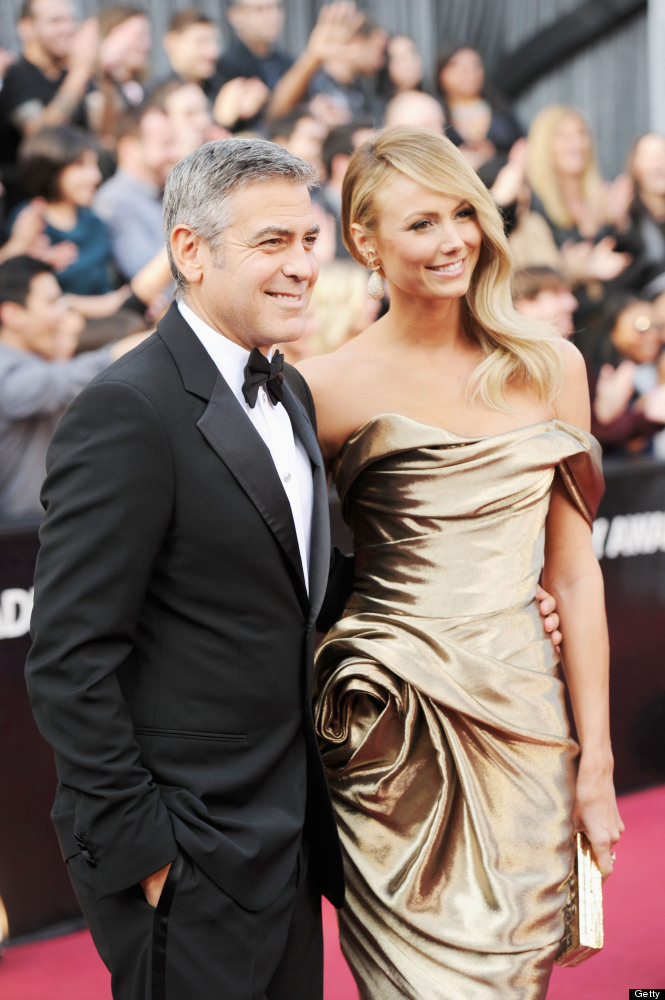 Kristen's Picks
Best Dressed: Milla Jovovich in Elie Saab was the epitome of old-Hollywood-turned-modern glamour. She has the perfect complexion to pull off a dress like this with a deep red lip and a classic wavy up-do.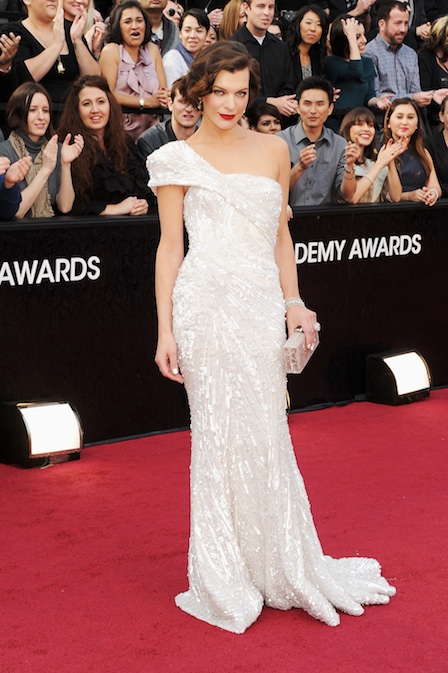 Worst Dressed: Sherri Shepherd's bright blue Grecian number was not flattering on her. It was too much boob that it ended up looking kind of messy up top.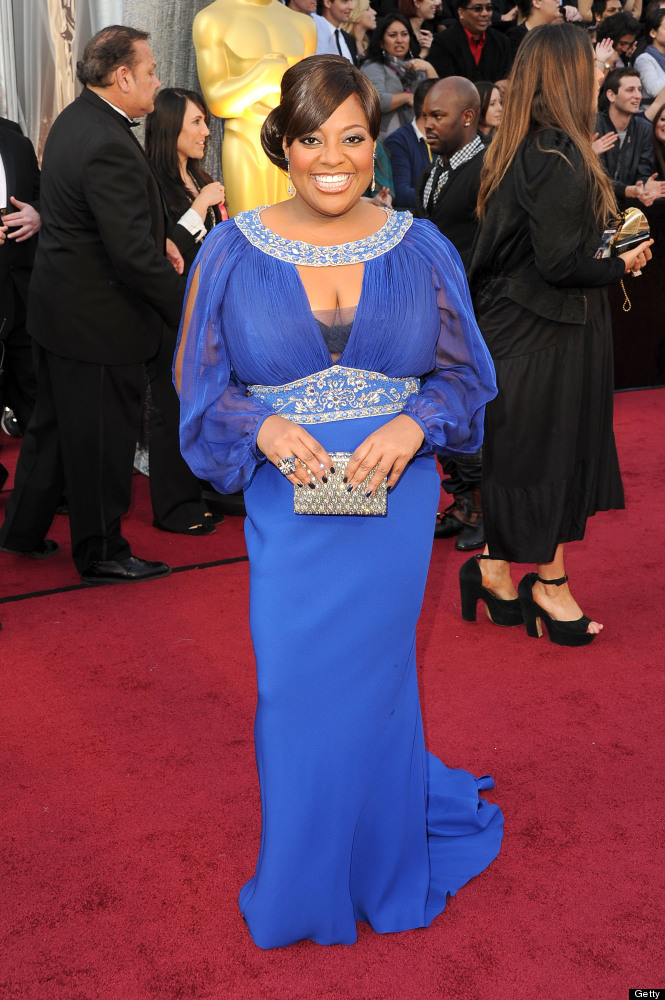 Best Red Carpet Rookie: Although Kate Mara wasn't nominated, she donned the designer of the night - Elie Saab - and looked great!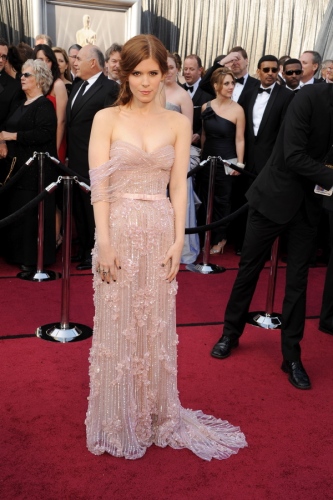 Best Couple: Jean Dujardin and Alexandra Lamy. Classy and sophisticated…plus he's extremely handsome, that doesn't hurt.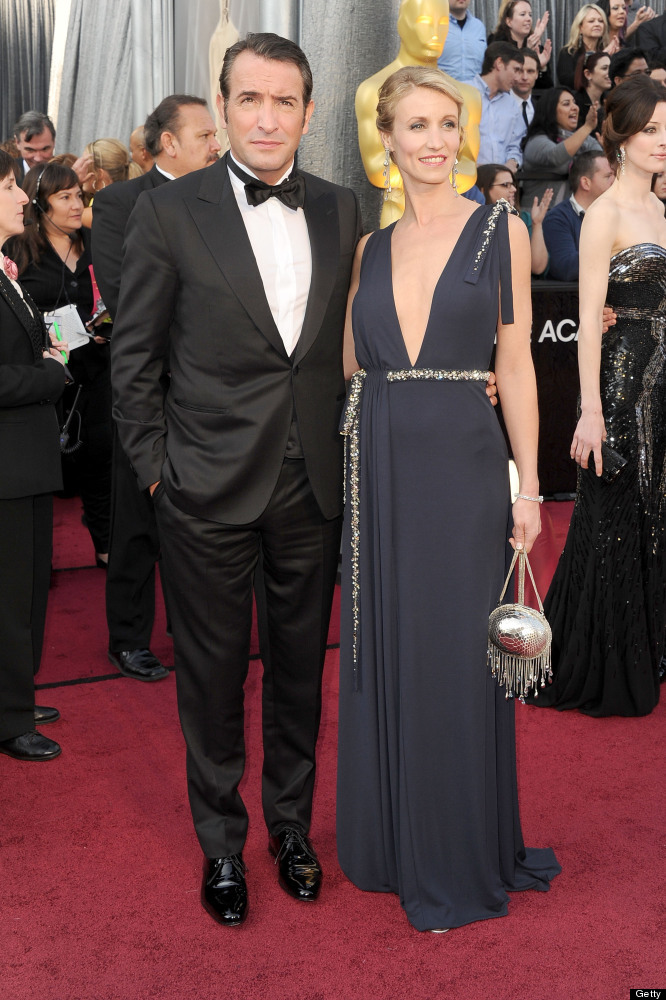 That concludes awards season! Tell us which celebs made your best and worst dressed lists on Facebook (www.facebook.com/staconsignment) or on Twitter (www.twitter.com/staconsignment)!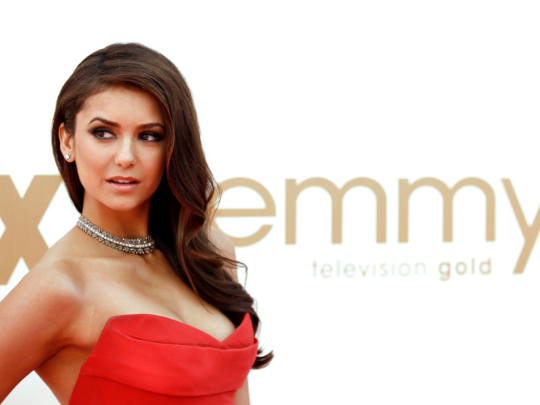 It seemed like this year at the Emmys the stars all shopped and got ready together. Should you be headed to a clone event of this year's Emmys? Follow the memos below and you'll fit in like a pro!
1. Wear red. Red satin, red silk, red bed sheets cut as an asymmetrical evening gown. If you happen to be color blind, you might have missed the fact that a good half of the stars showed up wearing red. Although if we can make a suggestion, red satin dresses are coming across a little like a PromGirl photoshoot, so maybe next time opt for something matte.
2. No red? Wear black, or metallic, or some sort of geometric, sequin structured dress. (Did you try to find someone not wearing these color/pattern schemes? A nearly impossible feat.) With the right selection of celebs, you could put together a really nice classic Hollywood photo montage, however, some of the stars were in need desperate of tweaking
3. Straight hair is for no-shows. Waves, curls and up-do's were on the docket this awards show, giving pin straight locks a night off. Possibly a mass attempt to conserve straight-iron electricity, or possibly a mass realization that the smell of burning hair puts a slight damper on the glamorous atmosphere.
Got the trends, now get our takes on the stars who wore them! The FashioniSTAs round up the style stars and suspects to bring you the picks of the night.
Best Dressed: Nina Dobrev in Donna Karan (pictured above) was absolutely stunning, this was hands-down my favorite look of the night. The Vampire Diaries starlet not only blew away her young Hollywood competition, she also beat out every red carpet veteran. There were about a billion celebs in red on Sunday, but she blew them all away. Every detail of her outfit was perfectly tailored to her body, from her form-fitted dress to even the shade of red that complemented her skin tone. The whole look was a modern version of old Hollywood done right, I'm so sick of stars wearing frizzy waves and calling it retro glamour.
Worst Dressed: Taraji P. Henson in Blumarine (right), which is disappointing because she usually looks great. She's got everything going for her, but this dress was so incredibly unflattering, the only thing that could've made it look worse was putting a weird hairpiece on the side of her head. Oh look…a style apocalypse.
Honorable Mention (Best Dressed): Maria Bello in Kaufmanfranco. She's got a new primetime show and she's not afraid to show a little life enthusiasm with sparkles (which I can totally appreciate). The sunburst, mosaic print was a risk, but it paid off since the silver was a subtle accent to the white, one-shoulder backdrop. The loose waves were a nice effect, but I think a sleek chignon would have made this look a home run.
Honorable Mention (Worst Dressed): I love Eva La Rue, but her peach, bedazzled dress did her such a disservice. Now I'm all about sparkle, and if I could bedazzle my lunch I probably would, but even I think the sparkle on Eva's dress looks a little cheap. I get that she's on CSI: Miami, but South Beach style shouldn't be allowed on the red carpet.
Best Dressed: Nina Dobrev. The Bulgarian beauty queen wore a Donna Karan red body hugging dress. Leave it to DK (yes, we're on that level) to keep it sultry sexy and simple.  She looked marvelous, sophisticated but you couldn't ignore those curves! Her wavy hair, diamond necklace and clutch (with a hint of red) complimented every aspect of the dress.  It was a sure fire way to make a show stopping red carpet impression. BRAVO.
Worst Dressed: Paz de la Huerta wearing…I don't even care to know who! Last time I checked this wasn't a horror scene from the Pretty in Pink prom scene and even then, her dress was better! She looked cheap enough with the dress and rhinestone heels but she took it to another level with that Airhead Blue lipstick, WOOF.
Honorable Mention (Best Dressed): Claire Danes in a beautiful Oscar de la Renta. I've always thought Claire played it safe and normally sticks to the color pallets of the celebratory night but she really out did herself. The strapless blue/black sequin embroidered gown with a defined black eye liner enhanced her beautiful blue eyes. I think it was a great choice and I can't wait to see more!
Honorable Mention (Worst Dressed): Heidi Klum in Christian Siriano (right). Trust me when I say I'm a huge fan of this woman but I can't seem to love this dress. It looks like a huge coral reef.  I do like the idea of showing off her legs because next to her stomach it's her best attribute but this color choice washes her out as well. You can't get any more Supermodel than Heidi; I've just seen her in the best of the best and this is not it.
Best Dressed:  Kaley Cuoco in Romona Keveza (shown, right).  Perhaps I'm just a sucker for anything vintage-inspired, but I thought that this tea-length one-shoulder gathered tulle ensemble looked just elegant enough for an awards show but had enough whimsical fun to bring it to an Emmy-worthy level.  In a sea of colorful simple classics, this piece was a standout. Loved the pops of red in her accessories, as well.
Worst Dressed: Phoebe Price in her own creation.  As the British crooner Mika lovingly sings, "big girl, you are beautiful"… just NOT in that dress.  Waaaaaaaaaaaay too much fabric in bizarre band-aid like patterns just works to enhance the fact that you are not a size 2.  Size doesn't have to be an issue on the red carpet… unless you make it one.
Honorable Mention (Best Dressed):  TIE!  1) Sofia Vergara in Vera Wang — the dress itself was nothing all that spectacular, but the way that it fit her curves was jaw-dropping perfection. Va-Va-Voom! 2)  Evan Rachel Wood in Elie Saab — while Maria Menounos wore an almost identical dress, Wood wins in this glamathon race.  Why go for cheap sequins when you can get an even better effect with gorgeous beadwork and an up-do?  Welcome back from the dead, Wood.
Honorable Mention (Worst Dressed):  So many. I always feel like it's easier to find the flubs than the fantastic, and this ceremony was no exception.  1) Christina Hendricks in Johanna Johnson?  I know you have boobs, honey, but can you even breathe with them so tightly bandaged up against your body??  Plus, the color just washes her out and the beading pattern just made her look wider than normal. 2) Jayma Mays in Zuhair Murad looked like a cupcake, and I'm pretty sure I've seen better versions of that dress on Toddlers & Tiaras.
Best Dressed: Jennifer Carpenter in Tony Ward Couture – LOVED! She looked like a knockout (hello, that slit!) and it was so nice to see her outside of the pant suits she wears on Dexter.
Worst Dressed: Gwyneth Paltrow in Pucci. I wanted to love it, but could not get past that upper mid-section cut out (ugh!). Without that I think it would have been a great dress, but with the midriff-bearing piece it became an instant disaster. I'm all for her trying to push the envelope, but crop tops on the red carpet are not the way to go.
Honorable Mention (Best Dressed): Julie Bowen in Oscar de la Renta – the plunging v-neck and the sparkle accents worked so perfectly together. It was a great silhouette with her body, and the whole ensemble was clean and modern, with just the right amount of shine. This dress definitely made her an Emmy style winner in addition to the gold statues she went home with.
Honorable Mention (Worst Dressed): Katie Holmes in Calvin Klein – this was so boring! And between the belt, the fit and the bird nest on top of her head, the whole look was really not flattering. I can understand her wanting to be slightly understated since she wasn't a nominee, but this is still a red carpet event. It might be her bazillionth trip down the carpet, but that this look was more suited for the beach.
The Metropolitan Museum of Art Costume Institute Gala is the high fashion event where the style elite can push the envelope in the hautest way possible. Unlike the Grammys where celebs show up wearing cans of tuna or weird disco sunglasses, the Met Gala showcases the true potential of designers, fashion-forward celebs and ingenious stylists. Join us as we break down the top trends, the fashion elite and the style disasters that graced the Met Gala red carpet.
Americandy
While this is a great event to showcase haute gowns and bold picks, it is also refreshing to see a group of ladies strutting their stuff in simple, streamlined ensembles by American designers. Michael Kors must have worked overtime, dressing Diana Agron (below, right), Brooklyn Decker (below, left), Emma Roberts, and model Caroline Trentini. From Brooklyn's hot pink, high slit fierceness to Caroline's nude, textured concoction, Kors got it right, sending out the perfect amount of American minimalism with the Met Gala-required wow-factor.
Always the American minimalist, Claire Danes showed up in a metallic Calvin Klein Collection gown, while Zoe Saldana (below, center) also donned the designer wearing a strapless pale lemon dress. Both were low-key looks, yet they managed to not underwhelm us with their fresh choices in color.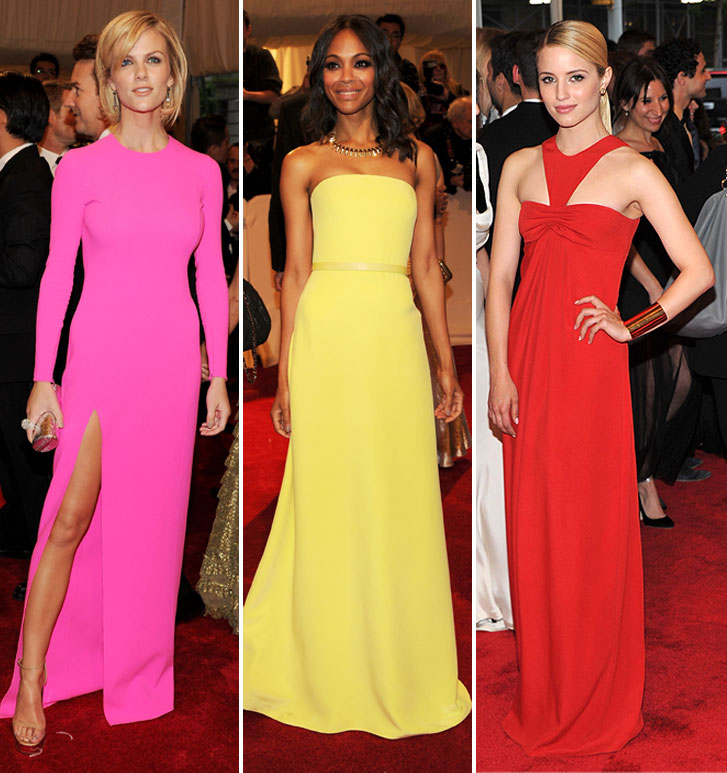 Got Something Up My Sleeve
One of the biggest trends of the night was sleeves. These stars must have finally been affected by the raging winter the rest of the country experienced, because you could not take a step without bumping into a not-bare arm. However, this trend seemed to work only on the stars who were able to keep it simple. The stand-outs of the night got this trend exactly right, including Renee Zellweger in a nude Carolina Herrera gown with just the right amount of sparkly detail on each hip. Naomi Watts also must have gotten dressed with Renee, because she too showed up in a nude gown with sparkle accents (by Stella McCartney), however hers created this ethereal feel with the illusion sleeves and light, translucent material. Gwyneth Paltrow brought the classy element back to gold in a stunning Stella McCartney, open-back, fitted gown, along with Sarah Jessica Parker in a silver, high-neck Alexander McQueen creation with the perfect silver-on-silver pattern detail. Going for a bit of a fashion risk, Ashley Olsen (below, right) encompassed the overall image of the evening in a vintage Christian Dior black gown with full, ivory, off-the-shoulder sleeves.
However, her sister, Mary Kate (below, left), missed the mark with her oversized Givenchy dress that looked like it was fit more for a trip to an Amish 1970s beach rather than a costume gala. Iman also looked like she was out of another decade a Stella McCartney gold, belted jumpsuit, and in the bad, 1980s type of way. But the biggest trend offender of the night? Christina Ricci in Zac Posen, evoking a morbid, just-raised-from-the-dead-in-a-Tim-Burton movie motif.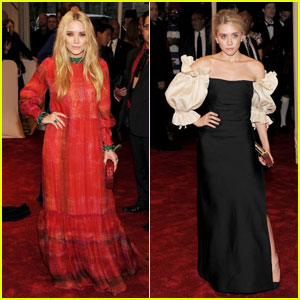 Surprise Designer: Topshop
When I think of the Met Ball, I think of haute couture gowns with feathers, studs, sequins and an expensive designer label attached. This year, however, three stunning starlets graced the gala in a label even we frugal fashionistas can afford. Jessica Szohr (below, center) edged things up a bit in a black velvet and tinsel minidress, while Maggie Grace (below, left) hit the red carpet in a limited-edition black gown by the mainstream label. Finally, Ginnifer Goodwin (below, right) wowed in a knotted green dress with a deep v front, which was ever so slightly overworked with the matching green eye makeup.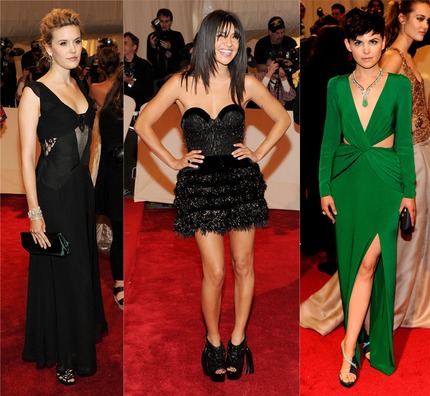 FashioniSTA Best Dressed: Diane Kruger in Jason Wu (left). Between her use of the illusion, sleeves and bedazzled trends, you'd think this would be a complete miss. But she managed to make it all work, evoking an old Hollywood glamour rather than a trashy mash-up of trends, which is definitely not easy to do.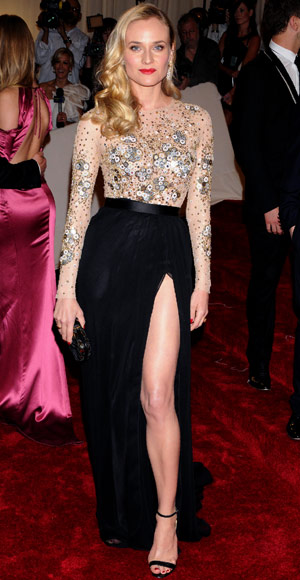 FashioniSTA Worst Dressed: Fergie in Marchesa. Not only is this dress an atrocious bridal nightmare from 1982, but the overly bronzed makeup and borderline frosted hair just added to the disaster. Bring back Grammy 2010 Fergie please!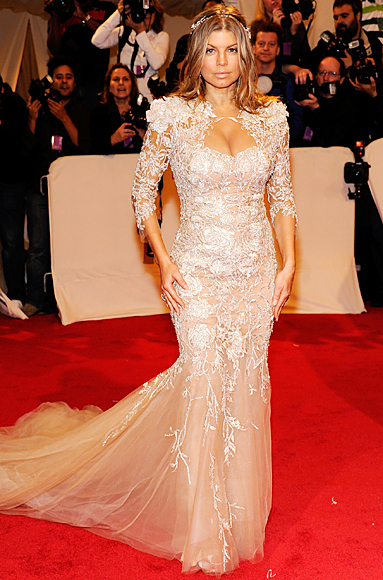 Most Improved: Rather than give this to an actual person, this award goes to Valentino's daisies, making their big comeback as appliqués on Dakota Fanning's tulle dress. After seeing Michelle Williams in these daisies at the Golden Globes, we thought that this trend would die a slow, painful death, but they have come back at the right event, on the right starlet, and in exactly the right way.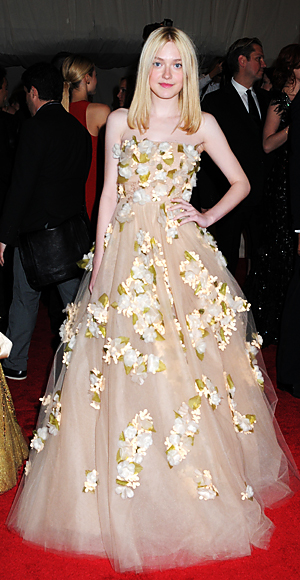 ~Ashley, FashioniSTA, Second Time Around