Posts tagged
Ashley Olsen
Truth: I'm a magazine hoarder. September issue season is similar to the second coming of Christmas. While I love each one that the mailman delivers, it leaves me with the inevitable surplus of material lying around my home. What's a girl to do with so much material month after month?
Answer: Inspiration books/boards. With my passion for society and fashion, my inspiration books serve as the best current indicator of my personal style.
A bit different than journaling, there's a few tips that every would-be inspiration bookie should keep in mind:
Pick the palette that's right for you. For me, it's a big basic black Moleskine notebook with graph paper. I prefer a sleek and simple canvas for its diverse inner-workings. For others, a journal with a favorite quote or motto may work. If you travel frequently, a notebook or sketchbook that you stumble across any random market may be perfect to use. Whatever you do, don't just settle for that leftover Five Star notebook from your sophomore year communications class. Even the exterior of your inspiration book should reflect a piece of you.
Know that a notebook isn't right for you? If you don't want to put together a book, you can always translate this same concept into an inspiration board using a simple piece of poster board. Hang it on the wall next to your closet for instant inspiration!
Use a broad set of materials. While my main focus is my own personal style, I constantly remind myself that my style goes beyond my favored military blazers and one-shoulder frocks. Inspiration can be found not only in the latest issue of Vogue, but also in the Pottery Barn catalog that lands on my doorstep. Love the ocean? Grab a sailing magazine. Find an amazing photo on Tumblr that speaks to you? Print it out and grab a glue stick. Don't limit an inspiration book to one topic – it's a space to let loose on everything you love.
Intertwine your personal styles. An inspiration book is a perfect place to further explore your current style. Without a doubt, a trend will appear within the pictures you choose. (For me, it was a lot of Sienna Miller, Reese Witherspoon, Rachel Bilson and Ashley Olsen.) Use your images as a guide to (loosely!) define your style and tweak it to make it uniquely you. (You'll find that yes, you can mix the button-down you adore on Kate Middleton and the boho skirt that Mary Kate Olsen rocks in the same outfit). Should you find yourself wearing similar pieces on a regular basis, this is the perfect way to find new and interesting additions to make your outfits that much more special.
Target what you have. Spy a picture of your L.L.Bean tote in Elle? The Catherine Malandrino LBD you nabbed on your last STA jaunt? The high-waisted Ralph Lauren pants you covet in your closet? Make sure to tear those pages out and work them into your inspiration book. See how professional stylists work them into their photo shoots for a new take on your longtime favorites.
The best part? Inspiration books always act as the best personal magazine. Can't decide what to wear to work in the morning? Tempted to grab your default leggings and tunic combo without thinking? Flip open any page of your newly minted inspiration book for any quick dose of panache you need.
~Meredith, fashioniSTA/Shopper Extraordinaire
The Metropolitan Museum of Art Costume Institute Gala is the high fashion event where the style elite can push the envelope in the hautest way possible. Unlike the Grammys where celebs show up wearing cans of tuna or weird disco sunglasses, the Met Gala showcases the true potential of designers, fashion-forward celebs and ingenious stylists. Join us as we break down the top trends, the fashion elite and the style disasters that graced the Met Gala red carpet.
Americandy
While this is a great event to showcase haute gowns and bold picks, it is also refreshing to see a group of ladies strutting their stuff in simple, streamlined ensembles by American designers. Michael Kors must have worked overtime, dressing Diana Agron (below, right), Brooklyn Decker (below, left), Emma Roberts, and model Caroline Trentini. From Brooklyn's hot pink, high slit fierceness to Caroline's nude, textured concoction, Kors got it right, sending out the perfect amount of American minimalism with the Met Gala-required wow-factor.
Always the American minimalist, Claire Danes showed up in a metallic Calvin Klein Collection gown, while Zoe Saldana (below, center) also donned the designer wearing a strapless pale lemon dress. Both were low-key looks, yet they managed to not underwhelm us with their fresh choices in color.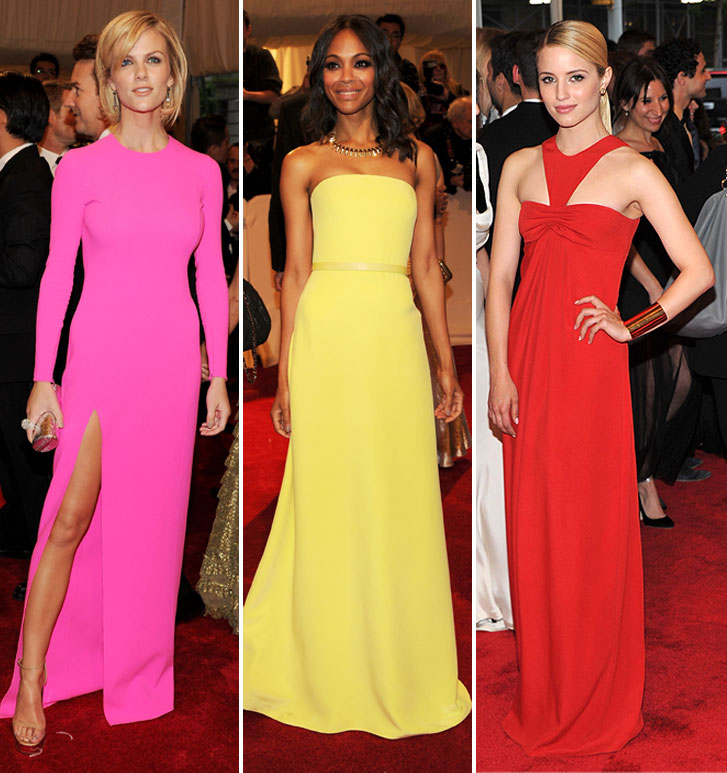 Got Something Up My Sleeve
One of the biggest trends of the night was sleeves. These stars must have finally been affected by the raging winter the rest of the country experienced, because you could not take a step without bumping into a not-bare arm. However, this trend seemed to work only on the stars who were able to keep it simple. The stand-outs of the night got this trend exactly right, including Renee Zellweger in a nude Carolina Herrera gown with just the right amount of sparkly detail on each hip. Naomi Watts also must have gotten dressed with Renee, because she too showed up in a nude gown with sparkle accents (by Stella McCartney), however hers created this ethereal feel with the illusion sleeves and light, translucent material. Gwyneth Paltrow brought the classy element back to gold in a stunning Stella McCartney, open-back, fitted gown, along with Sarah Jessica Parker in a silver, high-neck Alexander McQueen creation with the perfect silver-on-silver pattern detail. Going for a bit of a fashion risk, Ashley Olsen (below, right) encompassed the overall image of the evening in a vintage Christian Dior black gown with full, ivory, off-the-shoulder sleeves.
However, her sister, Mary Kate (below, left), missed the mark with her oversized Givenchy dress that looked like it was fit more for a trip to an Amish 1970s beach rather than a costume gala. Iman also looked like she was out of another decade a Stella McCartney gold, belted jumpsuit, and in the bad, 1980s type of way. But the biggest trend offender of the night? Christina Ricci in Zac Posen, evoking a morbid, just-raised-from-the-dead-in-a-Tim-Burton movie motif.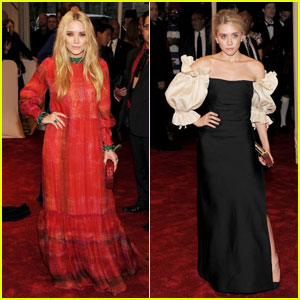 Surprise Designer: Topshop
When I think of the Met Ball, I think of haute couture gowns with feathers, studs, sequins and an expensive designer label attached. This year, however, three stunning starlets graced the gala in a label even we frugal fashionistas can afford. Jessica Szohr (below, center) edged things up a bit in a black velvet and tinsel minidress, while Maggie Grace (below, left) hit the red carpet in a limited-edition black gown by the mainstream label. Finally, Ginnifer Goodwin (below, right) wowed in a knotted green dress with a deep v front, which was ever so slightly overworked with the matching green eye makeup.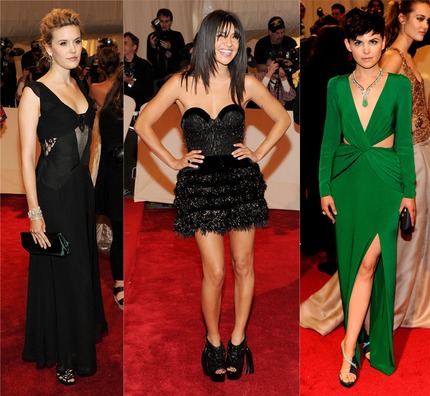 FashioniSTA Best Dressed: Diane Kruger in Jason Wu (left). Between her use of the illusion, sleeves and bedazzled trends, you'd think this would be a complete miss. But she managed to make it all work, evoking an old Hollywood glamour rather than a trashy mash-up of trends, which is definitely not easy to do.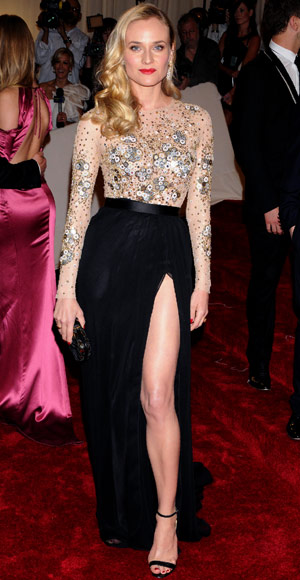 FashioniSTA Worst Dressed: Fergie in Marchesa. Not only is this dress an atrocious bridal nightmare from 1982, but the overly bronzed makeup and borderline frosted hair just added to the disaster. Bring back Grammy 2010 Fergie please!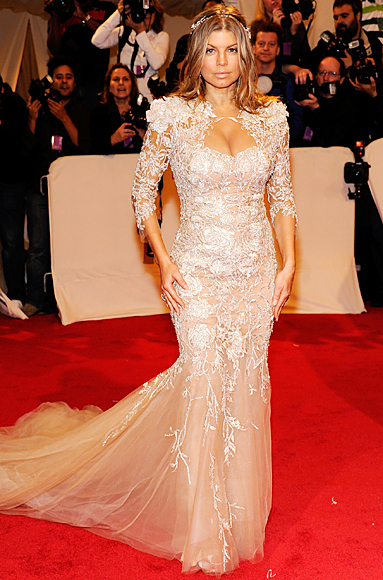 Most Improved: Rather than give this to an actual person, this award goes to Valentino's daisies, making their big comeback as appliqués on Dakota Fanning's tulle dress. After seeing Michelle Williams in these daisies at the Golden Globes, we thought that this trend would die a slow, painful death, but they have come back at the right event, on the right starlet, and in exactly the right way.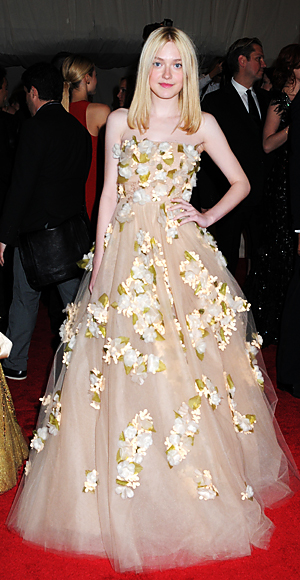 ~Ashley, FashioniSTA, Second Time Around
Celebrity Designers: Successes and Failures
It seems that almost every celebrity – both A-list or otherwise – has come out with their own clothing (or shoe, or jewelry, or hand-bag) line. Most are just ho-hum, but some are very successful. What is the defining factor you ask?
The successful brands are those labels which can exist independently of their creator based upon the quality of their design. While the style or personality of the celebrity informs the spirit of the brand, it is not solely the link to the celebrity that gives the label validation.
Want some examples of this success? Here are my favorites:
Gwen Stefani's L.A.M.B.
One part new-wave preppy, one part rocker-chic and all parts cool, Gwen's higher-end line (she also has a diffusion label named Harajuku Lovers after the Japanese street style that she loves so much) is extremely successful. The singer, songwriter and fashion plate is incredibly talented. Although her rock star status came first and most certainly informs her collections, there is no doubt about her designing talent. Pun intended.
Mary-Kate and Ashley Olsen's The Row and Elizabeth and James
The world's most famous twins' high-end ventures into designing have cranked out some very cool duds. Famous for their "homeless chic," M-K and Ashley have produced a line of very wearable basics and fashion pieces for the downtown girl who loves fashion. Slinky tees, menswear-inspired pieces, sexy dresses, shoes and jewelry abound.
Mila Jovovich's Jovovich-Hawk
Model turned actress turned designer, Mila Jovovich, teamed up with her friend Carmen Hawk to make "clothes that are relevant to the lives of independent, hard working, creative, funny, elegant and romantic women." The look is extremely feminine with a heavy vintage influence and has a strong following.
Justin Timberake's William Rast
The pop prince's label with his childhood friend Trace Ayala consists of premium denim and coordinating casual pieces. The look is classic Americana with a rock and roll vibe. The look has a very universal, easy-to-wear appeal and the jeans fit like a second skin.
Victoria Beckham by Victoria Beckham
Posh Spice certainly knows a thing or two about fashion. She knows how to shop for it, how to wear it and – as evidenced by her clothing line – how to design it as well. Her collection consists of dresses, denim and eyewear, undoubtedly 3 of Mrs. David Beckham's favorite things. I believe that the dresses are the most successful. They are fitted, sexy and polished – the kind of things that you could wear to the office with a jacket, but also rock out at the club in with the addition of some sky-high heels.
What are your favorites?? I am sure that I have overlooked some… Comment above!
~Marisa, Director of Styling, Second Time Around