Posts tagged
style inspiration
Truth: I'm a magazine hoarder. September issue season is similar to the second coming of Christmas. While I love each one that the mailman delivers, it leaves me with the inevitable surplus of material lying around my home. What's a girl to do with so much material month after month?
Answer: Inspiration books/boards. With my passion for society and fashion, my inspiration books serve as the best current indicator of my personal style.
A bit different than journaling, there's a few tips that every would-be inspiration bookie should keep in mind:
Pick the palette that's right for you. For me, it's a big basic black Moleskine notebook with graph paper. I prefer a sleek and simple canvas for its diverse inner-workings. For others, a journal with a favorite quote or motto may work. If you travel frequently, a notebook or sketchbook that you stumble across any random market may be perfect to use. Whatever you do, don't just settle for that leftover Five Star notebook from your sophomore year communications class. Even the exterior of your inspiration book should reflect a piece of you.
Know that a notebook isn't right for you? If you don't want to put together a book, you can always translate this same concept into an inspiration board using a simple piece of poster board. Hang it on the wall next to your closet for instant inspiration!
Use a broad set of materials. While my main focus is my own personal style, I constantly remind myself that my style goes beyond my favored military blazers and one-shoulder frocks. Inspiration can be found not only in the latest issue of Vogue, but also in the Pottery Barn catalog that lands on my doorstep. Love the ocean? Grab a sailing magazine. Find an amazing photo on Tumblr that speaks to you? Print it out and grab a glue stick. Don't limit an inspiration book to one topic – it's a space to let loose on everything you love.
Intertwine your personal styles. An inspiration book is a perfect place to further explore your current style. Without a doubt, a trend will appear within the pictures you choose. (For me, it was a lot of Sienna Miller, Reese Witherspoon, Rachel Bilson and Ashley Olsen.) Use your images as a guide to (loosely!) define your style and tweak it to make it uniquely you. (You'll find that yes, you can mix the button-down you adore on Kate Middleton and the boho skirt that Mary Kate Olsen rocks in the same outfit). Should you find yourself wearing similar pieces on a regular basis, this is the perfect way to find new and interesting additions to make your outfits that much more special.
Target what you have. Spy a picture of your L.L.Bean tote in Elle? The Catherine Malandrino LBD you nabbed on your last STA jaunt? The high-waisted Ralph Lauren pants you covet in your closet? Make sure to tear those pages out and work them into your inspiration book. See how professional stylists work them into their photo shoots for a new take on your longtime favorites.
The best part? Inspiration books always act as the best personal magazine. Can't decide what to wear to work in the morning? Tempted to grab your default leggings and tunic combo without thinking? Flip open any page of your newly minted inspiration book for any quick dose of panache you need.
~Meredith, fashioniSTA/Shopper Extraordinaire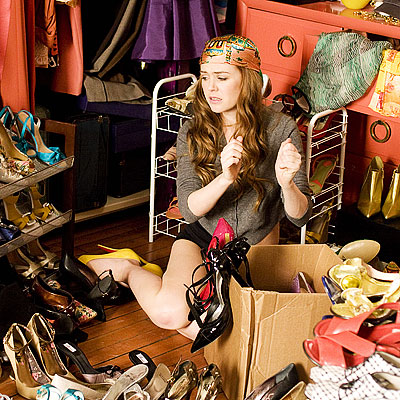 Hello fellow fashioniSTAs! After composing ourselves post-Oscars and post-STA sale, we are back for week two, bringing you the ins and outs of easily creating your dream wardrobe. The theme of this week is editing, and by the end of this week you will have pared down your closet to the clothes that you really love and will actually wear. Once you get the process going, you should be able to move through your closet pretty quickly, and believe it or not, but this process can become addicting! You'll also be able to refine your own sense of style, and you may even uncover some gems that have been hiding out on you. This process will leave you with extra space that we will next week show you how to wisely fill to fulfill your wardrobe dreams!
Here is a CliffsNotes version of the process: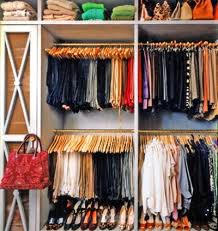 1. Find your inspiration. This is key to creating your ideal wardrobe. What look are you going for? Think of someone that you find eternally stylish, or a movie or television show that really makes you pay attention to the fashion. Or you could even think of a lifestyle that you want to adopt (for example, a breezy mom-on-the-go that makes it look effortless). Keep this in mind as you assess what you have in your closet, this will help you distinguish between what you love and what you're over. Also, focus on what you ultimately want your closet to look like, almost like style meditation, this will help you visualize what pieces will help you get there.
2. Get into the minimalist mindset. You probably don't wear everything in your wardrobe, so you need to be honest about each piece to sniff out the items that don't work for you anymore. You can seamlessly move through your closet if you break it up by category: skirts, dresses, pants, tops, etc. This will help you to compare similar items to each other to accurately assess each item. If helpful, adopt a style mantra or question to use throughout this process. The one that works for me is "Do I LOVE it and will I wear it?" Other great ones that some people use are, "If I saw this in the store, would I buy it?" and "Is this quality, and will I wear it forever?" These questions will help you to subconsciously tap into the things that you love versus the things that you don't need anymore.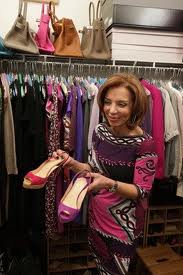 3. Pick up each item and analyze. This will be easy for the pieces that you know you're over. You can quickly toss them into a bag and move on. But this is an important step to try on each item in your closet. Repeat your style question with each piece, making sure that it gets you excited or inspired, and most importantly, that you will wear it. I know it's hard, but if you can't think of a specific outfit or instance where you'll wear a certain piece, you won't use it. Be critical! You don't need an excess amount of items, so another good question is "Do I have something similar, and which one do I like more?"
• Exception: basic pieces. While I do not condone an entire wardrobe based around leggings, it is important to have basic pieces that complement the exceptional ones.
4. Once you've completed this first round, take a break and go back for more. This time, assess what kinds of clothing you actually wear on a daily basis. You can break it up into a few simple categories, for example, work, weekend, special occasion, athletic/lounge and nighttime. Be honest about how many fancy events you have, or how often you're allowed to dress out of uniform. Follow our little quiz below to determine some guidelines for your closet, and then use this to help you really determine how much casualwear you need or how many big-night-out ensembles you can manage.
You are a Stylish Student if…
…you are a full-time student
…you do not have a part-time or full-time job that requires work-appropriate apparel (on-campus job excluded)
You are Conservative Chic if…
…you work in an office with a strict dress code policy, like a government organization or a conservative law firm
…suits and suit separates dominate your wardrobe, with a dash of casual and trendy for the weekend
…you work in an environment that requires a uniform, such as a hospital or a police station
You are a Casual Gal if…
…you work from home or in an environment that is super casual, such as a daycare, or if your office adopts a "jeans everyday" mentality
…you are a stay-at-home mom
You are a Trendy Worker if…
…your office is trendier than most, which covers anything in the fashion industry or if your company is run by a younger female demographic
…the people in your office or line of work know what liquid leggings are
…you work in a boutique or department store where you're selling a chic image
Stylish Student – Your Necessities: class, weekend, future staples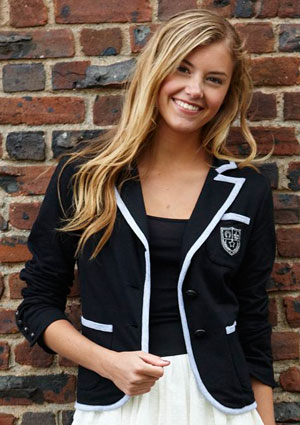 In this stage of your life, your wardrobe will drastically change. If you're in a four-year college, from freshman to senior year you probably won't recognize your sense of style when you look back on the previous year. That being said, don't be afraid of this transformation. Let me tell you from personal experience: if you get to the point where you're not that excited about something that you own, it's time to consign. You're not just "going through a phase" where you don't like it, you've outgrown it. It's ok, this is a great step in the style process.
Getting your wardrobe ready for a future career is definitely important if you are still in college, or if you are in any type of school to prep for a career change. While your wardrobe should be comprised of mostly casual clothing in college, such as jeans, jersey tops, etc, it's also important to keep in mind that you will probably need more professional clothes at some point than what you wear to class. So approach your wardrobe with a critical eye, keeping basic and casual items to wear to class, but really edit it down because outside of school, you will probably only wear these clothes on the weekend.
Conservative Chic – Your Necessities: uniform, weekend casual, night out options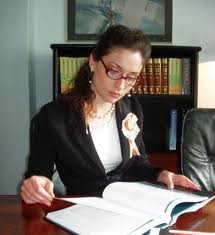 Depending on whether you work as a nurse or a lawyer, obviously there is a drastic distinction between what is work-appropriate apparel in that range of jobs. However, if your office is super conservative, it is basically the same as if you had to wear scrubs or a team uniform everyday to work. Even if you work in a salon where you have to wear all black, it is still along the same lines. Each of them requires what we like to call a "style uniform." This means that you are under strict guidelines as to what you can wear in the workplace, so don't hold on to things that you know you won't use. For example, unless you like to go out on the weekends in pencil skirts and high-heeled Mary Janes, don't hold on to them if you work as a full-time dentist. Be candid about your weekend plans, if you're often at functions, you don't need 50 pairs of jeans, or if you often stay in, you won't wear 15 cocktail dresses.
Don't forget though about the extras! Obviously, unless you work for the military, you are allowed to jazz up your usual uniform with a little something extra, whether it's a headband or a necklace or a pop of color somewhere else. However, if you might find yourself accumulating more of these than you really need, just because you're desperate to mix things up. Go through and see if you are excited about each piece. Since the point of these items is to make your uniform more unique, if they don't inspire excitement, they really defeat the purpose.
Casual Gal - Your Necessities: Everyday/weekend casual, night out options, a few daytime formal items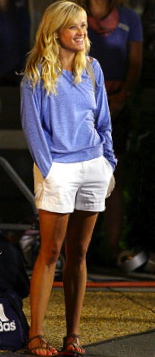 You are the envy of pretty much everyone. You get to wear what you want, when you want, without pretty much any restrictions from your outside life. That being said, if you are on your feet a lot, you need to recognize that you will not wear something that is uncomfortable or does not move with you. Critically look at the pieces that you own, keeping only a small percentage of clothes that you will be excited to wear out on the weekends or for a weeknight out with the girls/date night. Be honest about how often you go out, and how many outfits you'll wear. There are not enough events or nights out to constitute an entire wardrobe of club-wear.
Also look at your casual clothes, it's important to let go of items that make you look and feel less than your best. While there is nothing wrong with jeans and a t-shirt, make sure that you don't only own ripped denim and oversized band shirts. Really look at each piece to make sure that it bridges the gap between stylish and casual, and feel free to let go of things that are on the extreme ends of the spectrum – super worn and dumpy clothes, and too trendy, impractical items. That being said, if your style image is one where you're mostly casual but you mix it up about once a week for a nice lunch or client meeting, maintain another small percentage of daytime formal pieces.
Trendy Worker - Your Necessities: Work-appropriate items, a few more formal pieces, select casual-wear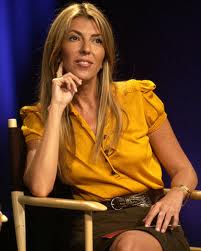 You probably have the most versatile office environment since really, you can make pretty much anything work. That being said, you will also begin to naturally notice when certain items don't fit into the everyday look that you're going for. Your style will obviously naturally evolve, so it's important to study each piece, and not only think about if you like it, but also think about it in terms of an overall outfit. For you, keeping up appearances in your office is probably a good thing, so throwing on ripped jeans and a top doesn't really cut it. It is especially important to stick with your style inspiration, so make sure that each and every piece in your wardrobe is wearable either to work or in your downtime. If it doesn't fit with your style image, let it go! The good news: a lot of your work pieces will also work for a night out with just a couple tweaks. This means that your wardrobe should be comprised of mostly these items, with a small percentage for casual weekend items, or more formal options if you venture outside of the house often for events when you're not in the office.
Every Rule Has Exceptions
There are of course always exceptions to the general rules. Usually if you haven't worn something within two years, you can consign it. However, if you are in a transitional stage – such as changing careers, a recent drastic weight change, or you're fresh out of college/grad school – you may not have gotten the chance to wear the clothing that you have for this new stage.
If your item is also deeply personal and sentimental, hanging on to it might be a good idea. There's nothing worse than consigning a necklace from your grandmother and wishing that you had it later. That's not to say that you should hang on to every little thing that someone close to you ever touched.
Final Tips
A lot of people only look to their actual closets when they do a sweep. Think outside of the clothing box, go through your sunglasses, small leather goods, jewelry, hats, scarves, etc. These items probably aren't located in a centralized place, so rummage through to really deep clean your wardrobe. Check out all of your style stashing places, such as drawers, boxes, shelves, and even inside handbags you haven't used in a while. There are consignment treasures in there that are waiting to earn you money!
After your initial couple of sweeps, keep a bag or box out in the open that you can designate the "Consignment Area." As you find yourself getting dressed each day, you will undoubtedly find things that you realize you aren't crazy about or that don't fit you. Place them in the bag and keep them for your next appointment. Before you know it, editing your wardrobe will become second nature!
Have any great tips? Let us know about them! Comment here or find us on Facebook (Second Time Around – Resale Goes Upscale) or on Twitter (@STA_FashioniSTA and @STAconsignment)!
Stay tuned for next week when you show you how to fill in the gaps to building your perfect wardrobe!