Arctic Blast Ain't Got Nothing on You
Up until this past week, I would have said that we should consider ourselves lucky with how the weather had panned out. I was keeping my fingers crossed that we wouldn't hear of another polar vortex this winter… This isn't exactly a vortex, but the "Arctic Blast" is just as bad. Mentally preparing myself to leave the house for the early morning and then evening commute is probably worse than the actual cold. It is even so much harder to get dressed to cater to the freezing cold conditions. I don't even want to think about what I'm going to wear tomorrow… But hey, I have a few go-tos for layering with ease.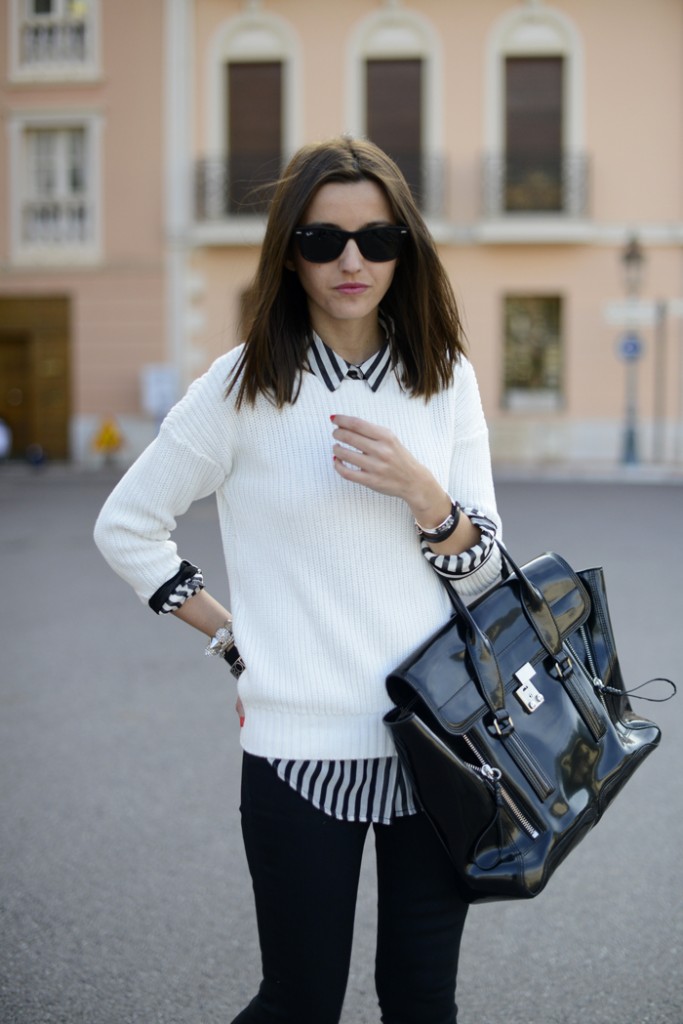 A Button Up Underneath a Sweater
Right now, I am obsessed with putting flannel button ups underneath my wool sweaters. Extra warmth for both the commute and office (which tends to get chilly too). I try to stray away from black and grey palettes when I can, so I have been playing around with a purple and white flannel under a pink wool sweater. Makes me feel a little bit brighter and happier when the day feels gloomy.
A Pair of Skinny Jeans with an Oversized Sweater
An all time favorite of mine is a skinny leather jean with an oversized sweater. Add a scarf and biker boots to the mix. When a pant or denim is super skinny, I love to add tons of volume on top. Especially with leather, doing this doesn't make it feel as though you're trying too hard. Plus, who doesn't love an oversized sweater? My closet is full of them and stocked for the winter.
Tights Paired with Knee High Socks
If you can't bear the idea of retiring your dresses and skirts during the winter to solely wear pants, this is the pairing for you. Grab a thick pair of tights (hands down Uniqlo's HEATTECH tights are the best) and a contrasting knee high socks. I personally love the look of black tights with grey socks with a pair of military style boots. It just makes the entire look both warmer and edgier.
What are you wearing out during the arctic blast? Let us know in the comments section below!
Stay warm, fashioniSTAs!
~Taylor, fashioniSTA intern
Photo Courtesy: Button Up - Lovely Pepa, Skinny Jeans - Elle Street Style, Knee High Socks - StyleCaster
Tags:
Arctic Blast
,
biker boots
,
button up
,
cold
,
consignment
,
designer
,
fashion
,
flannel
,
HEATTECH
,
knee high socks
,
layering
,
leather jeans
,
Oversized Sweater
,
Polar Blast
,
Polar Vortex
,
scarf
,
Second Time Around
,
skinny jeans
,
STA
,
style
,
sweater
,
tights
,
Uniqlo
,
Uniqlo HEATTECH
,
winter
Twitter
Digg
Facebook
Delicious
Google Bookmarks
Yahoo Bookmarks
Technorati Favorites
This entry was posted by
admin
on January 8, 2015 at 9:43 am, and is filled under
Uncategorized
. Follow any responses to this post through
RSS 2.0
. Both comments and pings are currently closed.
Comments are closed.