A Fashionably Late Halloween Costume
I'm guilty of procrastinating a Halloween costume until the very last minute (and this year is no exception). You think I would have learned my lesson by now, but it comforts me to know that I'm not the only one who does this. I pride myself on being able to throw a costume together at the very last minute (due to party invites that are totally unplanned).
There are just some classic characters that are just begging to be a Halloween costumes. Not just because they're cool, but because they are THAT easy to replicate. I don't know if it's a good or bad thing that my closet is this extensive, but here are my easiest go-to characters for All Hallos' Eve:
Rosie the Riveter
Chambray Top + Jeans + Red Bandanna + Boots = The Easiest Last Minute Halloween Costume Ever!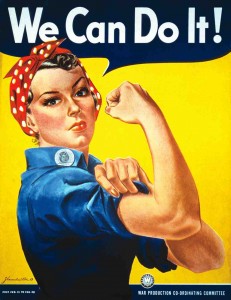 Sandy from Grease
Black Crop Top + Leather Jeans/Leggings + Red Pump + Red Lipstick + Over-the-Top Curly Hair = Hello, Sandy!
Vivian Ward from Pretty Woman
White Tank Top + Blue Bandage Skirt + Over-The-Knee Boots = Va-Va-Voom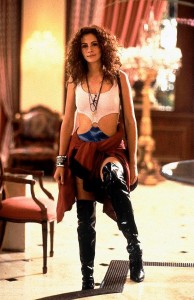 Cher from Clueless
Red Tank Dress + White Feather Boa = As If!
Holly Golightly in Breakfast at Tiffany's
LBD + Statement Necklace + Perfect Updo + Fake Cigarette = An Icon
Are you like me and procrastinated this year (or for the past 5 years)? What are your Halloween go-tos? I'd love to hear what you're putting together! Leave your costume(s) in the comments section below.
Photo Credits: "We Can Do It!" Poster - Wikipedia; Vivian Ward - Media; Sandy from Grease - Leblow; Clueless Movie Poster - IMBD, Breakfast at Tiffany's Poster - Movie Beauty
Comments are closed.