Posts tagged
sunglasses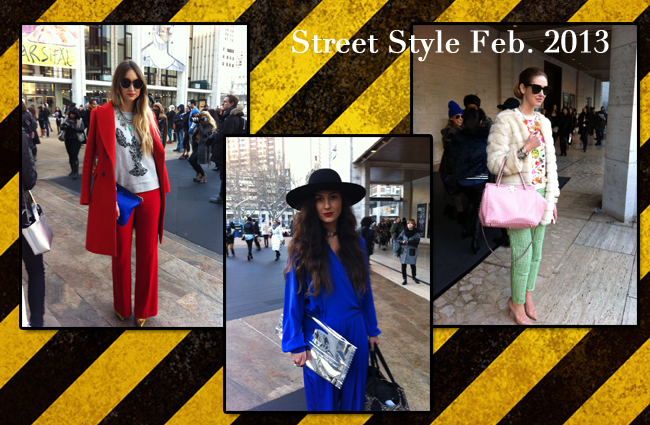 While Fashion Week is known for its runways, fashion show attendees can be just as inspiring to look at. With the tastemakers of the fashion world flocking to Lincoln Center to see and be seen, it's no surprise that street style photos are just as influential as the designers' new collections. After much obsessing over candid shots of editors and bloggers galore, here are three of the hottest accessory trends from the streets of New York.
1. Statement Necklaces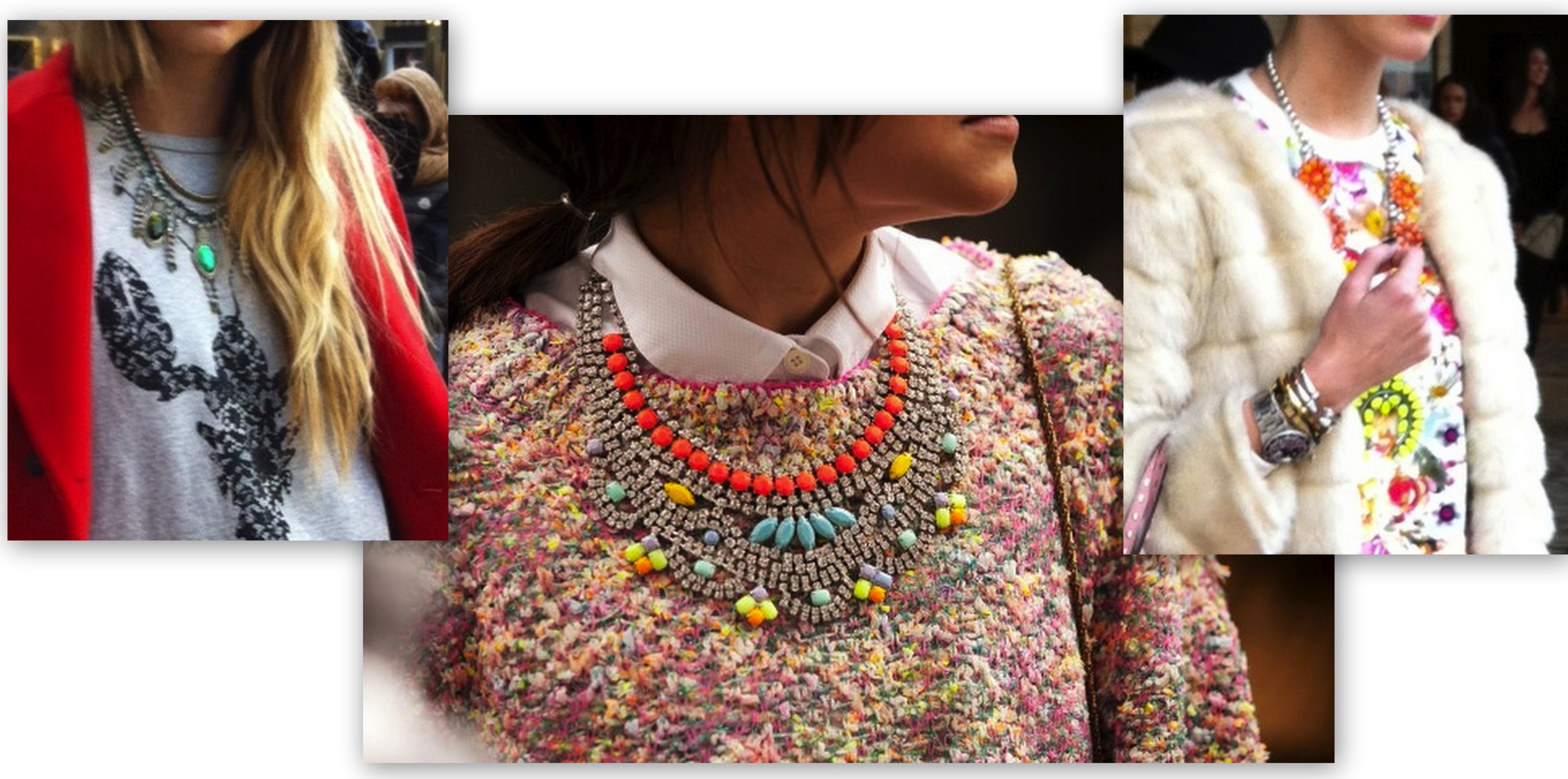 Statement necklaces have been around for a few seasons now, but they were still ever-present on the most fashionable NYFW attendees. As we segue into spring, many of the statement necklaces that we spotted were bright and colorful in pastel and neon hues. While a gorgeous statement necklace can make even the simplest outfit look chic, fashion risk takers preferred to layer their necklaces over a contrasting pattern or design for an even trendier look. For a twist on menswear, layer a statement necklace (or multiple) underneath an oxford collar.
(middle photo credit: refinery29.com)
2. Colorblocked Bags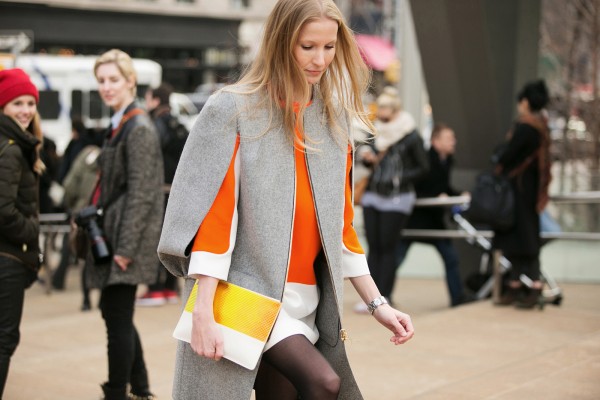 Colorblocking is far from a new trend; every season sees numerous colorblocked outfits sent down the runway. However, colorblocked bags really seemed to make an appearance on the streets of New York this February. A perfect way to add a colorful (but not overwhelming) pop to any ensemble, a colorblocked clutch is effortlessly chic. The best thing about this trend is the versatility, grab a slouchy option for a more casual jeans-and-tee ensemble, or go with a structured, mini version for your fashion-forward office or a night out.
(photo credit: refinery29.com)
3. Mirrored Sunglasses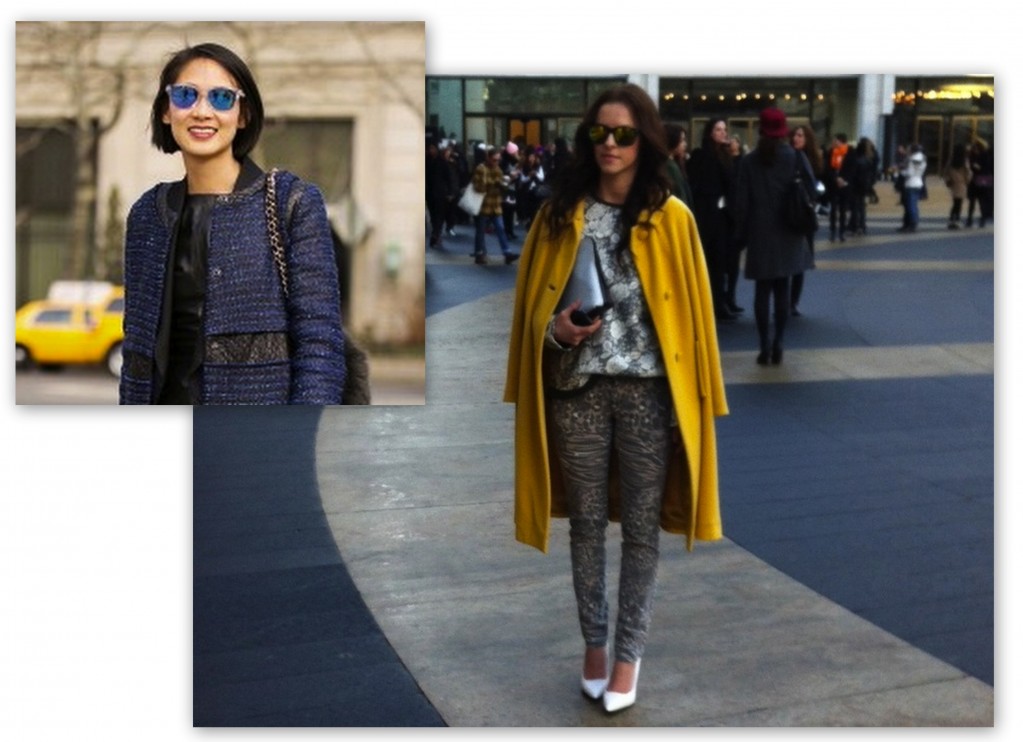 Step aside, Wayfarers! There's a new sunglasses trend in town, and it's a lot more fun than the classic Ray Bans style we've come to know and love. Though New York may have been a tad chilly (ahem, Nemo), the sun was still out, and many fashionistas completed their outfits with a pair of super reflective sunglasses. This awesome 80s-inspired trend was spotted everywhere this season, and is the perfect way to add a quirky twist to an outfit.
(left photo credit: refinery29.com)
This season, set aside classic accessories and try something a little more colorful and fun. I can't wait to add extra spice to my closet with these new accessory trends!
What was your favorite street style trend from fashion week? Tell us on Facebook or Twitter!
~Alyssa, fashioniSTA
Green is in the air this weekend, and it's only natural to want to get in on the festivities. Resist the urge to wear an oversized green bow-tie and a t-shirt that says "Kiss Me, I'm Irish." Instead, try a few fashionable approaches to the holiday to ensure that you don't wake up with a bad style hangover.
Minty Fresh
With Spring just around the color, saturated pastels are popping up everywhere. One of the biggest colors this spring is mint (not to be confused with Thin Mints), which also happens to be a killer choice to celebrate in this weekend. Instead of going with traditional kelly green, try a fresh spin with mint, either in a pair of colored denim (like from Current/Elliott), a sleeveless top (like this one from Rag & Bone), or a full mint dress (like from Diane von Furstenberg). Touches of mint were all over the Spring 2012 runway, from Carolina Herrera to DVF, and have been making they're way into all aspects of street style. If you're not comfortable trying it out in an ensemble, go with a mint manicure, pair of flats, scarf, sunglasses, or a bunch of stackable prasiolite or peridot-accented bangles or rings. Or you could even find items of clothing that have small mint touches, like this colorblock dress by Tibi (two trends, one stone!).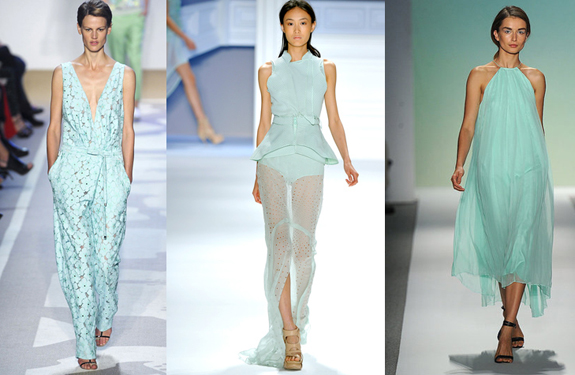 It's All in the Details
Unless you moonlight as a leprechaun, head-to-toe green might be a no-go. However, using a few individual touches of green can help you have a put-together - but still festive - look. Now is the perfect time to break out that bright green handbag or pair of flats that you haven't been wearing. Green is a tough color to go to, but luckily this spring is all about brights, and this is the perfect opportunity to break out of your muted shell! Red jeans have been lighting up the streets, but to get ahead of the trend a bit, go for a pair of green denim. Perfect for St. Patrick's Day and beyond!
If pants aren't your thing, you can start by working green in with jewelry and accessories, and then when you're feeling brave, you can move to bigger parts of your ensemble. Snap up a green dress, tank or skirt, and keep the rest of the outfit neutral for a classic look or go for colorblocking to bring on the bold. If you feel more comfortable with neutrals (black, white, camel, navy), you can work with different textures to achieve different looks. Go with simple knits for a minimalist vibe, or channel your inner urbanite with touches of leather - a huge trend for both spring and fall 2012. If you choose the colorblocking route, green goes great with all shades of blue - try a bright cobalt with a dark green for a great springtime look - as well as certain shades of yellow. Since neons are coming out in full-force, pairing a kelly green with a bright yellow is a surefire hit. But remember, for this holiday, pairing two shades of green together could come across as overkill.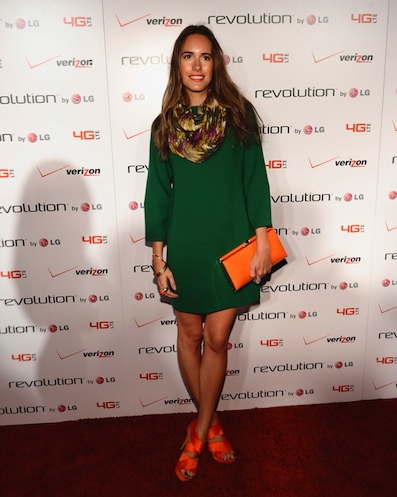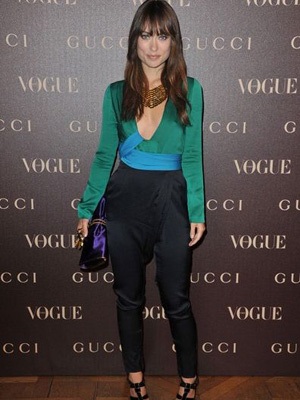 Prints Charming
This is also a great time to work in some of the green-printed pieces you have sitting in your wardrobe. Whether it's a green and white-printed wrap dress or a green polka-dotted blouse (like this Kate Spade option), St. Patrick's Day is a safe occasion to try out a piece for the first time. Once you wear it out, you may be more comfortable working it into your current wardrobe rotation. (This holiday is also a great excuse to get another wear out of a piece.) Another great thing about wearing green prints is that it doesn't look like you overdosed on the St. Patrick's Day Kool-Aid. You'll look classic and put-together, with just the right amount of holiday spirit.
Of course if you're one of those girls who goes big or goes home, I won't judge you for wearing a full sequined, green dress, as long as you channel Alice + Olivia's Fall 2012 line rather than Poison Ivy from Batman.
~Ashley, FashioniSTA
While we all use our cars to take us from point A to point B, if you're anything like me, your car has become almost like a second closet/bathroom sink. I think we all forget that when we step into our cars, people outside of our vehicle can actually still see us. I know that I always thought I was invisible when I turned on the ignition, until I started getting weird looks when I applied eyeliner at red lights. It's about time that we started using the highway as a runway, and the best way is to learn to accessorize what people see the most when we're on the road: our faces. But instead of just slapping on any kind of sunglasses, let your vehicle be your guide.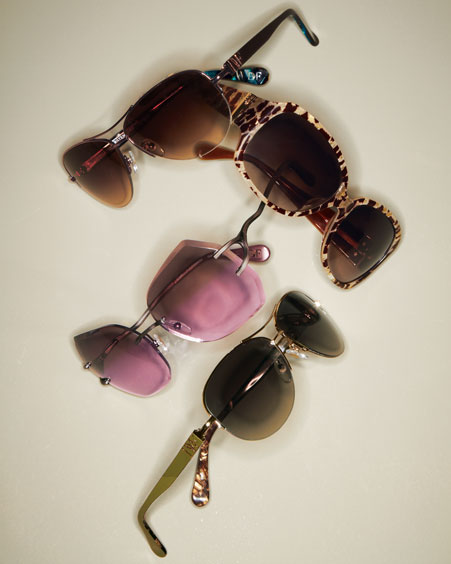 Convertible
Flashy car, flashy accessories; it's an unwritten rule. Diane von Furstenberg has pushed the UV boundaries this year with cool shades in even cooler colors and patterns. Try an all-white ensemble with a pair of her purple glasses, or go in the other direction with a sleek, all-black look completing the outfit with a pair of DVF's leopard-print shades.
SUV
Whether you fit into the "Rugged SUV" category or the "Trendy SUV" category, there's one eyewear that will fulfill all of your needs: Aviators. This versatile accessory can easily be paired with khaki (or army green) and black for an "I can jump out of a helicopter and change a tire while still looking good"-look, or these sunglasses can go with a preppy ensemble, complete with argyle and Jack Rogers. Think of them as your key to any fashion world, all you have to do is put them on.
Sedan
Your best option: Ray-Bans in a bright color to stand out. There are so many of these cars on the road and you're low to the ground, it's strategy, people. This twist on a classic will put you ahead of the game, giving off a low-maintenance sedan vibe while revving up the cool factor. Consider yourself an undercover superstar about to be discovered.
Train
Channel a Serena van der Woodsen boho vibe with large, square-shaped sunglasses in an earthy brown or olive color. Complement this eyewear with a long, drapey open cardigan – sans buttons, of course – in an olive green or deep, earthy neutral, and straight-leg jeans. Top off the look with leather riding boots.
Or go with a pair of gold-rimmed aviators to give off the whole Top Gun, frequent flier style, it'll make you look like you routinely fly your own plane and you're taking the train for some classified, badass reason. (And if you happen to also own an SUV, these will perform double-duty.) Pair with a fitted, brown leather jacket or a simple jeans and a tank look. Extra points if you manage to work in an Army duffle bag.
Cab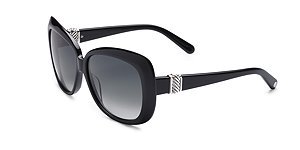 Go for the glam when taking it cab, it makes the experience more chauffeured-living rather than schlepping in public transportation. Try big, round sunglasses in black, like from David Yurman (right) or Prada with subtle embellishments and studded detail on the arms for extra glamour. Pair them with a shift dress or cigarette-style pants – either jeans or black riding pants for a complete uptown look. Hermès Birkin bag optional.
Whatever your mode of transportation may be, travel in style, fashioniSTAs!
~Ashley, fashioniSTA, Second Time Around