Posts tagged
David Yurman
Stumped as to how to be the best Santa this year? We've compiled a list of our stores' best gifts, all sure to put you on the nice list for years to come. From small accessories to designer finds (new with tags, of course), all of these items have been fashioniSTA-approved and are available to purchase over the phone just in time to slip under the tree! Check out http://www.secondtimearound.net/locations.aspx for a list of all the stores and their phone numbers!
STA Stocking Stuffers

Stick any of these items into someone's stocking and you'll know the true meaning of holiday cheer.
It Only Looks Like You Spent A Lot…

Want the glory but none of the expense? Here are some items that will gain you ooohhh's and aaaahhhh's without the hefty bill that's usually attached!
Big Spender Santa

You cannot get your mother a vacuum for Christmas and have her not take it the wrong way. Are you now without a gift to give her? Go the extra mile with these suggestions, just don't tell her they were a third of their retail value!
To: Me, Love: Me

Whoever said it was wrong to shop for yourself during the holiday season clearly never saw these.
While we all use our cars to take us from point A to point B, if you're anything like me, your car has become almost like a second closet/bathroom sink. I think we all forget that when we step into our cars, people outside of our vehicle can actually still see us. I know that I always thought I was invisible when I turned on the ignition, until I started getting weird looks when I applied eyeliner at red lights. It's about time that we started using the highway as a runway, and the best way is to learn to accessorize what people see the most when we're on the road: our faces. But instead of just slapping on any kind of sunglasses, let your vehicle be your guide.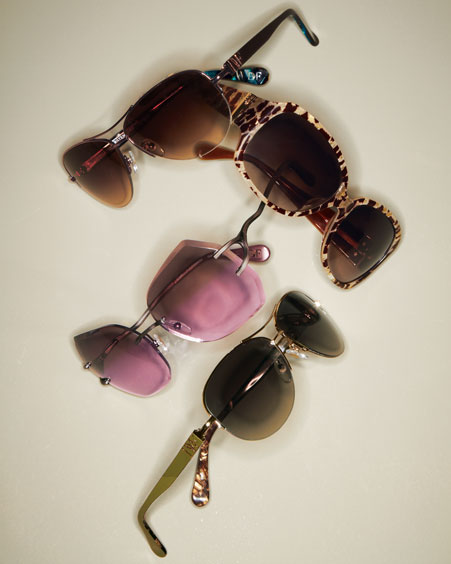 Convertible
Flashy car, flashy accessories; it's an unwritten rule. Diane von Furstenberg has pushed the UV boundaries this year with cool shades in even cooler colors and patterns. Try an all-white ensemble with a pair of her purple glasses, or go in the other direction with a sleek, all-black look completing the outfit with a pair of DVF's leopard-print shades.
SUV
Whether you fit into the "Rugged SUV" category or the "Trendy SUV" category, there's one eyewear that will fulfill all of your needs: Aviators. This versatile accessory can easily be paired with khaki (or army green) and black for an "I can jump out of a helicopter and change a tire while still looking good"-look, or these sunglasses can go with a preppy ensemble, complete with argyle and Jack Rogers. Think of them as your key to any fashion world, all you have to do is put them on.
Sedan
Your best option: Ray-Bans in a bright color to stand out. There are so many of these cars on the road and you're low to the ground, it's strategy, people. This twist on a classic will put you ahead of the game, giving off a low-maintenance sedan vibe while revving up the cool factor. Consider yourself an undercover superstar about to be discovered.
Train
Channel a Serena van der Woodsen boho vibe with large, square-shaped sunglasses in an earthy brown or olive color. Complement this eyewear with a long, drapey open cardigan – sans buttons, of course – in an olive green or deep, earthy neutral, and straight-leg jeans. Top off the look with leather riding boots.
Or go with a pair of gold-rimmed aviators to give off the whole Top Gun, frequent flier style, it'll make you look like you routinely fly your own plane and you're taking the train for some classified, badass reason. (And if you happen to also own an SUV, these will perform double-duty.) Pair with a fitted, brown leather jacket or a simple jeans and a tank look. Extra points if you manage to work in an Army duffle bag.
Cab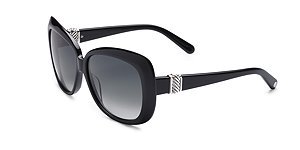 Go for the glam when taking it cab, it makes the experience more chauffeured-living rather than schlepping in public transportation. Try big, round sunglasses in black, like from David Yurman (right) or Prada with subtle embellishments and studded detail on the arms for extra glamour. Pair them with a shift dress or cigarette-style pants – either jeans or black riding pants for a complete uptown look. Hermès Birkin bag optional.
Whatever your mode of transportation may be, travel in style, fashioniSTAs!
~Ashley, fashioniSTA, Second Time Around