Posts tagged
floral
Now that April showers are long gone (we hope!) and May is in full bloom, we are looking to some of our favorite fashion bloggers to see how they are wearing florals this spring. Check out our picks for our favorite springtime inspiration, there's something for every style!
As the warm weather kicks in each year, floral prints are always on trend. This year, the pretty print popped up all over the place, including a huge trend this spring, the floral pant. Blair Eadie of Atlantic-Pacific shows us how she styled her Topshop pants by boldly mixing them with an animal print blouse, a neutral Céline bag (which of course goes with anything!), and simple black pumps. If you're feeling daring, try mixing prints like Blair. Opt for a muted, neutral hue since your pants will be making the statement.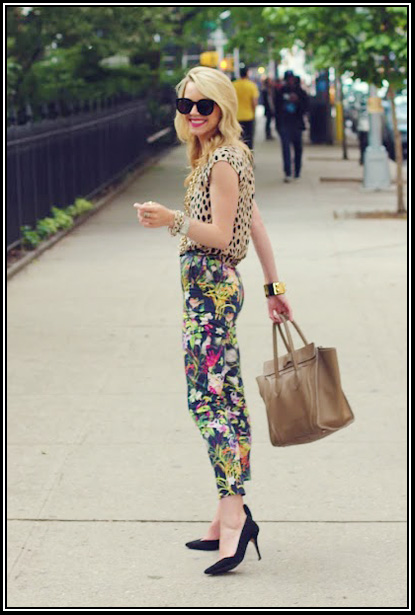 Jessica Quirk of What I Wore shows us an effortless look of a floral dress paired simply with a skinny belt and wedges. This is a perfect option for the workplace (just add a cardigan or blazer) or for a daytime weekend event with girlfriends or family. Add a leather jacket or blazer and this look can easily take you from day to night! Julie Sarinana of Sincerely, Jules also shows us a floral dress, but this time, she's taking it to the max in a long sexy maxi dress with an oh-so-high slit up the side. She pairs the dress with a pair of rugged boots and slouchy bag for a bohemian-chic look. Swap out the boots and bag for a pair of pumps and structured clutch and you've got a perfect look for a fancy night out.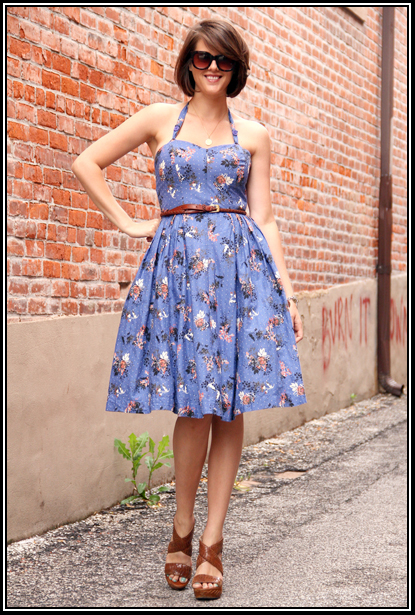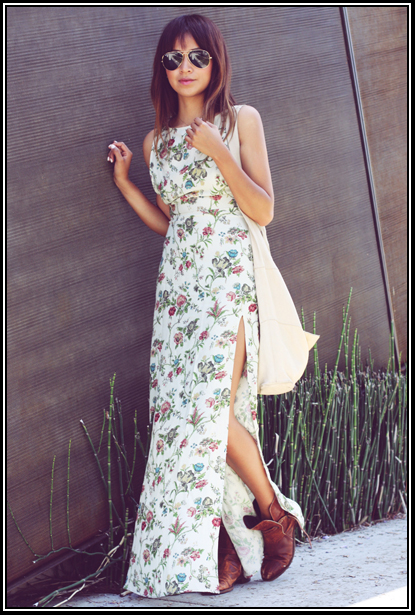 Lastly, Aimee Song of Song of Style wears a floral blazer, which in my opinion, goes with almost anything. She styles the blooming blazer with a neutral strapless dress, but pair this pretty topper with anything from shorts and a sequin tank, to jeans and a white tee, to a sexy bodycon dress and you'll find it to be one of the most versatile pieces in your wardrobe this spring!
All of these fabulous floral looks will take you from spring all the way through summer, and will have you looking pretty, feminine and chic all season long! Let us know your favorite ways to wear florals on Facebook or Twitter!
~Lisa, fashioniSTA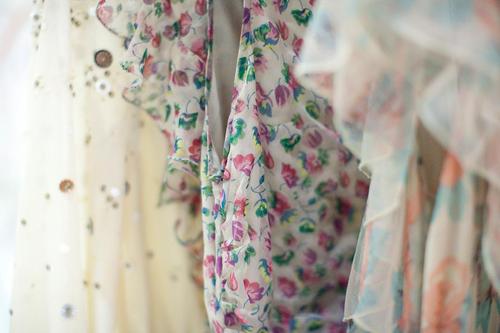 You may not be mentally ready for a weekend of family activities – depending on who your family is – but at least you can make sure that you're style is ready. Whether you want to try a new trend or break out something traditional, So ditch the eggs (just for just a moment) and get ready to go on a different kind of hunt.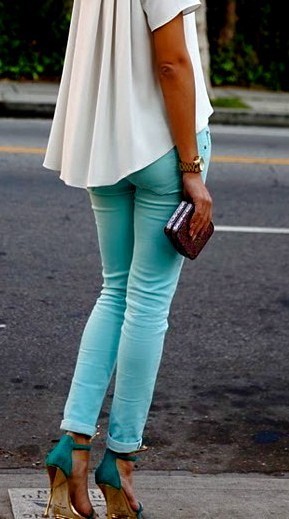 If you want to go trendy…
While neons are getting all the attention right now, this weekend is a good time to try out the saturated pastels trend. Designers from Louis Vuitton to the Gap are featuring these hues, and there are tons of great ways you can try it out. Going with a saturated pastel shift dress is always a timeless option, or you can branch out and try other silhouettes, such as A-line or even a hi-low hem. Accent these with a statement necklace or a bright belt in a completely different hue for a subtle take on colorblocking. Or to keep yourself warm, don a pair of skinny colored pants – a huge trend this year – in mint, lavender or light blue.
If you want to go traditional…
You can never go wrong with a pastel floral, ethereal dress. Lace is also a great trend to try, whether you go with it in a saturated pastel or in traditional white. Long-sleeved lace is a more daring option, but it will keep you considerably warmer than something sleeveless. If you're going to be wearing a sleeveless dress – lace or not – pairing it with a blazer in a light neutral or a pastel hue makes it modern and adds structure to a feminine silhouette.
Another tip: If you're going with a more traditional dress, make it pop with a pastel manicure. This is a great way to stay current without being too trendy.
Remember, this is a great time to wear colors and silhouettes that you may deem too girly and pastel to wear during the rest of the year, so take advantage of it!
~Ashley, FashioniSTA
Incorporating two or more prints in one outfit is an important trend for Spring 2010. However, many will shy away from the look because they are not sure how to pull it off without looking like they got dressed in the dark.
Want to try it out, but need a little guidance? Follow the tips below and soon you will be decked out in designs.
1. Pair prints of similar sensibilities.
Combine a romantic, miniature floral print with a petite polka-dot or a wide stripe with a bold, geometric print. Finish off the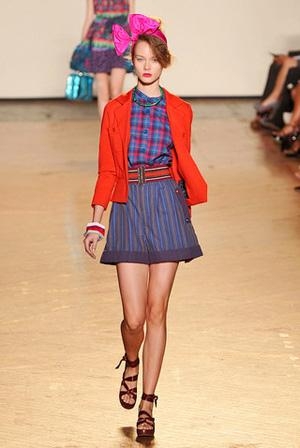 look with complementary accessories. I promise that you will feel pulled together instead of pulled apart.
2. Stay within the same color family.
If all of your prints are different hues of the same color, the outfit remains cohesive. This is the easiest to pull off if the color of choice is a neutral, but I have seen some very successful – and very colorful – outfits as well.
3. Try the same print twice, but in different colors.
Found a print you love? Buy two different garments – perhaps a tank and a skirt - in two different colors – and wear them together. The colors should be of equivalent tone – hot pink and cobalt blue combine well as do moss green and lavender. Or, you should select one garment in a color and one garment in a neutral.
4. Select subdued hues for evening.
Want to take this look from day to night? Combine it with another important Spring 2010 trend – muted hues. Patterns in nudes, pale pinks, soft neutrals and icy blues look subtly sophisticated and serve as better back-drops for night-time bling than their brighter, louder day-time counterparts.
Hopefully this blog has you feeling a little more confident about taking the prints plunge…
Happy shopping!
~Marisa, Director of Styling, Second Time Around