Posts tagged
Missoni
When heading to the beach this summer, be sure to do it in style. Here are eight essentials for a fashioniSTA's seaside getaway!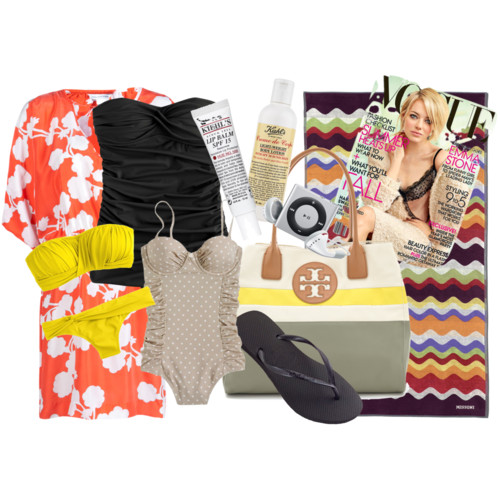 1. Fun, Flattering Swimwear
There are endless possibilities of swimwear styles each year. We recommend going for a classic, flattering suit with a bit of a twist- whether its a pop of color or fun print, like the ones above all from J.Crew.
2. Complimentary Cover-Up
Pair your swim suit with a pretty cover-up. We love this one from DVF. Not only is a Diane von Furstenberg print always in style, but this tunic can take you from the beach, to the beach bar or restaurant, to running errands around town- comfortable, effortless and chic.
3. Beach Flip-Flops
Havaianas are a summer must-have for fashioniSTAs- the most comfortable and practical rubber flip-flop. They come in a variety of colors and prints, and you can even design your own to perfectly show off your summer style and personality.
4. Tory Tote
It's no secret that we love Tory Burch at STA, so when it's time to tote all your summer goods to the beach, we favor a Tory Burch carry-all.
5. Sun Protection
Keep your skin moisturized and protected with a good SPF.
6. Beach Bedding
Nothing says summer like a colorful Missoni knit, so when you're laying on the beach, sunning in the sand, sun in style with a Missoni print beach towel.
7. Quality Reading Material
Vogue, Harper's Bazaar, WWD, Glamour, Elle, etc…oh and Fifty Shades of Grey, obviously.
8. Summer Tunes
Currently on the fashioniSTA summer playlist:
Robyn "Hang With Me"
Ellie Goulding "Lights"
Josh Turner "All Over Me"
New Kids On The Block "Summertime"
Avicii "Silhouettes"
Vanessa Carlton "White Houses"
Zac Brown Band "Toes"
What's your beach essential? Tell us on Facebook or Twitter!
~Lisa, fashioniSTA
Who doesn't want an Italian vacation? The closest we're going to get to one anytime soon is by bringing Italy to us. To help us embody the true carefree, Italian spirit, we're looking to this runway look from our BFW show. Missoni - being the Italian powerhouse that it is - is obviously our first choice for this venture. The statement print ensures you'll never be boring, while the neutral palette is the perfect way to stay timeless and casual. The rest of the look is effortlessly stylish, so obviously your drink-in-hand has to be equally so. With this look we've paired the 90+ Cellars Lot 42 Pinot Grigio - a light, Italian wine that's perfect for pretending you're sitting in a Tuscan villa, when you're really in your own living room.
Whether they look to each other for inspiration, guidance, or what not to wear, mothers and daughters often have a dramatic fashion relationship. My own mother has been an inspiration this spring as I have dug out from the attic many of her 90's floral floor-length dresses and sheer oversized blouses. What follows are some famous mother-daughter pairs who have impeccable style, whether they are doing their own thing or inspiring each other in similar ways. All of these women maintain a deep sense of self in their personal style. While the heritage and mutual influence is often evident, these mothers and daughters individually use fashion as a way to express themselves, and they do it confidently and completely.
Patti Hansen and Theodora and Alexandra Richards
With their blonde hair and gorgeous smiles, Theodora and Alexandra Richards inherited their supermodel looks from their mother, even if their rock n' roll style may be a deeper nod to their father, Keith Richards of the Rolling Stones. All three women set off their classic all-American looks in varying degrees of cleaned-up boho nonchalance and hard-edged glamour, always with a heavy dose of sex appeal.
Danielle Steele and Victoria and Vanessa Traina
Always on the cutting edge and sitting front row at the biggest shows including Chanel, Givenchy, and Balenciaga, sisters Victoria and Vanessa Traina have learned from the best. Novelist, couture coveter, and frequenter of many best-dressed lists, Danielle Steele has passed on her passion for excessive (Steele supposedly owns 6000 pairs of Louboutin shoes) and fabulous fashion to her daring but always-on-point daughters. In designs fresh off the runway and toting the hottest handbags, Victoria and Vanessa shift effortlessly from prim in Chanel to global in Marni to sleek in Proenza Schouler. Rumor has it the Traina sisters are fans of consignment. In 2004, Victoria told The San Francisco Chronicle, "We put the couture clothes in storage and give the ready-to-wear to consignment shops."
Jane Birkin and Lou Doillon and Charlotte Gainsesbourg
As the namesake and inspiration for one of the most coveted and luxurious handbags of all time, Jane Birkin is to Hermes what Charlotte Gainsbourg has become to Nicholas Ghesquiere and Lou Doillon is to Givenchy. Endlessly inspiring, Birkin and her daughters play a natural muse to the most discerning tastemakers. With their luscious, swinging locks, charmingly imperfect smiles, and legs that go on forever, all three women are lusty, musky, and wise. Their demure, free-wheeling, and undeniably French knack for wearing (or not wearing) the most captivating clothes sees Birkin most comfortable in neutrals and warm golden tones while Gainsbourg manages to look willowy and demure in even the most structured, stacked, or avant-garde of Ghesquiere's creations for Balenciaga. Doillon, often the wildcard, creates perfectly thrown-together ensembles that teeter from urban cowboy to 1960's French schoolgirl to vampy high-school drop-out.
Angela and Margherita Missoni
While it may be preordained that the heiress of Missoni would have great style, as granddaughter to founders Rosita andOttavio, Margherita gets props for the graceful way she straddles the line between socialite and brand ambassador. Margherita is fiercely loyal to the brand and is hardly ever photographed in anything other than Missoni. While Angela has designed both the men's and women's collection since 1997 and maintains the labels sexy take on functional knitwear, Margherita's Missoni is modern, bohemian and fresh. Her sunglass and jewelry creations for Fall/Winter 2010 maintained the house's trademark sense of form while introducing futuristic and world-influenced shapes and patterns.
Jerry Hall and Lizzie and Georgia Jagger
Something about the combination of supermodel mom and rock-star dad creates a sort of rough-hewn glamour in the fearlessly fashionable female offspring.  Another set of daughters from the Rolling Stones pedigree, Lizzie and Georgia Jagger represent two sides of mom Jerry Hall's signature look. Lizzie is statuesque, commanding, and reminiscent of Old Hollywood in everything from catsuits and rock tees to satin gowns and vintage dresses. And while Georgia may have inherited those snarly lips and charmingly oversized teeth from Dad, that big, blonde hair and her affinity for miniskirts, red lipstick, and leather is all Mom.
~Jessica P, FashioniSTA, Second Time Around