Posts tagged
beach
Spring Break is one of the most anticipated times of the year: for those of us who are lucky enough to take the time off, we get to escape our busy lives for a few days of rest and relaxation. While some like to travel to snowy ski destinations, I prefer the sun and the beach. The only difficult part? Packing for warm weather when the temperature at home is still hovering around a crisp 32°. But have no fear! After having gone through the difficult packing process myself, I've compiled a list of the top 3 beach essentials not to be forgotten when you go on your spring break getaway.
1. Wide-brimmed hat
For both the fair skinned and those who turn that perfect shade of golden brown, a wide-brimmed hat is absolutely necessary for any sunny destination. Not only do hats protect your face from harmful UV-rays (and premature aging—yikes!), they are also effortlessly chic. An image of Grace Kelly tanning on a beach in Monaco in To Catch a Thief instantly comes to mind with this accessory; if that's not beach fashion inspiration, I don't know what is.
2. Wedges
If you're like me, in October, you dutifully put your best summer wedges in the back of your closet and traded them for booties. Well, it's time to bring them out again! A great pair of wedges is honestly the only heel you need on Spring Break (and this is coming from someone who normally packs four pairs of stilettos for a weekend trip). Wedges are fun, comfortable and versatile and scream warm weather and summer. This is also a great way to try out the latest trends, don't be afraid to mix a colorblock wedge with a patterned outfit!
3. Neon
I've always been a bit iffy about neon—it brings back not so great memories of the orange and hot pink Espirit outfits that my parents would buy for me in the 90s—but this season, it's making a comeback. Spring Break is the perfect time to experiment with this new color trend (and neon looks great with a tan!). Whether you choose a highlighter green bikini or a hot pink asymmetrical dress, you'll stand out in the crowd when you rock some neon on Spring Break.
~Alyssa, fashioniSTA
(Image credits: everythingbutwater.com, dvf.com, stylecaster.com, musingsinfemininity.tumblr.com/, lspace.com, harpersbazaar.com)
When heading to the beach this summer, be sure to do it in style. Here are eight essentials for a fashioniSTA's seaside getaway!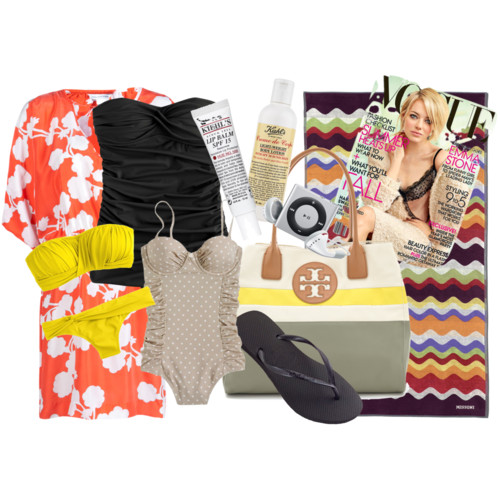 1. Fun, Flattering Swimwear
There are endless possibilities of swimwear styles each year. We recommend going for a classic, flattering suit with a bit of a twist- whether its a pop of color or fun print, like the ones above all from J.Crew.
2. Complimentary Cover-Up
Pair your swim suit with a pretty cover-up. We love this one from DVF. Not only is a Diane von Furstenberg print always in style, but this tunic can take you from the beach, to the beach bar or restaurant, to running errands around town- comfortable, effortless and chic.
3. Beach Flip-Flops
Havaianas are a summer must-have for fashioniSTAs- the most comfortable and practical rubber flip-flop. They come in a variety of colors and prints, and you can even design your own to perfectly show off your summer style and personality.
4. Tory Tote
It's no secret that we love Tory Burch at STA, so when it's time to tote all your summer goods to the beach, we favor a Tory Burch carry-all.
5. Sun Protection
Keep your skin moisturized and protected with a good SPF.
6. Beach Bedding
Nothing says summer like a colorful Missoni knit, so when you're laying on the beach, sunning in the sand, sun in style with a Missoni print beach towel.
7. Quality Reading Material
Vogue, Harper's Bazaar, WWD, Glamour, Elle, etc…oh and Fifty Shades of Grey, obviously.
8. Summer Tunes
Currently on the fashioniSTA summer playlist:
Robyn "Hang With Me"
Ellie Goulding "Lights"
Josh Turner "All Over Me"
New Kids On The Block "Summertime"
Avicii "Silhouettes"
Vanessa Carlton "White Houses"
Zac Brown Band "Toes"
What's your beach essential? Tell us on Facebook or Twitter!
~Lisa, fashioniSTA