Posts tagged
Elle
When heading to the beach this summer, be sure to do it in style. Here are eight essentials for a fashioniSTA's seaside getaway!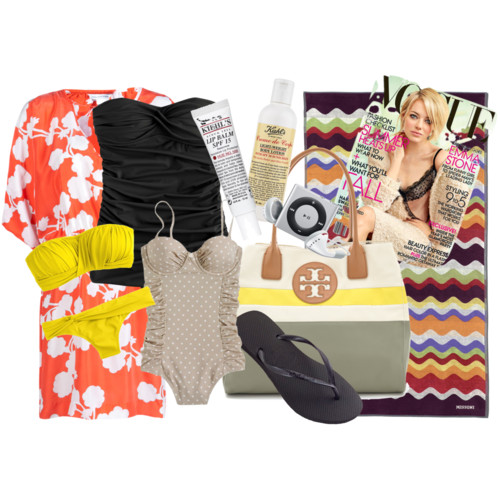 1. Fun, Flattering Swimwear
There are endless possibilities of swimwear styles each year. We recommend going for a classic, flattering suit with a bit of a twist- whether its a pop of color or fun print, like the ones above all from J.Crew.
2. Complimentary Cover-Up
Pair your swim suit with a pretty cover-up. We love this one from DVF. Not only is a Diane von Furstenberg print always in style, but this tunic can take you from the beach, to the beach bar or restaurant, to running errands around town- comfortable, effortless and chic.
3. Beach Flip-Flops
Havaianas are a summer must-have for fashioniSTAs- the most comfortable and practical rubber flip-flop. They come in a variety of colors and prints, and you can even design your own to perfectly show off your summer style and personality.
4. Tory Tote
It's no secret that we love Tory Burch at STA, so when it's time to tote all your summer goods to the beach, we favor a Tory Burch carry-all.
5. Sun Protection
Keep your skin moisturized and protected with a good SPF.
6. Beach Bedding
Nothing says summer like a colorful Missoni knit, so when you're laying on the beach, sunning in the sand, sun in style with a Missoni print beach towel.
7. Quality Reading Material
Vogue, Harper's Bazaar, WWD, Glamour, Elle, etc…oh and Fifty Shades of Grey, obviously.
8. Summer Tunes
Currently on the fashioniSTA summer playlist:
Robyn "Hang With Me"
Ellie Goulding "Lights"
Josh Turner "All Over Me"
New Kids On The Block "Summertime"
Avicii "Silhouettes"
Vanessa Carlton "White Houses"
Zac Brown Band "Toes"
What's your beach essential? Tell us on Facebook or Twitter!
~Lisa, fashioniSTA
Truth: I'm a magazine hoarder. September issue season is similar to the second coming of Christmas. While I love each one that the mailman delivers, it leaves me with the inevitable surplus of material lying around my home. What's a girl to do with so much material month after month?
Answer: Inspiration books/boards. With my passion for society and fashion, my inspiration books serve as the best current indicator of my personal style.
A bit different than journaling, there's a few tips that every would-be inspiration bookie should keep in mind:
Pick the palette that's right for you. For me, it's a big basic black Moleskine notebook with graph paper. I prefer a sleek and simple canvas for its diverse inner-workings. For others, a journal with a favorite quote or motto may work. If you travel frequently, a notebook or sketchbook that you stumble across any random market may be perfect to use. Whatever you do, don't just settle for that leftover Five Star notebook from your sophomore year communications class. Even the exterior of your inspiration book should reflect a piece of you.
Know that a notebook isn't right for you? If you don't want to put together a book, you can always translate this same concept into an inspiration board using a simple piece of poster board. Hang it on the wall next to your closet for instant inspiration!
Use a broad set of materials. While my main focus is my own personal style, I constantly remind myself that my style goes beyond my favored military blazers and one-shoulder frocks. Inspiration can be found not only in the latest issue of Vogue, but also in the Pottery Barn catalog that lands on my doorstep. Love the ocean? Grab a sailing magazine. Find an amazing photo on Tumblr that speaks to you? Print it out and grab a glue stick. Don't limit an inspiration book to one topic – it's a space to let loose on everything you love.
Intertwine your personal styles. An inspiration book is a perfect place to further explore your current style. Without a doubt, a trend will appear within the pictures you choose. (For me, it was a lot of Sienna Miller, Reese Witherspoon, Rachel Bilson and Ashley Olsen.) Use your images as a guide to (loosely!) define your style and tweak it to make it uniquely you. (You'll find that yes, you can mix the button-down you adore on Kate Middleton and the boho skirt that Mary Kate Olsen rocks in the same outfit). Should you find yourself wearing similar pieces on a regular basis, this is the perfect way to find new and interesting additions to make your outfits that much more special.
Target what you have. Spy a picture of your L.L.Bean tote in Elle? The Catherine Malandrino LBD you nabbed on your last STA jaunt? The high-waisted Ralph Lauren pants you covet in your closet? Make sure to tear those pages out and work them into your inspiration book. See how professional stylists work them into their photo shoots for a new take on your longtime favorites.
The best part? Inspiration books always act as the best personal magazine. Can't decide what to wear to work in the morning? Tempted to grab your default leggings and tunic combo without thinking? Flip open any page of your newly minted inspiration book for any quick dose of panache you need.
~Meredith, fashioniSTA/Shopper Extraordinaire