Posts tagged
July

It's all about the red, white and blue! Designer Tommy Hilfiger, who incorporates these iconic colors into so many of his designs said, "these colors reflect freedom, optimism and a youthful spirit," and we couldn't agree more.  On this holiday, whether your celebrating at a cookout with your family or heading to the beach, one look we recommend trying is a nautical style.  But don't forget, you're not the only fashionista limited to this color pallet, so try to find a way to make your look unique!
A great and easy way to incorporate blue into your outfit is adding anything denim.  Whether it be your favorite pair of blue jeans, or a chambray top over a blouse, denim is always a safe go-to.  If you're attending a party a bit too formal for denim, a navy dress, skirt, or pair of high-waisted shorts are other great options.
If your closet is not full of bold, red items,  there are plenty of ways to add a splash of red into your look.  Bold red accessories, like a statement necklace are a great option.  A more casual outfit could be completed with a simple red scarf or headband.  As you put the final touches on your look, we recommend trying a bright red lip or polish.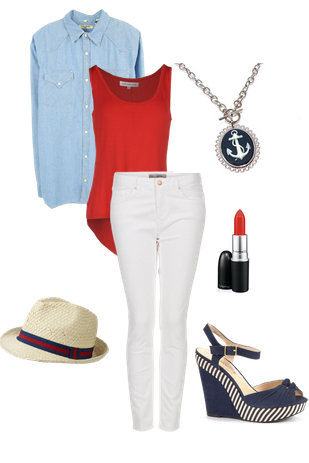 If there is any holiday when you should rock your favorite white jeans, it is this one! A white sundress is also a great option, or if your outfit is already complete, bring along a plain white sweater or blazer to throw on, in case it gets chilly for the fireworks.
Rocking this patriotic color combo is not limited to just the 4th, its a classic style all summer!  When putting something together for the fourth, just keep in mind there are no rules! You certainly don't have to balance out how much of each color you incorporate, we love when a simple belt or jacket pulls it all together. Here's a casual outfit we put together using some plain and popular items this summer.
The opportunities to be festive this fourth are endless, so try to be a fun, unique, and patriotic fashionista this Independence Day. And remember, every STA store has tons of options, just waiting to be worn for the 4th!
-Catherine, fashioniSTA
(image credits: facebook.com/STAconsignment, polyvore.com)
The Fourth of July is the perfect time of year to show off your patriotic side. With looks of red, white, and blue, there are an unlimited amount of stylish ways to celebrate.  Whether you're going to a cookout, beach party, or just watching the fireworks with the family, here are some fashioniSTA wardrobe essentials that will have you looking the most festive this fourth.
Cookout Cool
For those of you backyard barbecuing, a pair of distressed denim shorts, like these from Joe's Jeans, are a must-have and the perfect base to any outfit! Not only are these laid back bottoms comfortable and classic, but extremely versatile as well. Add a flirty tank top in summer stripes to top off your look- we love this one from Tory Burch.  Take this look from cookout casual to city chic by adding a blazer and gladiator sandals.
Party Pretty
An effortless look for any Fourth of July celebration is summer's favorite dress: the maxi. Sport the dress in any one of the holiday's colors for an easy, chic look. This Michael Stars maxi in bright blue is perfectly on trend and perfectly appropriate for the fourth. Pair a simple maxi with statement pieces such as some bold baubles, or a statement bag, like the Rebecca Minkoff "Mini M.A.C." we have been coveting all season.
Beach Babe
For the beach goers, display your reds, whites, and blues proudly in a colorful swim suit and cover-up. We love this American Flag bikini from Ralph Lauren paired with this pretty eyelet cover-up,  another great find from Tory Burch. Finish your look with the just the right beach accessories and flip flop around the with summer's best sandals and fashioniSTA favorites, Jack Roger's "Navajo." Lastly, be sure to tote all your beach needs in style as well with a nautical inspired carryall like this one from Marc by Marc Jacobs.
No matter what your plans are for celebrating this fourth, these fashioniSTA picks of red, white and blue are just the right touches to add some festive flair to your look. So grab some sparklers and celebrate in style!
~Lisa, fashioniSTA