What to Wear: Sporting Events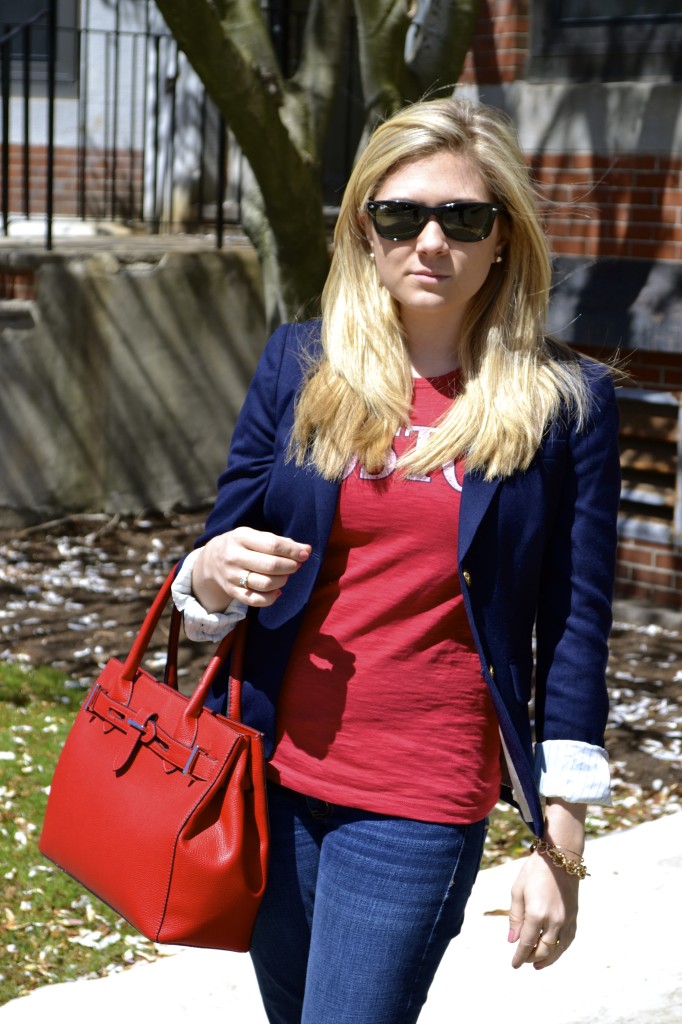 I have to be honest here… I'm not the biggest sport fan. I tolerate it because (face it or not) it's apart of life. Living in Boston, the sport scene is more than huge. The men in my life are all diehard Boston sport fans. I have had my share of being the awkward "bandwagon" fan more times than I can count. Reluctantly, I have learned to make the most out of sporting events.
Sports are definitely a great way to connect and socialize with everyone involved. I recently went to a work function that involved going to a bar and pre-gaming before a Sox game (nice way to relax after a long day of work, huh?). I was actually really excited to get to know my coworkers outside of the office, but my biggest concern was WHAT I was going to wear (of course). I scoured the internet for style inspiration and fell short. I finally decided that being comfortable and cute was the best way to go.
Jeans and a T-Shirt
You can never go wrong with wearing team apparel paired with your favorite jeans. I mixed up my go-to sporting event look with polka dot jeans. If you have printed pants that you love, wear them! Not only will you be comfortable, but you'll stand out in a crowd of other sport fans.
Coordinating Colors
In the hot summer months, it's hard to wear team apparel because it's mostly jerseys and t-shirts. Hey, that's okay though! Going to a game where the team color is green? Got a green, summer dress? Wear that! It not only shows that you're supporting the team, but you're keeping cool. Check out Cave Girl in the City's look. She nailed coordinating colors for her favorite team! Grab a beer and a hot dog and you're good to start cheering on your team.
Celebrating the World Cup tonight? You got this. Let us know what you'll be wearing in the comments below. Go, Team USA!
Photo Credit: Cave Girl in the City