5 Summer Beach Bag Essentials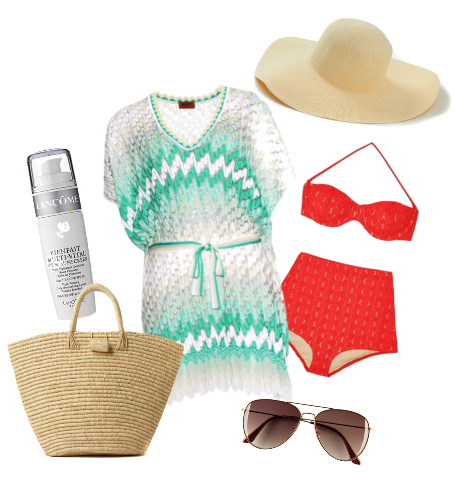 1. Vintage-Style Bathing Suit
One look I cannot stop obsessing over this summer is the return of the retro bathing suits! This style suit, with high waisted bottoms, and ruffled hems, is absolutely adorable (Think Rachel McAdams running through the water in that red bikini in the iconic Notebook). Whether it is a ruffled one piece, or the addition of some buttons, when trying to find this summer's suits keep an eye out for the designs with a vintage touch.
2. Chic and Unique Shades
Rocking a killer pair of shades is absolutely mandatory to enjoy a day at the beach. There are so many different styles to chose from right now, so its a good idea to search through the adorable and inexpensive pairs that can be found at retail stores, rather than risk bringing your favorite pair of designer shades to the sand and ocean. Don't be afraid to go for a bright colored rim, this summer is all about standing out!
3. A Fabulous Hat
Hats are the go to accessory this summer, so don't be afraid to break out that fedora or cowboy hat you haven't touched in years. Big, floppy Kentucky Derby style hats are back on the shelves, and besides being fabulously fashionable, they protect our face and hair from the hot, and potentially damaging, sun rays. And if you insist you just aren't a hat person but your hair gets totally wild in the wind, a thick fabric headband may be just what you need to keep those beach waves under control.
4. A Stylish Cover Up
You cannot go wrong with a simple crochet cover up, this bohemian look will keep you cool and covered. If you're looking to show a little less skin, a light maxi dress or skirt is always a great option. If you're dying to show off your new bikini top but don't have complete confidence with your body, you're not limited to the classic sarong, this summer try a pair of high-waisted shorts to lounge around the beach in. Other hot looks are an over-sized chambray shirt, a cotton or terry-cloth romper.
3. Suncreen!
While having fun in the sun, you cannot forget about your most important accessory, your skin! Despite being so easy to forget, protecting our skin is extremely important. In the long run, you will be thankful you protected your skin against damage, premature aging, and most importantly, skin cancer by simply applying some SPF on your days in the sun. We recommend looking for a sunblock that that is oil-free and water resistant so its good for your skin and long-lasting!
Comments are closed.