Posts tagged
outfits
Thanksgiving, the one holiday that is actually about food.  If you're anything like me, I don't necessarily feel my most beautiful and put-together self when I'm stuffing my face for 24 hours.  It's hard to resist those comfy and stretchy yoga pants, but don't give in!  Here are three fabulous outfit inspirations to keep you looking fabulous (as usual) this Thanksgiving.
1. Cozy and Versatile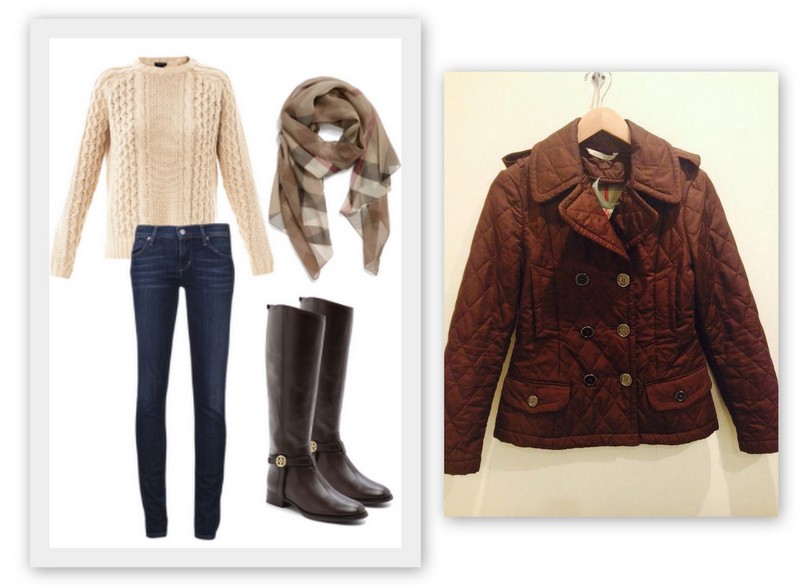 This outfit is great for all of the active ladies. Whether lounging with the family or running around with the kids, this outfit is comfortable but ready to go!  Citizen jeans are the epitome of classic casual, and the Theory knit sweater is a subtle touch of cozy and confident.  Tory Burch boots add a little glam, and the Burberry scarf ties the whole thing together for an unstoppable ensemble.
And wouldn't you know, this Burberry quilted jacket from STA 324 Newbury St. goes perfectly when it's time for the family football game.
2. Elegant and Feminine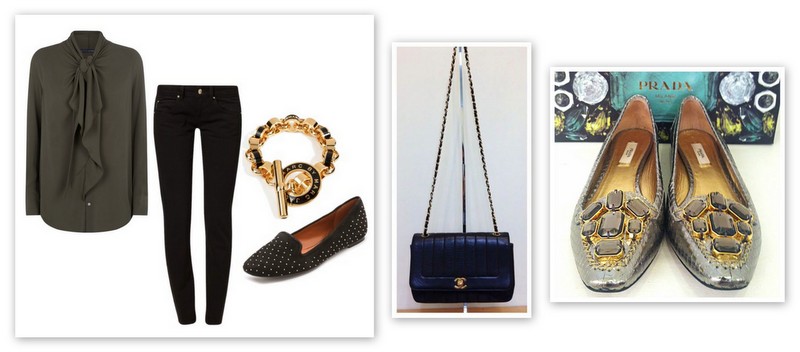 Sometimes we celebrate Thanksgiving with a loved-one's family instead of our own.  But don't let that frighten your holiday fashion sense!  A feminine, chic outfit is appropriate for any Thanksgiving atmosphere.  We love this blouse from Ralph Lauren, which you can dress down with Calvin Klein black skinny jeans.  Then add your personality in the accessories!  We added some sparkle with Rebecca Minkoff loafers and a Marc Jacobs bracelet.
These Prada silver jeweled flats from STA Armitage are a fabulous way to add some glam to your sophisticated ensembles.  And If you're a guest, the Chanel cross body from STA Haddonfield can carry all of your little necessities while you're out!
3. Stylish, Yet Forgiving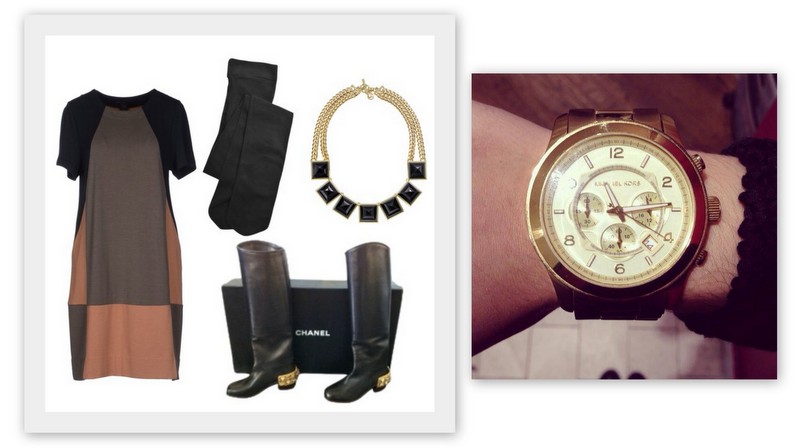 Maybe you're like me and love to spend Thanksgiving with a glass of wine in the kitchen with the women of the family.  All I know is I don't want to wear anything too restricting, especially as I'm nibbling all day!  A dress is a great way to stay comfortable and fashionable.  This Marc by Marc Jacobs short dress allows you to move freely around the house.  Paired with black tights and Chanel boots, it screams bold and down to business.  And we can never resist a good accessory, like this Michael Kors collar necklace.
And don't forget a Michael Kors boyfriend watch from STA 176 Newbury St. is a mandatory accessory on Thanksgiving to keep track of all the madness!
Happy Thanksgiving fashioniSTAs!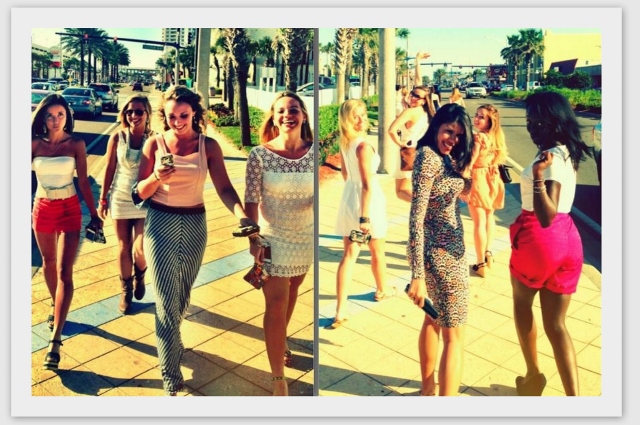 My friends and I heading out on the town this summer.
Let's face it, every single one of us needs a good girl's night out on the town every once in awhile. Between the laughs, drinks, gossip, and opportunity to look fabulous, they're truly hard to beat. If you're anything like me, you could try on clothing for hours with your girlfriends to find just the right look for that particular evening. In honor of our stores hosting their own GNO events this Thursday, Here are a couple look suggestions we recommend trying this summer!
Be Bold
No matter what that latest trend is that you've been eyeing, girl's night is a great chance to rock it! Whether it's sequins, metallics, or neon colors, don't shy away from eye-catching items. Being with your favorite ladies will give you that extra boost of confidence to try something new.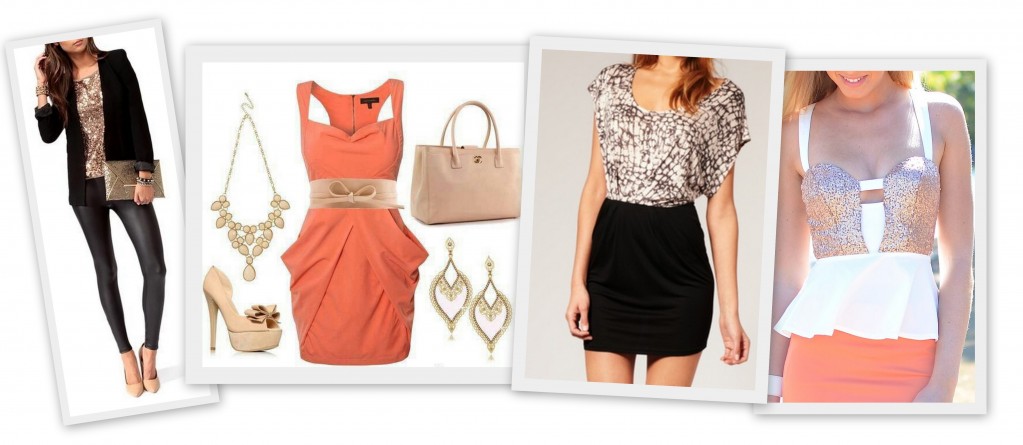 Closet Essentials
As a very social fashionista that loves any excuse to get dolled up, I must admit I own a skirt in almost every color. The key with skirts is having a variety of styles. You cannot go wrong with a pencil, circle, or high-low skirt this summer, all you need is the right blouse. One trend we cannot ignore lately is sheer and lace. No matter how they are worn, these items always make your look classy and chic. If you don't know what to pair a button down blouse with, we suggest trying a killer pair of bright shorts.
Pump It Up
If you happen to be on the shorter side like myself, you love any opportunity to give yourself those extra few inches. One item every fashionista should have in her closet is the perfect, and comfortable, pair of pumps. We recommend always having a pair of nude pumps because no matter what crazy color combo you may throw together, these shoes are always going to match, while making your legs look awesome. If you're a city gal, always keep in mind those pesky grates! You may want to stick to a thicker heal if you'll be strutting through the streets. And if you're not confident you'll last a long evening in those new heels you just bought, don't be afraid to rock sandals, people will envy your comfort and style.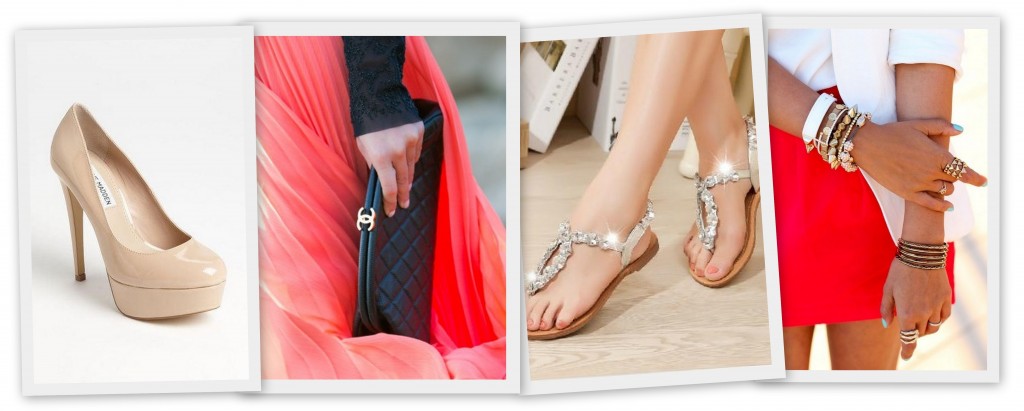 The Essential Accessories
Be sure to not leave your house without an adorable clutch that can hold all of the essentials: your phone, money, identification, and lipstick of course. Avoid taking a big bag at all costs, you'll regret it when it's time to hit the dance floor! For jewelry, try going big and bold with either your earrings or necklace, while staying simple with the other. Bangles and statement bracelets are always a fun accessory, along with bigger rings. If you're looking for the perfect opportunity to rock your fun costume jewelry, your next GNO couldn't be better.
More Formal
To keep your look more on the formal side, it is all about finding that perfect dress. For these occasions, its OK to invest! For the frugal fashionistas, STA has some fabulous designer dresses at amazingly affordable prices, so be sure to stop in one of our stores to check them out! You will not regret that little extra you may have to spend on the perfect dress for you. If you need a cover up, this summer is all about the blazer! We recommend every fashionista keep a plain blazer in her closet this summer, it is sure to get plenty of use.
We want to see what you fashioniSTAs are rocking this summer!! Tweet or instagram a picture of you & your girlfriends with the hashtag #fashionistasGNO and we will share our favorites!
Image credits: pinterest.com