Posts tagged
newbury street
Joining the ranks of other top British boutiques currently gracing Newbury Street, AllSaints Spitalfields recently opened its doors to Boston. Since this boutique took over what was once a Pottery Barn at the end of April, it is only one of four currently open AllSaints outlets in the entire country. As a collection of sharp style mixed with a vintage feel, this store has gained a cult following, with its debut appearance on Newbury Street highlighting Boston as one of the emerging fashion capitals.
With its rustic décor and bohemian vibe, this store blends its structured style with its earthy roots to create tailored jackets and vests along with jeggings and embellished, draped dresses. AllSaints describes itself as a "unique brand of sharp edge, directional clothing," and it brings both graphic tees and cocktail attire into the mix
Not limited simply to women's clothing, AllSaints also branches out into menswear and childrenswear, in addition to their homeware collections. As the voices at the retailer put it, "AllSaints collections blend culture, fashion and music into a potent formula of desirable clothing that expresses individuality and attitude." This edgy addition to the many Newbury Street staple stores we all love is sure to round out the style selection that this city offers, bringing together preppy shopaholics and bohemian fashionistas.
~Ashley, FashioniSTA, Second Time Around
Relax! We are not announcing the opening of a fourth Newbury location… Instead, we are getting excited for the new Converse store that is opening sometime this summer. It will be Converse's first full price retail outlet EVER and we couldn't be happier that Nike – Converse's parent company – chose Boston to be the test city.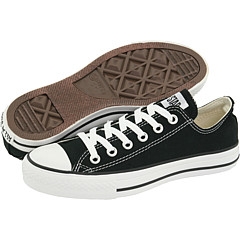 Just a few doors down from our 324 Newbury Street location, this store promises to be a sneaker mecca for all. Let's face it, Converse – whether they be All-Stars, Jack Purcells or One-Stars – look great on everyone, no matter what your style. Sneakerheads, hipsters, tweens and soccer moms can all rock 'em and they all look good doin' it. They are THE anti-fashion fashion sneaker: goes with every style, goes with every outfit and never goes out of style. Hard to argue with that!
Even though I already own a pair of Chuck T's in every color known to man, I can't wait to see what they have in store for us! Here's hopin' that they open soon!
~Marisa, Director of Styling, Second Time Around
Since we now have three stores – all with different, fabulous merchandise! – within a few hundred feet of one another on Newbury Street, we know that many of our customers will visit all three locations on a regular basis. As a thank you to our valued and loyal customers and as a welcome to those new customers who are just discovering us, Second Time Around is excited to announce the Newbury Street Passport Coupon!
While visiting the first of the three Newbury Street stores, be sure to pick up your Passport Coupon. At the time of purchase, an employee will stamp the card with that store's address. Continue on to the other two stores and be sure to get your passport stamped at each location when you make a purchase.
At the third – and final – location, you will receive an additional 20% off your entire purchase – even if you are purchasing items that are already discounted!
The Passport Coupons don't expire until the end of the year, so take your time shopping and get your stamps whenever you please!
Happy Shopping!
P.S. All of you ladies (and gentlemen) in Rhode Island, New York City and Connecticut – don't fret! Your area's version of the Passport Coupon is coming soon!
~ Marisa, Director of Styling, Second Time Around