Posts tagged
Hailee Steinfeld
We all expect to see teen idols on the MTV red carpet, but this trendy event this year has brought out the fashion elite, showcasing some serious style power. Whether a teen fashion icon in training or a red carpet veteran, this year's awards show was definitely not boring. From the best to the worst, here are the looks that caught our fashioniSTA eye.
Animal Prints
Straddling the leopard line is always a dangerous feat. Let's remember the golden rule: Going subtle is always best, lest you look like a Jersey Shore castoff. Tonight we saw some hints of exotic prints, on Lily Collins (right) and Rosie Huntington-Whiteley (center), both donning D&G, as well as the ever-stylish Reese Witherspoon (left). While Lily and Reese's outfits are cool and understatedly sexy, Rose's look is a little too eye of the tiger for me. Although she's a Victoria's Secret model, this look screamed VS catalogue rather than high fashion.
Most Improved
Let's all think back to the Met Gala. Ok, now let's rack our brains for what Kristen Stewart wore. Need some help? Try remembering the outfit that looks like your angsty friend wore it to your freshman semi formal (left). To say that her MTV look is an improvement is a clear understatement. While she's still working within the red and black color palette, she has drastically stepped up her game in this Balmain mini (right). The detail is stunning and the easy hairstyle is the perfect complement, love it!
Rompers, Jumpsuits, Pants, Oh My!
Some of the stars opted for an alternative to a dress, going with pants and shorts. While this is a great way to break out of the cocktail dress rut, if done wrong it can be a huge miss. Elle Fanning (in D&G) and Jessica Szohr (left, in Alice + Olivia) both went for printed jumpsuits - Elle in a romper version - but both were out-shined by Hailee Steinfeld in a Louis Vuitton pantsuit (right). Her feminine version of a tux was sleek and event-appropriate, while the printed jumpsuits missed the mark. It looks like this 14-year-old fashioniSTA has a definite style instinct!
The biggest awards show is without a doubt the Oscars, and this ceremony brought out some of the best outfits of the year!  In comparison to last year's gala, we noticed a lot more poise and polish.  Last year was a mixed bag of prints and ruffles and experimental fashion, and this year was a definite return to the glitz and glamour that is expected at such a show. We break it down from the gowns to the jewels, FashioniSTA style!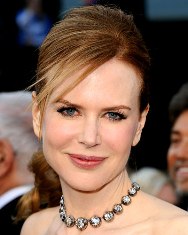 Big Time Jewels
We know that the first thing that catches your eye is the dress, but this year's show brought out such a wide variety of shiny accessories, that we just can't ignore them. Hailee Steinfeld's Fred Leighton's diamond headband was an adorable addition to her youthful, ballerina-esque ensemble. Céline Dion's Bulgari pendant was stunning, and an exquisite addition to her streamlined gown. These jewels saved some of the outfit disasters that hit the red carpet, such as Nicole Kidman's gorgeous Fred Leighton necklace (right) that offset her poor Dior gown choice.
But some jewelry choices were just plain distracting. Amy Adams in Cartier should fire her stylist, that necklace is not meant for that neckline, and the cuff is jewel overkill.  And wait until we get to Reese Witherspoon, her emerald earrings are just the tip of the iceberg.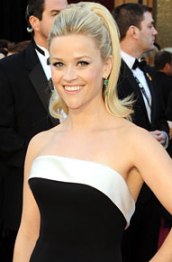 Mismatched Hair Choices
One bizarre trend this season was horribly underdone hairstyles paired with fabulous dresses.  Sharon Stone looked great in John Galliano for Christian Dior, but what was going on on top of her head? She had a serious bubble with out of control wisps.  Amy Adams tried hard to channel Veronica Lake, but she was in some serious need of conditioner and the choice was all wrong for that L'Wren Scott dress of hers.  And poor Sandra Bullock just can't seem to get a break at the salon – her Vera Wang dress was out of sight, but it looked like someone just grabbed chunks of her hair and pinned them at random.  I feel like this is how my hair looks when I'm at the spa.  But for Reese Witherspoon (right), she had the exact opposite problem – wonderful ponytail fall, but paired with the earrings and the outdated dress, it was too much.  If she lost the earrings and paired the hair with a different dress, like Hailee Steinfeld's Marchesa, for example, and Witherspoon would have been too adorable for words.
The FashioniSTA Picks
Best Dressed: Cate Blanchett (right) in Givenchy Couture was breathtaking. It was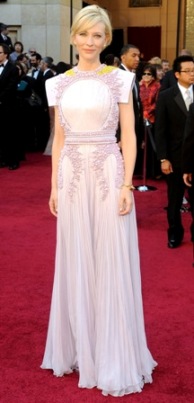 everything that a red-carpet gown should be - unique and on the cutting edge of fashion yet wearable so that the actress was still the focus. Her earrings were small so as not to distract from the beautiful beading on her shoulders and chest and her hair was soft and simple - a perfect match. I loved everything about this dress - the color, the beading, the cut-out, the draping - but what really made it a show-stopper was the way in which Cate wore it. She can handle an edgy dress with ease - an Oscar-worthy red carpet moment indeed!
Worst Dressed: Thank God Melissa Leo won the Oscar for best Actress in a Supporting Role so that there was something to focus on other than that atrocious Marc Bouwer dress. The heavy-handed lace, the gold foil lining, the high collar, the structured shoulder, the spider-beetle necklace (what in the world??!!)…there was WAY too much going on and none of it was flattering. I loved her in the Fighter, but I hated her in that dress.
On the Fence: Gwyneth Paltrow looked absolutely stunning in the metallic column dress by Calvin Klein Collection. It fit her to a T, her hair matched it perfectly and the way it moved…incredible. However, I was totally put off by the jeweled brooch at her hip and matching earrings. The brooch at her hip totally distracted from the clean, statuesque lines of the dress and I thought that the multi-colored stones on the jewelry were too much. Her stylist could have definitely introduced an additional color to the ensemble, but just one color would have been best. I am thinking big emeralds…
Rookie of the Year: Hailey Steinfeld's tea-length Marchesa dress was the perfect choice for this young star. It was appropriate for the occasion and most importantly, it was appropriate for her age. She looked like a princess and I am sure that she felt like one too. The makeup was clean and simple - subtle liner and mascara and a pink lip - and the silver headband and ballerina bun kept it youthful and fun. I hope that she had a fabulous time!
Biggest Comeback:  Sharon Stone has ended up on Worst-Dressed Lists more often than Best-Dressed Lists of late. However, she redeemed herself last night. The form-fitting black dress with feather embellishments was both classic and of-the-moment all at the same time. But, the feathers and the asymmetrical neckline placed Stone directly in line with the current trends. Her clutch was simple and added some additional texture and her hair was in a classic French twist, but with some added height for drama. I may have preferred if her makeup artist didn't have such a heavy hand with the eyeliner (it makes her look a little crazy and, let's be honest, Sharon Stone doesn't need any help looking crazy…), but other than that, it was a red-carpet A+!!
Best Dressed: Anne Hathaway in Valentino Couture, before the flash photography got a hold of her. It was the epitome of timeless elegance when I saw it on the red carpet coverage, and it makes me very sad that the photographs ruin it. Cate Blanchett's allusion to my fave holiday - Easter - was also a breath of fresh air. Fashion-foward that works.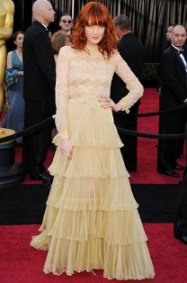 Worst Dressed: Florence Welch (right). Looking like what I'd imagine the wife in the attic in Jane Eyre, I'm borderline shocked that Valentino would let this loose on the red carpet. But then again, they also designed that daisy disaster that Michelle Williams wore to the Golden Globes.
On the Fence: Mandy Moore in Monique Lhuillier. I loved the gold sparkles with the illusion detail, but something about this felt wrong. Between the color of the dress, her skin tone, her makeup, and her hair, she just looked washed out, and a little old.
Biggest Comeback: Celine Dion in Armani Privé. Although she's never been a worst-dressed offender, I can't recall the last time I saw her on a red carpet. She made her big comeback in the best way possible, by wearing a killer dress (she had twins recently?!) and paying homage to her last Oscar appearance with her "Heart of the Ocean"-esque pendant.
Rookie of the Year: My girl crush on Selena Gomez grows every time I see her on the red carpet. Although she wasn't part of the Oscars until the Vanity Fair after party, she looked AMAZING in a red Dolce and Gabbana gown. Her hair, makeup and accessories were the perfect complements to the dress, her overall look was just stunning.
Best Dressed: Halle Berry (right) in Marchesa. She looked radiant in a nude strapless crystal corset gown. It had has silk tulle ruffles that made it look like she was floating on a cloud. Halle Berry never disappoints me and this dress proves it.
Worst Dressed: Scarlett Johansson in Dolce and Gabbana. The purple doily looking ensemble was terrible, I personally think she's beautiful all the time but that gown did nothing for her and her figure.
On the Fence: Amy Adams in L'Wren Scott. The royal blue sequin gown was to dieeeeeeee for but the accessories through me for a loop. Granted they were Cartier but the emerald green necklace and bracelet on blue??? No idea what she was thinking but none the less she was wearing a spectacular dress.
Rookie of the Year: Hailee Steinfeld in Marchesa. Truly a pretty little ballerina moment. I thought it worked really well for being that she's fourteen, it was modest and a great approach to the Oscars. I'm sure we'll see more of her in the future.
Best Dressed: Matthew McConaughey's better half Camila Alves (right) in Kaufman Franco… I know, I know, not exactly who you would expect, but that dress was JUST TOO GOOD.  The Oscars are all about polish, and that Camila was the essence of sleek.  Same could be said for Jennifer Hudson in Atelier Versace.  Execution?  FLAWLESS.
Worst Dressed:  My biggest "ugh" of the night went to Mark Ruffalo's wife, Sunrise Coigney in Jean Paul Gaultier.  What…was…that?!  Oh, and Reese Witherspoon?  I think I saw your dress when I was perusing the Cosmo Prom Issue back in 1996…only then it was made by Zum Zum and not Armani Privé.
On the Fence: Cate Blanchett in Givenchy…in the end, I liked it, but it just seemed a little too "walking art" for me.  Jennifer Lawrence donned a Calvin Klein sheath, and she looked jaw-dropping sexy.  But for the Oscars?  It felt a little too casual.
Biggest Comeback: Sandra Bullock in Vera Wang.  That dress was so gorgeous on her, and if you recall the walking nightmare that was her Golden Globes outift, I think we can all agree that Bullock is back on track.
Rookie of the Year: Hailee Steinfeld — at 14 years old, she drew that design, brought it to Marchesa, and they made it for her.  Rookie?  Welcome to the Big Leagues!
Stay tuned for bigger and better things from the FashioniSTAs!!
Awards season continues! We're taking a quick break from shopping our hearts out at the big STA sale to bring you the dish on the SAG Awards red carpet. Here we break down the top trends of the night, from the grand slams to the strikeouts (can you tell we just bought baseball tickets?). This awards show had a surprising number of impeccably dressed celebs (even Helena Bonham Carter didn't look terrible), but since this is one of the more liberal events, there are always the few who take it to the extreme. Check out who made the cut and whose dress needs to be cut, straight from The FashioniSTAs. 
White Hot 
No one loves wearing summer-appropriate clothing during the winter months quite like the citizens of Los Angeles. It's almost as if they're rubbing it in our faces that we're cold and they're not. That aside, some of these white gowns didn't quite make the cut. Eva Longoria (far left) showed up in a Georges Hobeika dress with a draped, plunging neckline that almost looked like she was the victim of a Halloween TP-ing incident. Amy Adams (center right) also donned this summer shade, going with a Herve L. Leroux gown that would have been gorgeous if it had properly fit her. The worst of the bunch? Winona Ryder (center left) in an actual wedding gown by Alberta Ferretti. Self-explanatory. 
However, the shining (white) light of this trend was Natalie Portman (far right) in a gorgeous crystal-trimmed, strapless Azzaro gown. Our only complaint is that the fit across her baby bump was for someone not pregnant.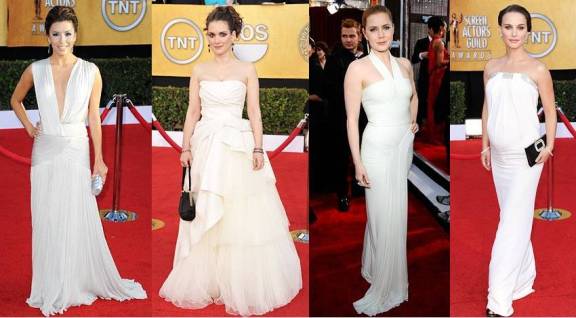 Orange You Glad 
I feel like everywhere I turned someone was showing up in a nude-colored dress, from basically the entire female ensemble of Glee to Kate Mara to Hilary Swank. This seemed to be the season of nude shades, but at this awards show, a few were bold enough to take it a step further and go orange. Sarah Hyland (below, left)– one of our favorite new fashionistas – looked sleek, if not a little too old, in her Max Mara knotted-waist dress. One thing that maybe didn't work with this ensemble? The oddly mismatched arm jewelry, which kept her looking a little less put together than she did at the Golden Globes. Jayma Mays (below, right) also went with this hue, looking dewy and fresh in a Jenny Packham number. She made it look effortlessly perfect with just the right amount of metallic embellishment, and her hair color only made the outfit better.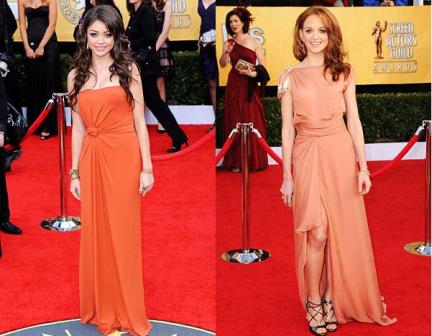 Not-So-Basic Black 
In order to wear black on the red carpet and not get completely ignored, your dress has to have an additional wow-factor. Judging from the Malandrino plunging neckline pantsuit, Julie Bowen (far left)decided to go in a different direction with black and lose the dress part altogether. I'm not sure if she was channeling J.Lo, but she hit the red carpet in style, going sleek and modern with the most perfect makeup. Amber Riley (far right) in Anne Barge also rocked the awards show with her full-on diva look. If this is any indication of her star power, hold on to your seat. She'd give anyone a run for their money in this number – which was originally a wedding dress, although it's so awards-show-fabulous, you'd never be able to tell. Christina Hendricks (center) also went with black in a long-sleeved, sparkly L'Wren Scott number, which at first glance looks as if it had the potential to be a great departure from the black norm. But taking a closer look, the color is too severe on her pale skin, and the shoes definitely didn't help.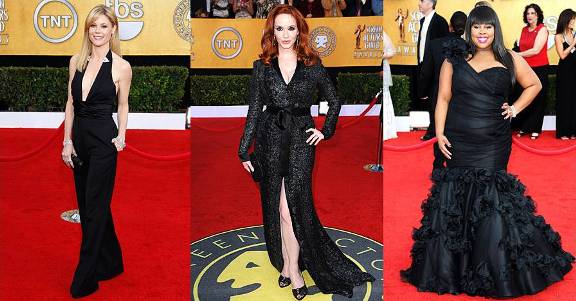 Print Crazy 
If you want to go experimental at any of the awards shows, the SAG Awards is definitely the way to go. The girls who took the print plunge definitely deserve to be in an elite fashion category, from Mila Kunis (below, left) in a perfectly-styled Alexander McQueen that solidified her as this season's top fashionista, to Hailee Steinfeld worthy of a place in the young Hollywood hall of fame in a striped Prada. The list goes on with January Jones in an antique gold, lace-print Carolina Herrera, Julia Stiles (below, right) in a crisp, ombré Monique Lhuillier, and Claire Danes (below, center) in a belted, floral Louis Vuitton.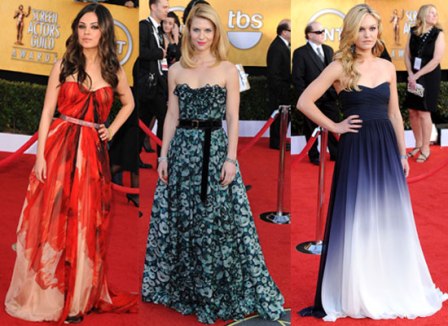 The FashioniSTA Verdict 
Best Dressed: January Jones in Carolina Herrera (right). She was the complete package and had some serious "wow" factor. I loved the intricate gold pattern on black background and the fit – slightly loose, conservative t-shirt shape on top, fitted through the hips and thighs and then ending in a mermaid flare – was dramatic. She accented the outfit with gold Roger Vivier pumps, simple black stud earrings and an old-Hollywood style side-swept up-do. Perfection! 
Worst Dressed: Christina Hendricks in L'Wren Scott. This dress had some potential. However, there were just too many execution issues and unfortunately the look fell short. I don't think that the fit was great and – as a result – her curves made her look heavy instead of voluptuous. Also, the combination of the full-length sleeves, the heavy-handed eyeliner and the fact that the dress was black was way too much for her fair skin. She looked almost gothic and, to be honest, a bit scary. 
Rookie of the Year: Julie Bowen in Catherine Malandrino. I was very impressed with the Modern Family actor's sleek, modern look. She sported a well-tailored, black jumper with a plunging halter neckline. Her accessories included a simple clutch and Neil Lane diamonds and her hair was worn down - sleek and straight – to complement her attire. This was a great choice for the SAG Awards which is traditionally a more casual event and it gave her a chance to showcase her beauty and style – a distinct departure from the role of suburban mom that she plays on her award-winning show. 
Best Dressed: Lea Michele in Oscar de la Renta. I LOVE this whole throwback to the '70s, and this sleek silhouette is so much more flattering than the 800 fussy ruffles she wore to the Golden Globes. The whole look was effortlessly gorgeous with just the right amount of sparkle for a cast nominee.
Worst Dressed: Lauren Vélez from Dexter. She's not one of the most photographed actresses, and this time that was probably a blessing for her. Not only do I not understand this whole bedazzled flower halter top (and I always understand bedazzling), but I think I had the same skirt in the 7th grade from the Gap.
On-the-Fence: Julie Bowen in Malandrino. The pantsuit was definitely a fashion risk, whether it paid off depends on if you saw it on television or in print. But what I do know is that her sleek hair and minimalist jewelry/makeup definitely pushes her more on the fashion "do" side of things. 
Rookie of the Year: Ariel Winter (right) in Luisa Beccaria. This white, tea-length dress was perfect on her, the whole dress just worked between the texture, the slight ruffle at the collar and the black belt. She looked age-appropriate and fashion-forward, the great makings of a future fashionista. 
Biggest Comeback: Tina Fey in Oscar de la Renta. FINALLY, she looked great! We knew she had fashion potential, and now we can actually see it. The color, the texture, the hair, jewelry, makeup…it all works! *Standing ovation* 
‪‪Best Dressed: Mila Kunis in Alexander McQueen Resort Collection. She looked absolutely radiant in a strapless cut. The bare shoulder flattered her wavy hair, and the splashes of red and train dazzled the already red carpet. I loved her smoky eyes, it definitely was an "all eyes on her" moment. The small thin belt accentuated her already small waist. She was a show stopper in my eyes; and I'm all about that. Kudos Kunis, kudos.‪ ‪ 
Worst Dressed: Jennifer Lawrence (right) in Oscar de la Renta. Can someone please explain to me what color pink this is? If it was a nail polish it would be named NIPP (NEVER IN PUBLIC PINK). Besides the fact that I'm not a fan of neon colors especially pink, yikes, there's too much going on. The straps look like a bad mummy wrap. I think it's hypocritical to have a slit all the way up your thigh then pair it up with a dainty little girl bow belt. 
On-The-Fence: Nicole Kidman in Nina Ricci. A lot of people like the black lace Nina Ricci gown but I'm not sure about it. Black wasn't a trend from what I saw nor do I think I've seen Nicole Kidman in a lot of black, and I see why. The black lace gown with jeweled incrusted neckline had a gothic appeal and I found it ugly, plain and simple. 
Best Dressed: Mila Kunis in Alexander McQueen.  Easy, breezy, and beautiful.
Worst Dressed:  Oh, where do I begin?? Let's start with Angie Harmon in Monique Lhuillier — I have yet to see a feathered dress that doesn't look like it belongs on the JC Penney's 1998 Prom Rack. The two ladies who most drastically caught my eye, however, were Nicole Kidman in Nina Ricci and Kate Mara in Hervé Leger by Max Azria.  Whaaaaaat was going on there?  Kidman's ensemble choice was just confusing (and where on earth did that necklace come from? What about that dress said "this neckline really needs some floral stuff"?)  and Mara looked downright uncomfortable.  Was that dress too small?  Or did you just realize too late that you look terrible? 
On-the-Fence: Hailee Steinfeld (right) in Prada — the fit was great and the colors were bold, but I'm not sure if I should congratulate you on being eye-catching or warn you against that kind of future statement. Plus, Julie Bowen in Maladrino — gutsy move on the pantsuit.  It looked a little too casual for my taste, but I appreciate the confidence. 
Rookie of the Year: Jayma Mays in Jenny Packham. Great cut and the shoes are fab, but it's a rookie mistake to wear such a washout shade. I've got my eye on you, Mays. Also, Mindy Kaling in Tadashi Shoji looked great – hey, Kim Kardashian, THIS is how you rock a Roman look! 
Biggest Comeback:  Tina Fey in Oscar de la Renta.  I haven't seen her look this radiant since her sexy January 2009 Vanity Fair cover. 
Check back as we sound off on the Grammys in a couple weeks!