Posts tagged
dark spots
Let's face it; we all are guilty of mistreating our skin from time to time. Whether you used tanning booths in college or have a tendency to poke and prod blemishes instead of just leaving them alone, we are all guilty of subjecting our skin to potential damage. The results of this damage often appear as dark spots due to the extra melanin that is produced at areas of trauma.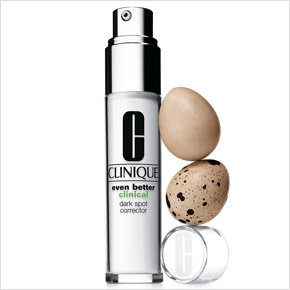 Wishing you could turn back time and erase those dark spots? Well, now you can!
Clinique's Even Better Clinical Dark Spot Corrector is a fragrance free skin cream that can be used by all ethnicities and even by people with the most sensitive of skin. Visible improvements should be noticed in as little as 4 weeks and major improvements should be noticed in 12 weeks. Best of all, it lacks the harsh chemicals that many prescriptive creams contain, but will produce comparable results without the Doctor's visit or the discomfort.
All of the reviews on Sephora.com corroborated the claims made by Clinique and sounded very positive. As a result, I recently purchased some for myself at Sephora. I haven't been using it long enough to see a change in my complexion, but it is a gentle face lotion that is moisturizing without being greasy.
So far, so good…but I will keep you informed…
~Marisa, Director of Styling, Second Time Around