Posts tagged
Atelier Versace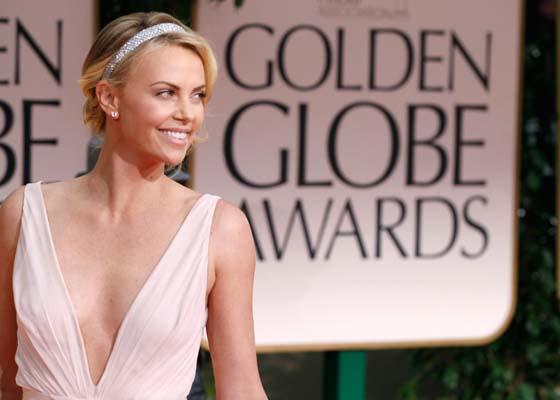 This year's Golden Globe Awards was all about bold statements and futuristic flair. From silver metallic moments - that we saw on Nicole Richie and Lea Michele - to art deco details - as seen on Selma Hayek and Claire Danes - statement accents were everywhere. Even those who donned nude gowns for the occasion ramped up the drama with oversized skirts (Charlize Theron and Piper Perabo) and large-scale jewelry (Heidi Klum). And of course fringe hit the red carpet yet again, this time taking on celebs such as Emma Stone and Busy Phillips.
Ashley's Picks
Best Dressed: Freida Pinto in a teal, textured Prada. I'll admit that I like when actresses go more timeless than trendy, and I think this gown had the best of both worlds. The classic shape was slightly modernized with the fuller silhouette at the bottom and the smaller accents, such as the belt and her stunning Chopard lattice choker. The texture was the perfect detail to make her stand out in the best way possible.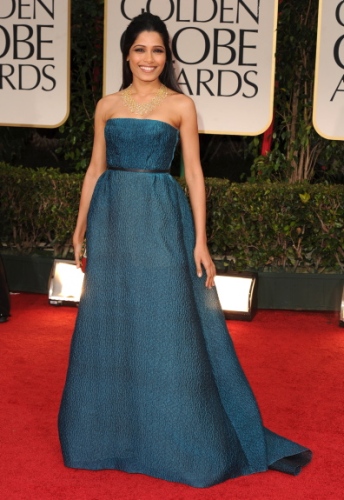 Worst Dressed: Lea Michele in a silver Marchesa concoction. Some people have been fawning over this risky move, and I'm hoping that those people get their eyes check out soon. Instead of a smart risk, this is too over-the-top, and Lea stirs up memories of Cher in Bob Mackie.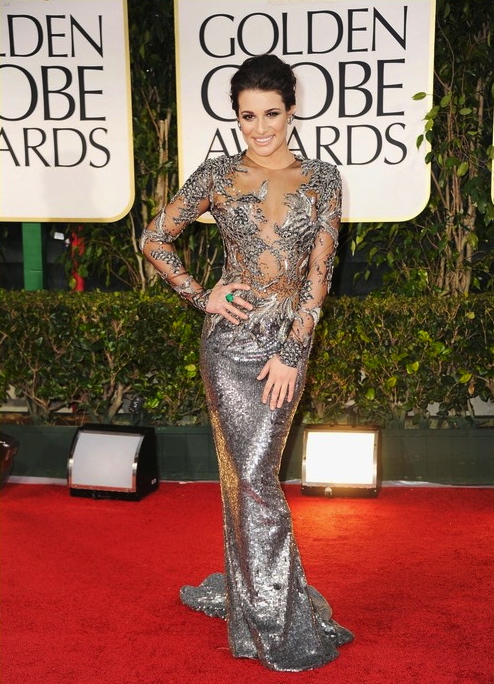 Rookie of the Night: Shailene Woodley's Marchesa dress was an unbeatable mix of age-appropriateness and gorgeous detail. The structured bodice with the illusion neckline was a shining example of how to dress a young Hollywood actress.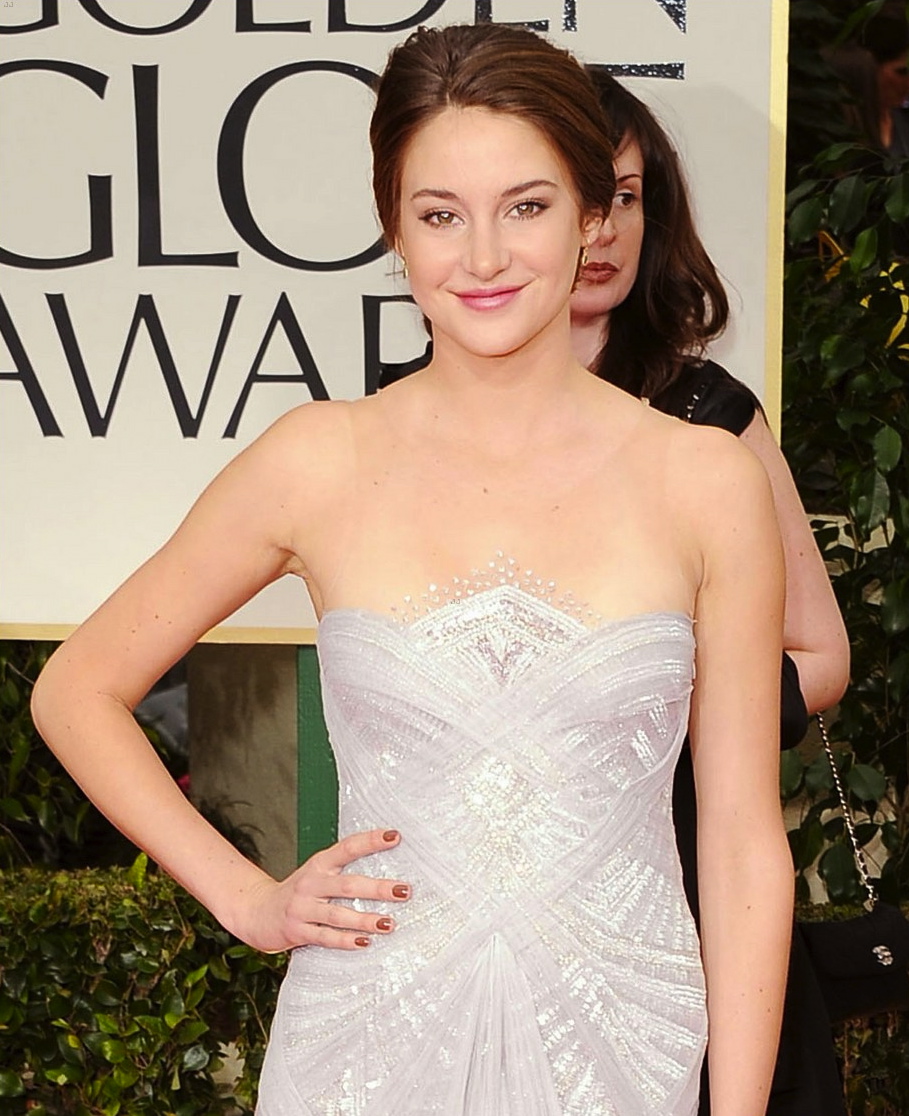 Most Improved: Nicole Kidman in Versace redeemed herself a million times over from her missteps last awards season (remember the white Dior)? From the studs to the body-hugging silhouette, this dress proved why Versace is such a fashion powerhouse.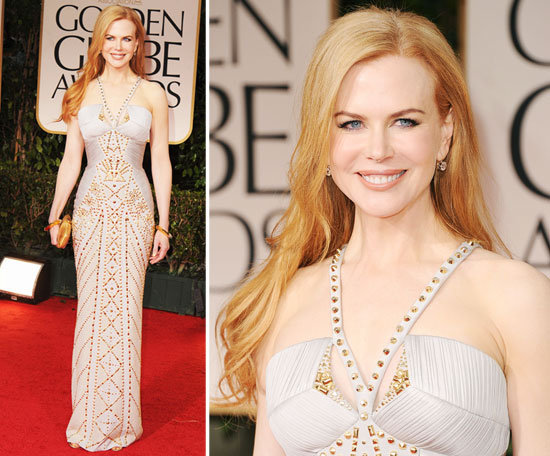 Kim's Picks
Best Dressed: My absolute two favorites of the night were Salma Hayek in Gucci and Kate Winslet in Jenny Packham. Hayek may get panned for her risky art-deco choice, but I thought she pulled it off beautifully while Winslet proved that Old Hollywood is always in style… her touches of gold were flawless and her clutch was a perfect match.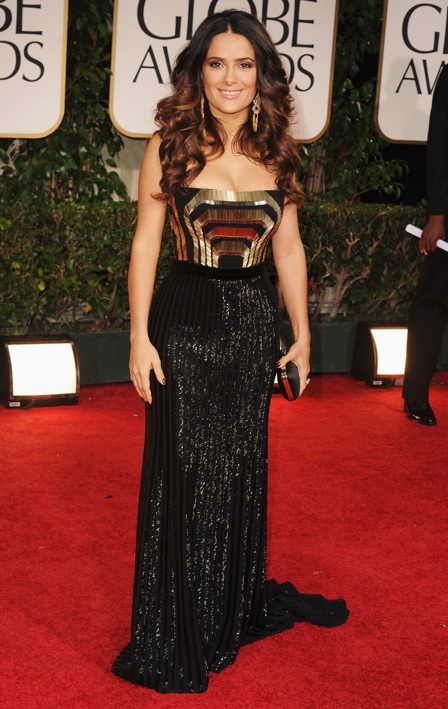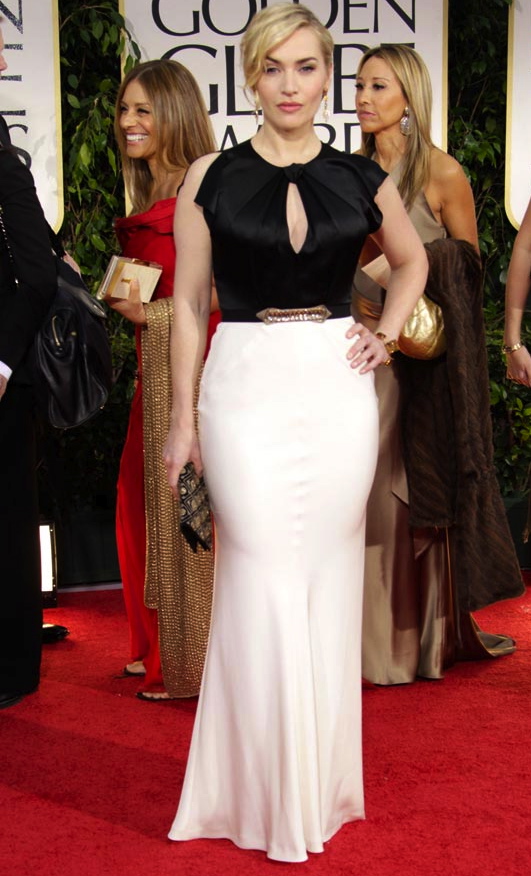 Worst Dressed: Angelina Jolie in Atelier Versace — seriously, how dated! I am a firm believer that one can never be tooooo matchy-matchy, but Jolie's hideous outfit tonight has shaken that belief to its core. The worst, however — hands-down — is Sarah Michelle Gellar in Monique Lhuillier. That print should never hit the red carpet, nor should it ever grace a dress so formal. You took a risk, Gellar, and it failed.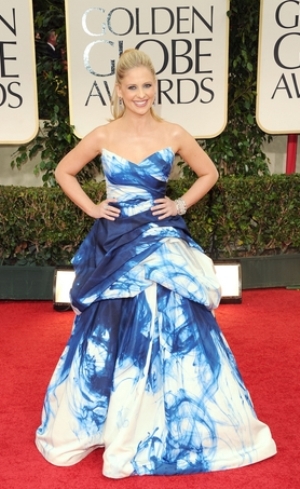 Rookie of the Night: Kelly Osbourne in Zac Posen — I may not particularly like her dress, but I'll certainly remember it. Bold lines make for a bold choice, and I'm not sure if she pulled it off or not. But it certainly caught my eye! I'd also like to nod my hat to Rooney Mara in Nina Ricci… very fitting for her character, and very well put together.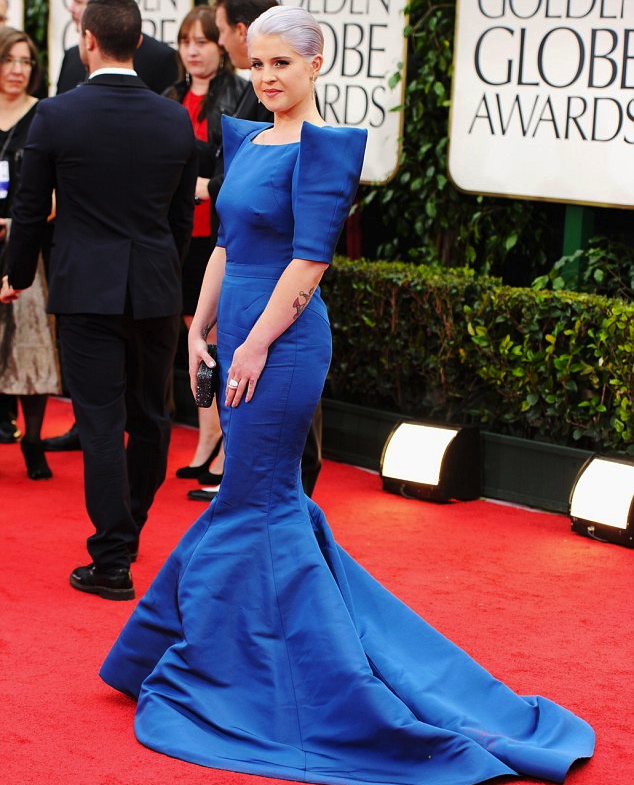 Most Improved: Tilda Swinton in Haider Ackermann… Swinton arrived last year in a questionable Jil Sander get-up that was part dress / part boardroom, but this year she made some major strides. She clearly enjoys going for a slightly androgynous look and this year is no exception. However, she softens the blow with a fabulously wild hairdo and beautiful jewelry by Fred Leighton. Baby steps, Swinton, but you're getting there.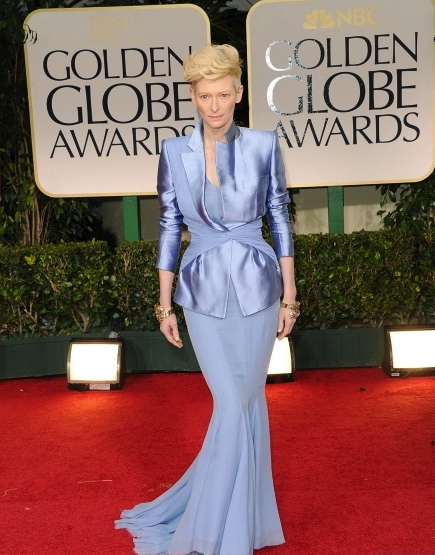 Kristen's Picks
Best Dressed: Claire Danes – I have a love hate relationship with Claire Danes.  Yesterday it was love.  Her J. Mendel dress, coupled with simple jewelry, was nothing short of perfection, and the cut out back? Swoon.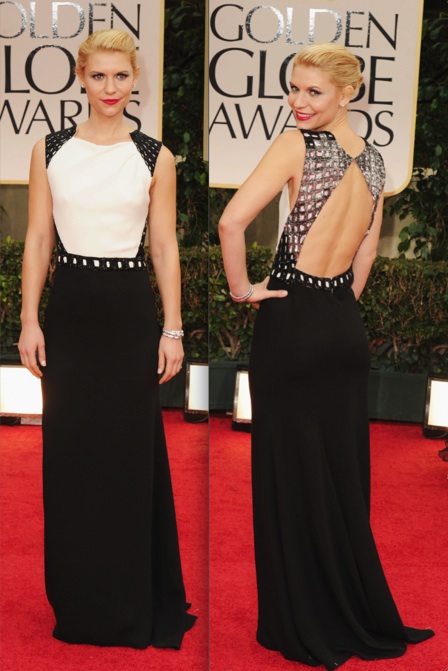 Worst Dressed: Zooey Deschanel in Prada is my pick for worst dressed, not because of the dress necessarily, but the hair. Usually I'm all for glam throwback looks especially when it comes to hairstyles, but this custom-made bold dress deserves a simple updo.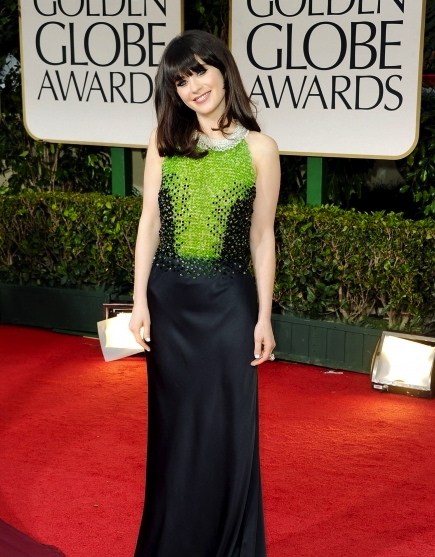 Rookie of the Night: While I think she always looks great at award shows, my rookie of the Golden globes Goes to Sarah Hyland of Modern Family in Dolce & Gabbana.  I'm all about the lace! Sarah was able to pull off an elegant strapless dress while maintain her youthful charm.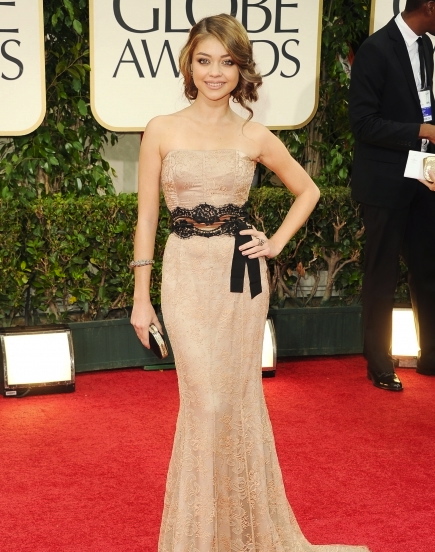 Most Improved: Laura Dern – Known for her effortlessly hippy-ish style, she kicked it up a notch this year!  Her emerald sparkle Andrew Gn dress was just the right amount of classy and sexy, she looked radiant when accepting her award.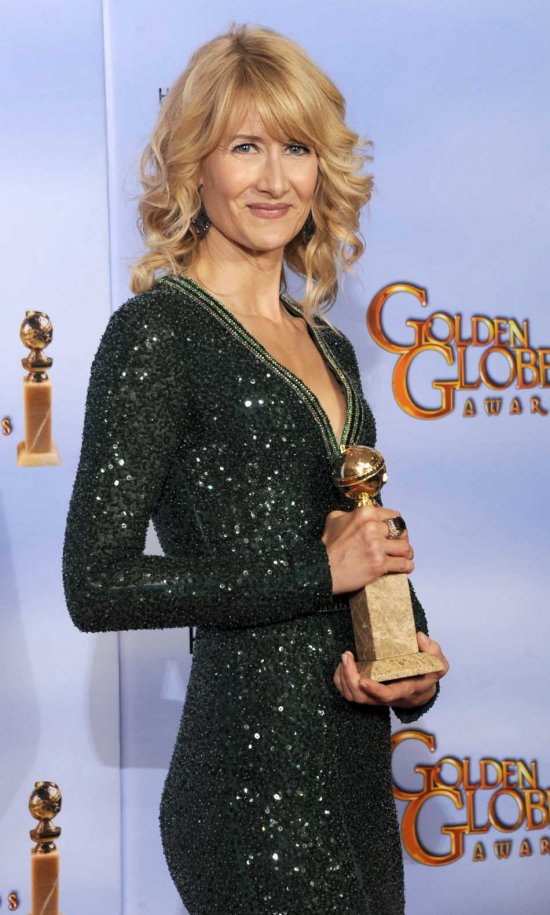 Stay tuned as we cover all of the other award shows this season!
The verdict may still be out as to whether or not Anne Hathaway was a good host, but no one can argue that Rachel Zoe is an incredible stylist. Anne Hathaway changed no less than 7 times last night, for a total of 8 show-stopping looks. The FashioniSTAs break it down, one quick change at a time!
1. Valentino Couture Red Gown – Ashley's Favorite Pick
Marisa: Classic Valentino red on the red carpet, escorted by Valentino Garavani himself. I don't like red gowns very much because I am not a big "red" person, but it was hard to argue with this one.
Ashley: I LOVED this option when I saw it on camera. It was super elegant and the color was perfect on her skin (although the red nails were a little overkill), and it just screamed "Movie Star." Then I saw it in photos, and I don't know what flash some of these photogs are using, but they now have the uncanny ability to completely destroy dresses with one click.
Kim: The color looked stunning on her, but I felt the dress itself was predictable — just another fancy dress in a sea of fanciness.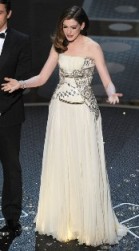 2. Givenchy Grecian Studded Gown – Leslie's Favorite Pick
Marisa: Givenchy can really do no wrong this awards season - Florence Welch at the Grammys, Cate Blanchett at the Oscars - and this silver embellished Grecian gown is no different.
Ashley: It was hard picking a favorite because this one was so spectacular as well. The detail was incredible, and even with her skin being so fair, she pulled this dress off beautifully.
Leslie: Rachel Zoe proved that she knows her stuff by putting Anne in 8 wardrobe changes, truly spectacular on Rachel's part and Anne carried them all well. But this one was my all time favorite, as soon as walked out she show-stopped the place.
Kim: This dress was so gorgeous.  Very royal, very appropriate for the moment.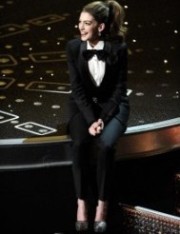 3. Custom Lanvin Tux – Marisa's Favorite Pick
Marisa: This was my absolute favorite Anne Hathaway moment of last night. Not only was the outfit made custom for her by Alber Elbaz himself, but it was paired with dedazzled Brian Atwood pumps and a Brigitte Bardot-inspired ponytail. In the words of Zoe herself, I die.
Ashley: The overall look of this ensemble was genius. It worked with the number that she performed, and the pumps were incredible. It was the perfect way to infuse some life into the evening!
Kim: I wasn't sold on Hathaway's charm until she busted out this little number, coupled with a song-and-dance routine.  Who knew that girl had pipes?  Seriously, my heart melts from her cuteness every time I even see a picture of this outfit.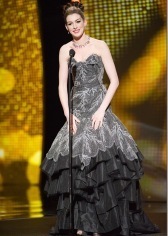 4. Vivienne Westwood
Marisa: I am on the fence here. The gown had potential, but I got distracted by the large necklace and drag-queen hair…
Ashley: This one was the only atrocious look out of the pack. The hair, the necklace, the dress, the whole look was so overdone and it ended up looking like a costume rather than couture. Unless she's playing Mother Ginger in an off-season performance of The Nutcracker, she should have lost this look.
Kim: I liked the dress, but I'm with Marisa on this one — the hair and the necklace just ruined it.  The slight deconstruction of the dress needed to be paired with a more wild look, so the polish up top was poorly matched.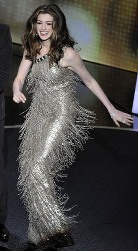 5. Oscar de la Renta Fringed Dress – Kim's Favorite Pick
Marisa: This dress was both fabulous and fun. Even Anne couldn't resist twirling about on stage to make the fringe float.
Ashley: Gorgeous. This was everything an Oscar dress should symbolize: drama and energy. I'm loving the whole '70s trend that's coming back, and this was the perfect example of this style done right. I'll throw it over to Kim to sum up this look, I have a feeling she might like this one…
Kim: Out… Of…  The…  Ballpark.  YES YES YES, Hathaway!  Lots of fringe is seldom done right, and she struck gold with this one.
 .
 .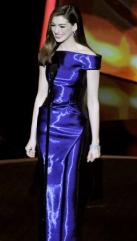 6. Armani Privé Cobalt Dress
Marisa: "Fierce" is the word that comes to mind. The color was out-of-this-world and the structured silhouette was futuristic, yet somehow it still looked classic and elegant. Giorgio Armani has still got it!!
Ashley: As a closet superfan of Zenon: Girl of the 21st Century, I love anything with a futuristic flair. This color was also a great nod to the upcoming Spring brights, and Armani has continued to wow this awards season (minus the misstep with Reese Witherspoon at this show).
Kim: The color was fabulous!  I could have done without the shine, and I'm just not a big fan of that shoulder line, but I really enjoyed seeing Hathaway bust out the bold colors, and this dress is one of them.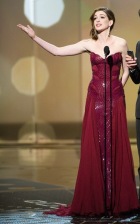 7. Atelier Versace Burgundy Gown
Marisa: Donatella certainly knows how to make a show-stopper. The intricate, body-hugging banding details and subtle shimmer made it sexy, but the color kept it regal and classy. Love.
Ashley: The structure of this dress was so intricate, and the color was a great shade against Anne's fair skin. This was a great choice for the host, it really popped on stage, but if it had been photographed on the carpet, the detail might have gotten lost, and the color would have clashed with the carpet.
Kim: I love the hue and the detail of the dress, but you could really only see it up close.  From a distance, it was just another big dress.  The color, in my opinion, was the only saving grace of this piece.
8. Tom Ford Sheer, Bedazzled Gown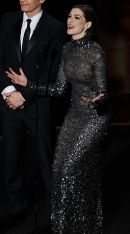 Marisa: This was an interesting choice by Zoe and I loved it. This long-sleeved, high-neck dress was still "Tom Ford-sexy" and had a bit of a vampy edge to it. It was also one of the only examples of his first women's collection at the Oscars.
Ashley: This was my least favorite, and probably the most unflattering option. This would probably have worked better if it was super short and Anne Hathaway was debuting her short program for the Women's Figure Skating portion of the Olympics.
Kim: This just seemed SO matronly on her.  I thought she was supposed to represent a more YOUNG and HIP version of the Oscars?
.