admin

This user hasn't shared any biographical information
Posts by admin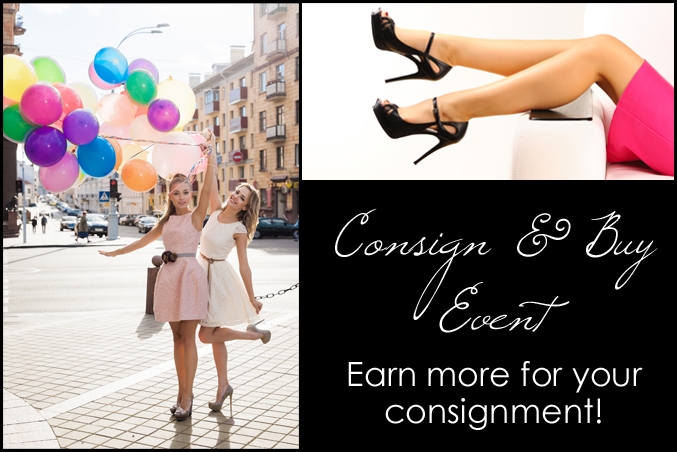 We all love a good promotion (who doesn't like getting an extra discount or added perk?), but there are certain ones that really break the mold. For us, it's the Consign & Buy, easily our favorite STA initiative, and it's not just because everyone gets a 50/50 split (10% more than usual). Whether you're a shopper or consignor, this is the promotion that beats them all. Allow us to break it down for you…
1. It makes spring cleaning about 1000 times easier. Have you looked at your closet lately? Yeah, we know, it's scary (don't worry, we're in the same boat). It can be daunting enough to rifle through your wardrobe, nevermind think ahead to making a consignment appointment. With this promotion, you don't need an appointment! You can just put your items in a bag and drop them off at any STA store on your way to brunch or dinner. (Can you tell we like to eat?)
2. You get extra STA credit that you can use on the items you want, and it's easier than you think. Unless you go years without cleaning out your closet, you might think that you don't have enough to maximize your extra STA credit. Most people don't think to look at their accessories when cleaning out their closets, but bringing in jewelry, sunglasses and other small accessories is a great way to capitalize on the credit.
3. Tons of new product, enough said. A Consign & Buy makes it so easy to consign your items, the amount of new merchandise that goes on display is incredible. Plus if you've taken advantage of the consigning part of this promotion, you can shop these new goodies using your extra STA credit!
4. No wondering about your drop-off. With a Consign & Buy, a store associate will immediately evaluate your items, so you know right away what has been accepted and you can take any unaccepted items home with you. You get the best of both worlds with this promotion, you don't have to make an appointment, but you get all of the benefits of one.
What are you waiting for?! Get yourself to any Second Time Around store from Thursday, March 7th - Sunday, March 10th to get in on the best promotion around!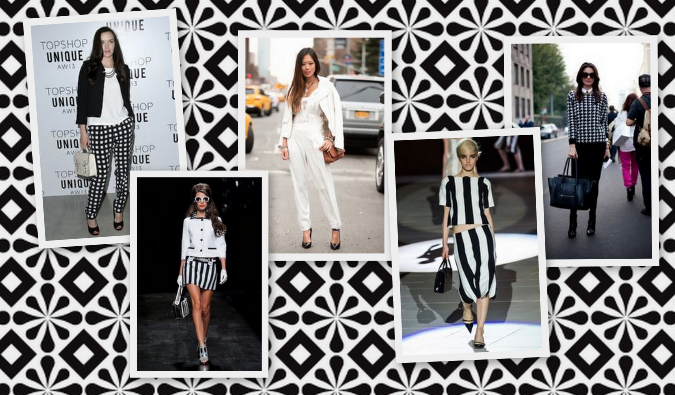 Fashion is all about self-expression, so when black and white monochrome looks became popular, I was a bit hesitant to participate. How can you fully express your fashion sense without the use of color? However, after seeing this trend on nearly every runway, I decided it was worth a shot—and now I'm obsessed!
One of the great things about this trend is that most of us have a bunch of separate black and white pieces in our closets. Because you're only dressing in black and white, it is actually a fairly easy trend to construct from any wardrobe, as long as you know how. For a subtler look for the office or during the day, play around with contrasting separates in a more unconventional way. Instead of donning the traditional black pants/white top look, try a pair of white pants and pair them with a black cashmere sweater or silk top. Since the look is simplistic in color, you can get away with incorporating more organic detail, whether it's adding a belt or layering two embellished pieces in the same hue.
If you're a little more daring, try wearing an ensemble of all white—the color is perfect for transitioning into spring and actually helps to create a slimming silhouette. And with winter white popping up everywhere, you no longer have to wait until Memorial Day to break it out.
If you want to rock monochrome in the evening, play around with black and white patterns; throw on a polka dotted blazer or a pair of striped pants and accessorize with a black and white color blocked bag. If you're super daring, experiment with—gasp!—mixing different black and white patterns in one outfit. Mixing black and white prints is an easy way to try out the contrasting prints trend, giving you two trends in one!
Monochromatic black and white is absolutely everywhere this season, from the runways to the magazines. The trend is fun, flattering and easy, so don't be afraid to give it a shot! Stay tuned as we show you how to work with other hues for a monochromatic look!
~Alyssa, fashioniSTA
(Image credits for collage: Style.com, Refinery29.com, Harpersbazaar.com)
We're handing out our own superlatives for this year's Academy Awards to our best and worst looks of the night. From stand-out accessories to cutest baby bumps to red carpet disasters, we give out our own awards to those who deserve it most.
Best Accessories: Jennifer Lawrence in Dior Couture
While she didn't trip on the endless diamond necklace she was sporting, this backwards necklace was my favorite accessories look of the night (followed closely by Sandra Bullock's hair pin). With the up-do, the simple drop earrings and the light, ethereal makeup, the whole look was perfection.
Best Red Lip: Jessica Chastain in Armani Privé
Looking amazing in a custom-made gown, Jessica definitely made up for her ill-fitting SAG Awards dress. But the icing on this sequined cake was definitely her striking red lip, which took the ensemble from monochromatic to magnificent.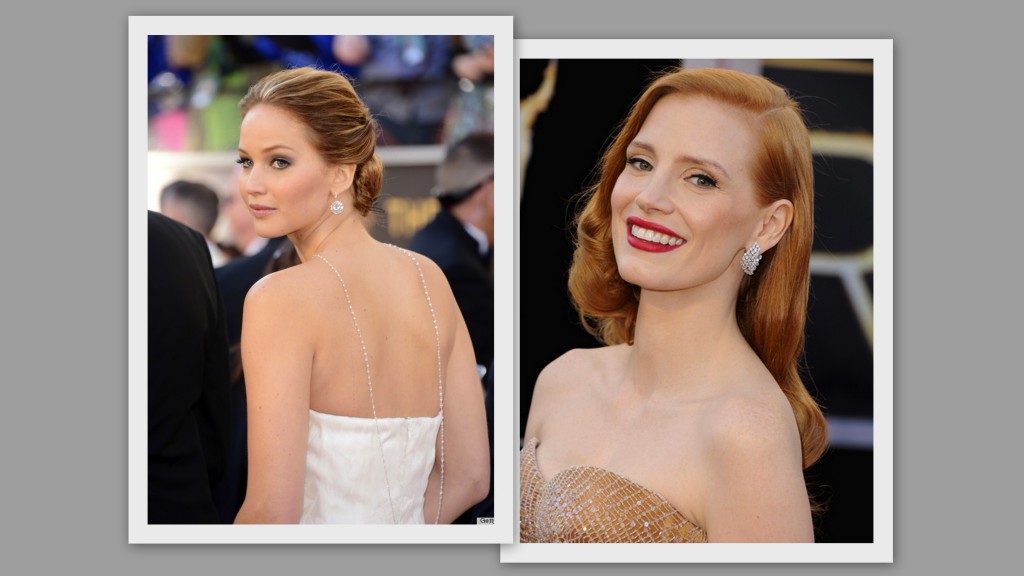 Best Couple: Channing Tatum and Jenna Dewan
This almost went to George Clooney and Stacy Keibler, but Jenna's pregnant with Magic Mike's baby, so she wins. Wearing a black lace Rachel Roy dress, Jenna showed us how to go fitted in the right way when sporting a bump.
Best Embellishment: Kerry Washington in Miu Miu
Playing off the Fall 2012 embellishment trend, this red/coral dress was perfect on her petite frame. The tiny bow and embellishment gave this simple shape a youthful feel, and the slightly darker hued bag made for an air of interesting.
Best Spring 2013 Trends: Zoe Saldana in Alexis Mabille Couture
While this dress had a lot of detail going on, the fact that it was almost monochromatic helped the embellishments blend into the dress beautifully. With ruffles and black/white being hot trends for spring, Zoe's fresh take on ombré is strikingly modern.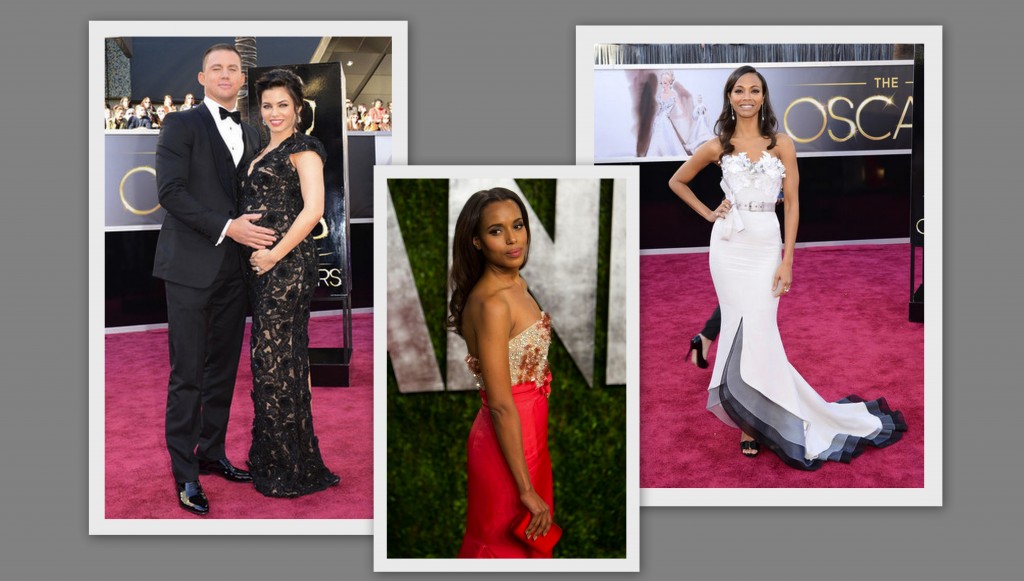 Most Offensive: Anne Hathaway in Prada
This is what happens when you change it up at the last minute. It was assumed – even by the designer – that she would be wearing Valentino, so it was a slap in the face when she showed up in what she did. Not only do we expect more from a nominee (even though the back almost saved the dress), but do we even have to mention the awkward darts? The fact that her nipples now have their own Twitter account sums up this look's legacy.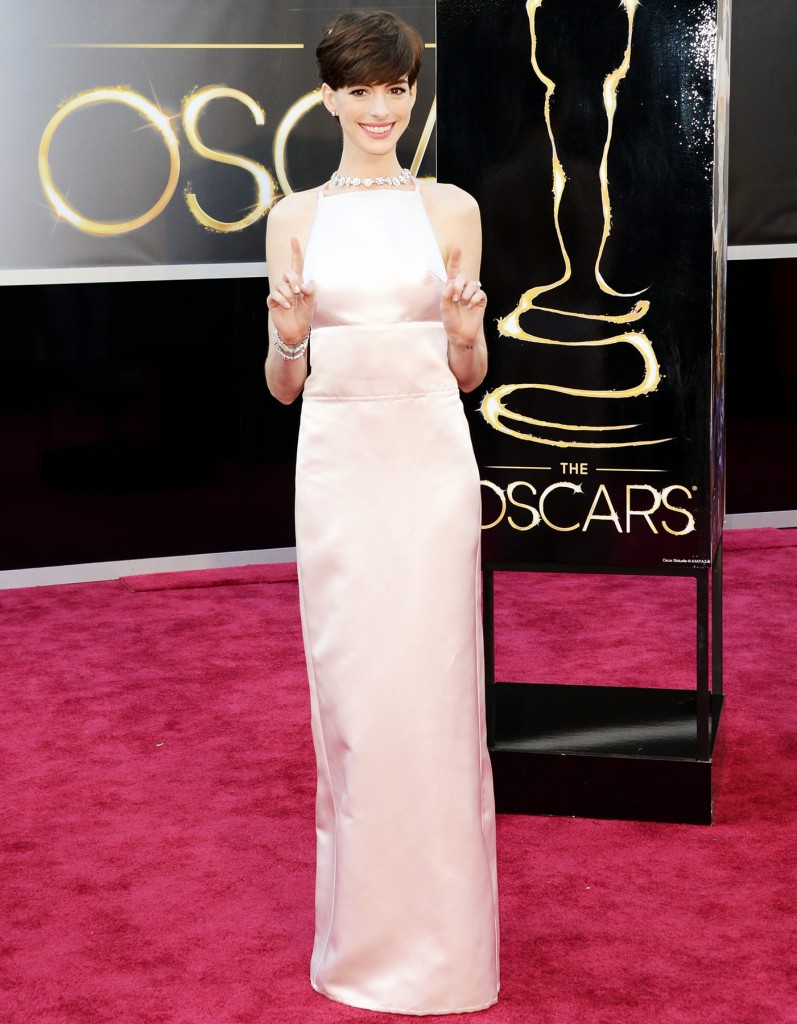 ~Ashley, FashioniSTA
Images by: Huffington Post/Getty, Allure.com, Eonline.com, UsMagazine.com, Popsugar.com
The snow is melting (for now) and the flowers are blooming…spring is officially upon us! And in the fashion world this means, pastels, floral prints, bold neons, and skirts sans tights. This spring, with trends coming from every angle - from super masculine to extra feminine - opposites really do attract!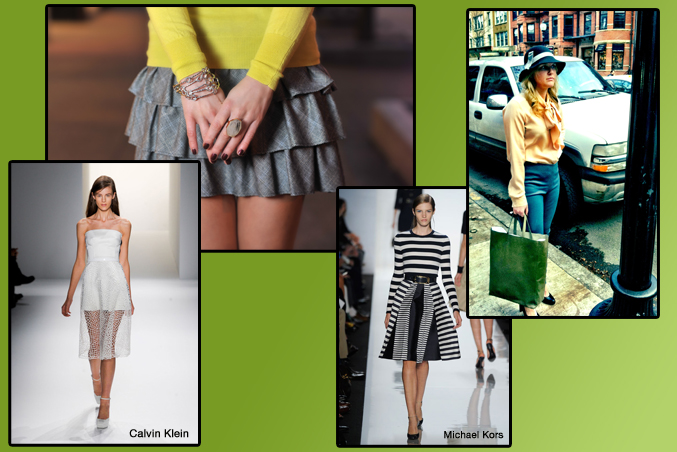 Stripes are always a must come springtime, but this year say goodbye to nautical themed stripes and hello to the big and the bold. Wide, statement-making stripes can be found on everything from leggings to bathing suits. Try subtlety mixing this pattern into your current wardrobe by pairing a striped tee with a boyfriend blazer and cropped pants. Or if you're the more fashion forward type, fully embrace the look and go for stripes on stripes. Go for the runway-popular black and white look paired with a sharp red lip for an instant ensemble.
To put even more of a masculine edge in your closet, this season is all about the suit gone short. Mixing up your nighttime ensemble has never been easier thanks to suits that incorporate shorts rather than pants. Ease into this trend by donning the shorts by day and adding the matching jacket for a night out.
If you gravitate towards more feminine trends, then spring is your time to shine. With warmer weather approaching, sheer details and cutouts are back. A great way of showing a little skin without being too revealing, try sheer sleeves for daytime and sheer panels for night. To take it to the next level, go with intricate cutouts on a skirt or a dress, a trend that popped up consistently during NYFW.
To embrace the feminine side of spring, in a more unexpected way than florals, try out the ruffle trend that swept the runways. From skirts to necklines, ruffles and origami-like folds are adding new dimension to any outfit this season. If you happen to like non-sparkly embellishments, this is a fresh take on adding a little extra to your ensemble.
Whether you're all about raiding your boyfriend's closet or stick strictly to girly shapes, there's something for everyone this season. Remember, spring is the time to try new trends and embrace what works for your style!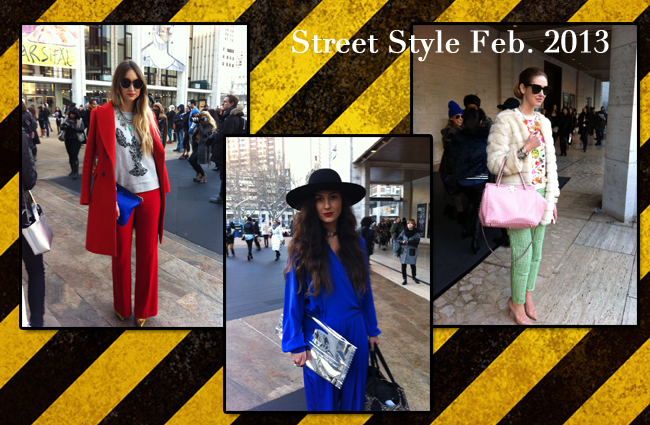 While Fashion Week is known for its runways, fashion show attendees can be just as inspiring to look at. With the tastemakers of the fashion world flocking to Lincoln Center to see and be seen, it's no surprise that street style photos are just as influential as the designers' new collections. After much obsessing over candid shots of editors and bloggers galore, here are three of the hottest accessory trends from the streets of New York.
1. Statement Necklaces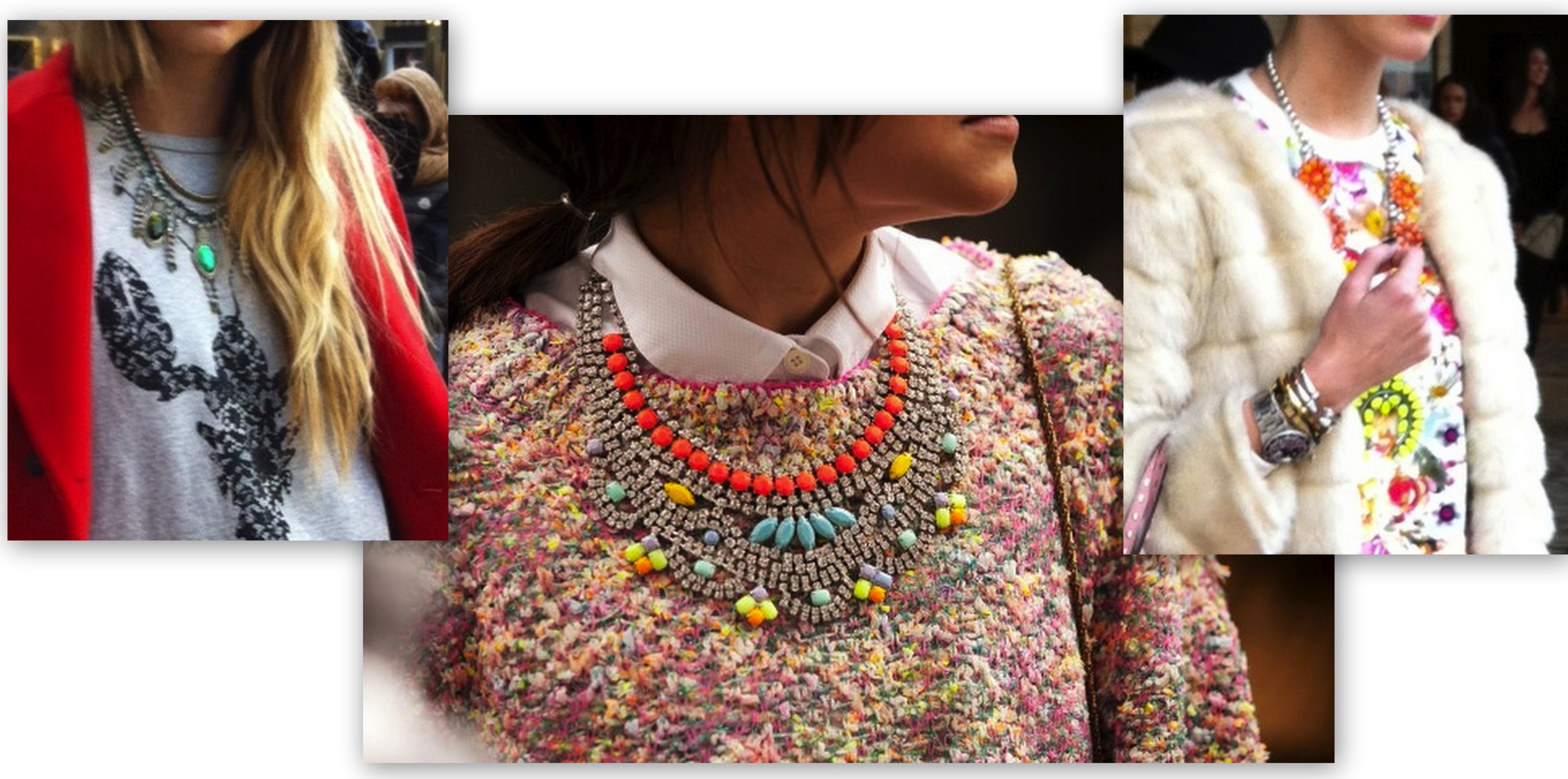 Statement necklaces have been around for a few seasons now, but they were still ever-present on the most fashionable NYFW attendees. As we segue into spring, many of the statement necklaces that we spotted were bright and colorful in pastel and neon hues. While a gorgeous statement necklace can make even the simplest outfit look chic, fashion risk takers preferred to layer their necklaces over a contrasting pattern or design for an even trendier look. For a twist on menswear, layer a statement necklace (or multiple) underneath an oxford collar.
(middle photo credit: refinery29.com)
2. Colorblocked Bags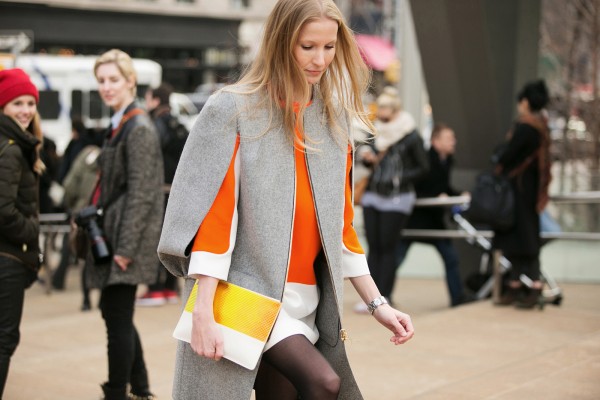 Colorblocking is far from a new trend; every season sees numerous colorblocked outfits sent down the runway. However, colorblocked bags really seemed to make an appearance on the streets of New York this February. A perfect way to add a colorful (but not overwhelming) pop to any ensemble, a colorblocked clutch is effortlessly chic. The best thing about this trend is the versatility, grab a slouchy option for a more casual jeans-and-tee ensemble, or go with a structured, mini version for your fashion-forward office or a night out.
(photo credit: refinery29.com)
3. Mirrored Sunglasses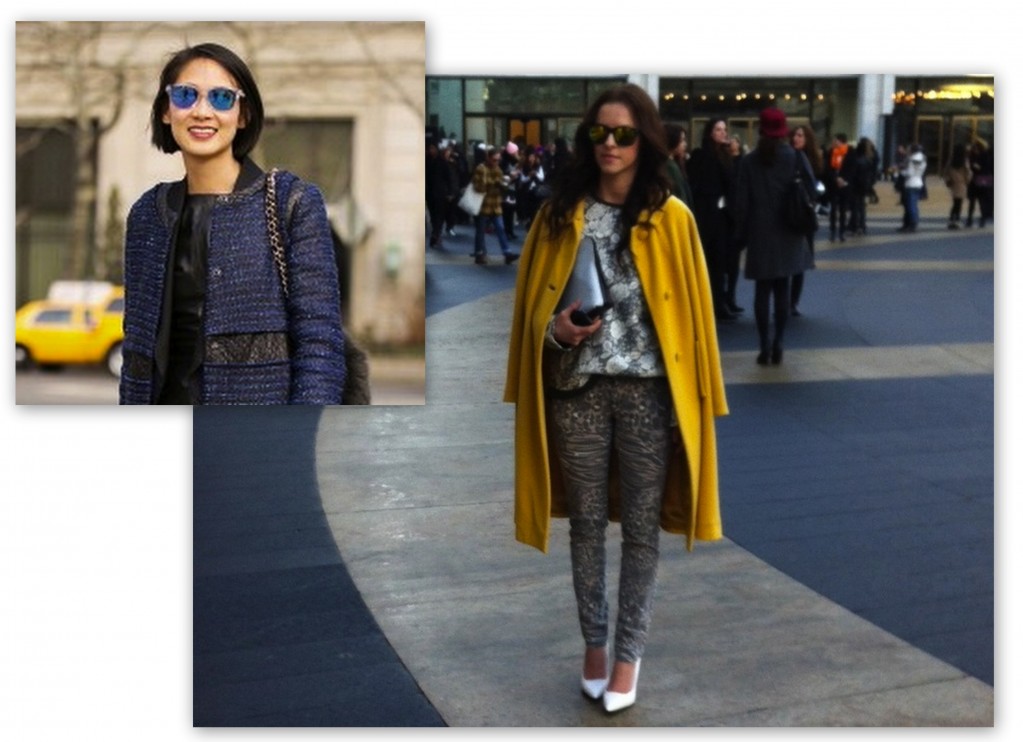 Step aside, Wayfarers! There's a new sunglasses trend in town, and it's a lot more fun than the classic Ray Bans style we've come to know and love. Though New York may have been a tad chilly (ahem, Nemo), the sun was still out, and many fashionistas completed their outfits with a pair of super reflective sunglasses. This awesome 80s-inspired trend was spotted everywhere this season, and is the perfect way to add a quirky twist to an outfit.
(left photo credit: refinery29.com)
This season, set aside classic accessories and try something a little more colorful and fun. I can't wait to add extra spice to my closet with these new accessory trends!
What was your favorite street style trend from fashion week? Tell us on Facebook or Twitter!
~Alyssa, fashioniSTA

Want to incorporate 2013's latest trends into your wardrobe but don't know where to start?
STA is here to help you get the look! Whether you're hoping to break out of your fashion comfort zone by adding some sheer to your closet, or simply looking to up your stripe game - we've got you covered!
Join us at any (or all!) of our locations on

Thursday, February 21st from 4pm-8pm for champagne, cupcakes and 20% off

this season's must have pieces. Shop our customized racks or just browse your favorite designers while sipping in style!




Like us on Facebook!
Follow us on Twitter!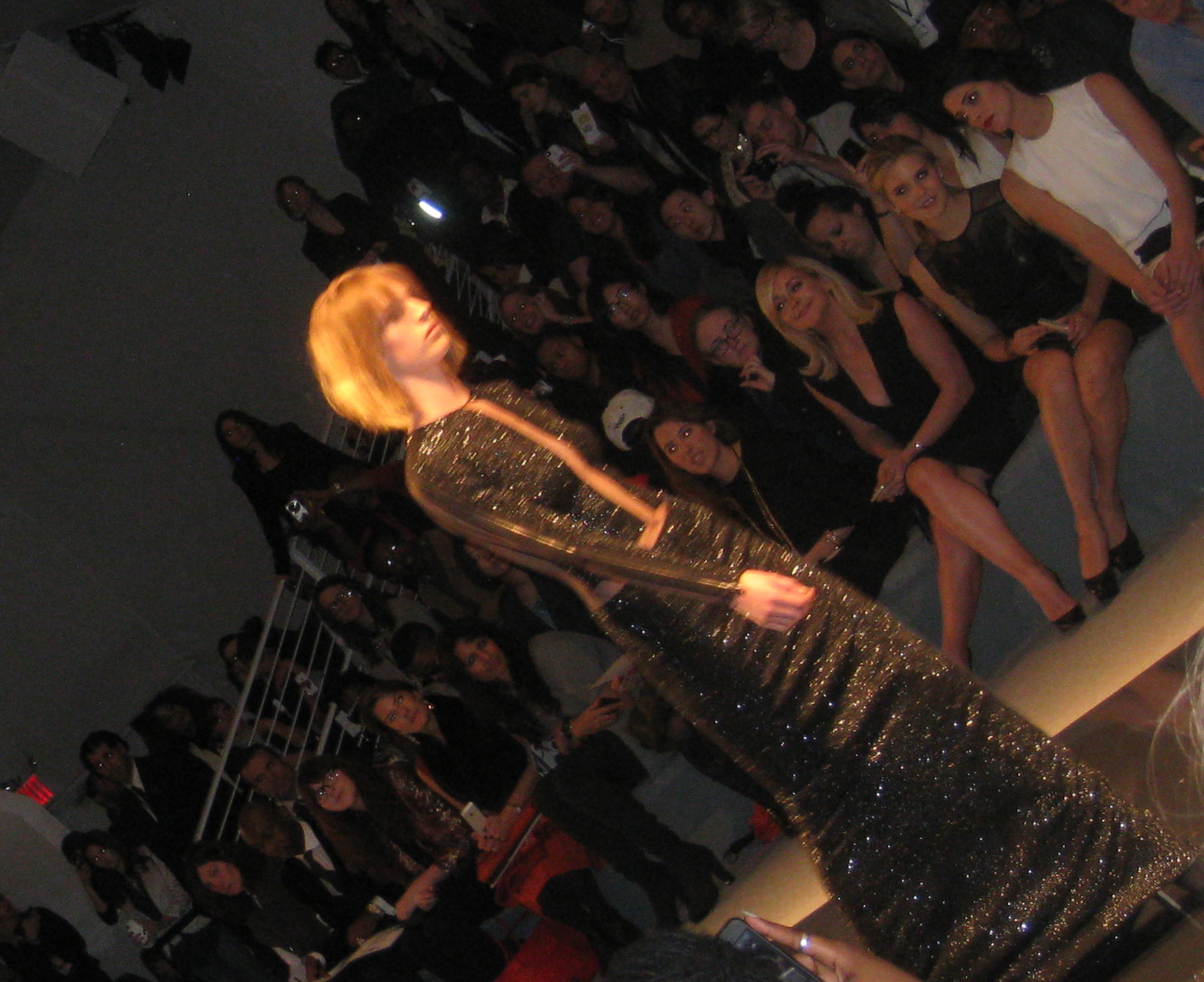 Front Row Included: Ashley Greene, Maggie Grace, June Ambrose, Joanna Coles, Jane Krakowski (not surprising since she wore the designer to the recent SAG Awards)
Number of Looks: 38
Stand-Outs: Fringed silver sequin dresses, streamlined gowns, dark neutral leather and fur pairings
This was another show with its finger on the pulse of awards season. Always seen on the red carpet, this runway didn't disappoint with a healthy mix of sparkle and edge. The full-length gowns were accented with cut-outs, sheer panels, feathers, and – my favorite – sequined silver fringe. Fingers crossed that the front row ladies were scoping out their next awards ensemble!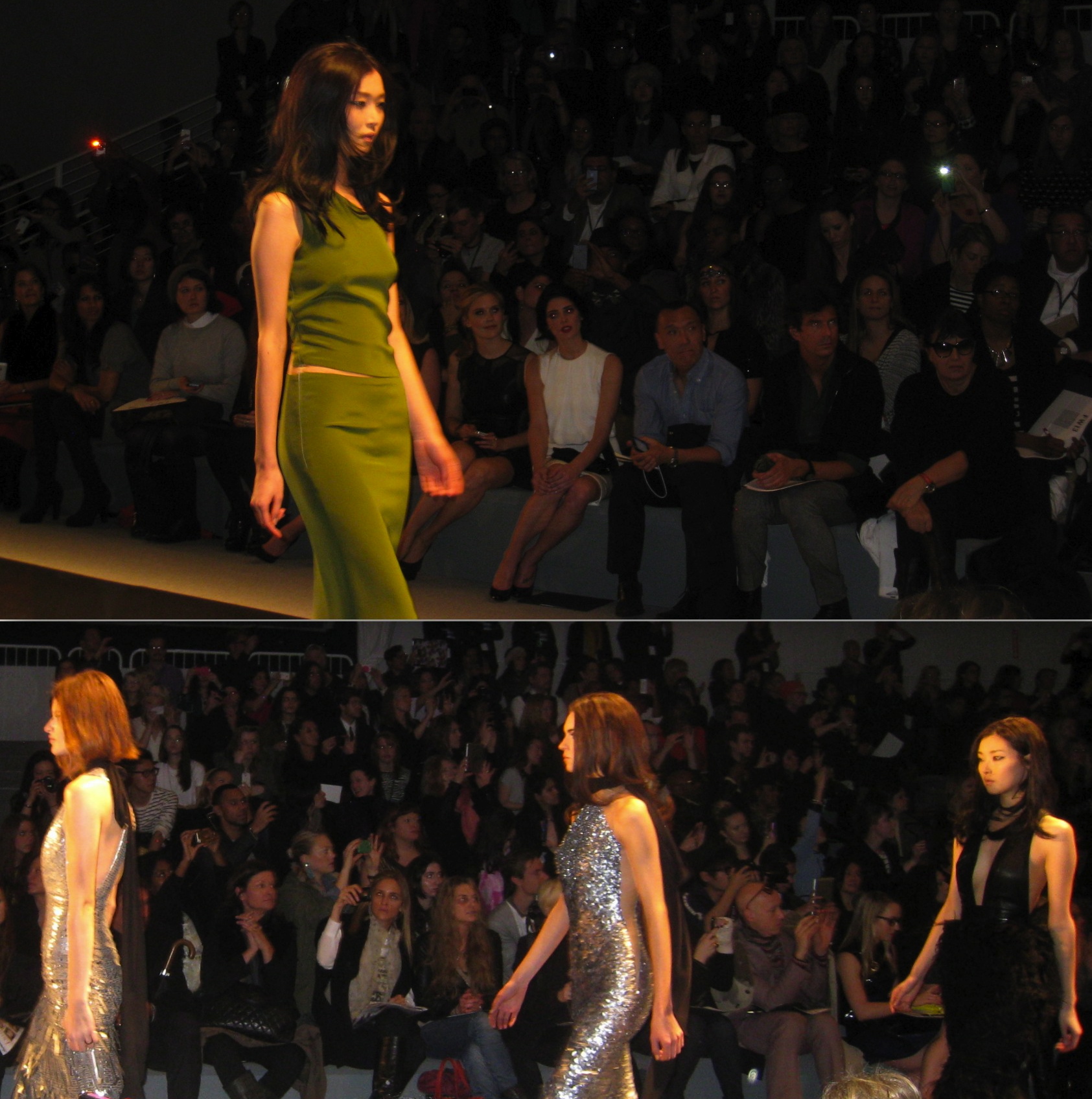 While the gowns were certainly the finale stars of the show, the luxe leather and fur accents gave this show wearable substance. Playing off a palette of neutrals, the designer used luxurious textures and a touch of sparkle to supplement the rich use of earth tones. A few notable looks included brown fur jackets mixed with either a miniskirt or skin-tight leather leggings (of which Joanna Coles, Editor-In-Chief of Cosmopolitan and former EIC of Marie Claire, was spotted snapping multiple photos).
Moral of this story? Stock up on dark neutrals in exotic textures as a sure-fire way to shine this fall.
~Ashley, FashioniSTA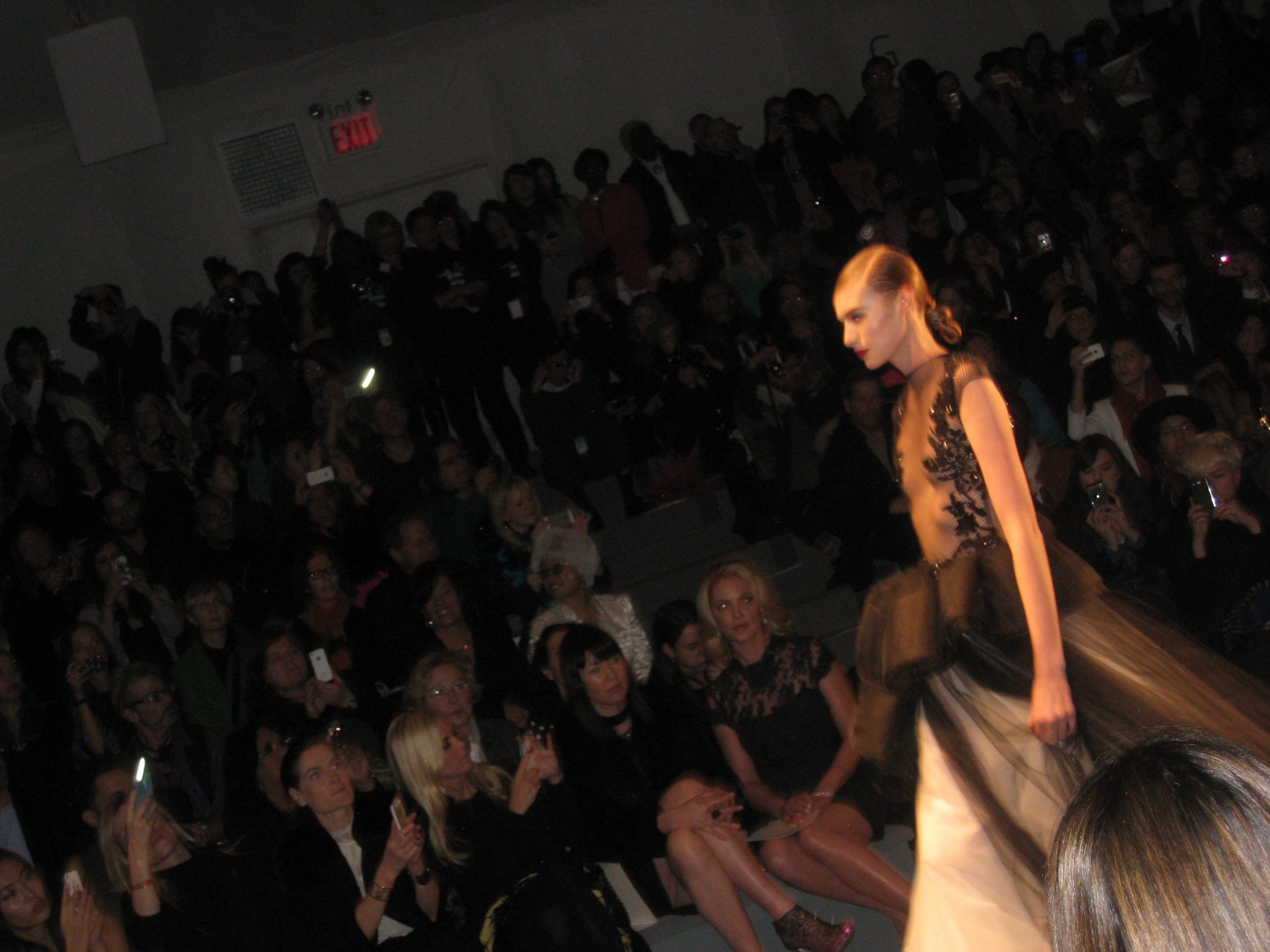 Front Row Attendees: Katherine Heigl, Tinsley Mortimer, Robert Verdi
Number of Looks: 35, ranging from outerwear to gowns
Stand-Outs: Use of fishnet in formal gowns, colored fur, draped sequins, Asian-influenced detailing
If you're as awards show-crazy as we are, then you can understand our obsession with Reem Acra's show yesterday. Tons of glitter has always been our MO, so we were thrilled to see a healthy dose of sparkle on the runway. The highlights of the show included the more traditional, perfectly-tailored, sequin gowns; the tulle peplum, red-carpet-worthy dresses; and the black-tie utilization of fishnet mesh.
The head-to-toe sparkle look also popped up at other shows – see KAUFMANFRANCO and Dennis Basso – just in time for the Oscars. But aside from your basic full-sequin numbers, we went crazy over the sheer details that used mesh overlays instead of your basic sheer fabric. In addition, Asian-inspired ornate details popped up on a number of the looks in this collection, from mandarin collars to the tulle and embroidered gowns that ended the show. The finale dress – a black mesh and tulle gown with ornate, red details extending over the bodice – was museum-worthy and red-carpet ready.
We'll be looking for the silver draped beading gowns and the tulle and fishnet-paneled dresses on the red carpet – especially if the CBS Grammys dress code becomes a trend – perfect for fashion risk-takers with a slightly traditional palette. For the more casual crowd, kimono-inspired dresses and capes galore strutted down the runway, complete with fur details (a Fall 2013 staple). The lesson from this show? Grab your cape and your luxe-detailed pieces, with your choices ranging from fur to leather to embroidery to formal tulle.
Check out the entire collection here!
~Ashley, FashioniSTA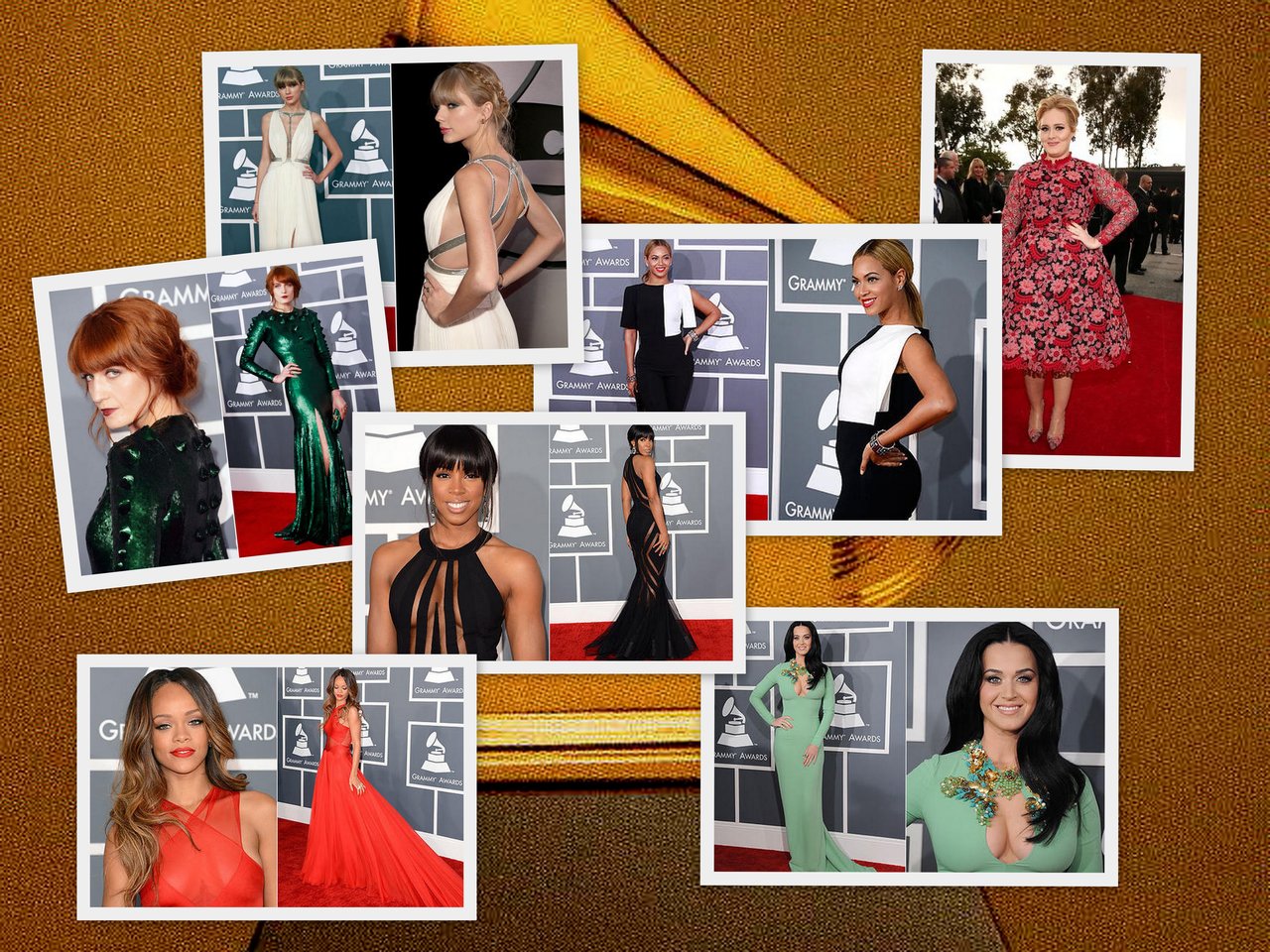 Best dressed and worst dressed are fairly subjective. So this Grammys, we're giving you a look at the seven red carpet appearances that you should know.
1. Taylor Swift in J.Mendel - A mixed bag on this one from critics, personally we like the grecian-dominatrix look, but admittedly it's not her best.
2. Florence Welch in Givenchy - The reviews with this were all over the place, but either way it's worth seeing this surely Jurassic Park-inspired ensemble. (And it's worth noting that emerald green is the color of 2013.)
3. Kelly Rowland in Georges Chakra Couture - It seems like the halftime show wasn't the only boost to this former Destiny's Child member's career. This dress has elevated her to style stardom by critics and fans alike.
4. Rihanna in Azzedine Alaia - This was probably the biggest red carpet surprise of the night, with her pure elegance blowing the disco ball-wearing attendees straight out of the water. People are dying over this more classic look, and we are right there with them.
5. Beyonce in OSMAN by Osman Yousefzada - Bey can do no wrong, so basically everyone should know what she's wearing. This pants option is a pseudo-fashion risk, yet not as buzz-worthy as some of the others.
6. Adele in Valentino - Yet another look that ran the spectrum of the critics' picks. Some love this look, while others thought it was a bit dowdy and overrun with the floral print. We're somewhere in the middle, but she definitely stood out.
7. Katy Perry in Gucci - This one is universally not liked, between the cleavage and the in-your-face spring green color. We're right on board with that.
Stay tuned for our Oscars coverage in two weeks!
Photo credit: latimes.com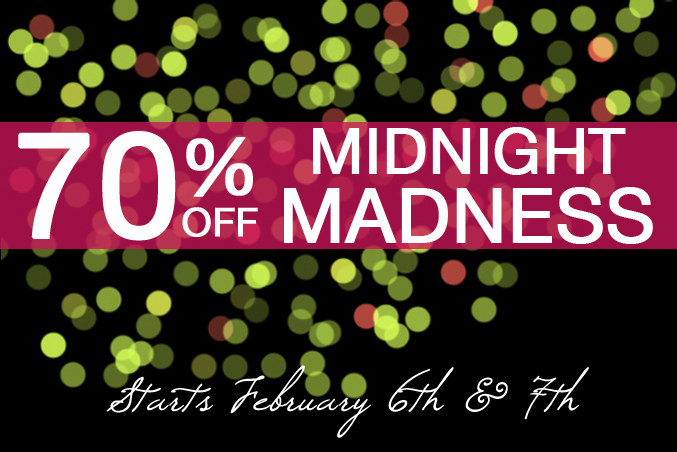 The ultimate sale of the season is finally here!
The time has come…it's Midnight Madness!
Shop your favorite winter items at

70% off, starting February 6th and 7th with 20% off new arrivals for Spring

.
And with plenty of our locations open until midnight, you'll have lots of time to shop. See the list below to find when your favorite store starts the savings!
Starting on Wednesday, February 6th:
Brookline, MA**
Harvard Square, MA
Needham, MA*
Newton Highlands, MA*
Newton Centre, MA*
Northampton, MA**
Wellesley, MA**
Westport, CT*
Englewood, NJ*
Summit, NJ*
Westfield, NJ*
Forest Hills, Queens, NY**
Huntington, NY**
Miami, FL**
Starting on Thursday, February 7th:
176 Newbury Street, Boston, MA
219 Newbury Street, Boston, MA
324 Newbury Street, Boston, MA
Charles Street, Boston, MA
Thayer Street, Providence, RI
Portsmouth, NH
Portland, ME**
Burlington, VT
Greenwich, CT*
West Hartford, CT**
Georgetown, DC**
Mott Street, NYC
Murray Hill, NYC
Lexington Avenue, NYC
Thompson St, NYC
Chelsea, NYC
Gramercy, NYC
72nd and Broadway, NYC
Madison Ave, NYC**
Broadway, Upper West Side, NYC*
Armitage, Chicago, IL
Wicker Park, Chicago, IL**
Philadelphia, PA**
For a complete list of addresses for locations visit:
www.secondtimearound.net
*Open until 8pm
**Open until 10pm
New Haddonfield, NJ location is excluded from this event but is offering 20% off all merchandise.