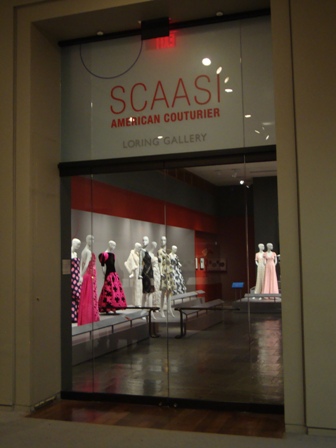 In 2009, the Museum of Fine Arts in Boston acquired a major coup — more than 100 couture designs by Arnold Scaasi, in addition to press clippings and sketchbooks from his late-1950s-to-early-1990s collections. "Scaasi: American Couturier,'' now showing at the MFA through June 2011, is our first look at 28 of the cocktail dresses, gowns, and costumes he custom-created throughout the years. The designs on display highlight his relationships with four members of his select clientele: singer / actress Barbara Streisand, New York socialites Joetta Norban and Gayfryd Steinberg, and Broadway / television star Arlene Francis.
Bringing to light Scaasi's touch for event-ready panache, the collection includes the famous sequined pants outfit that was worn by Streisand during her 1969 Oscar win, along with stage costumes worn in her early concerts, a fur ensemble worn on a trip to Canada in 1970, and costumes worn in On a Clear Day. In addition to these theatrical pieces, cocktail dresses and gala gowns from yesteryear are brought forward to showcase the design detail that helped earn Scaasi his status as an elite designer.
Born Arnold Isaacs in 1935, the son of a Montreal furrier, Scaasi moved to NYC in the early 1950s where he worked as an apprentice for the elaborate couturier, Charles James. Influenced by James' idea of building an evening dress as you would a piece of sculpture, this early training led Scaasi to approach clothing design as a three-dimensional construction project.
Changing his name in the mid-1950s to Scaasi (Isaacs spelled backwards), he became one of the few designers capable of sustaining a made-to-order business in the burgeoning age of ready-to-wear. His designs breathed new life into the elite world of evening apparel, re-energizing the American fashion industry. With bold colors, luxurious fabrics, and dramatic shapes, he quickly rose to fame. By the end of 1958, he had won the Coty American Fashion Critics Award for best designer of the year and had seen his clothing featured on the covers of Vogue and Harper's Bazaar… all before reaching age of 30. Finally, he realized he preferred designing privately for the women he adored, his devoted and exclusive clientele. Stars and socialites such as Joan Crawford, Barbra Streisand, Elizabeth Taylor, Charlotte Ford, Blaine Trump and Brooke Astor were all a part of his client list, which also included First Ladies from Mamie Eisenhower to Barbara and Laura Bush.
Scaasi was noted for his tailored suits and glamorous dresses trimmed with feathers, fur, sequins, and fine embroidery. "I create clothes that are pretty, usually with an interesting mix of fabrics," he has said. "I like luxurious fabrics — great quality for day, and opulence for the evening. I am definitely not a minimalist designer! Clothes with some adornment are more interesting to look at and are more fun to wear."
Head on over to the MFA to check out this fashionable exhibition, which is included with general admission — it's not often you get to stand side-by-side with such creations! While there, pop into fashion photographer Richard Avedon's exhibit, which we fashioniSTAs blogged about back in August! Together with the MFA, we're here to help you keep the pulse on the styles of yesterday and today.
~Kim, FashioniSTA, Second Time Around