Posts tagged
selena gomez
The biggest awards show is without a doubt the Oscars, and this ceremony brought out some of the best outfits of the year!  In comparison to last year's gala, we noticed a lot more poise and polish.  Last year was a mixed bag of prints and ruffles and experimental fashion, and this year was a definite return to the glitz and glamour that is expected at such a show. We break it down from the gowns to the jewels, FashioniSTA style!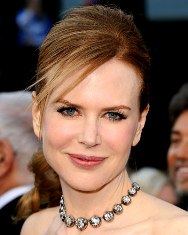 Big Time Jewels
We know that the first thing that catches your eye is the dress, but this year's show brought out such a wide variety of shiny accessories, that we just can't ignore them. Hailee Steinfeld's Fred Leighton's diamond headband was an adorable addition to her youthful, ballerina-esque ensemble. Céline Dion's Bulgari pendant was stunning, and an exquisite addition to her streamlined gown. These jewels saved some of the outfit disasters that hit the red carpet, such as Nicole Kidman's gorgeous Fred Leighton necklace (right) that offset her poor Dior gown choice.
But some jewelry choices were just plain distracting. Amy Adams in Cartier should fire her stylist, that necklace is not meant for that neckline, and the cuff is jewel overkill.  And wait until we get to Reese Witherspoon, her emerald earrings are just the tip of the iceberg.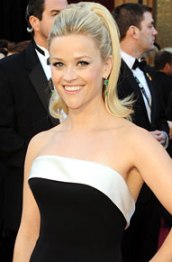 Mismatched Hair Choices
One bizarre trend this season was horribly underdone hairstyles paired with fabulous dresses.  Sharon Stone looked great in John Galliano for Christian Dior, but what was going on on top of her head? She had a serious bubble with out of control wisps.  Amy Adams tried hard to channel Veronica Lake, but she was in some serious need of conditioner and the choice was all wrong for that L'Wren Scott dress of hers.  And poor Sandra Bullock just can't seem to get a break at the salon – her Vera Wang dress was out of sight, but it looked like someone just grabbed chunks of her hair and pinned them at random.  I feel like this is how my hair looks when I'm at the spa.  But for Reese Witherspoon (right), she had the exact opposite problem – wonderful ponytail fall, but paired with the earrings and the outdated dress, it was too much.  If she lost the earrings and paired the hair with a different dress, like Hailee Steinfeld's Marchesa, for example, and Witherspoon would have been too adorable for words.
The FashioniSTA Picks
Best Dressed: Cate Blanchett (right) in Givenchy Couture was breathtaking. It was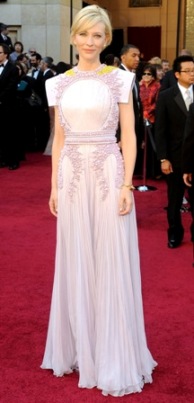 everything that a red-carpet gown should be - unique and on the cutting edge of fashion yet wearable so that the actress was still the focus. Her earrings were small so as not to distract from the beautiful beading on her shoulders and chest and her hair was soft and simple - a perfect match. I loved everything about this dress - the color, the beading, the cut-out, the draping - but what really made it a show-stopper was the way in which Cate wore it. She can handle an edgy dress with ease - an Oscar-worthy red carpet moment indeed!
Worst Dressed: Thank God Melissa Leo won the Oscar for best Actress in a Supporting Role so that there was something to focus on other than that atrocious Marc Bouwer dress. The heavy-handed lace, the gold foil lining, the high collar, the structured shoulder, the spider-beetle necklace (what in the world??!!)…there was WAY too much going on and none of it was flattering. I loved her in the Fighter, but I hated her in that dress.
On the Fence: Gwyneth Paltrow looked absolutely stunning in the metallic column dress by Calvin Klein Collection. It fit her to a T, her hair matched it perfectly and the way it moved…incredible. However, I was totally put off by the jeweled brooch at her hip and matching earrings. The brooch at her hip totally distracted from the clean, statuesque lines of the dress and I thought that the multi-colored stones on the jewelry were too much. Her stylist could have definitely introduced an additional color to the ensemble, but just one color would have been best. I am thinking big emeralds…
Rookie of the Year: Hailey Steinfeld's tea-length Marchesa dress was the perfect choice for this young star. It was appropriate for the occasion and most importantly, it was appropriate for her age. She looked like a princess and I am sure that she felt like one too. The makeup was clean and simple - subtle liner and mascara and a pink lip - and the silver headband and ballerina bun kept it youthful and fun. I hope that she had a fabulous time!
Biggest Comeback:  Sharon Stone has ended up on Worst-Dressed Lists more often than Best-Dressed Lists of late. However, she redeemed herself last night. The form-fitting black dress with feather embellishments was both classic and of-the-moment all at the same time. But, the feathers and the asymmetrical neckline placed Stone directly in line with the current trends. Her clutch was simple and added some additional texture and her hair was in a classic French twist, but with some added height for drama. I may have preferred if her makeup artist didn't have such a heavy hand with the eyeliner (it makes her look a little crazy and, let's be honest, Sharon Stone doesn't need any help looking crazy…), but other than that, it was a red-carpet A+!!
Best Dressed: Anne Hathaway in Valentino Couture, before the flash photography got a hold of her. It was the epitome of timeless elegance when I saw it on the red carpet coverage, and it makes me very sad that the photographs ruin it. Cate Blanchett's allusion to my fave holiday - Easter - was also a breath of fresh air. Fashion-foward that works.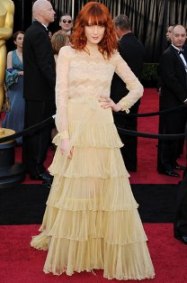 Worst Dressed: Florence Welch (right). Looking like what I'd imagine the wife in the attic in Jane Eyre, I'm borderline shocked that Valentino would let this loose on the red carpet. But then again, they also designed that daisy disaster that Michelle Williams wore to the Golden Globes.
On the Fence: Mandy Moore in Monique Lhuillier. I loved the gold sparkles with the illusion detail, but something about this felt wrong. Between the color of the dress, her skin tone, her makeup, and her hair, she just looked washed out, and a little old.
Biggest Comeback: Celine Dion in Armani Privé. Although she's never been a worst-dressed offender, I can't recall the last time I saw her on a red carpet. She made her big comeback in the best way possible, by wearing a killer dress (she had twins recently?!) and paying homage to her last Oscar appearance with her "Heart of the Ocean"-esque pendant.
Rookie of the Year: My girl crush on Selena Gomez grows every time I see her on the red carpet. Although she wasn't part of the Oscars until the Vanity Fair after party, she looked AMAZING in a red Dolce and Gabbana gown. Her hair, makeup and accessories were the perfect complements to the dress, her overall look was just stunning.
Best Dressed: Halle Berry (right) in Marchesa. She looked radiant in a nude strapless crystal corset gown. It had has silk tulle ruffles that made it look like she was floating on a cloud. Halle Berry never disappoints me and this dress proves it.
Worst Dressed: Scarlett Johansson in Dolce and Gabbana. The purple doily looking ensemble was terrible, I personally think she's beautiful all the time but that gown did nothing for her and her figure.
On the Fence: Amy Adams in L'Wren Scott. The royal blue sequin gown was to dieeeeeeee for but the accessories through me for a loop. Granted they were Cartier but the emerald green necklace and bracelet on blue??? No idea what she was thinking but none the less she was wearing a spectacular dress.
Rookie of the Year: Hailee Steinfeld in Marchesa. Truly a pretty little ballerina moment. I thought it worked really well for being that she's fourteen, it was modest and a great approach to the Oscars. I'm sure we'll see more of her in the future.
Best Dressed: Matthew McConaughey's better half Camila Alves (right) in Kaufman Franco… I know, I know, not exactly who you would expect, but that dress was JUST TOO GOOD.  The Oscars are all about polish, and that Camila was the essence of sleek.  Same could be said for Jennifer Hudson in Atelier Versace.  Execution?  FLAWLESS.
Worst Dressed:  My biggest "ugh" of the night went to Mark Ruffalo's wife, Sunrise Coigney in Jean Paul Gaultier.  What…was…that?!  Oh, and Reese Witherspoon?  I think I saw your dress when I was perusing the Cosmo Prom Issue back in 1996…only then it was made by Zum Zum and not Armani Privé.
On the Fence: Cate Blanchett in Givenchy…in the end, I liked it, but it just seemed a little too "walking art" for me.  Jennifer Lawrence donned a Calvin Klein sheath, and she looked jaw-dropping sexy.  But for the Oscars?  It felt a little too casual.
Biggest Comeback: Sandra Bullock in Vera Wang.  That dress was so gorgeous on her, and if you recall the walking nightmare that was her Golden Globes outift, I think we can all agree that Bullock is back on track.
Rookie of the Year: Hailee Steinfeld — at 14 years old, she drew that design, brought it to Marchesa, and they made it for her.  Rookie?  Welcome to the Big Leagues!
Stay tuned for bigger and better things from the FashioniSTAs!!
The FashioniSTAs are taking on the Grammy Awards! For the most extreme awards show of the season, we don't expect anything less than rock star perfection. Ride along with us as we break down who we thought rocked the red carpet like a catwalk, and who looked like a cat attacked her outfit.
Double Take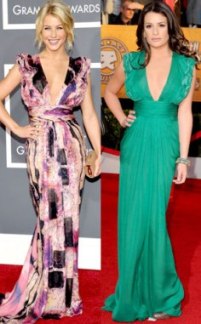 Showing up on the red carpet in the same dress as someone else is a fashion nightmare. But showing up in practically something that someone else has worn is almost as bad. Julianne Hough – who may or may not be the most gorgeous girl on the face of this planet – wore a printed Catherine Malandrino dress, the exact one that Lea Michele wore to last year's SAG Awards. The resemblance wasn't crystal clear at first, since Lea's was an emerald green and Julianne's was a pastel print. However, this cut of this dress is so stunning, that we're not surprised that more than one person wanted to get in on it. Who wore it better? This is a toss-up, Julianne looked like a breath of summertime air in February, but in photos, the solid color of Lea Michele's seemed to work better.
We also had déjà vu when we saw Kim Kardashian in a bronze, draped Kaufman Franco. Flashback to Jennifer Lopez at the Golden Globes in 2009, and you'd swear that they were both wearing that Marchesa dress. While Kim's hair and makeup were bombshell-worthy, the chunky heel didn't work well with the dress – which may or may not have been a little tight. Who wore it better? That better be hypothetical, because in this race, J. Lo is queen.
Speaking of metallic numbers, is it just us or did everyone and their mother wear a gold, sparkly dress? Between Kim Kardashian, Leanne Rimes in Reem Acra, and Heidi Klum in Julien McDonald, there was enough gold to stimulate the US economy. Throw in Selena Gomez in J. Mendel, and you almost need sunglasses. Putting Leann's personal life aside, Heidi Klum still trumps the country singer with her '70s-inspired gown, which looked like it flowed against her body. But Selena puts up quite the fight, making her almost unanimously the best-dressed rookie at this show.
We Sound Off on the Outrageous
The Grammys wouldn't be complete without a couple of looks that could double as Halloween costumes (and we all thought Julie Bowen's SAG pantsuit was a fashion risk). Here are the top four ladies that brought the bizarre, and our fashion verdicts:
1. Nicki Minaj – There is so much going on here, between the head-to-toe Givenchy leopard and the Bride of Frankenstein wig, we'll say this, she's never boring. But at an awards show where anything can happen, this is the place to work the extreme.
Verdict: Fierce, meow! But next time, lose the wig.
2. Katy Perry – Her Armani Privé ensemble, which apparently featured some of the most expensive material money can buy, gave us Katy on fashion steroids. Known for her sequined sweetheart busts, the angel wings really brought it to the edge.
Verdict: You are not a Victoria's Secret Angel, save this for your next costume party.
3. Rihanna – This white Jean Paul Gaultier made her look alarmingly sweet for being practically naked.
Verdict: Hung jury. Half of us think she looked fashion forward and fab, the other half want to flush her toilet-paper-inspired dress.
4. Lady Gaga – The most outrageous entrance award definitely goes to her. But when the egg opened, the outfit underneath was a little…blah. You know Lady Gaga's running out of ensembles when she has to resort to a cocoon entrance.
Verdict: Keep the whole embryo entrance if you want, but birth yourself a new outfit idea.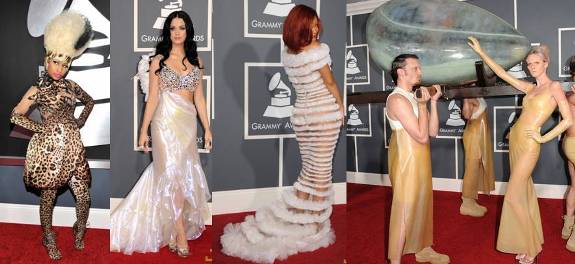 The FashioniSTA Picks
Marisa
Best Dressed: This was a tough one for me because – to be honest – I wasn't blown away by anyone. At least not in a good way… However, if you were to twist my arm, I will give "Best Dressed" to Ciara. Her Emilio Pucci dress was a gorgeous combination of colors for her skin tone – royal blue and shocking white – and the fit was perfection even though it had an intricate cut-out top. Additionally, her accessories and make-up were spot on.
Worst Dressed:  Rihanna – hands down. I was really excited to see what she would wear because her fashion choices are always bold and exciting. But then she showed up wrapped in white tinsel… The dress was allegedly by Jean Paul Gaultier, but I am pretty sure there is a picture of my sister and I decorating the Christmas tree from when I was 6, where I am dressed in the same attire. Only I looked better because I was wearing clothes underneath it. Yikes.
On the Fence: I really wanted to like Florence Welch of Florence + the Machine's Givenchy dress, but the fit was atrocious. The dress was incredibly unique and the pale nude tones complimented her pale skin and red hair perfectly, but the bust was too big and – as a result – the look was incredibly unflattering. I give her ( and her stylist) an A+ for effort, but an F for execution. All that it needed was a trip to the tailor! And I bet Givenchy would have been happy to do it for free since it would have made their dress look a million times better…
Rookie of the Year: Selena Gomez looked beautiful! The J. Mendel dress was simple; yet elegant, the metallic silver-ish, gold color was perfect for an awards show, the cut was sexy, but not vulgar (perfect for her age) and the accessories were right on. Well done! If she dresses like that every time she walks a red carpet, then she has a bright future ahead of her!
Ashley
Best Dressed: Katy Perry's grandmother in Armani Privée. Age-appropriate and bedazzled? Nailed it!  If pressed, Heidi Klum in Julien McDonald could be considered a runner-up (the gold, '70s draping was incredible on her), but this supermodel has nothing on 90-year-old fabulous.
Worst Dressed: Miley Cyrus in Roberto Cavalli. Not only is this dress too old for her, but it didn't fit her properly, which was evident when viewing her top region from the side. The hair is also completely inappropriate, but at least it covered up the potential wardrobe malfunction in the chest area.
On the Fence: Nicole Kidman in Jean Paul Gaultier. If she had worn this to any of the other award shows that she attended this year, it would have looked fantastic. But it's a little too Hollywood glamorous, which doesn't necessarily work at the Grammys. However, her hair made me want to be a better person.
Rookie of the Year: I have the biggest girl crush on Selena Gomez, so I was over the moon that she showed up looking amazing. Everything about this look is perfect, and I thought I couldn't love her any more.
Leslie
Best Dressed: Justin Beiber, DIBS! Sorry ladies I'm the youngest one out of the bunch he's all mine.  I wasn't impressed with anyone at the Grammys, once I saw Justin Beiber he reminded me Justin Timberlake, looks aside, fashion wise. I loved the white Dolce and Gabbana suit with a black bow tie and handkerchief and fresh pair of white sneakers. I thought it was trendy, chic, and a right choice for the youngster. Now only if he would marry me in a few years…sigh.
Worst Dressed: Paramore's Hayley Williams in a Jeremy Scott black sheer pink tutu ensemble, Epic fail. Her fire engine red hair doesn't help either. It was sheer on her belly which made it look trashy and I could see her ugly tattoo through the opaque tights.
On the Fence: Florence Welch in Givenchy Haute Couture swan gown. She brought back Bjork infamous dress back from the dead on a lighter note it looked a lot better on Florence than Bjork. I thought it was pretty but it through me off a little. I wasn't sure if the swan print is really needed maybe if it was a white print be rather than a swan maybe it would appeal to me better. Again, on the fence.
Rookie Winner: Selena Gomez in a gold metallic J. Mendel Dress. It fit her to a T, I thought she looked fantastic I've always been 50-50 with her and the choices she makes at shows but she wowed me, and I think it's also age appropriate.
Kim
Best Dressed: Julianne Hough in Maladrino — the textures were so complimentary (the print, the cut, the ruffles, the colors) and she looked absolutely radiant.  I also really liked Nicole Kidman in Jean Paul Gaul Gaultier — she was widely panned for this ensemble, but I think the colors were incredible on her and it was a really nice change to see her this year in something soft rather than severe.  I was also taken aback by Margaret Cho — the cut was actually flattering, and the color allowed her tattoos to be her accessories, and she ended up looking classy rather than trashy.
Worst Dressed:  Aleesia — you know it's bad when the Jersey Shore stars are better dressed than you.  Lea Michele also fumbled in Emilio Pucci — so fierce, and I don't mean that in a Tyra Banks kind of way.  Runners-Up include Bonnie McKee, Hayley Williams, Willow Smith, and Ricky Martin. Red Carpet Cringes!
On the Fence:  Jenna Ushkowitz in Pamela Dennis.  This could have gone so very wrong, and I can't decide if this is one of those times or if it actually works.  Esperanza Spalding also took a huge risk with an outfit that had waaaaaaay too much going on… but it definitely grew on me!  Same for Eva Longoria in Ashi — a lotta ruffle, a lotta leg.  But in the end… not too shabby??
Rookie of the Year:  I don't even know who this Paz lady is (I had to look her up) but I haven't seen her in any standout red carpet galleries before this.  I thought perhaps the color was a bit too washout for all that white going on below (i.e. her legs), but I love love love this dress, and those shoes!  Such a nice contrast against her long locks, too.  I give you a B for "Breakout Attire."
Check back with us as we go crazy for Oscar fashion! We'll be bringing you our style predictions, so stay tuned!
I happen to have been in the room recently when the Nickelodeon show "iCarly" was on, and what I saw made me do a double-take. Yes, iCarly was walking around her middle school hallways wearing Rock & Republic jeans. Before I go into the logic of how a 14-year-old could possibly have had a spare couple hundred bucks lying around to buy them, it hits me that I was never that fashionable at that age. Then it hits me even harder: I'm not that fashionable now. While it's tempting to start a turf war with these under-agers for showing up my style, I figured that maybe I can learn something from these teen stars.
I'm not afraid to admit that I'm in my twenties and I now have a minor obsession with what certain teens are wearing. While some trends cannot be universally applied – think blond wigs with bangs and multi-colored knee socks – some of these teen stars can provide great inspiration. Here are some things we can learn from our younger fashionistas:
Brights
The one thing you'll probably never see a teen star wearing is an all-black ensemble (unless this child star has been cast as a lonely outsider and the network needs to make a statement). On the red carpet or on-screen, these teen superstars go for bright colors, whether it's a mini-dress or a casual ensemble with jeans. It's no secret that the younger you are, the more closely your wardrobe relates to a box of crayons. But this new generation has taken brights from primary colors-only to an eclectic mix of prints and textures. Their way of approaching clothing like a true reflection of their lifestyle creates a style that exudes energy and makes fashion more than just a singular look. Take a page from their book and go for a bright yellow minidress for your next party, or try to see if you can go a whole week without wearing a black top. Even in the wintertime, these young stylistas can piece together colorful, yet weather appropriate, outfits. Go for bright colors in unexpected places, whether it's a pair of boots or a belt, it makes it look like you are excited about what you're wearing.
In addition to pops of bright colors, these girls also embrace their youth with fun, feminine clothes. If you've ever looked at a dress and said that you loved it but you were afraid it was "too much," look to the teen generation for inspiration. Every eveningwear piece is a party dress to them, and it makes them stand out. And when was the last time you were unhappy that people noticed you looked great?
Casual Style
I'm the first person to advocate the sweatpants movement, but I figured after iCarly went prancing around her 8th grade halls in premium denim, I couldn't exactly justify my 24/7 yoga pants style. Infusing your wardrobe with
brightly-colored clothing items is a great start to turning your casual style from boring to youthful. To take it a step further, look to the characters these young ladies play. Alex Russo (Wizards of Waverly Place) wears motorcycle boots on a daily basis, yet her girly and fresh makeup paired with her bright ensembles make her more individualist-chic without making her look like a biker hobo. Miley Stewart (Hannah Montana) prances around in converses with colored denim and simple tanks, never looking over-the-top like her famous counterpart. They use fun accessories, always switching it up from the usual subtle pendants, and they aren't afraid to experiment with studs or big belts. These girls create a style that looks like they had fun getting dressed, definitely a lesson the working crowd can learn from. And if you ever need a tutorial on how to mix prints, I still think teen tv characters make this trend more workable than the runways ever did.
Hair Risks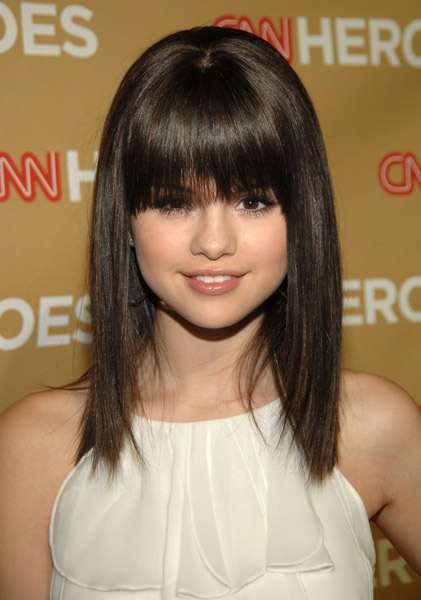 I don't know if younger people's hair grows at an alarmingly faster rate than adults' hair does, but these kids are constantly experimenting with their hair. Maybe because they can't rebel in other ways, they take it out on their hair stylists, but either way, the adult fashionista population can take something away from this carefree nature. Selena Gomez (right) goes from long to bob to bangs all in one season of Wizards of Waverly Place, and even her sidekick on the show is kicking her hairstyle up a notch. It's easy to get into a permanent routine with your hair, but changing it up is a great way to spice up your entire wardrobe without buying a single item of clothing. Don't be afraid to look to these young ladies for inspiration (of course, you're also taking advice from someone who walked into a piercing parlor with a picture of Ashlee Simpson, but it did all work out for me). Go for blunt bangs or a youthful, shoulder-length bob with fresh, bright highlights, and remember that if it doesn't work out, you can always change it. No one is ever too old to try out something new, you never know, it could be the best hairstyle you've ever had. There's a hair risk that everyone wants to take, take a cue from these younger ladies and go for it!
Until I really looked, I never knew how many times I would say, "I want that" during a teen show and not be referring to the junk food they were eating. They have a certain carefree nature with their style where they have fun with fashion without trying to accomplish a goal. When did fashion get to be so serious? You can only wear so many blazers before you start to feel like a corporate lawyer.
~Ashley, fashioniSTA, Second Time Around