Posts tagged
Cate Blanchett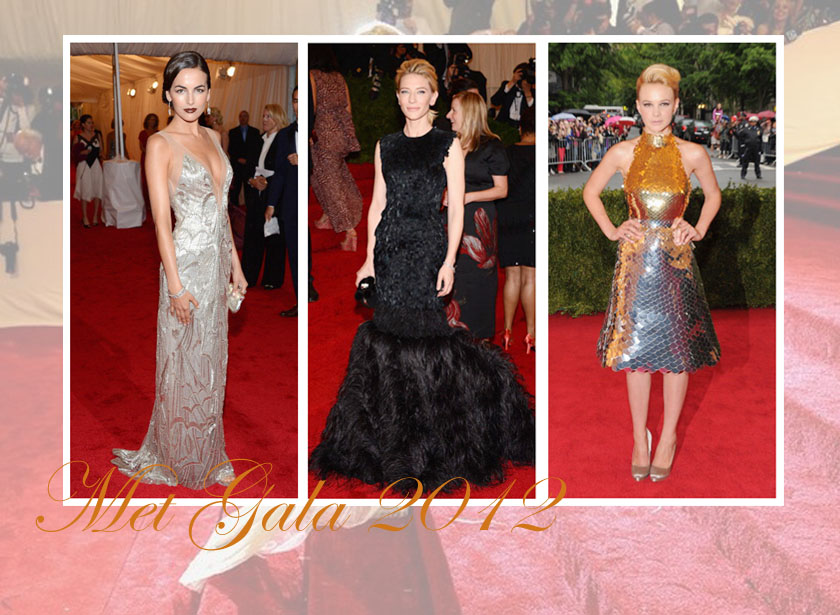 The Met Gala is arguably the most high-fashion red carpet event of the year, where the style risks are lauded and the boring are never invited again (if only). This is a great night for the avant garde to sneak in with the red carpet glamour, giving us great pieces that are sure to inspire (or give us a sneak peek at) upcoming runway collections. Here are the top four trends of the night, and who wore them best!
1. Dripping in Metal
Gold has continued to earn its weight worth, at least in the style arena, and it was definitely a key power player last night. Between Anna Wintour's gold detailed Prada, Karolina Kurkova in a full-on Arabian-inspired Rachel Zoe ensemble, and Jessica Pare's square neckline/cap sleeve dark golden L'Wren Scott gown, there was enough sparkle to go around. Not only was all of this glitz great to watch on the red carpet, but it inspires the rest of us to break out the bold metallics when we have our less-formal (but still fabulous) events to attend.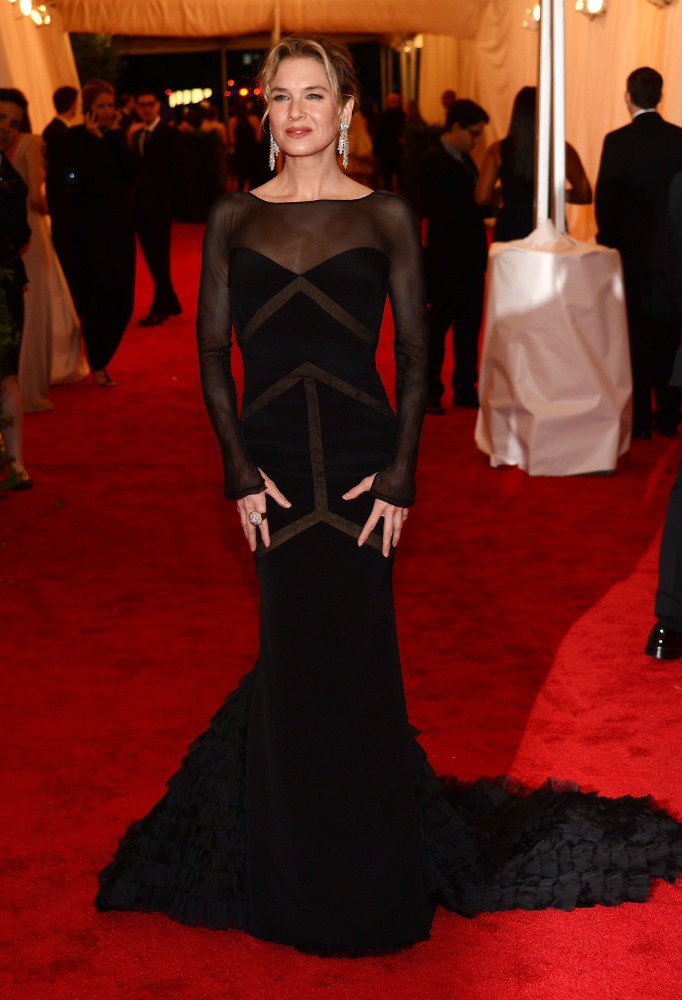 Who wore it best? We're torn between Lana del Rey's flawless sweetheart Altuzarra and Camilla Belle's plunging Ralph Lauren. Both style stars donned the dark gothic makeup to accentuate their dresses' lighter metallic shades, but Camilla Belle's flawless accents with her hair/makeup/earrings put her in the lead.
2. Embellished Mermaids
Instead of body-hugging silhouettes or outrageous ball gowns, the biggest shape contender last night was hands-down the mermaid silhouette. And since we're pretty sure that these ladies weren't trying to hide oversized calves, we can only speculate that the mermaid trend is stationed to take to new heights in the near future. From the tame - like Julianne Hough, to the outrageous - Beyonce in a lace and feather concoction - these ladies added appliques, feathers, tulle and pretty much every other material on the planet to create dramatic volume below the knees.
Who wore it best? While it seems a demure choice, Reneé Zellweger gave us all a shock when she decided against wearing her signature Carolina Herrera. However, dressed in Pucci (left), she rocked the long sleeves, sheer details, and an embellished mermaid train without looking like a trend wreck.
3. Feather Intensity
A flock of feathers covered the red carpet last night. This trend popped up everywhere from Donna Karan's clutch to Kate Bosworth's backless full-on feather Prada dress. Amy Poehler looked shockingly chic in a Fontini black peplum gown with a mermaid train of black feathers, and Diane Kruger's purple Prada gown swept the carpet with the trim and train drenched in feathers. The red carpet had it's grand finale when Beyonce arrived in a jaw-dropping Givenchy Haute Couture embroidered gown with a purple ombré train of feathers, proving to us that she properly holds the title of World's Most Beautiful Woman. I guess stylish birds of a feather really do flock together.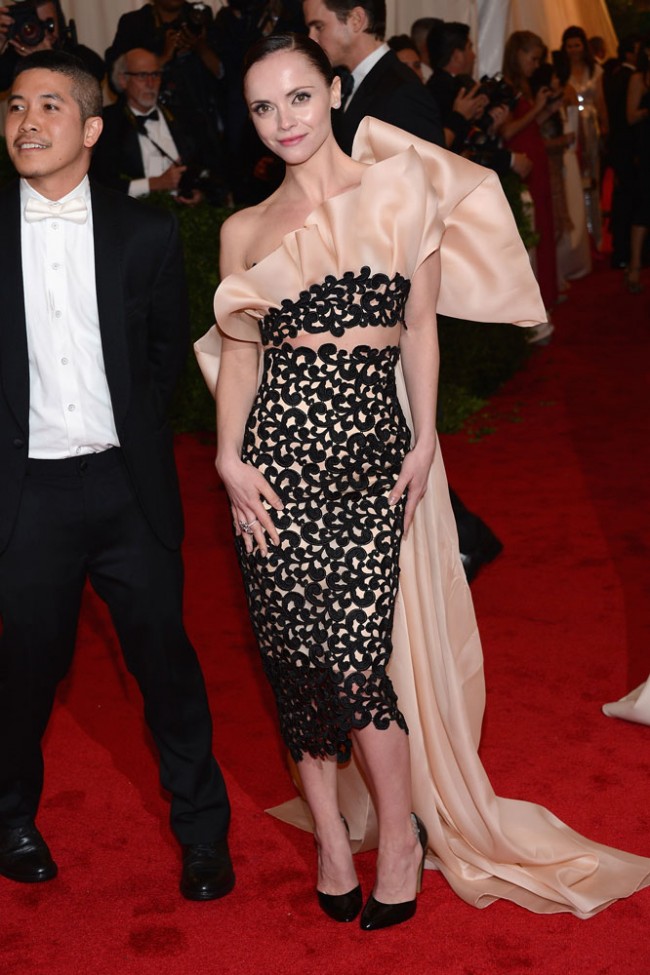 Who wore it best? We have to go with Cate Blanchett in Alexander McQueen. Don't let the black dissuade you from far away, the actress brought the glamour by marrying intricate feather detailing from the bodice to the train with impeccable fit.
4. Sculpturesque
One of the biggest trends on the Fall 2012 runways was the architectural shapes and details, and it carried over onto the red carpet last night. While January Jones stepped out in a Versace hip-action number that we feel like we've seen her in a million times, stars like Elizabeth Banks (in a somewhat bizarre Mary Katrantzou dress) and Jessica Stam (in a pale blue, ornate Christian Dior Couture design) brought over-exaggerated sculpted details to the event.
Who wore it best? Ok, don't judge us, but for some reason Thakoon-dressed Christina Ricci's oversized bow and architectural neckline really spoke to us (right). Maybe it was the risk or maybe we're having a Casper flashback. Don't ask, we really can't explain it.
Do you think someone else wore it better? Tell us in the comments, post on our Facebook wall or Tweet us!
~Ashley and Lisa, FashioniSTAs
The biggest awards show is without a doubt the Oscars, and this ceremony brought out some of the best outfits of the year!  In comparison to last year's gala, we noticed a lot more poise and polish.  Last year was a mixed bag of prints and ruffles and experimental fashion, and this year was a definite return to the glitz and glamour that is expected at such a show. We break it down from the gowns to the jewels, FashioniSTA style!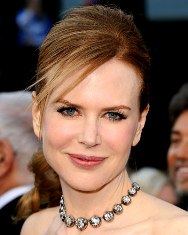 Big Time Jewels
We know that the first thing that catches your eye is the dress, but this year's show brought out such a wide variety of shiny accessories, that we just can't ignore them. Hailee Steinfeld's Fred Leighton's diamond headband was an adorable addition to her youthful, ballerina-esque ensemble. Céline Dion's Bulgari pendant was stunning, and an exquisite addition to her streamlined gown. These jewels saved some of the outfit disasters that hit the red carpet, such as Nicole Kidman's gorgeous Fred Leighton necklace (right) that offset her poor Dior gown choice.
But some jewelry choices were just plain distracting. Amy Adams in Cartier should fire her stylist, that necklace is not meant for that neckline, and the cuff is jewel overkill.  And wait until we get to Reese Witherspoon, her emerald earrings are just the tip of the iceberg.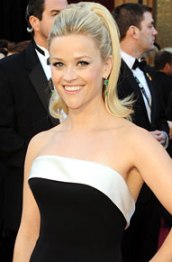 Mismatched Hair Choices
One bizarre trend this season was horribly underdone hairstyles paired with fabulous dresses.  Sharon Stone looked great in John Galliano for Christian Dior, but what was going on on top of her head? She had a serious bubble with out of control wisps.  Amy Adams tried hard to channel Veronica Lake, but she was in some serious need of conditioner and the choice was all wrong for that L'Wren Scott dress of hers.  And poor Sandra Bullock just can't seem to get a break at the salon – her Vera Wang dress was out of sight, but it looked like someone just grabbed chunks of her hair and pinned them at random.  I feel like this is how my hair looks when I'm at the spa.  But for Reese Witherspoon (right), she had the exact opposite problem – wonderful ponytail fall, but paired with the earrings and the outdated dress, it was too much.  If she lost the earrings and paired the hair with a different dress, like Hailee Steinfeld's Marchesa, for example, and Witherspoon would have been too adorable for words.
The FashioniSTA Picks
Best Dressed: Cate Blanchett (right) in Givenchy Couture was breathtaking. It was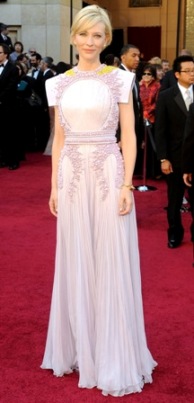 everything that a red-carpet gown should be - unique and on the cutting edge of fashion yet wearable so that the actress was still the focus. Her earrings were small so as not to distract from the beautiful beading on her shoulders and chest and her hair was soft and simple - a perfect match. I loved everything about this dress - the color, the beading, the cut-out, the draping - but what really made it a show-stopper was the way in which Cate wore it. She can handle an edgy dress with ease - an Oscar-worthy red carpet moment indeed!
Worst Dressed: Thank God Melissa Leo won the Oscar for best Actress in a Supporting Role so that there was something to focus on other than that atrocious Marc Bouwer dress. The heavy-handed lace, the gold foil lining, the high collar, the structured shoulder, the spider-beetle necklace (what in the world??!!)…there was WAY too much going on and none of it was flattering. I loved her in the Fighter, but I hated her in that dress.
On the Fence: Gwyneth Paltrow looked absolutely stunning in the metallic column dress by Calvin Klein Collection. It fit her to a T, her hair matched it perfectly and the way it moved…incredible. However, I was totally put off by the jeweled brooch at her hip and matching earrings. The brooch at her hip totally distracted from the clean, statuesque lines of the dress and I thought that the multi-colored stones on the jewelry were too much. Her stylist could have definitely introduced an additional color to the ensemble, but just one color would have been best. I am thinking big emeralds…
Rookie of the Year: Hailey Steinfeld's tea-length Marchesa dress was the perfect choice for this young star. It was appropriate for the occasion and most importantly, it was appropriate for her age. She looked like a princess and I am sure that she felt like one too. The makeup was clean and simple - subtle liner and mascara and a pink lip - and the silver headband and ballerina bun kept it youthful and fun. I hope that she had a fabulous time!
Biggest Comeback:  Sharon Stone has ended up on Worst-Dressed Lists more often than Best-Dressed Lists of late. However, she redeemed herself last night. The form-fitting black dress with feather embellishments was both classic and of-the-moment all at the same time. But, the feathers and the asymmetrical neckline placed Stone directly in line with the current trends. Her clutch was simple and added some additional texture and her hair was in a classic French twist, but with some added height for drama. I may have preferred if her makeup artist didn't have such a heavy hand with the eyeliner (it makes her look a little crazy and, let's be honest, Sharon Stone doesn't need any help looking crazy…), but other than that, it was a red-carpet A+!!
Best Dressed: Anne Hathaway in Valentino Couture, before the flash photography got a hold of her. It was the epitome of timeless elegance when I saw it on the red carpet coverage, and it makes me very sad that the photographs ruin it. Cate Blanchett's allusion to my fave holiday - Easter - was also a breath of fresh air. Fashion-foward that works.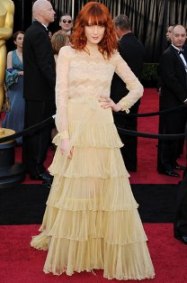 Worst Dressed: Florence Welch (right). Looking like what I'd imagine the wife in the attic in Jane Eyre, I'm borderline shocked that Valentino would let this loose on the red carpet. But then again, they also designed that daisy disaster that Michelle Williams wore to the Golden Globes.
On the Fence: Mandy Moore in Monique Lhuillier. I loved the gold sparkles with the illusion detail, but something about this felt wrong. Between the color of the dress, her skin tone, her makeup, and her hair, she just looked washed out, and a little old.
Biggest Comeback: Celine Dion in Armani Privé. Although she's never been a worst-dressed offender, I can't recall the last time I saw her on a red carpet. She made her big comeback in the best way possible, by wearing a killer dress (she had twins recently?!) and paying homage to her last Oscar appearance with her "Heart of the Ocean"-esque pendant.
Rookie of the Year: My girl crush on Selena Gomez grows every time I see her on the red carpet. Although she wasn't part of the Oscars until the Vanity Fair after party, she looked AMAZING in a red Dolce and Gabbana gown. Her hair, makeup and accessories were the perfect complements to the dress, her overall look was just stunning.
Best Dressed: Halle Berry (right) in Marchesa. She looked radiant in a nude strapless crystal corset gown. It had has silk tulle ruffles that made it look like she was floating on a cloud. Halle Berry never disappoints me and this dress proves it.
Worst Dressed: Scarlett Johansson in Dolce and Gabbana. The purple doily looking ensemble was terrible, I personally think she's beautiful all the time but that gown did nothing for her and her figure.
On the Fence: Amy Adams in L'Wren Scott. The royal blue sequin gown was to dieeeeeeee for but the accessories through me for a loop. Granted they were Cartier but the emerald green necklace and bracelet on blue??? No idea what she was thinking but none the less she was wearing a spectacular dress.
Rookie of the Year: Hailee Steinfeld in Marchesa. Truly a pretty little ballerina moment. I thought it worked really well for being that she's fourteen, it was modest and a great approach to the Oscars. I'm sure we'll see more of her in the future.
Best Dressed: Matthew McConaughey's better half Camila Alves (right) in Kaufman Franco… I know, I know, not exactly who you would expect, but that dress was JUST TOO GOOD.  The Oscars are all about polish, and that Camila was the essence of sleek.  Same could be said for Jennifer Hudson in Atelier Versace.  Execution?  FLAWLESS.
Worst Dressed:  My biggest "ugh" of the night went to Mark Ruffalo's wife, Sunrise Coigney in Jean Paul Gaultier.  What…was…that?!  Oh, and Reese Witherspoon?  I think I saw your dress when I was perusing the Cosmo Prom Issue back in 1996…only then it was made by Zum Zum and not Armani Privé.
On the Fence: Cate Blanchett in Givenchy…in the end, I liked it, but it just seemed a little too "walking art" for me.  Jennifer Lawrence donned a Calvin Klein sheath, and she looked jaw-dropping sexy.  But for the Oscars?  It felt a little too casual.
Biggest Comeback: Sandra Bullock in Vera Wang.  That dress was so gorgeous on her, and if you recall the walking nightmare that was her Golden Globes outift, I think we can all agree that Bullock is back on track.
Rookie of the Year: Hailee Steinfeld — at 14 years old, she drew that design, brought it to Marchesa, and they made it for her.  Rookie?  Welcome to the Big Leagues!
Stay tuned for bigger and better things from the FashioniSTAs!!