Posts tagged
prints
Gearing up for warming weather is fun, but it can also be expensive. Here are four must-haves for this springtime season that will help you look like a trendsetter on the cheap.
1. Stackable bracelets
This is a great trend that anyone at any age can try. If you like to mix and match your jewelry, go all out with different colored bangles in all different sizes and shapes, no combination is wrong! Should you want to coordinate your look a little more, go with a similar color palette – like black and gold – and just mix and match different textures, such as a black leather bracelet paired with a few solid gold bangles.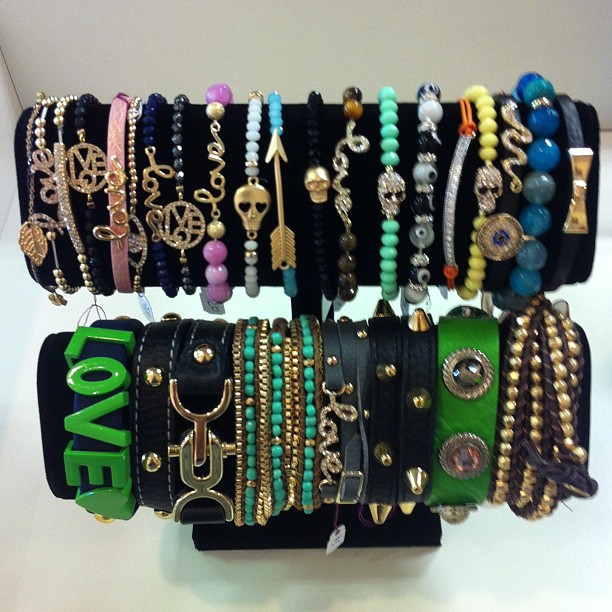 Shown here: Various bracelets at Second Time Around in Haddonfield, NJ (starting at $18, call 856-354-9400 to order)
2. Printed Pants
Think you need to work at a fashion magazine to pull off this look? Think again! With the right kind of print, this springtime look can be worn during a family weekend event or to the office (if you work in a more casual workplace, of course). For a weekend look, go with a lightweight sweater in a solid color – white works best for the fashionably conservative, while cobalt blue works great for style extroverts. To transform this piece for the office, pair it with a neutral top and matching neutral-colored blazer and keep accessories minimal.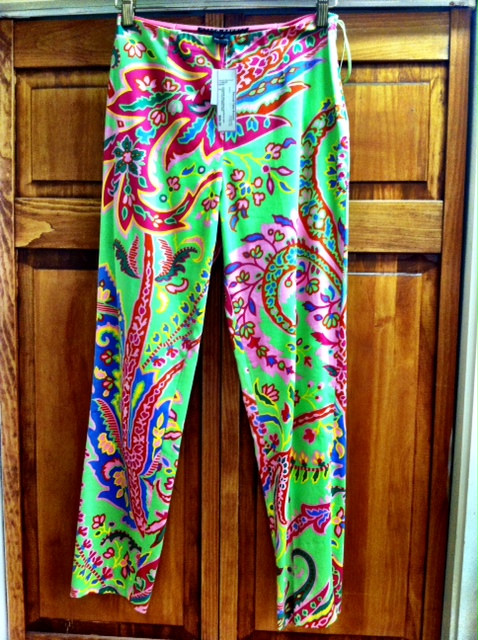 Shown here: Ralph Lauren pants at Second Time Around in Boston, MA ($49, call 617-247-3504 to order)
3. Chambray Top
The new closet essential is hands-down the chambray button-down. Perfect with white jeans or a printed skirt, chambray has become the new neutral, replacing plain, white button-downs. Break it out at work under a blazer or with a skirt, then dress it down for the weekend with linen shorts for those extra warm days.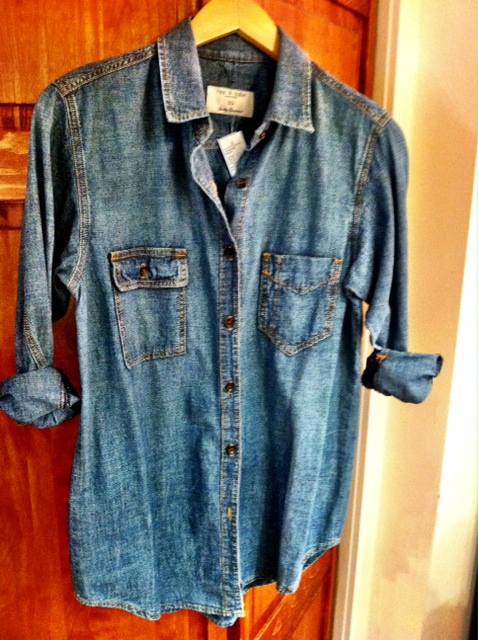 Shown here: Rag & Bone top at Second Time Around in Boston, MA
4. Bright Floral Accessories
Springtime is the chance to break out the flower power, and there's no better way to do so than in bright, bold colors. While matching your shoes to your handbag is an outdated fashion rule, if you match with a fun print, your outfit will look modern and fresh. Since these accessories are in such a feminine print, you can balance your ensemble by wearing them with pants and a button-down, like the chambray top in #3. Pair these printed accessories with a solid-colored outfit to avoid being overly busy, and you'll be the envy of your next workday or weekend get-together!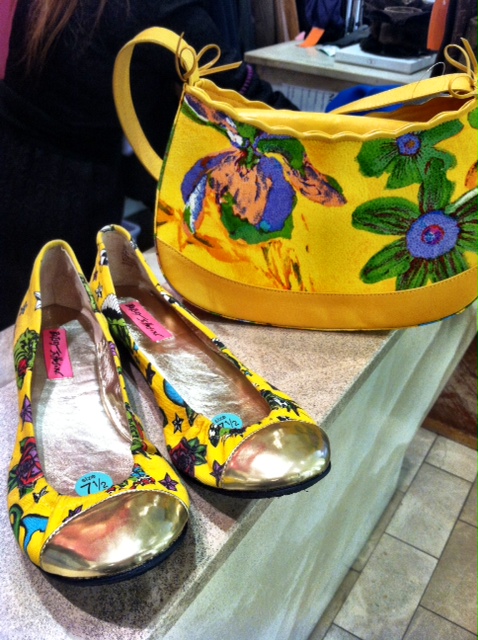 Shown here: Betsey Johnson flats and Stuart Weitzman handbag at Second Time Around in Boston, MA ($32 for the size 7.5 flats, $79 for the handbag, call 617-247-3504 to order)
~Ashley, FashioniSTA
I sort of already addressed this topic in the blog entitled "Prints Charming" because breaking this fashion rule is a big trend this season.  But, let's touch upon it again, just to drive the point home.
Fashion Rule #4: An outfit should have only one pattern. The rest of the pieces should be solid colors or neutrals.
In addition to the louder juxtaposition of bold patterns like those discussed in the "Prints Charming" blog, one can also use a subtler combination of patterns to create a pleasing and interesting ensemble.
For example, in an office setting, either a man or a woman can easily mix a pinstripe suit with a striped or patterned shirt or a classic argyle sweater or vest with a striped or patterned shirt. Simply make sure that the two elements of the outfit have a color or colors in common in order to maintain cohesion.
Accessories and outerwear can also be a great way to add and mix patterns. If you aren't comfortable mixing patterns all day long, the addition of a patterned bag or coat to an otherwise pattern-mixing-free ensemble can be a pleasantly unexpected addition to your outfit during both your commute and your lunch hour.
I hope that you have enjoyed breaking fashion rules with us! Resisting authority is always fun, and this time it even earned you some more fashion options! And who doesn't love that?? Lord knows that I certainly do!
~Marisa, Director of Styling, Second Time Around
Incorporating two or more prints in one outfit is an important trend for Spring 2010. However, many will shy away from the look because they are not sure how to pull it off without looking like they got dressed in the dark.
Want to try it out, but need a little guidance? Follow the tips below and soon you will be decked out in designs.
1. Pair prints of similar sensibilities.
Combine a romantic, miniature floral print with a petite polka-dot or a wide stripe with a bold, geometric print. Finish off the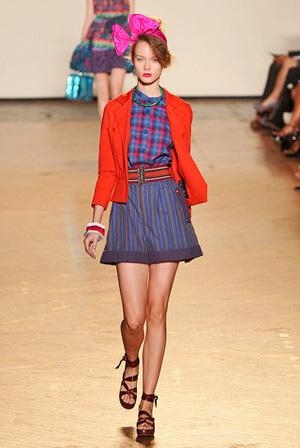 look with complementary accessories. I promise that you will feel pulled together instead of pulled apart.
2. Stay within the same color family.
If all of your prints are different hues of the same color, the outfit remains cohesive. This is the easiest to pull off if the color of choice is a neutral, but I have seen some very successful – and very colorful – outfits as well.
3. Try the same print twice, but in different colors.
Found a print you love? Buy two different garments – perhaps a tank and a skirt - in two different colors – and wear them together. The colors should be of equivalent tone – hot pink and cobalt blue combine well as do moss green and lavender. Or, you should select one garment in a color and one garment in a neutral.
4. Select subdued hues for evening.
Want to take this look from day to night? Combine it with another important Spring 2010 trend – muted hues. Patterns in nudes, pale pinks, soft neutrals and icy blues look subtly sophisticated and serve as better back-drops for night-time bling than their brighter, louder day-time counterparts.
Hopefully this blog has you feeling a little more confident about taking the prints plunge…
Happy shopping!
~Marisa, Director of Styling, Second Time Around