Posts tagged
princess
Whoever said you can't wear white after Labor Day must be pretty embarrassed.  Winter white has plowed its way back into style with a vengeance.  Thank goodness.. anyone else get a little teary-eyed putting away your white jeans?  We are loving this trend, because the color itself IS the trend.  Forget pieces, cuts, or looks that are trendy, but don't flatter your look.  You can still wear all your favorite looks, just try it in white!  Poof!  You're wearing the latest trend.  Now while white is known for symbolizing innocence and purity, it doesn't have to be worn that way.  There are endless ways to wear white to fit your style personality.  Here are a few of our favorites!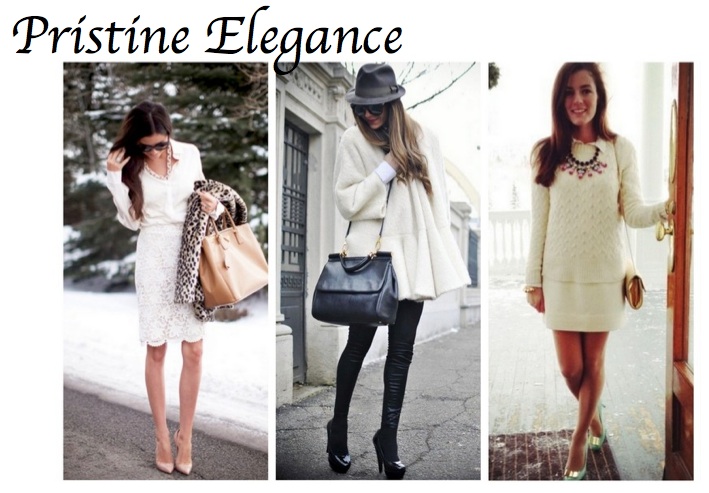 Okay, so maybe sometimes white has a dreamlike fairytale feel.  And if your style reflects the princess in you, winter white is your prince charming.  The color is clean, crisp, and exudes a feel of class and grace.  We especially love pairing white with other neutrals like cream or nude to emphasize this innocent style.  Looking for a great versatile piece?  A white peacoat is a great go-to to make any outfit sweet and refined.  We also love the timeless simplicity of white lace for its undeniable femininity, or a white sweater for a polished, sophisticated style.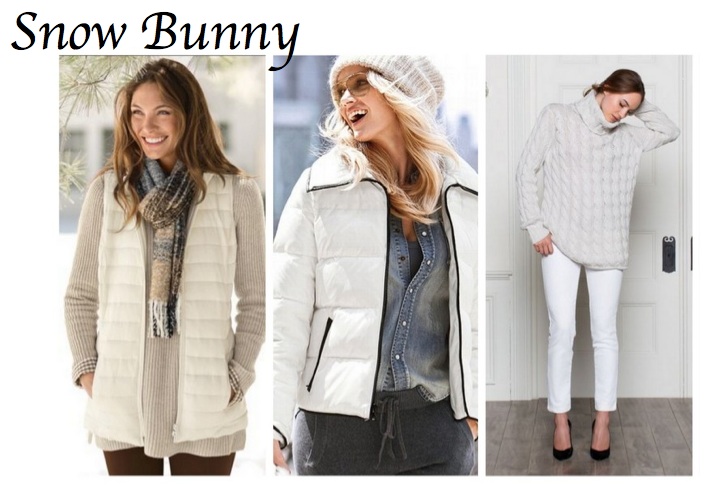 Sometimes you just can't resist building a snowman, catching snowflakes on your tongue or taking a walk in the falling snow.  But to have all the fun in the cold, bundling doesn't always leave us feeling feminine.  To feel cute in the winter wonderland, white pieces are a great option.  A white down coat with a fur-trimmed hood a perfect way to get that cozy style.  Disclaimer: we are not suggesting you should dress like a bunny.  However, a great way to get the girl-next-door snow bunny look is to add a little fur. Even adding a fur scarf or fur-lined gloves with your white puffer coat adds a cozy lovable quality to your outerwear.  And don't forget your fuzzy white earmuffs!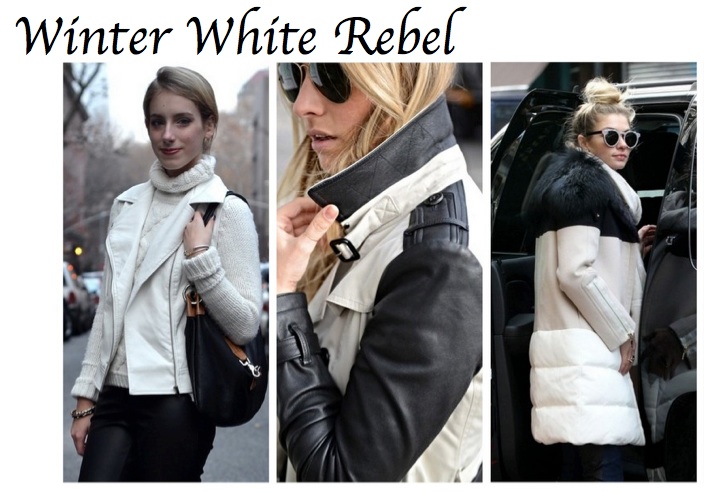 Don't worry.  Elegant princess and cute snow bunny aren't the only options white has to offer.  If you prefer an edgier look, white certainly challenges the status quo.  White leather is crisp and sharp, and we love the contrast it gives to classic winter pieces.  Paring an edgy white leather jacket with a soft sweater is the epitome of opposites attract.  Or even pair your favorite white sweaters with black leather pants for a unique stylish twist on this cozy winter top.  Even easier?  Pair your craziest shoes with your everyday skinnies and a simple white top, and you've got a great winter white outfit to suit distinctly you.
All pictures from pinterest.com
Whether she's donning a wedding dress or remixing one of her previously worn outfits, we can't get enough of Kate Middleton. Over the past year, we've seen her go from casual (in the South Pacific), to glam (in a custom-redesigned Matthew Williamson), to modern (hello, bangs!). We personally can't wait to see how this soon-to-be mom ups the ante of maternity wear, but until that happens we'll be celebrating her birthday in style (with our own fascinators, of course). Happy royal birthday!
~Ashley, FashioniSTA
(images via Grazia, thebump.com, International Business Times, and trendmix.com)
Overnight Kate Middleton has become a style icon, and with her classic and timeless fashion sense, it's easy to see why. Her use of preppy textiles and clean lines create flattering and effortless silhouettes, which make her look flawless, whether she's at a royal event or running errands. But what makes this future princess such a great example of what-to-wear is how she has fused everyday style with natural royal flair. Whether you're looking to snag a prince or just look like a princess, take a cue from Kate and her to-be royal style.
Daytime Duties Chic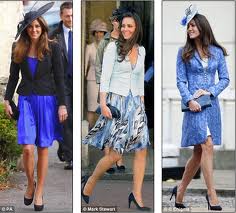 Being a future princess is hard work, what with all the hand-shaking and royal daytime appearances. For Kate's royal duties and mingling with the lay people, her look is always pristinely streamlined, often consisting of tailored knee-length dresses with matching jackets. Of course being the princess-in-training that she is, she's usually donning her signature headpiece as almost a daytime, demure tiara.
First order of business: invest in a pair of Christian Louboutin black pumps. After that, you're halfway there. To live up to Kate's style example, streamline your daytime look with a shift dress paired with a matching, tailored coat. Should a dress-coat identical match prove difficult to find, go with Kate's ever-present off-white coat option over a neutral dress, like this look from our Burlington Mall store (left).
For a more formal daytime event – such as a garden party or non-royal wedding – just shorten the jacket and darken the colors of your outfit. Kate has been seen utilizing the ever-classy blazer and bold A-line dress combo, simply follow her lead and pick a bold jersey or cotton A-line dress and pair it with a neutral blazer, keeping the accessories neutral and minimal. If you're not a dress person, go with a printed A-line skirt with a black blazer (like this example from Harvard Square, right).
Feeling extra bold? Top off your look (literally) with Kate's signature headpiece: an embellished hat. Your pick should be something along the lines of Blair Waldorf meets high tea, whether it's a hat or a toned-down headband with netting and/or feathers. Check out Newton's Miu Miu embellished headband for a touch of nighttime sparkle during the day.
Royally Casual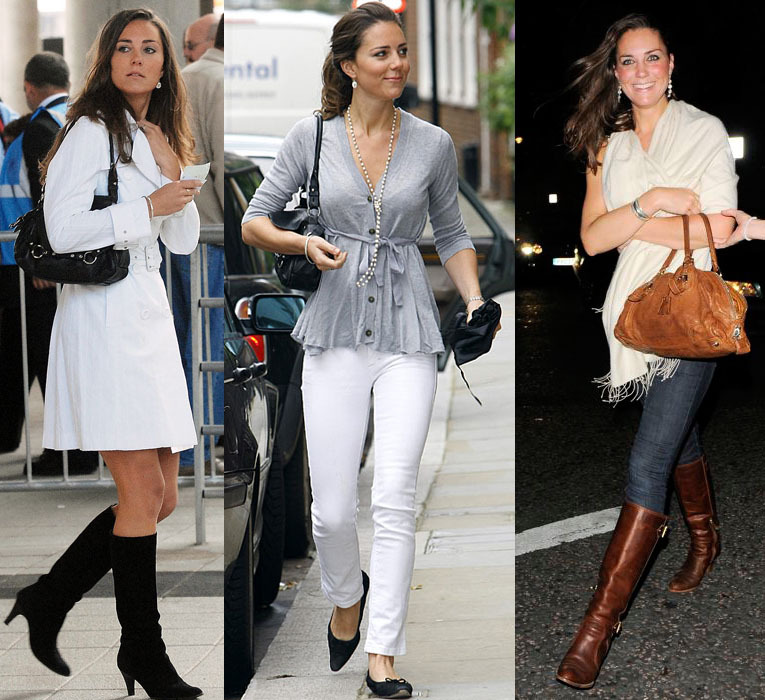 On her off-time, Kate often looks like the poster girl for casual cool in equestrian-inspired ensembles, nautical prints, and classic neutrals. She's often in timeless pieces, such as striped sweaters, tailored pants, the occasional printed dress, and the distinctly British herringbone blazers. Her weekend look is essentially casual chic, mixing femininity with preppy classics, wearing boots or simple black flats.
For hanging out with the royal court or grabbing lunch with your equally-fabulous girlfriends, channel Kate's casual-wear through neutral jersey tops, skinny jeans, flat boots, delicate gold accessories, and of course blazers. Combine these for an equestrian ensemble, or go with a striped sweater to follow Kate's nautical style. For a truly feminine look, go with a pair of white jeans with a neutral jersey top and a pair of flats, like this look at right from our Burlington Mall store. An elegant oversized string of pearls is the perfect accent to this feminine ensemble. Remember, when it comes to color palettes, save the bolds and brights for nightlife and princess appearances, for a truly casual Kate look make your daytime a neutral zone.
The Prince is Giving a Ball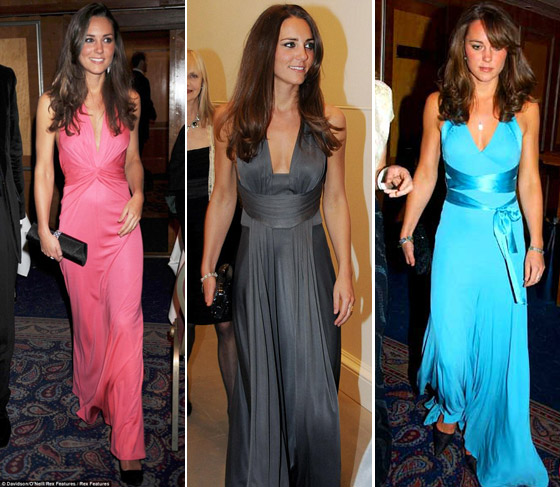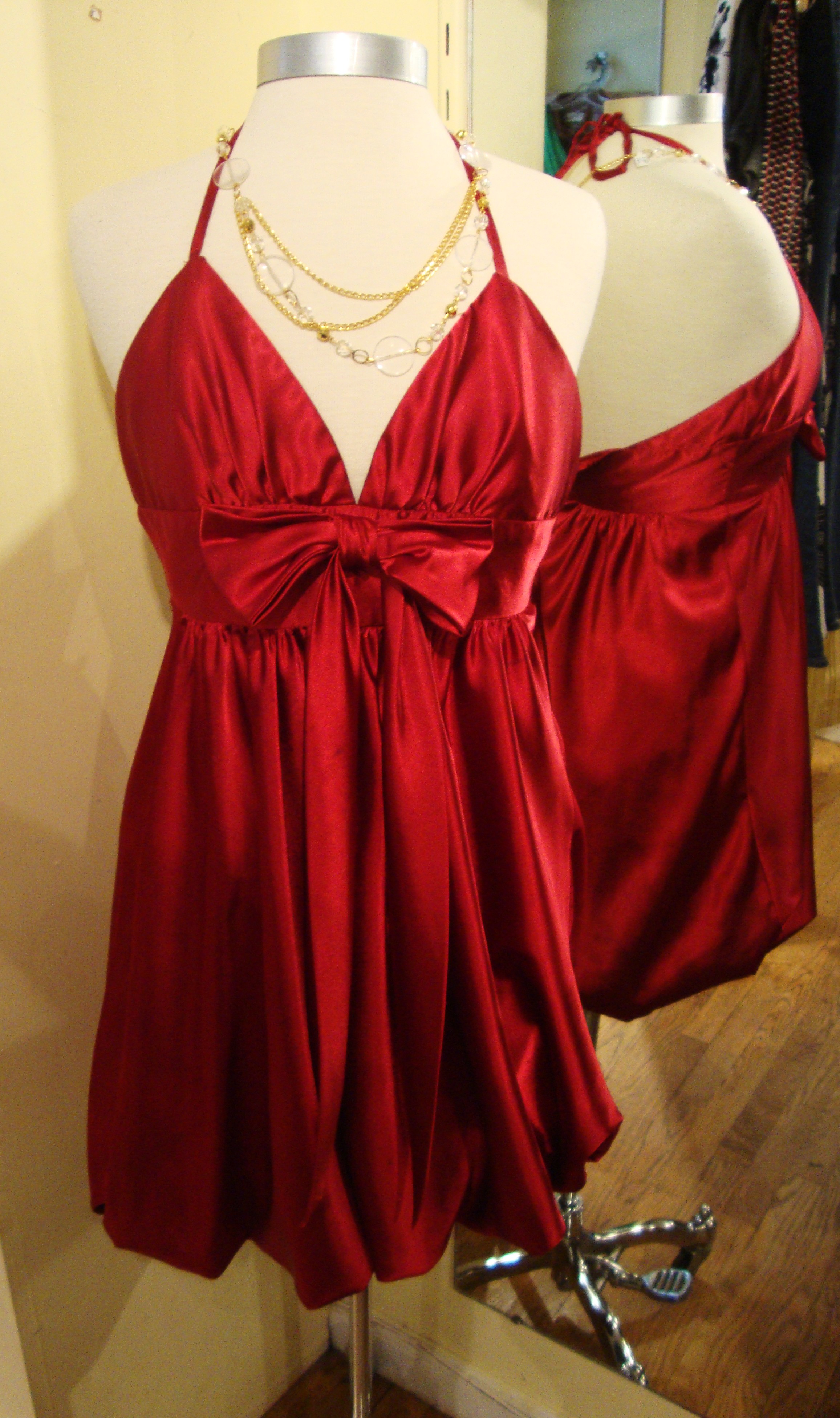 For her nights out, Kate continues to keep it chicly simple, wearing draped dresses in silk or jersey, almost always complete with bold – yet complementary – seasonal shade. The attention is always on the dress, with smaller accessories and minimal jewelry. Emulate these effortless ensembles with a classic dress complete with intricate draping or other fabric detail. Not only will these silhouettes flatter any shape, but the simplicity of the overall dress allows you to work with bolder colors than you could if the dress had a lot of beading or lace detail. For longer dresses, the jersey-wrap style works great for a formal yet easy look.
For cocktail-length you can go A-line as long as there isn't any tulle or other material that adds too much fullness to the bottom. Try something like this red Jessica McClintock dress from our Harvard Square store (left), or if you're looking for something more form-fitted, go with this Tara Jarmon example from 219 Newbury Street (right). Pair dresses like these with an elegant, neutral clutch (minimal embellishment allowed) and take Kate's lead and go with a simple black evening shoe. Kate always goes with very little jewelry, so you can go with simple diamond studs, or if you're feeling fancier, go with embellished earrings like these from our Mott Street, NYC store (below) and you won't even notice you're not wearing a tiara.
There's one final touch to achieve Kate's style. The perfect blow-out of course, consider it the royal cherry on top of your style sundae! Now go unleash your inner princess, camera-ready smile included, of course.
~Ashley, FashioniSTA, Second Time Around