Posts tagged
kate moss
Summer is nearing it's end which means last minute vacation getaways, fall fashion, and the most dreaded back to school. Although going back to school isn't very exciting for most of us, the shopping for back to school is. With so many new trends and with those trends circling their way around each year, we've come up with a few fashioniSTA back to school basics for your wardrobe. Not only are these pieces super versatile, but they will keep you looking stylish all year long.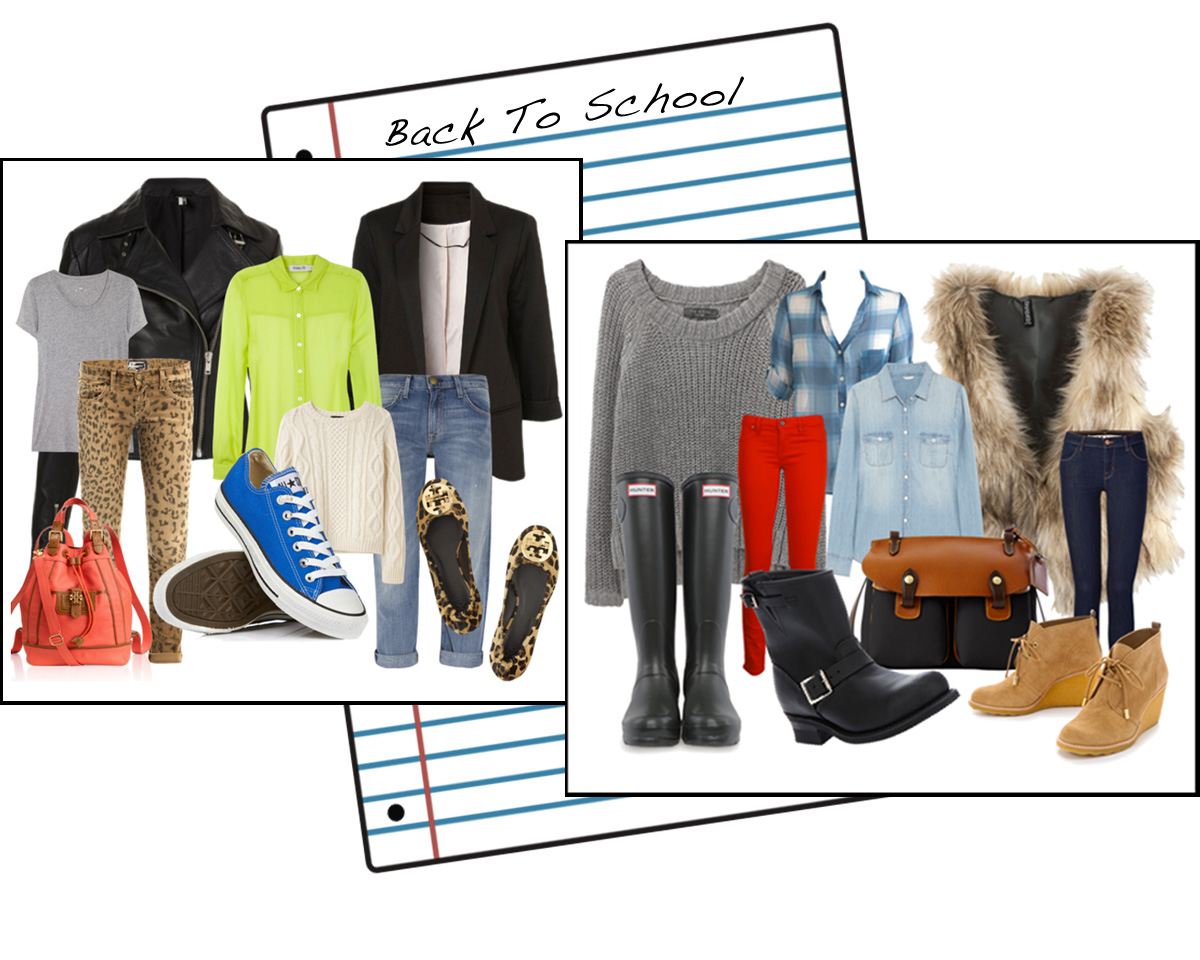 The Jacket
Basic Black Blazer: First and foremost, if your closet does not already have one of these hanging in it, GET ONE.  A blazer is an absolute wardrobe essential. Wear it over your sun dresses or shorts for a great transitional summer to fall look, and pair it with jeans and ballet flats for an effortlessly chic look.
Biker Jacket: A motorcycle inspired topper is a favorite jacket for spring or fall. We love fun details like zippers, buckles, or studs, but if that's not your style, opt for a simple jacket in white or brown. Again, these jackets look great over your summer dresses or a feminine blouse- the contrast is super stylish and edgy.
Faux Fur Vest: Bring on the layers this fall because we love love love a layered look with a fur vest! Girls, wear it over everything (even your biker jacket).
The Jeans
Boyfriend: These laid back and comfortable jeans are perfect for the campus or classroom. They have that "I-just-rolled-out-of-bed-and-still-look-amazing" effortless style to them. Pair them with a plain white tee and a fun pair of flats.
Legging: Oh-so-comfy and stylish. Can't go wrong.
Colored: Last fall colored denim really made a name for itself, and this year the trend is still going strong. We love a pair of brightly colored jeans paired with a neutral chunky knit sweater and moto-boots.
Printed: If you want to make a statement in your classroom, rock a pair of printed jeans- just make sure to keep the rest of your look simple and neutral.
The Top
Chambray: This stylish lightweight shirt is the it shirt for back to school this year. Wear it with your dark skinny jeans, wedges, and top it with your fur vest. Such a great look.
Plaid:  A cool, casual shirt that can be dressed up with a pretty layered necklace and skinny jeans, or dressed down with leggings and sneakers.
Chunky Knits: This season stock up on cozy cable knits in neutrals of gray, cream, and tan. Wear them with your colored jeans or leggings and boots.
Neon: Color is huge trend this fall. Neon has thrived through spring and summer and now making it's way into fall. Take your colorful clothes you wore all summer, and maybe some fresh new additions as well, and pair them with all your favorite fall pieces. Neon and fall neutrals are a killer color combo.
The Shoes
Fun Flats: Patent, colored, printed. Our fashoiniSTA favorites are Tory Burch Revas. And leopard print.. of course.
Moto-Boots: These boots are fall must-haves. They go with everything and add a little edge to any outfit.
Wedges: Since the last thing you want to do is walk though school and around campus in heels, go for a great pair of neutral wedges (in a moderate height- comfort is key).
Sneakers: This fall a bright pair of sneakers are a back to school staple. Comfortable and cool. We love classic Chuck Taylors, but Keds and Nike are some other classics worth adding to your shoe collection. Wear them with your leggings, a sweater and biker jacket.
Rain Boots: For obvious reasons. Plus, they are super cute- go ahead, wear them with your colored jeans, shorts or even dresses. Thank you Kate Moss for making rain boots stylish.
For more inspiration, check out our back-to-school board on Pinterest! Happy shopping and happy back to school!
~Lisa, FashioniSTA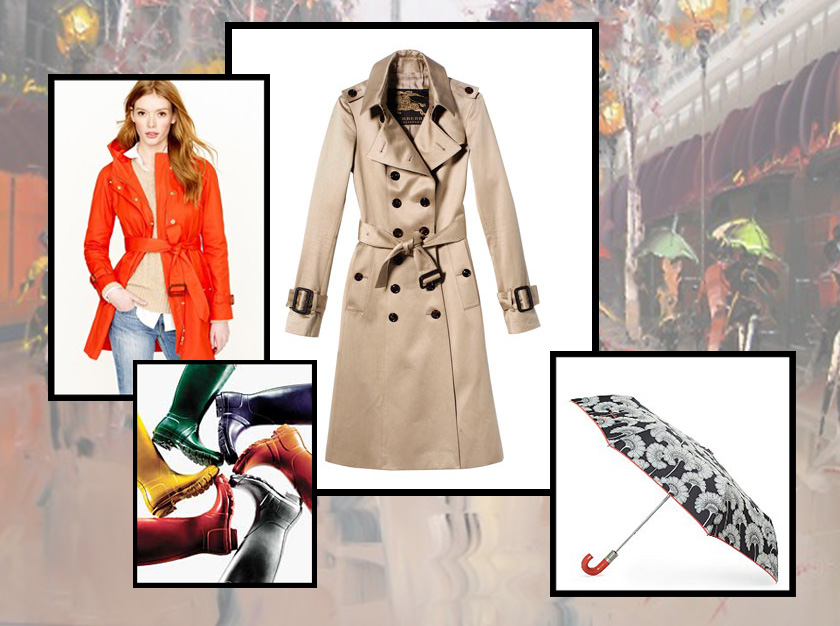 We all know that April showers bring the flowers, and the month at its end, let's hope there aren't too many showers in the forecast. But since there is bound to be some more rain before spring is over, we've got a couple tips to show you how to stay looking fabulous even when the weather isn't.
The Basics: Everyone needs rain boots and an umbrella. Both can be used as fun ways to add some personality to your look on a dreary day. You can keep it classic with black or muted tones, or go for a pop of color or print to brighten it up. Hunter Wellies, made stylish by Kate Moss when she paired them with itty-bitty shorts at the Glastonbury Festival, are a great staple and personal favorite. And who wouldn't love a great umbrella like this Kate Spade printed-protector hanging over their heads keeping them dry? Whether you buy this one or a similar style, if you have a few colorful options on hand, you're sure to motivate yourself even on the dreariest days.
The Trench: There is nothing more stylish than a good trench coat, so leave behind your bulky ponchos. Going back to where it all started, Burberry created the first trench coat, and it is the most iconic and chic topper for a rainy day (plus all of their trenches are treated to be water-resistant!). Keep it cool and classy with this classic in khaki, or go bold in a bright color like this one from J.Crew. Going with a trench instead of a traditional rain jacket is a great way to flatter your shape, and since trenches look great even on sunny days, you'll get the most for your money.
Rainy days are dull and dreary, so have fun with these wet weather accessories, and don't let your outfit be!
~Lisa, social media fashioniSTA
Stella McCartney is one of my favorite designers. She makes clothing, shoes, bags and accessories that are timeless and trendless, yet always extremely fashionable. Her designs are – in essence – very simple. They have few embellishments, adornments or superfluous details. But, the fit, the shape and the proportion are unmatched in my eyes. They truly could be worn forever, no matter the ebb or flow of the style tide. In addition to her eponymous line, McCartney has also made numerous fashion collaborations. Adidas by Stella McCartney has been going strong since 2005 and her lines for LeSportsac, H&M and GapKids were extremely successful, often selling out in record time.
Aside from her work, I also love her for her personality. She is calm and quiet, never hogging the spotlight or making a fuss. In fact, she made a name for herself entirely on her own, never once relying on the fame of her parents – Beatle Paul McCartney and his first wife, model Linda Eastman. Also, she is friends with many celebrities – most notably Liv Tyler, Kate Moss and Kate Hudson – but is never seen out-and-about partying hard or making a fool of herself. Furthermore, she has refused to let her personal beliefs be sacrificed for her work. As a vegetarian, she use neither leather nor fur in the creation of her garments and accessories and all items are cruelty-free – a true rarity in the fashion world. It is clear that she takes both her work and her personal life - she is married with three small children – very seriously.
I have been lucky enough to snag a few fabulous Stella McCartney items at Second Time Around, and I am always keeping my eyes peeled for more. Have a favorite designer of your own? Hit up your local Second Time Around on a regular basis or get on one of the store's wish-lists and you will be sure to find some treasures too.
Happy Shopping!
~Marisa, Director of Styling, Second Time Around