Posts tagged
back to school
Summer is nearing it's end which means last minute vacation getaways, fall fashion, and the most dreaded back to school. Although going back to school isn't very exciting for most of us, the shopping for back to school is. With so many new trends and with those trends circling their way around each year, we've come up with a few fashioniSTA back to school basics for your wardrobe. Not only are these pieces super versatile, but they will keep you looking stylish all year long.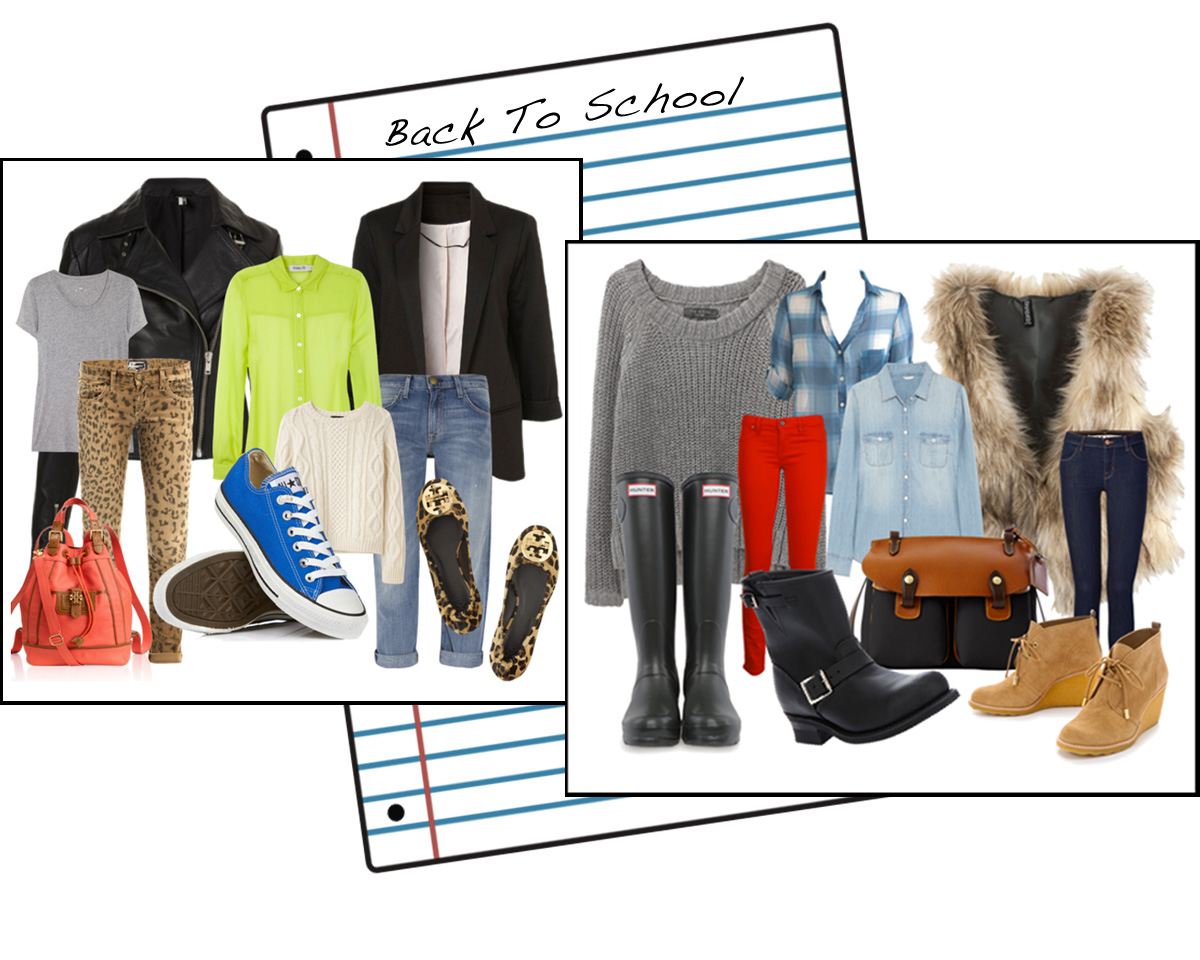 The Jacket
Basic Black Blazer: First and foremost, if your closet does not already have one of these hanging in it, GET ONE.  A blazer is an absolute wardrobe essential. Wear it over your sun dresses or shorts for a great transitional summer to fall look, and pair it with jeans and ballet flats for an effortlessly chic look.
Biker Jacket: A motorcycle inspired topper is a favorite jacket for spring or fall. We love fun details like zippers, buckles, or studs, but if that's not your style, opt for a simple jacket in white or brown. Again, these jackets look great over your summer dresses or a feminine blouse- the contrast is super stylish and edgy.
Faux Fur Vest: Bring on the layers this fall because we love love love a layered look with a fur vest! Girls, wear it over everything (even your biker jacket).
The Jeans
Boyfriend: These laid back and comfortable jeans are perfect for the campus or classroom. They have that "I-just-rolled-out-of-bed-and-still-look-amazing" effortless style to them. Pair them with a plain white tee and a fun pair of flats.
Legging: Oh-so-comfy and stylish. Can't go wrong.
Colored: Last fall colored denim really made a name for itself, and this year the trend is still going strong. We love a pair of brightly colored jeans paired with a neutral chunky knit sweater and moto-boots.
Printed: If you want to make a statement in your classroom, rock a pair of printed jeans- just make sure to keep the rest of your look simple and neutral.
The Top
Chambray: This stylish lightweight shirt is the it shirt for back to school this year. Wear it with your dark skinny jeans, wedges, and top it with your fur vest. Such a great look.
Plaid:  A cool, casual shirt that can be dressed up with a pretty layered necklace and skinny jeans, or dressed down with leggings and sneakers.
Chunky Knits: This season stock up on cozy cable knits in neutrals of gray, cream, and tan. Wear them with your colored jeans or leggings and boots.
Neon: Color is huge trend this fall. Neon has thrived through spring and summer and now making it's way into fall. Take your colorful clothes you wore all summer, and maybe some fresh new additions as well, and pair them with all your favorite fall pieces. Neon and fall neutrals are a killer color combo.
The Shoes
Fun Flats: Patent, colored, printed. Our fashoiniSTA favorites are Tory Burch Revas. And leopard print.. of course.
Moto-Boots: These boots are fall must-haves. They go with everything and add a little edge to any outfit.
Wedges: Since the last thing you want to do is walk though school and around campus in heels, go for a great pair of neutral wedges (in a moderate height- comfort is key).
Sneakers: This fall a bright pair of sneakers are a back to school staple. Comfortable and cool. We love classic Chuck Taylors, but Keds and Nike are some other classics worth adding to your shoe collection. Wear them with your leggings, a sweater and biker jacket.
Rain Boots: For obvious reasons. Plus, they are super cute- go ahead, wear them with your colored jeans, shorts or even dresses. Thank you Kate Moss for making rain boots stylish.
For more inspiration, check out our back-to-school board on Pinterest! Happy shopping and happy back to school!
~Lisa, FashioniSTA