Posts tagged
citizens of humanity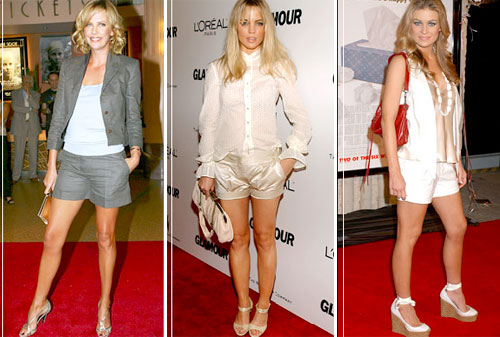 With the warmer weather finally upon us, it's only a matter of time before summer comes full-swing and pants no longer become a viable option. While skirts and dresses are clear favorites for the summer months, a new contender has blown into town: shorts. This casual summer staple has taken on new superpowers, making it work-appropriate as well as red-carpet-worthy.
Working It Out
No longer just for lazy weekends, shorts are popping up in the most unexpected places. What was strictly a "no-wear zone" has taken a dramatic turn to office-friendly. While I wouldn't recommend wearing this trend if you work in strict office environment, if you happen to work in a fashion-friendly zone, wearing shorts to work will make your summer approximately a billion times easier. To keep them work-appropriate, stick with variations on the classic short. Go for a pair of knee-length, straight-leg shorts in a dark neutral with a tucked in blousy tank to slim a pear shape, or try out a pair of blousy harem shorts to create curves. Quick tip: harem shorts are a great way to indulge in your Sex and the City 2 movie fashion fantasy without committing to the overly-indulgent harem pants that the stars sported in the movie. However, the shorts version is not for the fashion faint of heart, but if you are a risk-taker, they are a great way to complement a basic tank. Wear with metallic gladiator flats for a true statement outfit.
Another way to rock this trend in the workplace is to go with shorts that almost look like a skirt. These definitely work best in a creative field, but with designers like Diane von Furstenberg and Nanette Lepore paving the way with this trend, consider yourself in good hands. While you can go down the skort route with this option from Marc Jacobs, if you prefer to not revisit the '90s just yet, going with a patterned or textured pair is the perfect alternative. Try out the floral pair from Nanette Lepore, or the tiered, ruffled version from Wink. Going with a pattern or a texture will minimize the shorts element and maximize the element of style.
Eveningwear
Tired of your usual jeans and tank combo when you hit the town? Try a pair of short, tailored shorts in a neutral color - like black, white or metallic - to spice up your night out. Opt for a sleek pair from Winter Kate, Alice + Olivia or Theory, paired with one of your usual embellished, loose tanks or a fitted, black button-down. This is the only time that stiletto heels with shorts is permissible, so try out your highest pumps with the first option, or your strappy sandals with the latter. You can also add a cropped, lightweight blazer for cooler nights.
A dark denim short is also a great alternative. This cuffed pair from Joe's Jeans can easily be paired with metallic flat sandals and a tank for a more casual night out.
Should you be feeling a little Lindsay Lohan crazy, you can try out sequin shorts from Gryphon or Diane von Furstenberg in place of the sequin leggings you wore during the colder months. Clearly not for the faint of heart, you can pair it with a matching sequin top to create the look of a romper, or go for a flowy, black top in a lightweight material that still fits close to your torso. You don't want to look like you're wearing sequined board shorts about to hang ten.
Weekend Chic
When the work week ends, anything goes on your days off. This is a great time to explore what I think is the greatest trend known to (wo)man: nautical. Play off this trend with a pair of cuffed, denim shorts from Joe's Jeans or Citizens of Humanity, pairing them with a conductor-striped top and chunky, gold link bracelets or a necklace. Or go with a blue seersucker pattern with a red tank and metallic sandals.
You can also channel your inner Daisy Duke with denim shorts, either cutoffs or cuffed. Pair with a floral top for a hippy vibe, or try out gingham on top for a retro feel to your look.
For extra comfort, try a pair of paper bag-waist shorts. Go for a pair in an earthy neutral to create a safari look. Complete your ensemble with a tank in a complementary neutral and pair with gold accessories and oversized, tortoise shell sunglasses.
No matter where you go, remember that shorts with more spandex than your tights are reserved for biking or in-house lounging only!
~Ashley, fashioniSTA, Second Time Around
During my time at Second Time Around, I have exploited my employee discount to the max. As a result, I have owned almost every single brand of premium denim and numerous styles within certain, favored brands. Some pairs have come straight back to the store after one wear due to an ill fit of either my body or my style, some have earned a temporary place in my closet while I experimented with a particular trend and some have earned a permanent place in both my closet and my heart as a denim match-made-in-heaven.
Due to this extensive fit-testing and the additional research that I have done as a stylist for my clients (help with jean shopping is the number one request that I receive…) I feel confident that I can give both an impartial and informative review of the major premium denim brands. So, here goes…
1. Seven for all Mankind
Arguably one of the first - if not THE first – premium denim label to rise to prominence, Seven for all Mankind, affectionately referred to simply as "Seven" by its fans, has been a consistent contributing member of the designer denim phenomena. I view them as the old stand-by – that reliable brand that you can always return to. They follow the trends, but are never too trendy, allowing their customers a chance to look stylish and hip without being fashion road-kill. Perhaps the only complaint that someone could have is that their fit is a bit on the narrow side, prohibiting curvier women from enjoying what they have to offer.
2. Citizens of Humanity
Created by Jerome Dahan, the same designer who launched Seven for all Mankind, I consider this brand a more casual version of the "Seven" brand. They are the perfect weekend jean to throw on with a t-shirt and sneakers and they offer a better fit for those ladies with a curvier figure.
3. J Brand
A favorite of both models and celebrities, J Brand wrote the book on skinny jeans. Whether you are looking for a stove-pipe leg, a pencil leg or a "jegging," the brand you want is J Brand. As an added bonus, I think that their jeans have the most authentic and pleasing raw denim color and they have teamed up with the makers of Lycra to inject their denim with the comfort of stretch without the annoyance of a saggy bottom.
Check back soon to read more denim reviews and to find out my favorite lesser-known denim labels as well as my suggestions for denim brands to watch…
~Marisa, Director of Styling, Second Time Around