Take Your Style to the Max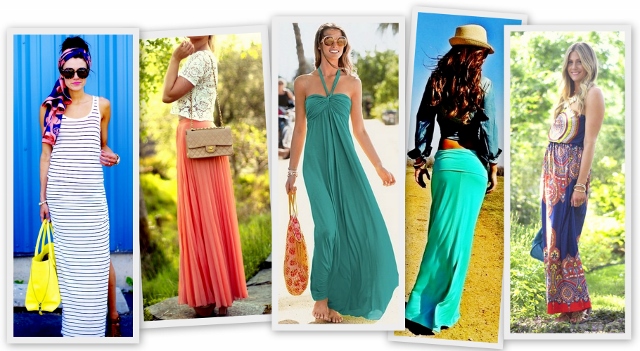 If you're looking to beat the heat in the latest trends this summer, be sure to fill your closet with plenty of maxi dresses. You are guaranteed to feel and look fabulous as your long skirt flows in the breeze on a beautiful day this summer. Coming in a variety of hems, shapes, and styles, there is the perfect maxi match out there for every woman.
How to accessorize your maxi
Some of my favorite looks are when women pair their dress with another trendy item, such as a denim jacket, cropped blazer, or fedora hat. Lightweight scarves can be summer appropriate, and can be worn as a headband to give the look a little something extra. When wearing a plain colored maxi don't be afraid to wear big statement jewelry that complements the dress or skirt. If you tend to shy away from this style dress because you feel its shape can be sometimes unflattering, a wide belt around the waist could make all the difference. If you're not sure what shoes to pair with your new maxi, you cannot go wrong with a simple pair of gladiator sandals or straw wedges (skinny heels tend to look out of place unless your dress is a little more formal).
These are some of our favorite fashionable celebs, each creating a completely different look with their maxi.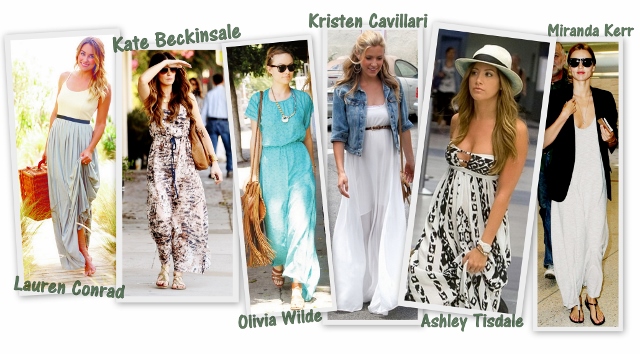 Where to wear your maxi
Floor-length dresses were once only synonymous with formal events, but this summer you're sure to see this style all over the place. The beauty about purchasing a maxi dress or skirt is the amount of opportunities you will have to wear it. Depending on the material and how you accessorize, a maxi can be appropriate for a variety of occasions. Pairing a simple cotton maxi with a pair of sandals makes in the perfect cover up for a day at the beach. A patterned or more embellished maxi dress can be just what you need for a fancy dinner or cocktail party. Throwing some sort of blazer over a maxi can even make it office appropriate.
At our STA stores, we have collected quite a selection of maxi dresses this season, so be sure to ask about what we may have available in this style next time you stop in!
-Catherine, fashioniSTA

(Image credits: fdavenue.com, tumblr.com, pinterest.com, celebritystyleguide.com)
Comments are closed.