Pretty in Peplum
One look that we are seeing plenty of this summer is the peplum hem on shirts, skirts, and dresses. A big hit in the 80's and 90's, this feminine, flirty, and flattering look is making a comeback as one of the most popular trends of the summer.  The peplum hem tends to be a tighter material item that cinches at the waist and flares out around the midsection, often resembling a tiny skirt.  There are a variety of ways that designers have utilized this style, making these items unique and timeless.

This style dress was recently worn by the breathtaking Angelina Jolie on the red carpet, but it certainly is not just for formal occasions. One of the greatest aspects about adding a peplum item to your collection is the variety of ways you can style this look.  Paired with jeans, a simple cotton peplum top could be the perfect look for a Sunday cookout, while pairing this same top with a pencil skirt and pumps could make it just the right look for a fun date night.
Even for those of us that wouldn't consider their style particularly 'feminine' or 'girly,' leather peplum tops have been quite popular, and give this style a whole new edgier feel.  Peplum tops tends to be pretty plain in design, making them ideal to accessorize with a statement necklace or other bold jewelry, which is the perfect way to really make this look your own.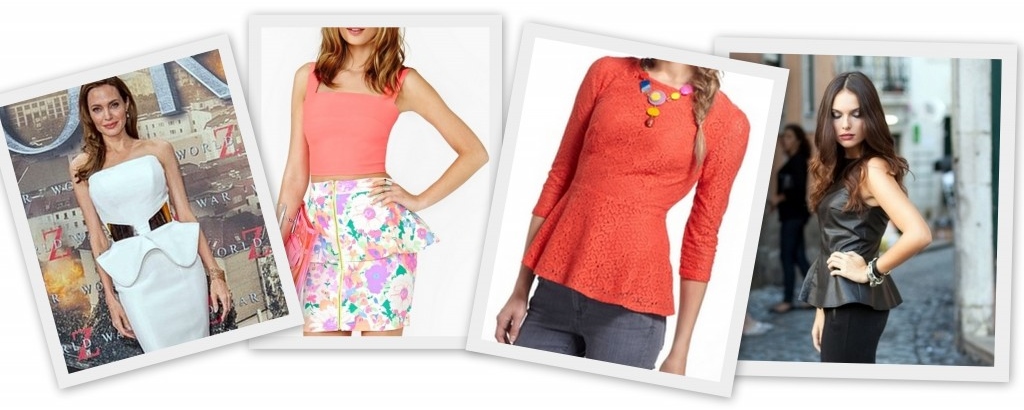 What we love most about this look is how flattering it can be on almost any body type, allowing us to hide any flaws while feeling fabulous.  Whether its a vintage piece from the 80's or the latest design to hit the shelves,  a peplum item adds just the right amount of flare to any look.  On your next shopping trip keep your eyes peeled for the perfect peplum hem item to add to your summer wardrobe!
We've seen quite a few peplum style items in our own stores, so next time you stop in be sure to be on the hunt for a great deal!  If you're rocking peplum, we want to see your look! Tweet us a picture at @staconsignment with the hashtag #peplum to share your style with us!
-Catherine, fashioniSTA
(image credits: tumblr.com, pinterest.com)
Comments are closed.