Go and Put Your Name on It (Or At Least Your Initials)
I'm a firm believer that you can never have too many monograms. If I have the option to monogram something, I will absolutely take advantage of this. From pillows to necklaces to duffles, there's no limit to what you can mark with your initials!
For traveling, I love this Large Sailcloth Duffel by J.McLaughlin. This bag is so classic, and the monogram is the perfect compliment. I love the navy, leather, and sailcloth combination. Plus there's nothing better than incorporating nautical touches into your year-round essentials.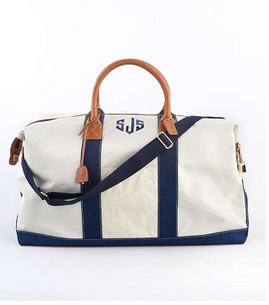 For everyday, you can't go wrong sporting your initials on your jewelry. This necklace combines two of my favorite things: tortoise shell and monograms. I love tortoise shell because it's so versatile and you can wear it with anything, and it definitely jazzes up any outfit. If tortoise shell isn't your style of choice, going with a clean silver or gold never fails, or you could mix it up and go with a colored plastic material (our friends at Chic Streets carry tons of colors, just check out their Facebook to inquire about ordering). Since the shape is such a classic, you can definitely take risks with your color choice!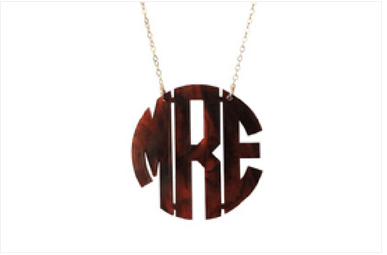 Scarves are the perfect compliment to any outfit, and adding a monogram is the perfect way to take your outfit to the next level. I love how this scarf from Marley Lilly comes in so many different colors and styles of monograms. Perfect for coordinating with a basic tee and jeans, or throwing over a strapless dress at a summertime wedding. My personal favorite is the circle block monogram for a classy and clean look.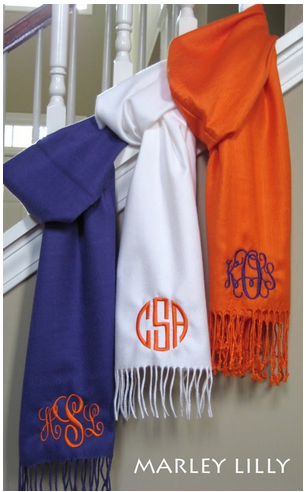 ~Molly, fashioniSTA
Comments are closed.