If The Shoe Fits, or Doesn't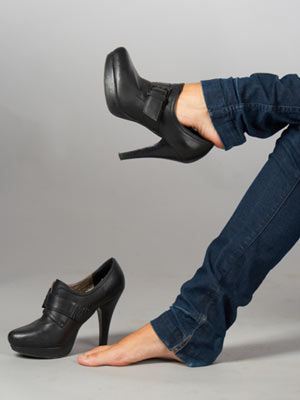 I don't have any logical explanation for why so many of us buy things that don't fit. I have been buying and trying to fit into size 6.5 shoes my whole adult life. I'm a true 7.
For years, I've suffered for fashion – squeezing toes into the too-tight tips of everything from Choos to Maddens. My rationale runs the gamut. Sometimes you find a pair of size 6s that are on sale and just "so fab" that you have to buy them. Sometimes the 6.5s just look a little cuter on your tootsies, and you convince yourself the 7s look like two canoes supporting your legs. But nothing, nothing, makes you feel better when you're hobbling down the street with a foot cramp and one-too-many blisters. Nothing, that is, except for a band-aid.
My fall closet resolution is buying shoes that fit. When you try them on at the store, take a hike. Literally. Walk around the store, add in a pair of socks, sit down, stand up, and be honest with yourself. Do they really fit? Often times you'll be between sizes. If reasonable, go up a half size. Add in a gel pad to remove any excess space. Another trick: trust the feel, not the size. If you're buying new, leather shoes, remember that them feeling "snug" is different from them feeling "tight." Shoes that snugly fit your feet will stretch as you break them in, but if you cannot move your toes, consider them too small. Keep this in mind when buying consignment shoes, if they have been worn multiple times before, they probably won't stretch anymore.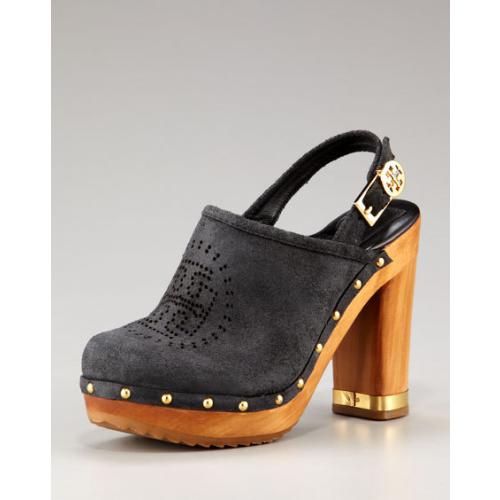 Too many of us get hung up on fitting into a certain size but each brand fits uniquely. Some run small and others run large, so make sure to trust the way your feet feel, not the number on the label. I promise, your feet will thank you for it in the end.
I'm on the hunt this fall for a pair of clogs – something like the dreamy Tory Burch Brayden sling-back (right) and a pair of stylin' sneakers for the weekend. I'm going to change my ways and buy a size 7. Heck, maybe if they run small, I'll even buy a 7.5. Lucky for you, I'll be turning in my 36.5 Juicy Couture red suede ballet flats that I only wore once and Spanish-label, size 37, grey plastic flats that never even made it out the front door. Here's hoping they fit!
~Mariel A. MacNaughton, Consigner/Buyer Extraordinaire, Second Time Around
Comments are closed.