Posts tagged
seven for all mankind
The warm weather has finally arrived, ok, more like almost arrived, but we'll take what we can!  And we really can't think of a better way to spend these warmer days then out shopping for a new spring wardrobe.  But where to start?
Flower Power
The 70s are back ladies.  It looks like it's time to start digging through your mom's old clothes, not to mention the racks at STA.  High wasted flares, over-sized sunglasses (when were they ever out?), cropped tops, wedges, flowery tops, the choices are endless and can be a little overwhelming for us stuck in skinny jean limbo.   To gradually incorporate the look in your wardrobe start with a nice pair of high wasted flared jeans paired with a simple tucked in white t-shirt or lightweight sweater, add a layered necklace and some wedges, and you instantly have a causally chic, put-together look.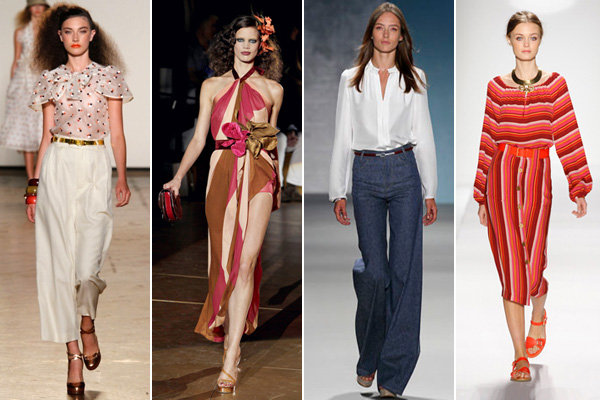 Every window display we've been passing seems to be trying to us one thing – get your orange on!  And, lucky for us any shad will do - peach, coral, light pink - take your pick.  To avoid looking like a pumpkin, pair a light, peachier shade with skinny black jeans and a pair of hot black pumps.  For more of a nautical look, try a coral top tucked into high wasted white flared pants (top, Topshop; jeans, Seven for all Mankind).  Or for a preppy look, match a top in a lighter, pinkish shade of orange with a brown cardigan, cropped jeans and a cute pair of flats.
Buh Bye Blue Jeans
Blue jeans are great, but it's spring so try a colored pair of pants to spruce up your look.  If you're feeling bold grab a bright color like teal or red but if you're feeling more subdued go for pastel with lavender or beige.  Most of the colored jeans out there come in cropped and ankle cut styles which make even the brightest of brights seem a little less overpowering and more wearable.   Pair with a simple top and some wedges and you're ready for a night out or with a loose button-down and some slip on sneaks for a day of eating and shopping.

~Kristen, Second Time Around