Posts tagged
consign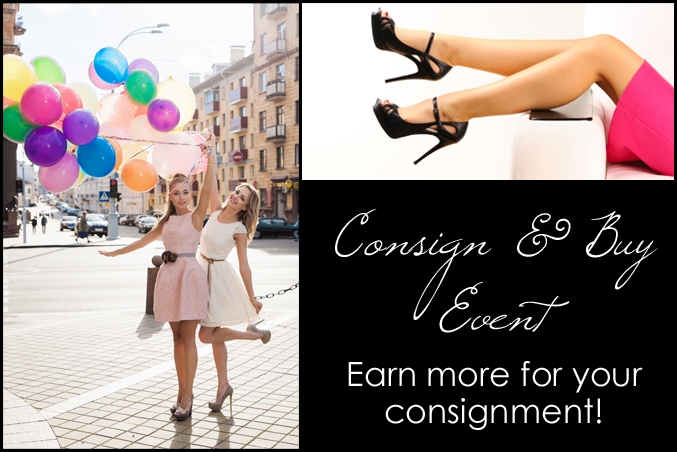 We all love a good promotion (who doesn't like getting an extra discount or added perk?), but there are certain ones that really break the mold. For us, it's the Consign & Buy, easily our favorite STA initiative, and it's not just because everyone gets a 50/50 split (10% more than usual). Whether you're a shopper or consignor, this is the promotion that beats them all. Allow us to break it down for you…
1. It makes spring cleaning about 1000 times easier. Have you looked at your closet lately? Yeah, we know, it's scary (don't worry, we're in the same boat). It can be daunting enough to rifle through your wardrobe, nevermind think ahead to making a consignment appointment. With this promotion, you don't need an appointment! You can just put your items in a bag and drop them off at any STA store on your way to brunch or dinner. (Can you tell we like to eat?)
2. You get extra STA credit that you can use on the items you want, and it's easier than you think. Unless you go years without cleaning out your closet, you might think that you don't have enough to maximize your extra STA credit. Most people don't think to look at their accessories when cleaning out their closets, but bringing in jewelry, sunglasses and other small accessories is a great way to capitalize on the credit.
3. Tons of new product, enough said. A Consign & Buy makes it so easy to consign your items, the amount of new merchandise that goes on display is incredible. Plus if you've taken advantage of the consigning part of this promotion, you can shop these new goodies using your extra STA credit!
4. No wondering about your drop-off. With a Consign & Buy, a store associate will immediately evaluate your items, so you know right away what has been accepted and you can take any unaccepted items home with you. You get the best of both worlds with this promotion, you don't have to make an appointment, but you get all of the benefits of one.
What are you waiting for?! Get yourself to any Second Time Around store from Thursday, March 7th - Sunday, March 10th to get in on the best promotion around!

Clear the summer clutter from your closet and earn a 50/50 split plus STA credit!
Select Second Time Around stores will be hosting a Consign & Buy this weekend.
No appointment necessary, simply bring in your items Thursday, April 12th - Saturday, April 14th. Depending on how many items are accepted, you can earn extra STA credit vouchers, redeemable Thursday, April 12th - Sunday, April 15th.
Here's how it works:

Consign

10 items

and receive

$10

towards any items in STA




Consign

20 items

and receive

$20

towards any items in STA




Consign

50 items

and receive

$30

towards any items in STA
Get ready for a clean closet and a full wallet!
Second Time Around participating locations:
275 Harvard Street
Brookline, MA 02446
617-232-5444
1169 Walnut St
Newton, MA 02461
617-964-4481
67 Union Street
Newton Centre, MA 02492
617-630-1700
176 Newbury St
Boston, MA 02116
617-247-3504
324 Newbury St
Boston, MA 02115
617-236-2028
19 Congress St
Portsmouth, NH 03801
603-433-0200
11 East Palisade Ave
Englewood, NJ 07631
201-567-2960
6 Greenwich Ave
Greenwich, CT 06830
203-422-2808
1543 N. Milwaukee Ave
Chicago, IL 60622
773-698-8345
823 W. Armitage Ave
Chicago, IL 60614
773-698-6260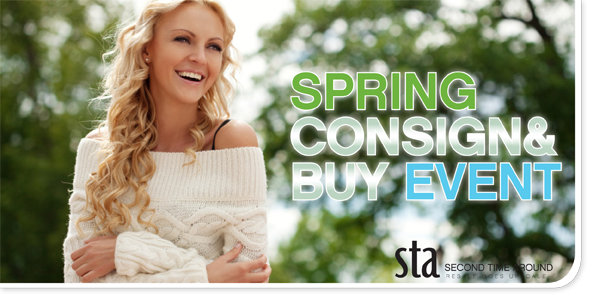 Want to earn some cash and update your wardrobe?
We want your Spring clothes, shoes and accessories!
Clean out your closet and consign with us this weekend and earn STA Dollars!*
Thursday, March 3rd to Saturday, March 5th.
No appointment necessary!
Bring your consignment to any Second Time Around location this Thursday through Saturday and receive STA Dollars valid through Sunday, March 6th, in addition to 40% of your items' selling price!**
How it works!
Consign 10 items and receive a $10 store credit voucher
Consign 20 items and receive a $30 store credit voucher
Consign 50 items and receive a $100 store credit voucher
Some labels we love!
Prada • Free People • DVF • Marc Jacobs • Michael Stars
Splendid • Velvet • Chanel • Citizens of Humanity
Seven for All Mankind • Hudson
*Credit vouchers must be spent by end of day Sunday, March 6th, 2011 or they will be forfeited.
**Items must be accepted and meet STA consignment guidelines. 40% of the items' selling price is
earned at the time of the items' sale and paid on a quarterly basis.