Posts tagged
Cruella de Vil
Stumped about your Halloween costume? That seems to be a recurring theme among many fashioniSTAs this year. Instead of going as a slutty train conductor, we'll give you some glammed-up options that will make you a style-maker in the Halloween game.
Cruella de Vil
She may have tried to terrify over a hundred adorable puppies, but at least she did it in style. While we certainly don't condone dog-napping, it doesn't mean that you can't channel her style this Halloween. This is the perfect opportunity to break out that LBD that you somehow haven't gotten to wear as much lately. Pair a tailored black dress with an oversized faux fur coat in either an off-white color or a daring Dalmatian print. This is great especially for a chilly Halloween, but should you not be into bundling up, you can always sport a smaller stole. For a truly Cruella look, don red, satin evening gloves, a pair of jade earrings, a large cocktail ring, and carry that signature cigarette holder. Try a thin fishnet tight and pointy-toed heels, and to really cement the character, either go with a black and white wig or tease your natural hair.
And of course to portray the woman with the highest cheekbones known to man, break out the bronzer and contour yourself a supernatural bone structure (for a mini Cruella makeup overview, click here). Finish off your makeup with a dramatic smokey eye and a red lip, bring the crazy and you can color yourself Cruella. Puppies not included.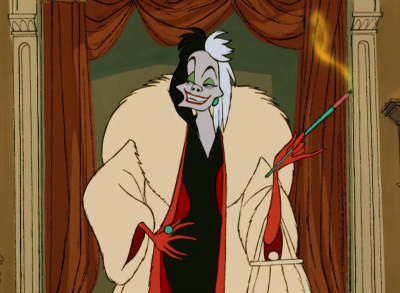 Mad Hatter/Willy Wonka
These are two equally stylish costumes that can be almost interchangeable with just a few tweaks. To be the Mad Hatter, first grab yourself a fitted blazer in a deep jewel tone - think plum or green. You can pair this with any fitted top of your choosing, just make sure that your neck has enough room for an oversized bow tie. Whether you go for a classic black bow tie or you mix it up with a crazy print, these are generally inexpensive, and you can always just use a piece of thick ribbon. Go with a shorter circle skirt on the bottom in any color, and finish off the look with tights and a top hat (feel free to go with a mini top hat!). For an added detail, take an index card and write 10/6 and stick it in the hat band.
To turn this Hatter into Wonka, go with a velvet blazer and simply take out the index card and spray paint it gold. Carry your newly made golden ticket and a couple chocolate bars and you'll be the candy man himself in no time!
Couture Clown
I'm not sure if all of you saw the Bratz movie that came out a few years ago. No? Ok well, allow me to fill you in on the greatest clown costumes I've ever seen. The art to finding style inspiration is to look in unexpected places, so don't judge my taste in movies just yet. The easiest parts of this costume are the white tights and the black shoes. For the mini top hat, they are available at a bunch of costume shops online, and I also stumbled upon some at H&M. You can also make a top hat using two black felt circles and gluing a thick piece of black felt between the circles (for a tutorial, click here). Take a piece of tulle about a foot long and tie it around the base of the hat for added texture.
For the outfit, grab a colorful circle skirt and stuff a tulle petticoat underneath. Or go with a black or white skirt and top it off with a colorful top. You can play around with these two pieces, but I would suggest going with a sweetheart corset top with piping and adding a colorful, short-sleeved, fitted jacket. You don't need to go high-end with this, you can grab anything that has a bright color palette or pattern and mix them together. This is the perfect time to mix patterns and look great! The most important touch of this look is the makeup. Take a shimmer cream shadow in a bright color and draw an oversized diamond shape around one of your eyes. Fill it in and place self-adhesive rhinestones on each of the four corners. Ta-da you look like you're with the chicest circus in town!
Eloise
You'll look rawther chic (that's French for fashionable) dressed up as me, Eloise! To go as the most famous Plaza resident, grab a shorter black skirt and a white, short-sleeved button-down and you're almost there. For complete authenticity, go with a Peter Pan collar and a ruffled front with slightly puffed sleeves. Pretty specific, but there are also a ton of other options out there that will work.
If you have black suspenders lying around, I'm concerned on a number of levels, but they will come in handy for this look. If you happen to not own any, black ribbon will look great pinned to look like suspenders. Sport white knee socks and black Mary Jane flats, and top off your look with a red bow headband. This is also a great look because you can literally roll out of bed and your hair will be Halloween-appropriate (and you also get to wear flats, which is a nice relief).
To go the extra mile, round up a skinny pug dog (as if there is any such thing) to follow you around as your token Weenie.
If all else fails, you can always throw on a wrap dress, a pair of demure pumps, put an oversized sapphire on your left ring finger and dazzle as Kate Middleton. British accent optional.
~Ashley, FashioniSTA