How to Shop Your Own Closet – Volume II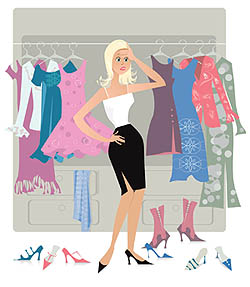 2. Build a photo library.
Lay outfits out on a neutral surface – a solid-colored bedspread works best – and photograph them. Be sure to include every accessory, right down to the smallest detail! Store all of the photos in their own folder on your computer's desktop for easy access on those days that you feel less-than-inspired.
I think you will find – as I often do with my clients – that once you have everything laid out and you are actively engaged in the project, different outfit combinations come to mind both easily and quickly. It is much easier to be creative and thoughtful when you have the time than when you are standing, wrapped in a towel, fresh out of the shower, staring at your closet and wishing that you hadn't hit the snooze button so many times…
Stay tuned for Volumes III and IV coming soon…
~Marisa, Director of Styling, Second Time Around
Comments are closed.