Forget the Fashion Rules! Volume II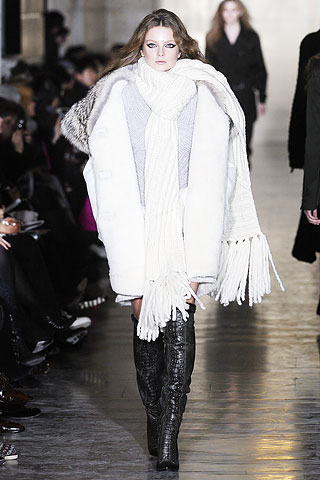 This may be a tough one for many people to let go of, but I will still do my best…
Fashion Rule #2: Don't wear white before Memorial Day or after Labor Day.
White is a fabulous neutral. It is literally the epitome of "fresh and clean," it goes with everything, it makes one look tan, and it is the coolest color to have on one's body on a hot and steamy day. What's not to love?! And why would one want to limit its use?
Well, you don't have to anymore. If we were to be graced with a beautiful – and warm – day either before Memorial Day or after Labor Day, please feel free to don your "summer whites."
Also, white denim can be used well into the fall. It makes for such a nice stark contrast when tucked into dark chocolate suede boots and pairs incredibly well with a plaid menswear shirt and a classic navy blue blazer.
Finally, when winter arrives, try out a "winter white" coat or jacket in order to break up your wardrobe of dark and gloomy neutrals.
Hip-hip-hooray! for white year-round!
Don't stop reading now! There are still two more rules to be broken…
~Marisa, Director of Styling, Second Time Around
Comments are closed.